Chelsea Softball League NYC: Welcome
Thursday, February 19
THE 2015 CHELSEA SOFTBALL LEAGUE SEASON IS RIGHT AROUND THE CORNER. JOIN TODAY!!!! CONTACT ME OR GEORGE IMMEDIATELY.
CHELSEA PARK IS LOCATED ON 28TH STREET BETWEEN 10TH AND 11TH AVENUE NYC.
* * * *
2014 CHAMPIONS - PHILLIES
2ND PLACE - TAINOS
THE 2015 SEASON IS RIGHT AROUND THE CORNER. EMAIL ME OR GEORGE IMMEDIATELY AS SPOTS HAVE ALREADY BEGUN TO FILL. THERE ARE ONLY 8 SLOTS IN THE INFAMOUS CHELSEA SOFTBALL LEAGUE WHERE ONLY THE TOP SOFTBALL TEAMS PLAY SO REACH OUT TODAY.
LEAGUE RUNS MONDAY THROUGH THURSDAY - 6:30 PM TO 8:30 PM
TOTAL OF 14 GAMES. EACH TEAM PLAYS ONCE A WEKK AND FACES EACH OTHER TWICE FOR THE 14 WEEK REGULAR SEASON.
1 UMPIRE PER GAME - EACH TEAM PAYS THEIR SHARE FOR THE UMPIRE AND THE PLAYOFFS - FEE T.B.D.
EACH TEAM MUST PROVIDE SOFTBALLS (DEWITT CLINCHERS - NO DUDLEYS OR HARD SOFTBALLS ALLOWED) FOR EACH GAME.
1 NEW BALL WILL BE PROVIDED BY EACH TEAM. IF ONE TEAM DOESN'T HAVE A SOFTBALL AND THEY ARE THE HOME TEAM THEY FORFEIT THE HOME FIELD STATUS FOR THAT GAME. IF THEY ARE VISITING, THEY WILL PAY A $10.00 NO SOFTBALL PENALTY FEE TO THE LEAGUE AND ONLY ONE BALL WILL BE USED THE WHOLE GAME. IF BOTH TEAMS HAVE NO SOFTBALLS THEY WILL BOTH BE PENALIZED WITH THE NO SOFTBALL FEE AND HAVE TO USE USED SOFTBALLS. IF NO ONE HAS ANY SOFTBALLS BOTH TEAMS FORFEIT AND EACH TEAM MUST PAY THE UMPIRE IN FULL.
A FORFEITING TEAM MUST PAY THEIR UMPIRE FEE AS WELL AS THE OTHER TEAMS UMPIRE COST SHARE AMOUNT.
CHAMPIONSHIP GAME(S) 3 OUT OF 5 - LEAGUE PAYS FOR (2) UMPIRES
NO FIGHTING OR EXCESSIVE ARGUING ALLOWED IN THIS LEAGUE. IF YOU WANT TO FIGHT GO JOIN AN MMA TOURNAMENT AND TRY YOUR LUCK THERE.
SEASON STARTS THE 1ST WEEK OF APRIL.
DONT MISS YOUR OPPORTUNITY TO PLAY IN THE C.S.L.!!!!
CONTACT LEAGUE ORGANIZER - JUAN "GONZO" @ 917-553-6320 OR AT CHELSEASOFTBALL1@AOL.COM
OR LEAGUE COMMISIONER GEORGE "TWIN" @ 917 202 2011 or CHELSEASOFTBALL28@GMAIL.COM
FOR ANY INFO AND TO JOIN OUR 2015 SEASON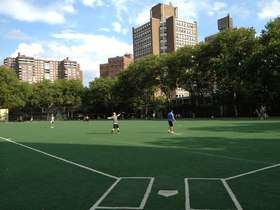 ONLY THE BEST PLAY HERE