Chattahoochee County Little League: Welcome
Sunday, November 9
Chattahoochee County Little League
Welcome to the CCLL 2015 season!
There are a lot of things happening within the League as we prepare for the 2015 season. The League has under gone some great changes to provide a top-notch youth baseball and softball prgram. We have had a complete realignment of our Board of Directors. Our new President is super motivated and excited about these changes. We are currently working to build long lasting relationship's with the community and increase the Sponsorship involvement to keep registration cost's at a minimum. The fields and concessions are undurgoing some maintenance improvements as well as our time keepers boxes.
Please show your support by following us on twitter, @chattcoll, and likeing us on facebook!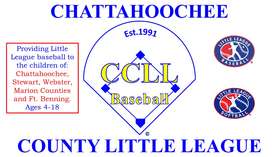 (CCLL's new sign)
Sunday, November 9
2015 Season Registration Dates
Chattahoochee County Little League will be conducting on-site registration on 10 Jan 2015 for all Ft Benning youth ages 4-18 at the Patton, McGraw and Custer housing offices and on 17 Jan 2015 at the Baseball fields. All registration times will be 10 a.m. to 2 p.m.