Charlton MA Little League: Welcome

Celebrating 55 Years in Little League - 1962-2017

Charlton Little League is committed to a Little League culture that assures all players, coaches and parents enjoy a high level experience in all facets of the game. We aspire to be an educational/athletic program that teaches the games most fundamental lessons:
· Promote proper skill sets and strategies of the game
· Explain merits of being part of a team and subsequent life lessons that derive from being a team member
· Enjoy the sport and make every effort to improve
We recognize Little League as an important aspect in every child's life and shall base every decision and action using a single guideline – determine what is best for our players as they grow.


The Charlton Little League Board of Directors:
Members of the Charlton Little League Board of Directors preside over the needs of the league for a term of one year. Each board member volunteers their personal time to ensure fields are maintained, uniforms are purchased, vendors are managed, communications are published, registration is taken care of, rules are established, teams are created, managers and coaches are selected, and sponsorships are secured.
The board formally meets each month throughout the year, and informally in subcommittees, as needed, through the guidance of the 2017 Executive Committee.

2017 Baseball BOD Executive Committee Members:
Rich Enberg (President), Wayne A. Cluett (Vice President), Kelly Morin, Patrick Lefebvre and Jared Green


Charlton Little League
P.O. Box 780
Chartlon City, MA 01508
Charlton Weather Link
Monday, July 3
2017 FALL Baseball - REGISTRATION is OPEN
2017 FALL Baseball Registration
Online registration for 2017 Spring Baseball is:
OPEN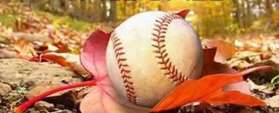 Click on image for Online Registration
Tuesday, April 25
2017 Annual Golf Tournament, Dinner & Comedy Show
Download and Print your Little Leage Golf Tournament Registration Form
here
.
Wednesday, July 26
2017 Spring Home Runs (52)
Thursday, May 4
2017 Lost & Found
2017 Charlton Little League will keep a running list of items lost and found.
Please contact Wayne Cluett (wcluett@charter.net) to post either lost or found items.
Monday, June 5
2017 Raffle Fundraiser Winners
2017 Raffle Fundraiser
Congratulations to the following prize winners of Charlton Little League's annual Raffle Fundraiser.
Thanks to everyone, the league was able to raise over $12,000 in proceeds.
1st Prize $1000 winner : Karen Largesse from Charlton, MA sold by Tate Lefebvre
2nd Prize $750 winner : Frank Zappulla from Charlton, MA sold by Aurora Gagne
3rd Prize $500 winner : Verna Ferraro from Sturbridge, MA sold by Gavanni Cote
4th Prize $100 winner : Mark Weiner from Feeding hills, MA sold by Joe Joress
5th Prize $100 winner : Jessica Coombes from Natick, MA sold by Collin Hibbler (donated winnings back to league)
Top selling Players: (Each player will receive $50 Dicks gift card)
1. Cody Blanchard 60 Tickets Sold!!!
2. Austin Hall 59 Tickets Sold!!!
3. Preston Enberg 50 Tickets Sold!!
Top Selling Team: (Team will receive $100 Certificate for pizza/ice cream party!!)
T-Ball Braves managed by Kevin Hall. Great Job Boys!
A very special appreciation goes out to Jeff Avoglia for spearheading this yearly endeavor and delivering with very positive results.
Monday, June 5
2017 Joseph N. Fortier Memorial Scholarship Recipients
Congratulations
The following 3 graduating seniors were awarded the
2017 Joseph N. Fortier Memorial Scholarship
Michael Gilligan - Shepherd Hill Regional High School
Attending Penn State University in the fall.

John Fields - St. John's High School
Attending Stonehill University in the fall.

Vaughn Hammond - Shepherd Hill Regional High School
Attending the University of Rhode Island in the fall.
Each recipient is awarded a $500.00 scholarship.
Presented by the 2017 CLL scholarship committee.
Pictured with their previous LL coach, Kevin Morin.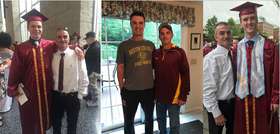 Michael Gilligan, John Fields, & Vaughn Hammond pictured with Coach Kevin Morin
Monday, July 10
2017 Major League All-Star Team
2017 Major League All-Star Team
Road to Williamsport (5-0)
Game 1 - Charlton 12 Webster 1
Game 2 - Charlton 14 Millbury 7
Game 3 - Charlton 9 Southboro 3
Game 4 - Charlton 15 Quaboag 4
Game 5 (Playoffs) - Charlton 6 Northboro 0
Manager: Wayne Cluett
Coach: Jeff Hill
Coach: Marty Mullen II
Coach: Chris Robertson
Coach: Brett Kustigian
Camden Blum #99
Thomas Carragher #2
Connor Cluett #50
Brian Gosselin #34
Luke Hill #5
Matthew Kustigian #23
Kyle Moody #11
Marty Mullen III #6
Hunter Pocis #15
William Reece #72
Matthew Rousakos #9
Andrew Trudel #4
Sunday, June 25
2017 CLL League Champions
2017 Charlton Little League Champions
Major League
Regular Season Champions: Incom Cubs
Manager: Rich Lucht
Playoff Champions: O'Malley's Auto Body Padres
Manager: Marty Mullen
O'Malley's Auto Body Padres 7 - Fairway Mortgage Diamondbacks 4
AAA League
Playoff Champions - AmComm Wireless Diamondbacks
Manager: Jared Green

Country Bank Mariners 17 - Camosse Masonry Rockies 6
AMCOMM DIAMONDBACKS 'DO THE RIGHT THINGS' ON WAY TO TITLE
"You do the right things, the right things will happen." They're the words Coach Green of the AAA Amcomm Diamondbacks told his players on Day 1 of baseball practice. And they're the words his players lived by throughout the season as they capped off a strong playoff run with a 17-6 victory over the Camosse Masonry Brewers in the Championship game at Bond Field Wednesday night.
The game saw it all: Timely hitting. Solid pitching. Sound defense. Smart base running.
Adam LaFortune pitched three solid innings for the Champs, with Caden Green coming on strong at the end to close it out. At the plate, players up and down the D-Backs lineup dug in and delivered. Leading the charge with two hits each: Devin Rowden, Francisco Diaz and Adam Rydlak. Chipping in with singles: Caden Green, A.J. Desto, Camden Bousquet, Jo Jo Kustigian and Colin Brush.
But the victory had to be earned. Because the Brewers refused to go down without a bang. Contributing with hits for the Brewers: MacConnell, Gadbois, Mazur, Henault, Resener and Chute. With the defensive play of the game going to Andrew Henault, who robbed Camden Bousquet of an extra base hit with a diving catch in left, then smartly doubled up the runner at second.
In the end, it was baseball the way baseball should be played. Two teams, playing hard and doing all the right things.
Congratulations Champion Diamondbacks and runner-up Brewers for giving the fans a great game to watch. You should all be proud of the way you played.
Minor League
Playoff Champions - Coonan Insurance Yankees
Manager: Kevin Morin
Pony League
After a very successful season for 6 Pony League teams (the most in the last several years), the annual family day was held at Heritage School for skills competition, pizza, and awards. The following players performed above and beyond in various skills competitions.
Fastest Runner: Oliver Andreotta
Batting Champion: Adam Hast
Throwing Champion: Derrick Punch
Pop-Fly Champion: Derrick Punch
Thank you to the managers and coaches for teaching the sport of baseball to our group of 6-7 year olds.
Special appreciation to Patrick Lefebvre for being the Pony League Director.
Wednesday, July 19
Jimmy Fund Home Run Derby - Ages 8-11 in Grafton on August 5th
2017 MASSACHUSETTS DISTRICT 5 LITTLE LEAGUE
JIMMY FUND HOME RUN DERBY
8, 9, 10 and 11 Year Olds!
Date: Saturday, August 5th (Rain date August 12th)
Time: Little League Age 8 (100 ft fence) – 3PM
Little League Age 9 (130 ft fence) - 4:30PM
Little League Age 10 (150 ft fence) – 6PM
Little League Age 11 (175 ft fence) – 7:30PM
Location: GRAFTON LITTLE LEAGUE – FERRY FIELD
115 Ferry Street, South Grafton
Entry fee: $20 donation to the Dana Farber/Jimmy Fund fundraising page of the Grafton 10 Year Old District All-Star Team. All proceeds will benefit the Dana Farber Jimmy Fund Foundation.
Entry Fee Payment:
Log on to

www.jimmyfundlittleleague.org

Select "Support A Team"

Choose "Grafton 10A All Stars"

Click On "General Team Donation"

Donate no less than $20

When filling out the Donor Form, use the entrants name and under "Company" write:
Contest rules:
Players must be league age 8, 9, 10 or 11 for the 2017 season.

All 4 Age groups will be taking part in their own separate event.

Players shall arrive 30 minutes prior to start time to check in and warm up.

Players are encouraged to wear their regular season uniforms.

Batting order will be determined from a blind draw.

Batting cage may be used for warm-ups. Players will warm up in the order in which they will be hitting. Limit of 15 pitches in the cage. Baseballs and a coach will be provided in the cage.

Coach pitching will be used from behind an "L" screen. Grafton Little League will have batting practice pitchers available or the player may bring their own pitcher. If choosing their own pitcher, that pitcher must be ready when the player is called to bat.

Batters will be given 10 outs. A homerun will be a point. All other hits and/or misses will be an out.

The top six hitters will return for a second round. Batting order will remain the same as the first round. Batters will be given 7 outs. Second round totals will be combined with the first round totals to determine a winner.

In the case of a tie after two rounds, the players tied will participate in 5 out rounds until a winner is determined.

One coach per player is allowed on the field.

A trophy will be presented to the top 3 hitters of each age group.
Friday, June 30
2017 11-Year Old All-Star Team
2017 11-Year Old All-Star Team
2017 Millbury District 5 Tourney (2-0)
Game 1 - Charlton 14 Oxford 2
Game 2 - Charlton 5 Sturbridge 2

2017 11-Year Old All-Stars
Manager: Michael Dandridge
Coach: Adam Daniels
Coach: John Lanpher
Coach: Tim Hennessey
Coach: Dave Ugrinow
Peter Barbale #3
Troy Dandridge #7
Logan Daniels #14
Matthew Blake #9
Joshua Harrison #1
Tommy Hennessey #5
Kellen Kinnes #17
Alexander Lanpher #11
Luke May #36
Adrien Roach #2
Trent Szela #13
Jack Ugrinow #15
Tuesday, July 26
Little League Bat Moratorium - In place after 2017 season.
Little League has adopted new bat standards for the 2018 season. For those planning on buying a bat in the next year or so, this could have an impact on your decision. Any bats not meeting the new standard will not be allowed after the 2017 season. The new bats are not yet being produced. See the info below from Little League, and you can click on the link at the end for more information.
With the Little League® International Board of Directors formally adopting USA Baseball's new standard for bat performance testing, Little League International fully supports this program. For more than seventy-five years, Little League has used improvements in science, engineering, and technology to take the sport of baseball to higher levels. By utilizing the most current advancements available, manufacturers can now develop bats with a wood-like performance, which is important for the long-term success of the game. Developed by a USA Baseball committee of scientific experts, Little League Baseball® has decided to adopt the new bat standard for mandated use effective January 1, 2018. All national members of USA Baseball, including Little League, are encouraged to adopt this new standard. Little League-approved bats can be used through December 31, 2017, and our current bat regulations will be in effect until then. That includes the moratorium prohibiting the use of all 2 ¼ inch barrel baseball bats constructed with composite material in the barrel, unless approved. Visit LittleLeague.org for detailed information. Little League looks forward to working with USA Baseball, and will begin educating our local leagues, and the parents of our 2.1 million baseball players, preparing them for the important change coming in 2018.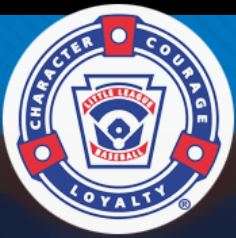 Click on image for more information
Wednesday, March 29
Medical Insurance Reimbursement
Fallon Medical Reimbursement:
To receive a confirmation letter that your child/children are enrolled in the current season,
please email the CLL player agent Kelly Morin at kelly.mightyoaksmontessori@gmail.com with:

Your name and the children(s) name, address and children(s) date of birth.

You will only receive a letter for the current season - no letters will be produced for previous seasons.
Please allow 2-4 weeks for processing.
Not a member of Fallon - please check with your Health Insurance Carrier for possible reimbursement programs.
Friday, June 30
2017 10-Year Old All-Stars
2017 10-Year Old All-Star Team
Jimmy Fund Tourney (7-0)
Game 1 - Charlton 18 Ty Cobb 1
Game 2 - Charlton 7 Oxford 4
Game 3 - Charlton 9 Sturbridge 0
Game 4 - Charlton 6 Quaboag 5
Game 5 - Charlton 34 Leicester 1
Game 6 - Charlton 16 Webster 5
Game 7 - Charlton 10 Dudley 0 (Forfeit)
2017 10-Year Old All-Star Team

Manager: Rich Lucht
Coach: Jeff Avoglia
Coach: Ed Ramsey
Coach: Mark Szela

Anthony Avoglia #1
Alexander Brouillard #14
Connor Fox #12
Garrett Lucht #85
Kyle Mazur #50
Zachary Moody #11
Jeffrey Popsuj #3
Nicholas Ramsey #57
Devin Rowden #18
Benjamin Streeter #47
Reid Szela #20
Jacob Wojcicki #99
Friday, June 30
2017 AAA Division All-Stars
Charlton AAA All-Stars Playing in Holden Tourney
Manager Kevin Hall is leading the Charlton AAA Team into the Holden Tourney playoffs after finishing the round robin action at (2-2). The odd schedule of events has Charlton beating Connie Mack-Worcester with scores of 15-0 & 15-4 but dropping decisions to the strong Holden1 team, 14-3 & 18-8.
Charlton is hoping to redeem themselves in the playoff round which begins on July 5th.
2017 AAA Division All-Stars

Manager: Kevin Hall
Coach: Scott Hemingway
Coach: Josue Diaz

Camden Bousquet #1
Zachary Cournoyer #11
Francisco Diaz #34
Conor Gadbois #6
Joshua Hemingway #25
Casen Leonard #1
Aiden Lewis #9
Colin MacConnell #3
Antoine Nassour #10
Owen Reece #18
Colin Resener #4
Brady Wisniewski #12
Charlton Little League - Facebook Site
Friday, April 25
Please, No Cemetery Parking @ Center Field
Regarding Parking Regulations at Center Field 
The Cemetery Commissioners voted unanimously at their June 3rd meeting that I should write to advise certain groups that use the municipal recreation fields that  are between the Library and the Westridge Cemetery that parking within the cemetery is NOT allowed and individuals who do park there may have their vehicles ticketed or towed.  This rule was made several years ago for safety reasons and the Commissioners intend  to fully enforce this rule so that no one gets hurt.  We request that each Charlton team that uses the field help us enforce this rule by advising all parents and those of the visiting teams.
We appreciate your assistance in this matter.
Thank you.
Cemetery Commissioners
            Donna L. Neylon, Clerk
            Kristen Russell-May, Chairman
            Jason Sciarappa, Vice Chairman
Friday, June 30
2017 9-Year Old All-Star Team
2017 9-Year Old All-Star Team

9-YO Shrewsbury Tourney (4-1-1)
Game 1 - Charlton 13 Southboro 2
Game 2 - Charlton 2 Millbury 2
Game 3 - Charlton 8 Grafton 6
Game 4 - Charlton 18 Shrewsbury American 7
Game 5 - Charlton 9 Clinton 7
Game 6 (Championship) - Sturbridge 9 Charlton 8
9-YO Webster Tourney (0-0)
2017 9-Year Old All-Star Team
Manager: Rich Enberg
Coach: Jared Green
Coach: Sean Hennessey
Coach: Gregg Desto

Dominic Calcagni #8
Anthony Desto #6
Preston Enberg #2
Caden Green #12
Andrew Henault #99
Gavin Hennessey #11
Joseph Kustigian #28
Adam LaFortune #4
Jack Orrell #15
Jacob Ramsey #24
Anthony Trovato #3
Thursday, January 19
UPDATED- LITTLE LEAGUE BASEBALL AGE DETERMINATION CHART FOR 2017
Changes to Little League Baseball Age Determination for 2017.
Please click on chart for press release from Little League International.
Friday, June 30
2017 Minor League All-Star Team
Charlton Minor League All-Stars in Grafton Invitational Championship
UPDATED: The Charlton Minor League (8-Year Old) team battled hard to the end but came up short to Auburn LL with a 12-7 defeat. Congratulations on a great run. The future is bright for CLL.
The Charlton Minor League All-Stars will play Auburn LL in the 2017 Grafton Tournament Championship at Edward P. Miner Field (Mini-Fenway) on Saturday July 1st @ 12:30pm. The road to the championship was not easy as. Charlton opened the first game with a 13-9 victory over Grafton. The very next day faced a Dudley team and won 13-3. In their 3rd game, a game of unbeatens, Charlton bested Auburn 7-6.
2017 Minor League All-Star Team
Manager: Kevin Morin
Coach: Kelly Morin
Coach: Matt Rowden
Coach: Matt Gale
Coach: Joe Ricardi
Coach: Joe Westbury
Nolan Barton #17
Jacob Buniowski #4
Cole Foskett #42
Mason Foskett #26
Matt Gale Jr. #2
Grady Green #22
Aaron Mazur #16
Chase Morin #44
Samuel Philion #5
Dylan Rowden #8
Joshua May #27
Joseph Ricardi #21
Ryan Ugrinow #12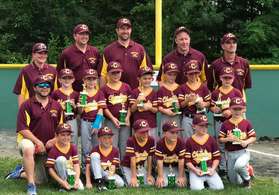 2017 Grafton Tourney Runner-Ups
Friday, June 30
2017 Junior League All-Stars
Charlton Junior League All-Stars Moving On in the Playoffs
Manager Brett Kustigian is leading this group in the District 5 Junior League tourney after dropping their first game versus Auburn 18-13, the team has rattled off 2 straight wins vs. Quaboag (8-2) & Auburn (9-6). They will play a semi-final game on Wednesday, July 5th.
2017 Junior League All-Stars
Manager: Brett Kustigian
Coach: Keith Lapan
Coach: Brian Lavoie
Coach: Rob Barton
Coach: Justin Menard
Kody Bartkus #23
Connor Barton #34
Justin Barton #43
Kyle Burlingame #15
Jake Fortin #2
Connor Johnston #9
William Kinnes #5
Chris Kustigian #24
Parker Lapan #13
Brian Lavoie #33
Owyn Law #27
Chase McKenney #7
Andreas Papoutsides #11