Chantilly Firecats: Philosophy
Welcome
This page includes information on our philosophy and on how to join the Firecats.  If you're interested in exploring positions with the Firecats, please call coach Nadir Moumen at 703 405 0545 or Rich Gleason at 703 378 7667.
What's Important

The Firecats are proud to have been awarded the Randy Rawls Sportsmanship award for ODSL. Learning "life lessons" such as good sportsmanship is our primary goal and we're off to a great start. All the teams and the kids we've played, practiced and interacted with have been just great and we're honored that they've voted for us as the sportsmanship winners. Other "lessons" we're focusing on are: (a) the value of teamwork, (b) thinking and decision making in a sports context, (c) striving for a goal (excellence) through thinking, practice and focus (d) skills improvement and (e) keeping everything in perspective and above all having fun in the process (stopping to smell the roses on the trail to our goals). Our priorities in order are: 1) Have fun, 2) good sportmanship, and 3) teamwork. We also have a full slate of social events.

What Children Want: (Dan Friegang - Sports Psychologist - US National Team)
a) They are acheiving, improving and learning new skills
b) They are affiliated with others; feeling wanted and needed by the team and other social relations with coaches and teammates
c) They experience the feeling of flow and playing in the zone: feeling good about the game itself and have a balance of both enough challenges and successes so the experience becomes internally rewarding. Kids refer to touching the ball, the ball feeling good when they run and breathing hard as feelings they enjoy.
d) They feel some degree of independence and self-control


FRIENDSHIP

Friendships grow as teammates learn to depend on each other and when they achieve success. Development of proper work habits and perseverance builds mutual respect. Recognizing that teammates can be consistently counted on to give their best effort leads to trust. Loyalty is the result of going through tough times and passing the test together. Pride is the last step in forming friendship. In a few unique situations, a limited number of teams attain this special sense of pride, when their players combine the qualities of sincere enthusiasm, determination, intensity and conditioning and make a personal choice to place the needs of the team ahead of themselves. Such qualities are the foundations of true friendships. Through the leadership shown by their coaches, athletes learn to identify and exhibit those qualities both on and off the field. As a result, they will be helped in allfuture relationships.
"The smallest good deed is better than the best intention" by Anonymous
"A real friend is one who helps us to think our best thoughts, do our noblest deeds, and be our finest selves" by Unknown

TEAMWORK
Regardless of your age, the experience of being on a great team is priceless. It is something that will influence who you are for the remainder of your life. Few experiences can be as helpful in the growth of young athletes, as being part of a selfless group working toward a common goal. Great teams are made up of athletes who have given up their quest for individual glory, who have willingly and wholeheartedly accepted the character traits of a team player and who have fully committed themselves to the group effort. This is a coach's greatest legacy.
"What I spent, I had; What I kept, I lost; What I gave, I have" by Henry Ward Bucher
Development Philosophy
Soon after forming the team, we spent time with Dan Friegang, the sports psychologist for the national team and several professional sports teams. We talked about how to set up a supportive environment for the girls where they'd enjoy learning and learn a love of the game. We figured that if they loved the game and and we could impart a culture focused on the pursuit of excellence, the girls would thrive and they have.
Another Firecats goal is to become one of the premier teams in our region. We hope to accomplish that goal by teaching excellence in the basics and focusing on technique in a supportive and fun environment. We are doing this by working with top coaches such as Nadir Moumen, with a C license and extensive experience, Gary Smerdzinski, former coach of the #1 nationally ranked Chantilly Inter Milan, Shariff El Shwanni, formally of the JMU National Champion team; Karl Gibbons, formally of Salzburg FC of Austria and keeper coach Jared Hymen. Learning life's lessons of teamwork and sportsmanship is also an important element of the Firecats. For example, it's a standard practice for our players to thank the referees after each match. We spend considerable time and effort on social and teambuilding events such as parties, wall-climbing days, team dinners, and hayrides because fun and learning the concept of "team" are also important components of a enriching environment. Since injury prevention is another important aspect of youth athletic development, we engage Wendy LeBolt, PhD, to teach us exercises designed to prevent injuries to knees, heels, feet, etc through strengthening.

In this phase of the players development, there's still a concentration on learning the basics in footskills and passing. A large portion of each practice, more than 50%, is dedicated to these skills. To keep the practices both fun and interesting, we try to teach these skills in the context of games and competition. Teamwork is very important to us so we're also spending time at each practice learning effective passing.
A theme of our program is excellence. Our teaching philosophy is to introduce a new concept slowly and follow a logical progression to acheive excellence. The first step is teaching each concept step-by-step slowly and without defense. We then introduce a 'passive' defense where we refine the concept and then finally, work on it with a full speed defense. At each step we work closely with the girls providing lots of individual attention so they master the concept at each stage.

"There are many people, particularly in sports, who think that success and excellence are the same thing and they are not the same thing. Excellence is something that is lasting and dependable and largely within a person's control. In contrast, success is perishable and is often outside our control... If you strive for excellence, you will probably be successful eventually... people who put excellence in first place have the patience to end up with success... An additional burden for the victim of the success mentality is that he/she is threatened by the success of others and resents real excellence. In contrast, the person fascinated by quality is excited when he/she sees it in others." - Joe Paterno

Conditioning is an important aspect of travel soccer. In addition Wendy LeBolt's program/advice on injury prevention and strengthening, we work on stamina training. We accomplish this through games such as relay races, breakaway contests and high speed dribbling races. We spend a portion of each practice on conditioning.

We ask players to work on improvement for a few minutes a day outside of practice doing things like juggling, foot skills and strength training/injury prevention. We ask them to keep juggling logs, notes on what they've done well and what they think they need to do to improve and statistics on other skills measures and conditioning.

Finally, the kids are encouraged to engage in other sports and activities. Many of our players also participate in basketball, gymnastics, dance and many other activities. Two of the parents on the team are basketball coaches in the winter. Winter and summer soccer activities are purely voluntary and are set up for the kids who are looking for extra practice time and social time with teammates and guests. As mentioned above, the primary goal is to create an environment that is enjoyable for the kids and gives them an opportunity to learn important life lessons such as good sportsmanship, teamwork and developing good friendships.
Social Activities
The Firecats believe that having fun and smiles and building good friendships is important so we put a lot of emphasis on social events.  Someone described our team as a girl scout troop that plays soccer too.  There are several pictures on this page from some of our social events.
We like to do social events with other teams too.  In the last year we've had three scrimmage "socials" where we play some soccer and then share snacks and drinks together afterwards.  Once we had four teams and had a "friendly" tournament and broke in the middle for a luncheon at a local restaurant.  We've also gone on adventures together with other teams such as "Nightmare Manor". 
We've also done team events, such as a DC United game and simple things too, like spending half a day on the trampoline at the coach's house or doing team slumber parties at a players house.
Each summer we run a team summer camp.  The camp is run by the coaches and there's no cost for players.  Although the camp is designed to help the team get ready for the upcoming season, much of it is devoted to social activities as well.  Each day at lunchtime, the kids go over to the pool for two hours of splashing cool water.  On Wednesday evenings we have a pizza party at the pool.  We reserve one day for an "activity".  If we have rain during the week, we'll do the activity then, otherwise we use Friday.  Last summer, we had lunch at a local restaurant and then went to see a movie (rated G).  We had a half dozen guests at our summer camp. 
For all these type events,
we love to have guests
.  In the not too distant future, we'll have an indoor pool party and more.  There's news on upcoming events on the
"social calender"
page (just click).
Tryouts
The Firecats are looking for top talent who want to have fun with soccer, who look forward to forging strong friendships with teammates, and who are willing to work hard to learn and improve with the goal of becoming one of the premier teams in our region. The next set of tryouts will be in May with the time and place TBD. We encourage all who are interested to come to our practices and tryouts. The Firecats are always looking for top players who want to challenge themselves to play with the best in Virginia.
If you're interested, please contact Rich Gleason at (703) 378 7667 (
richgleason@cox.net
)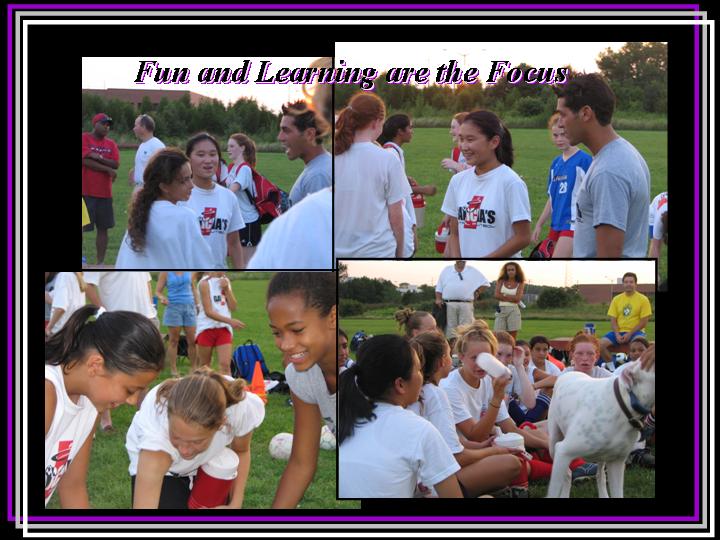 Firecats welcome guests to our practices- come out and meet us!
Clinics
The Firecats will host a series of soccer practices through the fall and winter featuring Nadir Moumen. Nadir played for JMU who's club team was national champions for 2 years during his tenure there. He also coaches a
Super Y
team as part of the
DC United
organization.
The clinics are for two purposes. First, the Firecats are concentrating on excellence in the basics of soccer, in improving our technique. During the outdoor playing season we usually play on Sundays, so our Saturday Clinics will be light exercise concentrating on technique and execution rather than on conditioning. The second purpose is to meet other similar aged players who are serious soccer players and who are interested in improving. Please contact Rich Gleason at (703) 378 7667 for information on the time and place for the clinics.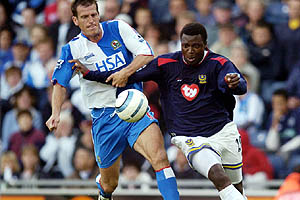 TY-Beannie Babies is a sponsor for Portsmouth
Coaches and Advisors
- Nadir Moumen, Coach & Trainer, (703) 403 0545.
- Rich Gleason, Asst Coach:
rich.gleason@cox.net
, (703) 378-7667.
- Gary Smerdzinski, Advisor/Coach, formally coach of the #1 nationally ranked Chantilly Milan
- Karl Gibbons, Advisor/Trainer, formally player with the Salzburg FC (Austria) and Regensburg (Germany).
- Eric Donaglo, Advisor/Trainer, trainer, current player and formally of the Sierra Leone national team.
- Shariff Elshwanni, Trainer, played with JMU
FIFA Laws of the game
(Federal International de Football Association)