Challenged Youth Sports: News Clips
Thursday, October 4
APP Press - Local sports program gives disabled kids a shot at playing
Challenged Youth Sports was featured in Tuesday's Asbury Park Press. While I didn't care for the wording of the headline (disabled kids), the article is a nice account of our program's driving force - our coaches, volunteers, and all of you who support the CYS program. Thank you to those who contribute their kind words about our program. We are excited that more will learn about what we do.
Monday, February 13
Bruce Springsteen Declares Rachel Colby 'A Trooper'
'The Boss' gets to meet a brave Holmdel High School student at a local hospital.
By Christina Johnson - The Holmdel Patch
February 10, 2012
At one moment, Rachel Colby, 19, of Holmdel was lying in a hospital bed at Monmouth Medical Center, on medication for a painful bout of kidney stones. In the next moment, Bruce Springsteen was at her bedside, praising her courage, complimenting her smile and giving her a kiss on her head. No, it was not a dream. It actually happened on October 29, the day of the strange snowy nor'easter. And her mother and father, Catherine and James Colby, have the photo to prove it. "You could just see her light up," said Catherine Colby, recalling the visit. Their wheelchair-bound daughter has endured 35 surgeries, for a multitude of medical issues she's had to deal with since birth. Her parents are always at her side. "To be honest, it was exciting and it was something different from what we've been through with Rachel. It took away from dealing with medical issues, and a lot of the down part of being sick all the time. It was exciting," said Catherine Colby. Rachel Colby's surprise encounter with the beloved Monmouth County-based rock legend has been circulating among Rachel Colby's friends and family. It came to Holmdel Patch's attention after her recreation sports coach, Paul Hooker of Challenged Youth Sports in Lincroft, re-told Jimmy Colby's story on the CYS Facebook page. Her mother said that on that unforgettable day, Rachel was plugged into her iPod, listening to music and taking medication to help her with the kidney stones. Jim Colby did a double take when he saw what he was sure was Bruce Springsteen walk past the door to chat with a doctor. "He said, 'This man looks like Bruce Springsteen,' and I said, 'Nah,'" she recalled. But Jim Colby goes to Springsteen concerts and buys the Boss's music for himself and Rachel. He was sure. He waited for the conversation between Bruce and the doctor to be over, with the plan to ask Bruce to come talk to his sick daughter. As he approached him, a security guard intervened, said Catherine Colby, but Bruce told the guard it was okay. "No problem at all," Springsteen told Rachel's father. He went to her bedside, explaining he was at the hospital to visit his sick friend. "Rachel, do you know who this is? Bruce Springsteen!" Her mother said, and her daughter's face lit up. "I told him pretty much what we do, that this is our world, that she is in and out of hospitals a lot. I started to tell him what was wrong with her," said Catherine. "At that point, he said to Rachel 'You're a real trooper, you're really pretty, you have a beautiful smile," her mother said. "She had a big smile on her face." Catherine Colby told Springsteen about her daughter's love of music and music videos. "Who knows, maybe she's listening to one of your songs right now," she told Bruce. Rachel took off her headphones. "Nah, I'm listening to Shania Twain," she said. Springsteen laughed. "I like Shania Twain too," he said. Catherine Colby asked if she could have a photo of the two of them. Springsteen said sure, and he went to the top of the bed and bent over to be photographed with Rachel. Catherine took one image with the cellphone and thanked him. Before he left, Springsteen, who has children too, made an affectionate gesture by kissing her on her head. Then he left. "He was very nice. He listened to what we had to say. He was down to earth," said Catherine Colby. The Colby family lives on Maurice Avenue, in the section of Holmdel off Laurel Avenue. Rachel Colby will graduate from the high school's contained class this summer, and continue one more year to re-inforce job skills she is using at her part time job as a volunteer at Regal Pointe in Middletown. She is also known throughout the school system as a helper. Through the School Transition Readiness Independent Vocational Experience program (STRIVE) she leaves the high school to work twice a week at the Village Elementary School, at the front desk and in the library. Of her experience meeting Bruce, she tells people, "It was really cool," said her mom. "She just takes things in stride. When Bruce says she is a trooper, that's really an understatement," said Catherine Colby.
Click here to view the story on the Holmdel Patch website.
Asbury Park Press
By BOB CULLINANE
STAFF WRITER

Meredith took a short lead off first base.

On the mound, the pitcher went into his windup, threw the ball and, CRACK!, the batter smacked a ferocious dribbler into the infield.


As most of the 14 infielders scrambled to pick up the ball, I called to Meredith, "Go! Go!"


She looked up at me from her motorized wheelchair, thrust the joystick forward, and the wheelchair kicked up a cloud of dust as it raced to second base.


Naturally, she was safe at second. And then third. And then safe at home, too.


In fact, Meredith Gregario always scores a run. And she always gets a hit, too. (Her hitting streak would put DiMaggio to shame.) And her batting average -- 1.000 -- is better than any major league, minor league or Little League player. Ever.


But in her league, Meredith's performance is not that special. In her league, all the kids bat 1.000. All the kids score every time they get on base. And somehow, all the kids win every game. Even when they're on different teams!


That's because her league -- the Challenged Youth League -- doesn't allow anyone to lose. Or to strike out. Or to leave the field with anything but a victory.


And though the kids are all disabled, either mentally or physically, the baseball they play is as exciting and rewarding as the brand played by the millionaires in Yankee Stadium.


In fact, most of these kids throw just as well as Chuck Knoblauch. (Maybe better.)




Four sports offered
It's officially called the Challenged Youth Sports League Inc., and it was created 11 years ago by Paul Hooker, who was the president of the Lincroft Little League at the time. Paul is also the former varsity baseball coach at Red Bank Catholic (1994-2000) and is the current assistant varsity baseball coach for Middletown High School South, where his son plays.


The father of three "able-bodied" children, Paul said he "wanted to provide a recreational program for children with disabilities" after realizing there were no such programs in existence.


The all-volunteer, nonprofit organization offers programs in baseball, soccer, basketball and tennis and averages 75 players per sport. "We'll take anyone with any kind of disability over the age of 7," Paul said in defining the only requirements for participation. There's also a $25 fee that is used to purchase uniforms, equipment and trophies. (Oh, yeah . . . every kid in every sport gets a trophy.)


"Most of our kids are from Monmouth and Ocean counties," Paul said, "but we have kids from all over. We serve over 150 families."


The "we" Paul refers to are the volunteers -- many of them teen-agers -- who serve as "buddies" for the players. Some, like Sarah Milonis of Holmdel, are buddies to family members. (Sarah's brother, Alex, is a player.)


Others, like Jay Van Lenten, do it out of a sense of community service. "Although I really enjoy coming out here," he admitted during a game last Sunday.


Jay, 24, of Middletown, has been a volunteer for 10 years. "I was a buddy for 7 years and have been a coach for three." Jay was coaching the mighty Blue Jays this day against the mighty Athletics.


"A lot of these kids don't have a chance to run around and get exercise like this," he said as another base-clearing hit ended the inning. "But I have to say, I do this for myself. It really makes me feel good to come out here."




Easy job for the ump
I was going to be the home-plate umpire for the first inning of the game, so the real umpires -- Tim Jackson of Long Branch and Jim McGrath of Hazlet (who are members of the Shore Umpires Association and volunteer their time) -- gave me a few ground rules.


"Everything is a strike," Tim said. "Or a foul ball."


"Huh?"


"There are no balls," Jim said. "There are no strikeouts. After two strikes, if a player swings and misses, it's a foul ball. And everyone is safe at every base."


"Best of all," Tim said. "No one argues with the ump."


Well, that all sounded easy enough, I thought, until soon into the game a batter whiffed and whiffed and whiffed, sending a half-dozen imaginary foul balls into the stands. Finally, though, he smacked a ferocious dribbler to the infield (ferocious dribblers are the most common type of hit in this league) and a swarm of infielders pounced on the ball.


And that's another thing about this league: No one plays outfield. There are more than a dozen kids, and maybe 10 buddies, jammed into the infield. Which is great if anyone hits a ferocious dribbler, but might cause a problem if someone lofts a pop fly to left.


"In all the games I've umpired," Tim said. "I've seen maybe two hits to the outfield."




'Safe' and a smile
As they come up to bat -- one on crutches, a few in wheelchairs, others with a less-than-perfect gait and others with the poise of a ballerina -- each player hears his or her name announced on the public address system by Paul.


There's Frank, Billy, Michael, Ryan, Anthony, Sara, Timmy, Peter, Richie, Andrew, Robert, John, Robby, Mary Beth, Jimmy, Alex and many others, all puffed with pride as their names are trumpeted into the afternoon air.


Each of them proceeds to get a hit. Each of them rounds the bases. Each of them touches home plate, where I am standing with a welcome "Safe!"


In return, I get high-fives and ear-to-ear smiles. In return, I get an understanding of what Jay means when he says, "It really makes me feel good to come out here."


After one inning (the entire game covered only two innings and lasted about an hour), every player has batted and every player has scored. The second inning is a repeat of the first, with all the names announced again, all the bases run, all the smiles and all the cheers from the stands. I umpire at both first and third base and say "Safe!" about 20 more times.


The game ends in a 17-17 tie (games always end in a tie) and the teams congratulate each other around home plate.


And then, like kids worldwide, they rush to the food concession for a hot dog or a candy bar.


"We'd like to build a playground for kids of all abilities," Paul tells me after the game. "Monmouth County has given us a 1-acre plot in Dorbrook Park (Colts Neck), but we need to raise $500,000 to build the park."


The park Paul and the others would like to build is called a Boundless Playground, and would be universally accessible for the enjoyment of all children, including typically able children and children with physical, sensory and developmental disabilities.


If built, it would become the first such playground in New Jersey and would be turned over to the Monmouth County Park System upon completion.




The joy of childhood
Last Sunday, my wife, Billie, and I arrived at the Lincroft Little League field about 15 minutes before the start of the Challenged Youth League game.


I started tossing the ball around with a few of the kids, while Billie sat in the stands. After a few minutes, I glanced up and saw tears in her eyes.


"What's wrong?" I asked after walking over to her.


"It's just so sad," she said, looking out at kids with crutches, or in wheelchairs or with obvious physical problems trying to throw and catch the ball.


I know how she felt, although I had no idea what to say to her at the time.


Now, after the game and after all those smiles and high-fives; after being with a crowd of giving people who volunteer their time, I think I know what I would tell her.


I think I would tell her this: There are times in life we look at things and really don't understand what we see. Is what we see sadness or joy? Happiness or grief? Is what we see a field of disappointment or of dreams?


And then there are times in life we look at things and know exactly what we see. And now I know that last Sunday what we saw was simply a bunch of kids being kids. And adults loving them unconditionally for it.


What you might call a perfect game.


For more information about the Challenged Youth Sports program or the Boundless Playground project, call Paul Hooker, after 7 p.m., at 732-974-7729.





from the Asbury Park Press Published on June 10, 2001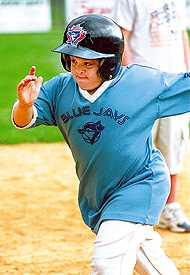 Fortune Small Business October 2005