"Where Are They NOW!"
---

The Valley Vipers, as of Aug 1st '03, are a 13u travel baseball team consisting of players from the Modesto CA. surrounding area. The team was formed from two local competitive rival 11u teams. We battled hard against each other making both teams better. In 2003 The Vipers have compiled a record of 88-13-1 and ended up being ranked 17th in the State(12yr old division) by USASPORTSRANKINGS.COM. They are the California State Super Series American Division 12u Champions and National Champions of the 2nd Annual Winter Nationals Super Series American Division 13u that took place in Arizona. We start a new Chapter in 2004!!!


---
Sunday, September 2
Jake & Leighton together wearing the same colors, again!
Kannapolis Intimidators

vs Savannah Sand Gnats

Sept. 2, 2012

Player

P

Player

Pos

CF

LF

2B

DH

RF

1B

C

3B

SS
Wednesday, June 6
Minnesota Twins 2012 Draft Selections
Name

Pos

B/T

Ht

Wt

DOB

Round

Pick #

Signed

Zach Jones

RHP

R / R

6' 1"

195

4

130

Justin Jones

LHP

L / L

6' 2"

175

26

730
Saturday, June 9
Zack Jones Drafted By Minnesota In 4th Round
NEW YORK –
San Jose State University junior right-handed pitcher
Zack Jones
was drafted Tuesday by the Minnesota Twins in the fourth round of the 2012 MLB First-Year Players Draft.
Jones was taken with the 130th overall pick in the fourth round. He is the 11th Spartan to be taken in the first 10 rounds, and the second in as many years.
"I'm kind of speechless. It's a dream come true," said Jones about being drafted Tuesday. "It was a little bit of a surprise. I was told rounds four through seven. I was on the phone with the Nationals as I got drafted by the Twins."
Jones was at home Tuesday watching the live stream of the draft online with close family and friends when he heard the news.
"I think it's going to be pretty similar to the Cape Cod League. Everyone is going to be pretty good obviously," said Jones of his expectations for the next level. "My progress is based off my work ethic. I'm extremely motivated and extremely anxious to get better."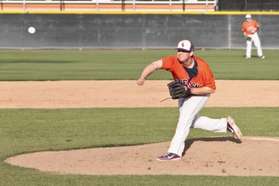 Saturday, June 9
Rivera signs free agent deal with Arizona Diamondbacks
Fresno Pacific right-handed pitcher
Michael Rivera
signed a minor league deal with the Arizona Diamondbacks on Friday, making him the third FPU player from this year's draft class to be picked up by a professional team.
Rivera, the program's all-time saves leader, struck out 85 batters and walked just 35 in 77 career innings. This past season he led the team with a 3.18 ERA and recorded seven saves while holding opponents to a .158 batting average. His pitching arsenal features a mid-90s fastball, with devastating secondary pitches to complement his velocity.
Rivera threw a bullpen session for a Diamondbacks' scout this afternoon and was offered a deal just 20 minutes later. He'll join former teammate
Jesse Darrah
, Arizona's 8th-round pick from a year ago, in the Diamondbacks' system, bringing the total number of FPU baseball alums playing professionally up to eight.
"I'm really excited to be given this opportunity," said Rivera. "It's great to be able to get my foot in the door. Now I've just got to work hard, stay in shape and prove that I belong there. The Diamondbacks have a lot of good players in their system already and I'm excited to be a part of it."
"I'd like to thank Coach Hirschkorn, he's done a lot for me throughout my time at FPU. I'd also like to thank the coaching staff, especially
Jordan Keener
for helping me with my pitching and the mental aspect of the game. Being at FPU was a great experience. I grew not only as a baseball player, but as a person. It was a great atmosphere to be in and there's such a good support system there."
Chicago White Sox 2011 Draft Selections
Name

Pos

B/T

Ht

Wt

DOB

Round

Pick #

Signed

RHP

S / R

6' 5"

195

831

06/20/2011

Aaron Pangilinan

LHP

R / R

6' 0"

215

1281

Unsigned
Jake Cose Bristol Sox Rookie
2011 Season
BRS
APP
1
1
8.18
11
0
0
0
0
11.0
16
12
10
3
4
9
1.78
.327
Minors
1
1
8.18
11
0
0
0
0
11.0
16
12
10
3
4
9
1.78
.327
Leighton Pangilinan Kannapolis Intimidators Class A
2011 Season
Team League AVG G AB R H 2B 3B HR RBI TB BB SO SB CS OBP SLG OPS
GTF PIO .286 29 119 14 34 4 0 3 19 47 4 42 0 0 .310 .395 .704
KAN SAL .203 19 64 6 13 3 1 1 9 21 3 18 0 0 .235 .328 .563
Minors .257 48 183 20 47 7 1 4 28 68 7 60 0 0 .284 .372 .655
Merced College 2012
Kirk Rocha - OF
All-American
1st Team All-CVC
(Co-MVP)
CVC Golden Glove Team
| | | | | | | | | |
| --- | --- | --- | --- | --- | --- | --- | --- | --- |
| 19 | Kirk Rocha | C/OF | R/R | 5'11" | 165 | Downey | So | Modesto, CA |
Kirk Rocha • Merced Blue Devil Baseball
Full Name:
Kirk Paul Rocha
Birthdate:
December 6, 1990

Parents:
Paul & Brenda Rocha

Hometown:
Modesto, CA

Nickname:
Cockrocha

High School/Coach:
Downey/Moore

Place of Birth:
Turlock, CA
San Jose State
Zack Jones
Previous Affiliations
Santa Teresa HS
Previous Experience
HS
Hometown
San Jose, Calif.
Courtesy: San Jose State Athletics

SPARTAN NOTES: In his first season with the Spartans...the 13th and final National Letter of Intent signing ahead of the 2010 campaign...top local recruit who was named Mercury News Player of the Year following a spectacular senior season of prep baseball...right-handed pitcher who is competing for a spot in the starting rotation, and will also attempt the difficult task of playing in the field when not on the mound, at either third base, or his natural shortstop position...has both a two-seam and four-seam fastball in his arsenal, alongside a changeup and curveball...carries a potent bat...one of nine San Jose natives on the 2010 roster...was selected in the 24th round (No. 722) of the 2009 Major League Baseball First-Year Player Draft by the Kansas City Royals...earned High School Player of the Year honors at the 26th annual
2010: Honored as the 2010 WAC Freshman of the Year...five saves led the team and good for a ninth place tie on the team's single-season list... second in wins (5), strikeouts (39) and appearances (20)...19 relief appearances and 16 games finished were team highs...was 5-1 in one start and 20 total appearances on the mound...in 41.0 innings had a 3.73 ERA giving up 34 hits and 17 earned runs while striking out 39...hitters batted a team-low .231 against him...pitching debut came against UC Santa Barbara (2/28)...got his first collegiate win against San Francisco (3/2)...longest outing - 5.2 innings, two hits and four strikeouts - came at Nevada (5/9)...earned three wins in his final nine appearances - 23 innings - without a loss...as a batter made 11 starts as a designated hitter, six at third and four at short among 31 appearances...hit .310 in 87 at bats...second on the team in home runs (4)...first hit came against UC Santa Barbara (2/27)...five multi-hit games including three three-hit efforts -against Southern Illinois (3/10), UC Davis (3/14) and Hawai'i (5/23)...four multi-RBI games with a season-high four RBI against Southern Illinois (3/10)...knocked in three runs at Santa Clara (3/7) and vs. Nevada (5/28)...longest hit streak was six games (4/25-5/22) and finished the year on a three-game run...slugging percentage and on-base percentage were .529 and .394 respectively.
Fresno Pacific
#44 Michael Rivera

Position: Catcher/Right-Handed Pitcher
Height: 6-0
Class: Jr
Hometown: Stockton, CA
Previous School: Saint Mary's High School
Personal - Michael was born and raised in Stockton, CA...His parents are Salvador and Judie Rivera...He has a younger sister, Cassandra...His hobbies include hanging out with friends, listening to music and playing ping pong...Michael has not yet decided on a major.
Prior to FPU - Michael is a graduate of St. Mary's High School...His baseball coach was Peter Pijl...He was named 1st Team All-League for three years...He was 1st Team All-Area in his junior year...His team had runner-up section titles in his sophomore and senior year.
Jordan Mould Vanguard University Costa Mesa, CA.
Previous School:
Modesto JC
Kyle Wagner Modesto JC
Bethany College Linsborg, KS.
Napa Valley College Storm
| | | | | | | | | |
| --- | --- | --- | --- | --- | --- | --- | --- | --- |
| 25 | Cory Hardesty | R/R | 6'2" | 200 | C | East Union | Manteca | FR |
Cal Bears
The preseason honors have already started to come in for the Golden Bears as California junior second baseman Tony Renda and junior left-hander Justin Jones have been selected 2012 Preseason All-Americans by the National Collegiate Baseball Writers Association. Renda was tabbed as a second-team preseason All-American and Jones was a third-team pick. The two players were instrumental in Cal enjoying its best season in 31 years, culminating in a fifth-place finish at the 2011 College World Series.
UC Berkeley
| | | | | | | | | |
| --- | --- | --- | --- | --- | --- | --- | --- | --- |
| 23 | Justin Jones | LHP | L-L | 6-3 | 175 | Jr. | HS | Oakdale, Calif. (Oakdale HS) |
The left-hander had one of the top pitching performance for a newcomer in school history as he was named a Freshman All-American by both Collegiate Baseball and Baseball America, as well as first-team All-Pac-10...he was sixth in the Pac-10 with 10 wins (10-6, 4.22 ERA) and 30 strikeouts looking in 98.0 innings pitched...he was a part of two shutouts and threw two complete games this past season, including a 6-4 victory March 12 at then No. 9-ranked Rice...his 10 victories as a freshman tied him for sixth on the Cal all-time single-season list.
AS A FRESHMAN (2010): Was 10-6 (6th in Pac-10 in wins) with a 4.22 ERA in 15 starts and 18 appearances...had 73 strikeouts (30 looking, 6th in Pac-10) in 98.0 innings...won May 28 at Oregon (7.0 innings, six hits, one earned run, one walk, four strikeouts)...won May 1 versus Oregon State (7.0 innings, eight hits, four runs, two walks, two strikeouts)...won April 17 versus Washington (8.1 innings, 10 hits, one earned run, no walks, five strikeouts)...won April 10 at USC (8.0 innings, nine hits, one run, two walks, career-high 10 strikeouts)...won April 3 versus Arizona (8.0 innings, four hits, no runs, no walks, five strikeouts)...earned win in relief March 30 versus Fresno State (1.2 innings, three hits, two runs, one strikeout)...had complete-game win March 20 at Cal Poly (six hits, one earned run, no walks, nine strikeouts)...had complete-game win March 12 at Rice (six hits, four runs, four walks, five strikeouts)...won Feb. 27 vs. Saint Mary's (7.0 innings, two hits, two earned runs, three walks, career-high 10 strikeouts)...won Feb. 20 versus Southern Utah (7.0 innings, seven hits, no runs, one walk, nine strikeouts)...
HIGH SCHOOL/PERSONAL: Justin Jones is a 6-3, 175-pound left-handed pitcher from Oakdale High School...this past Justin Jones was the seventh round draft pick of the Chicago White Sox...as a senior in high school, he was 10-1 with 118 strikeouts and a 0.42 ERA after going 12-0 with 124 strikeouts and a 0.40 ERA as a junior...Jones was a two-time Cal Hi Sports All-State honoree and the 2009 Modesto Bee Player of the Year...he throws in the high 80s with a curveball and change-up, helping Oakdale High School to the 2007 and 2008 San Joaquin Division IV titles...undeclared major...parents are Stanley and Rosemarie Jones...born January 10, 1991 in Modesto, Calif.
Cal Poly SLO
No. 37 James Lagorio
Pitcher, R/R, 6-1, 180
Linden, CA (Linden HS)

Will redshirt the 2010 season after undergoing offseason elbow surgery.

High School: A 2009 graduate of Linden High School, where he hit .342 as a senior under head coach Joe Piombo … drove in 26 runs with four doubles, two triples and five home runs … was 8-for-8 in stolen bases … also pitched 30 innings and compiled 5-1 record and 1.63 ERA with 48 strikeouts … led Lions to 15-10 record and a third-place finish in Mother Lode League … earned a spot on All-Area Senior Team … also named to All-Mother Lode first team for third straight year … as a junior, compiled 6-1 record and 1.60 ERA with 51 strikeouts in 39 innings … made the school's Honor Roll and was a member of FFA … also visited Pacific and Sacramento State before choosing Cal Poly.

Personal: Son of Richard and Karen Lagorio … one brother, Michael, and one sister, Courtney … hobbies include fishing and hunting … born May 27, 1991, in Stockton, Calif. … majors in crop science.

Tuesday, June 22
Great Fall Voyagers
2010 Season Preview:
Infielders
For now, there are no rookies on the Great Falls infield. From that Great Falls Tribune article, manager Chris Cron says his starters will likely be Pangilinan, Tezak, Davis and Silverio. Silverio's prospect stock continued to slip with a brutal showing at the plate for the Intimidators. For anyone to believe in him, he's going to have to hit this summer. Pangilinan hit .299 with a .778 OPS out of high school for Bristol last year. He could be an intriguing name to follow this year.
Leighton Pangilinan 23 | 1B
Status: Active
Stats

AVG:

.289

HR:

3

RBI:

16

SB:

0

Full Name: Leighton Pangilinan

Born: 03/06/1991

Height: 6' 3"

Weight: 230

Bats: L

Throws: R



2010 Season
GTF
PIO
.289
29
114
16
33
7
0
3
16
49
7
30
0
.336
.430
.766
Minors
.289
29
114
16
33
7
0
3
16
49
7
30
0
.336
.430
.766
Wednesday, September 2
Bristol White Sox
Leighton Pangilinan 46 | 1B

Status: Active




---
Stats

AVG:

.299

HR:

4

RBI:

22

SB:

0

Full Name: Leighton Pangilinan

Born: 03/06/1991

Height: 6' 3"

Weight: 230

Bats: L

Throws: R



2009 Season
BRS
APP
.299
44
144
11
43
10
0
4
22
65
6
34
0
1
.327
.451
.778
Minors
.299
44
144
11
43
10
0
4
22
65
6
34
0
1
.327
.451
.778
APPALACHIAN LEAGUE: Sox Slugger Strong In Defeat
By Tim Hayes
Sports Writer / Bristol Herald Courier
Published: August 28, 2009
BRISTOL, Va. – Bristol White Sox first baseman Leighton Pangilinan has been a hit in his first season as a professional.
The California native went 2-for-3 and raised his batting average to .296 on Thursday night in Bristol's 8-2 Appalachian League loss to the Pulaski Mariners at DeVault Stadium.
Pangilinan connected for a RBI double in the third, doubled again in the sixth and drew a walk in the eighth. He's shown a nice power stroke this season, which was one of the reasons the Chicago White Sox drafted him in the 40th round of June's Major League Baseball Amateur Draft.
He hit .476 with nine home runs and 42 RBIs as a senior at Escalon High School in Northern California. While he admits that moving from the West Coast to Southwest Virginia has been a bit of a culture shock, it hasn't bothered him on the field.
"It's been a lot of fun," Pangilinan said. "It's a great experience and really good competition, of course. It's a lot different from high school."
Pangilinan had the ultimate highlight on July 6 in his professional debut at Johnson City. On the first pitch of his first at-bat, Pangilinan smashed a ball over the right-center field fence at Cardinal Park.
"I was surprised I hit it out," Pangilinan said. "It was the first pitch … It was right there, and I swung as hard as I could."
Pangilinan was one of the few highlights for the BriSox (25-38) on Thursday. Four Bristol pitchers combined to allow 12 hits and eight different Pulaski players had at least one hit.
Outfielder Fred Bello led the Mariners, going 2-for-4 with four runs scored, three RBIs and an impressive inside-the-park home run in the ninth inning.
Meanwhile, Pulaski pitchers John Housey and Jordan Merry combined on a five-hitter. Housey (3-2, 2.95 ERA) struck out six in 5 1/3 innings and Merry closed it out for his fifth save.
Bristol has an off day today before playing its final home game on Saturday against Pulaski. While many players are tiring of the daily grind and anticipating getting home for the
offseason, Pangilinan is still producing at the plate.
"I'm just trying to stay focused on the game and not worry about home so much," he said.
Friday, July 3
Leighton Signs
7/2/2009 2:19:00 AM

Recent Escalon High graduate Leighton Pangilinan has signed a contract with the Chicago White Sox and is headed to Bristol, Virginia to start his professional baseball career. He was drafted by the Sox and officially signed with the club on Sunday. Marg Jackson/The Times
Shown at a hastily arranged going away party, the newest member of the Chicago White Sox organization, Leighton Pangilinan, center back, is flanked by his younger brothers Aaron, left, and Owen with mom and dad Kelly and Dan Pangilinan in front. Marg Jackson/The Times

Pangilinan Signs With Chi Sox

By MARG JACKSON

Deciding to seize the opportunity that is in front of him, Escalon High School Class of 2009 graduate Leighton Pangilinan is now a professional baseball player.

The 18-year-old signed a contract on Sunday, June 28 with the Chicago White Sox organization, after being drafted by the Sox earlier in the month. He is due to report today, July 1, to his new team, the Bristol White Sox in Bristol, Virginia. The Bristol squad is a Rookie league team, playing in the Appalachian League. They play their home games at the 2,000-seat DeVault Memorial Stadium and Pangilinan was drafted by the Major League's Chicago White Sox as a first baseman.

He was enjoying a quickly arranged 'going away' party put together by his parents, Dan and Kelly Pangilinan, at the local D'Boni's Pizza on Sunday afternoon.

The party came just a couple of hours after Pangilinan signed his name to his first professional contract.

"I was just full of energy when I got to do it," he said of signing on for what he hopes will be an eventual trip to the major leagues. "I was ecstatic.

"This is my dream, to try to get there."

A ballplayer ever since he can remember, Pangilinan has made his mark on a number of travel teams and helped propel the 2009 Escalon High Cougars to a 26-1 overall mark and an undefeated Trans-Valley League season. He also has played for the San Francisco Giants Scout Team and it was there and through Cen Cal baseball out of Oakdale that White Sox scout Adam Virchis starting taking notice of Pangilinan's abilities.

"I've always loved it," Pangilinan said of the game, adding that even though it was "a dream" to turn pro, it's not one he thought about a lot, feeling it was just that, a dream.

Now, he has a chance to make that dream a reality.

He has some specific goals for himself as he makes the transition from Escalon to Bristol.

"I will watch what I do, I don't want to make a mistake," he said. "I'll listen to everything they (coaches) say."

Pangilinan will be under the tutelage of hitting coach Jerry Hairston, a former major leaguer, at Bristol. He also takes with him many lessons learned on the Escalon and travel ball fields.

"At Escalon it was fun but we were also serious at the same time," he said.

Coach Greg Largent said he's proud to see Pangilinan take this next step in his career.

"He's matured tremendously as a person the last three years and now he will be surrounded by players just as good as he is," Largent said. "I think there's more in him that hasn't been tapped and I think he's going to take his game to the next level.

"By far he's the best hitter that has ever come through the halls of Escalon High School. We don't go 26-1 without him. There were a lot of cogs in the wheel, but he was one of the main ones."

Mom Kelly was the baseball player in the family, playing in Nebraska while in school because they didn't offer softball at the time. Dad Dan favored football and basketball, but served as assistant coach for some of his son's teams through the years. Both are extremely supportive ... and proud.

"This has been a dream of his," Dan said. "He's still got a long way to go."

But by working hard, the 6-2, 230-pound teen believes his chances for success are good.

His sweet stroke saw him compile a .476 batting average this season in league play, with 42 RBI, 14 doubles and nine homers.

Mom Kelly said she was - appropriately enough - at a Cougar summer baseball game when she got word that he had been drafted in the 40th round.

"Everybody got all excited," she said of the Cougar fans in the stands watching the game when she shared the news. "I think I've been on the phone ever since."

Pangilinan did not have a graduation party, nor did he attend Sober Grad because he had a baseball tournament the following day. So Sunday's gathering at D'Boni's served as a kind of graduation-celebration-going away party.

Pangilinan will suit up quickly for the White Sox, arriving in Bristol on July 1 and getting a chance to play. They are even providing him with a new glove and bats.

Had he not opted to sign, Pangilinan said he would have attended Delta College and played baseball there for the Mustangs. But he figures if the chance is there, he's going to take it.

"I'm nervous but I'm really, really excited to go off and do something I love to do ... for a job," he said, grinning. "I'm just going to focus on baseball, try to get to the big leagues. It'll be tough, but I'm going to try my hardest."

Friday, July 3
2009 All State Baseball
Justin Jones (Oakdale) Sr.
He was virtually unbeatable over a two-year span as he went 22-1 and was named the Modesto Bee's player of the year. This year, Justin went 10-1 on the mound with a 0.42 ERA with the lone loss coming in the postseason by a 4-3 final score with all four runs he allowed unearned after three errors. In 66 innings, he struck out 118 and hit .413 at the plate. Jones was drafted in the 7th round by the Chicago White Sox and also has a scholarship to attend Cal.

Zack Jones (Santa Teresa, San Jose) Sr.
The Saints marched to their first Mount Hamilton Division championship since 1993 with Jones leading the way on the mound and at the plate. He was named the San Jose Mercury News player of the year after going 11-0 with a 0.88 earned run average after only allowing 11 earned runs all year. Jones also finished just shy of 100 strikeouts as he recorded 98 strikeouts in 88 innings while hitting .508 with eight homers and 30 RBI. He was drafted in the 24th round by the Kansas City Royals.
All-State Baseball 2009: Medium, Small, Underclass
July 3, 2009 6:09 PM
What makes the CalHiSports.com all-state honors unmatched is that we point the spotlight on players from different-sized schools as well as the best players for the future. Cathedral Catholic and San Dimas lead the medium school selections while Washington of Easton and Escalon each get a pair for small schools. Sixty players also named either first team or second team all-state underclass.

2009 ALL-STATE BASEBALL
SMALL SCHOOLS

Players eligible were from schools that were considered Division IV or Division V for our state rankings.

Catchers
Sam Elliott (St. Mary's, Berkeley) Sr.
Matt Hartunian (Montclair Prep, Van Nuys) Sr.
Leighton Pangilinan (Escalon) Sr.
Andrew Rubalcava (East Nicolaus, Nicolaus) Sr.

Pitchers
Dylan Covey (Maranatha, Sierra Madre) Jr.
John Lopez (Escalon) Sr.
Cody Poteet (Christian, El Cajon) Fr.
Kenny Treadwell (R.L. Stevenson, Pebble Beach) Sr.
A.J. Venegas (Redwood Christian, Castro Valley) Jr.
Michael York (Chowchilla) Sr.

Infielders
Andrew Ayers (St. Bernard's, Eureka) Sr.
Matt Chabot (Woodcrest Christian, Riverside) Sr.
Kenny Diekroger (Menlo School, Atherton) Sr.
Michael Gerlach (Carmel) Sr.
Trevor Miller (Bret Harte, Altaville) Sr.

Outfielders
Patrick Bariteau (Liberty, Madera Ranchos) Sr.
Mitch Delfino (Cloverdale) Sr.
Jake Etcheverry (Hughson) Sr.
Billy Flamion (Central Catholic, Modesto) Soph.
Mike Moyer (Head-Royce, Oakland) Sr.
Aaron Roth (Cornerstone Christian, Camarillo) Jr.
Riley Showers (Bakersfield Christian) Sr.

Multi-Purpose
Cameron Bedard (Oxford Academy, Cypress) Sr.
Patrick Conroy (Drake, San Anselmo) Jr.
Brett Haringa (Baptist Christian, Hemet) Sr.
Tyler Johnson (Campbell Hall, North Hollywood) Sr.
Adam McCurley (Washington, Easton) Jr.
Andrew Morovick (Tahquitz, Hemet) Soph.
Miguel Navarro (San Jacinto) Jr.
Andrew Rich (Washington, Easton) Sr.

Small Schools Player of the Year:
Andrew Rich (Washington, Easton)
Small School Coach of the Year:
Brad Gunter Jr. (Valley Christian, Roseville)
Monday, June 15
College commitments
Nick Lucchesi / Delta JC
Micheal Rivera / Fresno Pacific
James Lagorio / Cal Poly SLO
Jake Cose / Delta JC
Jason Rasmussen / Modesto JC
Kirk Rocha / Merced JC
Zack Jones / San Jose State
Jordan Mould / Delta JC
Leighton Pangilinan / New Mexico JC
Kyle Wagner / Modesto JC
Justin Jones / UC Berkeley
Monday, June 15
Viper All Stars
San Joaquin 19th Annual High School All-Star
North Nick Lucchesi, Calaveras
James Lagorio, Linden
Kyle Wagner, Ripon
South Leighton Pangilinan, Escalon
Michael Rivera, St. Mary's
Modesto Sunrise Rotary All Star Game
Justin Jones, Oakdale
Kirk Rocha, Downey

CenCal's Micheal, Justin, Leighton, Zack going to WWBA in Georgia
Monday, June 15
Three Vipers Selected in 2009 MLB Draft
| | | | | | | | | | |
| --- | --- | --- | --- | --- | --- | --- | --- | --- | --- |
| 722 | | Jones, Zachary | Santa Teresa HS (CA) | RHP | R/R | 6'01" | 185 | | HS |
| | | | | | | | | | |
| --- | --- | --- | --- | --- | --- | --- | --- | --- | --- |
| 1213 | | Pangilinan, Leighton | Escalon HS (CA) | 1B | L/R | 6'03" | 230 | | HS |


Monday, June 15


Justin Jones


Oakdale High lefty Justin Jones, The Bee's Stanislaus District Player of the Year, was selected Wednesday by the Chicago White Sox with the 223rd pick in the seventh round of the Major League Baseball draft. Jones was 22-1 over his final two varsity seasons and has already signed a letter of intent to play at Cal. Jones' next major decision will involve whether to pursue a pro career with the Sox, or to attend Cal



Monday, June 15


Zack Jones




The senior right-hander struck out nine batters in six innings as the Saints (20-5, 14-5) defeated Sobrato 4-0 to clinch the Mount Hamilton title last Tuesday. It was their first Mount Hamilton title since the Blossom Valley Athletic League adopted a three-tiered system in 1993, Coach Steve Beaulieu said. Jones improved to 13-0 and continued his hot hitting with four hits, including two doubles, in two games last week. In league play he is hitting .507 with seven home runs and 34 RBIs. "Zack is very athletic and is a tremendous competitor with a strong presence on the mound," Beaulieu said. "His fastball is in the high 80s and low 90s and he has worked real hard to develop a good fastball in the last couple years." Jones has received interest from Division I schools such as San Jose State.



Monday, June 15


Leighton Pangilinan


Escalon High's Leighton Pangilinan, a three-year varsity starter who discovered his power stroke this season, was taken by the Chicago White Sox in the 40th round. The 6-3, 230-pound catcher — named to The Bee's all-District team last weekend hit .476 with nine homers, 14 doubles and 48 RBIs.



13U American Div. 2nd Annual Winter Nationals 1st Place



Kyle & Zac Defense & Offense MVPs

Tristin 1st Pitch Opening Ceremonies
Super Series California State Champions American Division
VIPERS Take 1st at Twin Creeks
USSSA/Worth Tournament 1st Place