Central Jersey Fillies: Welcome
Friday, April 4
Welcome to the website of the Central Jersey Fillies
LET THE PLAYERS PLAY
LET THE COACHES COACH
LET THE SPECTATORS BE POSITIVE
Central Jersey Fillies is a competitive Fastpitch Softball team based out of Gillette NJ, which is on the border of Morris and Union counties. Our "Team" is a group of hard working coaches, dedicated players and parents who love the game of softball and strive to improve on the field in a great atmosphere. The CJ Fillies are now looking towards 2014 season as we're ready for the most important time of the year: the start of our Spring 2014 Season. The next 4 months our team will have a tournament almost every weekend thru middle of July 2014.
The CJ Fillies played 2 tournaments during this past winter at The Pocono Dome as part of the teams winter training. CJ Fillies record is 4-1-2 as of March 31, 2014.
Our 2014 Season will start in April and run thru July, it will conclude with a trip to the 2014 PONY Nationals in Loudoun County, VA (July 18-23, 2014). The Fillies are a group of dedicated and hard working athletes that we're extremely proud of on and off the softball field. Thanks to all the parents for making this a great experience for their daughters!! GO FILLIES!!!!!!
Contact us via email at gbponyboy@gmail.com or call us 908-400-2289.
Thanks,
The Central Fillies Jersey Coaching Staff
Tuesday, April 8
Wednesday, April 9
FILLIES START 2014 SEASON
Sunday, April 6
Fillies Gearing Up to Play Rockaway Rampage
Wednesday, January 29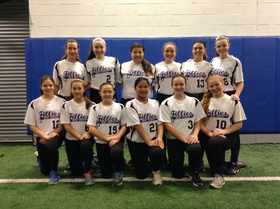 FILLIES QUALIFY FOR USSSA NATIONALS AT THE POCONO DOME JAN. 26
Thursday, December 12
WINTER WORKOUTS ARE UNDER WAY