Central Jersey Fillies: Welcome
Thursday, April 16
"Trust is built by telling the truth, not telling people what they want to hear."
I am not the original author of that quote, but I'm a firm believer in it. If your looking for a bunch of empty promises you came to the wrong website. I will guarantee that our players will work hard and improve every month. And when you play for one of my teams your family will get treated with honesty and respect.
Gary Bury- Founder The Central Jersey Fillies
The Central Jersey Fillies is a competitive girls Fastpitch Softball Organization based out of Gillette NJ and is made up of dedicated female athletes committed to year round training in order to become the best softball players they can be.
This year we will continue to move up in the fast pitch world and are set to compete and WIN at the state, regional, and national level.
Contact us via email at gbponyboy@gmail.com
Wednesday, July 29
12u-14u TRYOUT RESCHEDULED
Friday July 31st at Mountain Park in Bernards Township from 6:00-8:00 with a 5:30 check in. Hope to see you there.
Tuesday, July 7
FILLIES ADD 2 MORE TRYOUT DATES
Just added tryout dates Monday July 27th and Thursday August 6th at Mountain Park in Bernards Township. July 27th 14, 16, and 18u eligible players. Thursday August 6th 12-14u players. Both dates 6:00-8:00 with registration starting at 5:20. GPS Address is 2 Mountain Road Basking Ridge 07920
Wednesday, July 1
FILLIES ANNOUNCE FIRST 2 TRYOUT DATES
The first 2 confirmed tryout dates are August 4 and August 5 at Kitchell Road Field in Morristown. August 4th will be for 12u and 14u eligible players. August 5th will be for 16u and 18u eligible players. Both nights tryouts start at 6:00 with sign in starting at 5:25. More tryout dates will be announced shortly. GPS Address is 115 Kitchell Road Morristown NJ
Wednesday, June 10
THREE PEAT- FILLIES CRUSH IT IN LINDEN
The 14u Fillies continued their great 2015 Season winning a USSSA Tournament in Linden NJ June 6-7. Finishing 6-0 on the weekend The Fillies defeated among others NJ Flames, CJL White, and NJ Extreme in the championship game. Once again pitching depth and great defense carried The Fillies thru the weekend. The Fillies record is an impressive 57-19-2 for the 2014-2015 season.
Monday, May 25
LOOKING FOR COACHES- 2015 SEASON
We're looking for quality coaches for the remainder of the 2015 Spring/Summer Season and the start of The Fall Season of 2015. Please contact Gary at 908-400-2289 or gbponyboy@gmail.com if your interested in working with a great group of athletes achieve their softball goals. 
Wednesday, June 10
16u TEAM STARTS THE SEASON OFF WELL
The 16u-18u Fillies Team started the 2015 Season off on a high note finishing T-3 in both The PONY Top Gun Showdown in Woodbridge and The Michael Tighe Memorial in Bridgewater. The Fillies bats have been hot starting off the season, they will have to continue to carry The Fillies until the defense comes around. The Fillies have a demanding schedule coming up, traveling to 3 different states in the coming weeks.
Wednesday, June 10
LAURA PESANELLO NAMED CONFERENCE 1st TEAM
Fillies 14u catcher Laura Pesanello was named to The Big North Conference 1st Team and Honorable Mention All Bergen County Team. Laura a freshman at Holy Angels Academy in Demarest NJ is another talented Fillies player who continues to improve thru her hard work and determination. Great job, Laura.
Monday, May 25
14u FILLIES WIN AGAIN- THIS TIME IN COLONIA
The Fillies fresh off their PONY Tournament victory in Woodbridge a week earlier rolled into Colonia on The Memorial Day Weekend and this week was no different as they won CJ Cyclones Tournament May 23-24. Saturday started off slow for The Fillies as The Ramapo Rage cruised 8-2, but The Fillies rebounded with 2 victories before the day was finished. Sunday was a new day as they outscored their 3 opponents 32-8 and included a 11-0 whitewash of The Rage. The 14u Team ran its record to 48-16-2 from the start of the September 2014 season thru May 2015. Great job girls!!!!
Monday, May 18
14u FILLIES ARE "THE TOP GUN" IN WOODBRIDGE
The 14u Fillies showed last season was no fluke as they rolled to a perfect 6-0 record to win The PONY Top Gun Fly-By May 16-17 in Woodbridge. The Fillies started off the weekend outscoring their 3 opponents by a combined 36-5 scores on Saturday. Earning the #1 seed for Sunday The Fillies showed toughness and determination to claim the championship in thrilling fashion 4-3 over The CJ Tornado's.
Friday, May 22
CASEY AND SHEPARD NAMED TO CONFERENCE TEAMS
Fillies player Helen Casey was named to the Super Essex Conference 2nd Team and Katy Shepard to Honorable Mention it was announced today. The two freshman players helped Millburn to a 22-4 record and conference championship. Founder Gary Bury said " These two players represent what our organization is all about, they came here as 12u players and thru hard work and determination became great players. I'm very proud of both girls".
Tuesday, May 19
McCABE LEADS WHRHS TO COUNTY TITLE-NAMED NJ PLAYER OF THE WEEK
The Fillies own Robin McCabe pitched a two hit shutout leading The Lady Warriors over The Hillsborough Raiders in the Somerset County Championship May 17th. McCabe, a freshman, has thrown a phenomial 6 shutouts in a row and was named The N.J. Softball Player of the week for her accomplishment.
Click above heading for video link.
Sunday, April 5
NEW TEAMS FOR FALL 2015 SEASON
The Fillies Fastpitch Organization will be looking to expand for The 2015-2016 season. We will be adding a 12u Team to go along with teams at the 14u, 16u/18u, and 18u Showcase Level. We will be looking to add new players to our returning talented girls. We will focus as usual on building quality teams that will be competitive and capable of winning tournaments while making sure each player improves monthly. Please contact us in the coming months if you might be interested in joining our growing organization. Thanks, Gary Bury email address: gbponyboy@gmail.com
Saturday, January 31
FILLIES READY TO START 2015 SEASON
The 16-18u Team will be kicking off the 2015 season in Queensbury New York the weekend of February 13-15. Coach Bury said " This team is really talented and has worked very hard this winter, everyone is excited and ready to get this season started. We've added a couple of new players since last fall who will help us this year".
Sunday, February 8
14u TEAM LOOKING FORWARD TO 2015 SEASON
The 14u Team fresh off a great fall season is working very hard and eagerly awaiting the start of the season in April. "We have some dedicated, hard working athletes on this team, some girls are working out 4-5 days a week getting ready for the season. Pitching and defense will be strong for us all year, our hitters will have to step up in order for us to have a good season", Coach Bury commented.
Friday, December 5
PLAYERS-THANKS FOR A GREAT FALL SEASON- WINTER WORKOUTS START DECEMBER 28TH
Both the 14u and 16u teams winter workouts will start Sunday December 28th and run thru Sunday March 1st at The Branchburg Sports Complex. The 14u Team will play an indoor tournament at The Pocono Dome in Febuary and at The Robbinsville Fieldhouse in March. The 16u Team will play in Queensbury NY at The Adirondack Sports Complex in February and The Robbinsville Fieldhouse in March as well.
Monday, December 1
FILLIES TEAMS FINISH SEASON STRONG- GO 6-2 IN READINGTON
Both the 14u team and 16u team finished their seasons in Readington on November 9th going 3-1 on the day. Both teams had a great Fall Season and the coaches are looking forward to working with the players this winter as they prepare for The Spring/Summer 2015 Season.
Wednesday, October 29
14u FILLIES FINISH SEASON 20-6-2. FINISH 2nd IN SOUTH BRUNSWICK
The 14u Fillies Team finished off a great Fall Season with a record of 20-6-2. The team finished 2nd in two tournaments and came together as a team as the season went on. On October 25-26 the Team traveled to South Brunswick, went 5-1, and finished in 2nd place. The Fillies this weekend defeated such teams as The Lady Yellow Jackets, NJ Venom (Ho-Hum) and The East Coast Tsunami. The Fillies got great contributions from every player on the team this fall, its on to the winter workouts.
Thursday, November 13
16u FILLIES FINISH FALL SEASON 12-10
The 16u Team finished off a good 2014 Fall Season with a record of 12-10. Competing in PGF and Triple Crown Sports tournaments The Fillies played versus very good teams and will look to improve on their record next Spring Summer Season
Wednesday, September 17
14u FILLIES FINISH 2ND IN BRIDGEWATER

Its a new season but not much has changed, The Central Jersey Fillies 14u Team has a great tournament finishing 2nd in The Bridgewater Stomp out Juvenile Diabetes Tournament. The Fillies went 5-1 on the weekend playing great softball and exciting finishes. On Saturday The Fillies rode the pitching of Bridget 'High Heat' Hyland who went 7 innings as The Fillies beat Jersey Shore Huskies 2-1. Katy Shepard and Laura Pesanello each drove in a run. The Fillies infield of Sofia Mouchtaris, Janey Morabito, Olivia Marnell, and Kate 'Little Dynamite' Esso were outstanding all weekend. The Fillies rallied from a 6-3 deficit to beat NJ Insanity 7-6. Olivia Marnell was the hitting star as she hit a 2 run homer to seal the victory. Kaitlyn Miller and Gabriela Onelli worked well together to keep The Fillies close until they rallied late. Sunday saw The Fillies get great pitching again as Hyland and Miller both were outstanding in the circle. Defense was solid again as Victoria Brea in right field, Quinn Kekelis at first base, and Laura Pesanello behind the dish turned in solid play. The Fillies beat both Skylands Pride and NJ Venom by identical 3-2 scores before falling to Amwell Attitude in the finals. A great start to the 2014-2015 Season, way to go girls!!!
Sunday, October 5
16U FILLIES HIT 4 HOME RUNS ON SUNDAY- FINISH 2-2 PGF PLAY

The 16u Fillies played long ball on Sunday hitting 4 home runs and finished 2-2 versus similar 16u teams in PGF Games. Lauren 'Sun's Out Guns Out' Murphy had 2 home runs while Christine Pacheco and Madison Bury each had one. The Fillies started with a 12-2 thumping of The Cheetahs 16u team. Nicollete Salerno and Lauren Caruso had 3 hits each while Helen Casey and Kelly Vaughn chipped in with 2 hits each. Next up was ECD ELITE and The Fillies dropped a tough 3-1 battle. Robin McCabe pitched well but The Fillies bats were silent this game. Next up were The Hamilton Hurricanes and The Fillies had their best offensive game of the year rolling to a 13-9 victory. Julia Skrobacz and Colleen Valentine had 2 hits each while Nikkiann Giaimo added a hit. The last game of the day saw The Fillies drop a tough 5-3 game versus Edison Angels 16u Elite. Poor defense was The Fillies downfall this game as they got another well pitched game from Robin McCabe. The competition will remain tough as The Fillies will travel to Chester NY in a Triple Crown Sports Tournament and then finish in another PGF Event in NJ.
Sunday, October 19
FORMER PRO PLAYER LISA IANCIN TO TRAIN TEAMS THIS WINTER
FORMER PROFESSIONAL FASTPITCH PLAYER LISA IANCIN WILL RUN THE FILLIES PRACTICES THIS WINTER AT THE BRANCHBURG SPORTS COMPLEX. LISA'S AND KNOWLEDGE AND PASSION FOR THE GAME WILL NO DOUBT PUSH THE FILLIES TO BECOMING BETTER PLAYERS.
Sunday, June 1
THE FILLIES EXPRESS ROLLS THRU PRINCETON JUNCTION
The Fillies were on the road again traveling down to Princeton Junction May 31st and June 1st playing in The USSSA Line Drive Challenge. After going undefeated on Sunday, The Filles were crowned tournament champions for the 3rd time this season. Already 2x champions PONY champions, this was the first time The Fillies played in an USSSA tournament. The Fillies were down early 5-0 in the semi-finals to The Hamilton Hurricanes, but The Fillies proved champions never quit and rallied for a 6-5 victory. The tournament final was a slugfest with The NJ Flames, once again The Fillies showed the heart of a lion rallying for 3 runs in the top of the 7th and going on to a 7-4 victory celebration.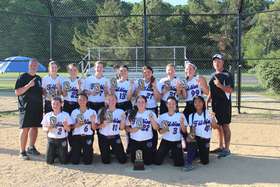 3X CHAMPIONS- FILLIES WIN USSSA TOURNAMENT
Sunday, May 18
ANOTHER FILLIES STAMPEDE - THIS WEEK IN THE NJ OUTLAWS SHOWDOWN
CJ Fillies are the winners of The NJ Outlaws PONY National Qualifier Tournament, May 17-18.
CJF played in Robbinsville, NJ this past weekend going undefeated and then outlasting The NJ Outlaws in a 3-1 hard fought Championship Game! The Fillies continued their torrid start as they captured their 2nd PONY Championship of the young season. As usual The Fillies played in 3 nail biting games on Sunday, the opener saw The Fillies fall behind early to RKE JAXX ELITE 4-1 only to rally late to pull out a 5-4 victory. Game 2 saw The Fillies hang on 2-1 over The NJ Gators in a great pitchers duel. The final game of the day was another low scoring classic as The Fillies got 2 runs in the top of the 7th inning to defeat the hometown NJ Outlaws.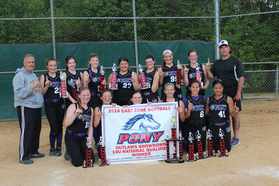 CHAMPIONS AGAIN - FILLIES WIN PONY QUALIFIER IN WEST WINDSOR
Monday, May 5
PURPLE AND BLACK ATTACK AT MONROE PONY TOURNAMENT
The FILLIES were back on The NJ Turnpike May 3rd-4th and by the time the sun was setting on Sunday afternoon the FILLIES punched their ticket to The 2014 PONY NATIONALS in Virginia. The Purple and Black Attack pounded the softball on Sunday scoring 30 runs in 3 games, finishing it off with a 15-6 thumping East Coast Tsunami. Game 1 on Saturday saw The FILLIES drop a 1-0 pitchers duel to host team Monroe Thunder White. Robin 'The Natural' McCabe was the hard luck loser as she struck out 6 while only giving up 3 hits. Game 2 on Saturday was also a tough loss for The FILLIES as they came out on the short end 2-1 to The Ramapo Rage. Isabella 'Lights Out' DeFinis pitched well in defeat while Katie Shepard and 'The Natural' each had a hit. Game 3 was played under the lights and it was The Christine Pacheco show, 'Chris' was tough in the circle allowing only 4 hits and drove in a run. Laura Pesanello and Madison 'The Diva' Bury each had a hit and RBI. Game 1 on Sunday was a rematch with Monroe Thunder White and it was new day and a new result. The FILLIES hung tough and grinded out a 5-4 victory, Corinne Davis and Lauren 'Guns' Murphy got on base 2x each and DeFinis went the distance. Game 2 on Sunday saw The FILLIES battle The Rage again but this time The Fillies were all over The Rage like white on rice getting a 10-6 victory. DeFinis, McCabe, Bury, Nikkiann Giaimo, and Pacheco drove in 7 runs between them. Davis and Maddy 'Dont Call Me Madeline' Mertz got on base 2x each to put The FILLIES in the championship game. The final game of the day saw The FILLIES bats stay hot as Lauren Caruso, Helen 'I Love The Yankees' Casey, and Izzy DeFinis each have 2 hits. Sofia 'Rubik's Cube' Mouchtaris score 3x while Bury and Pesanello each drive in a pair. Once again The FILLIES played some great softball this past weekend and to win a championship is something we will remember all year!!!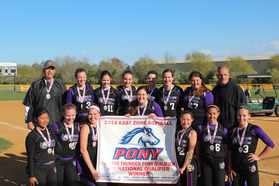 CHAMPIONS - FILLIES WIN PONY QUALIFIER IN MONROE
Monday, April 28
PONY - Voorhees Nightmare - April 26 & 27
The FILLIES traveled down to Voorhees on April 26-27 and played extremely well finishing 4-1 on the weekend. Saturday saw the FILLIES go a perfect 3-0 and outscoring their opponents by the combined scores of 20-5. Game 1 they defeated The Rhode Island Thunder Gold by the score of 2-1 in a pitchers duel."Izzy" DeFinis and catcher Laura Pesanello worked on a 3 hitter and was backed up with great defense. The FILLIES outfielders Lauren Caruso, Helen Casey, Christine Pacheco,Katie Shepard, and Sofia "Rubik's Cube" Mouchtaris were outstanding the entire weekend. Corinne Davis was on base 3x and scored the game winner. Game 2 saw The FILLIES battle a tough NJ Nightmare Team and pull out a 6-3 victory scoring 4 runs in the last inning. Pitcher Robin McCabe went the distance and drove in a run. Nikkiann Giaimo and Madison Bury each drove in 2 runs, while Lauren "GUNS" Murphy had 2 hits. Game 3 on the day saw The FILLIES pound out 14 hits and scalp Chiefs Fastpitch from Long Island NY 12-1. DeFinis and Pacheco got the job done in the circle, Davis. Giaimo, and Casey each had 2 hits and Mouchtaris drove in 3 runs to send the FILLIES home happy on the NJ Turnpike North. Sunday morning saw The FILLIES beat SJ Gators 5-1 and it was the Isabella DeFinis show, "Izzy" pitched a 2 hitter and drove in 3 runs. Caruso had a double and a triple and scored twice. The infield of Bury, Mertz, McCabe, and Murphy played error free once again. Game 2 saw The FILLIES drop a 7-2 stinker to eventual 2nd place finisher UP BLAZE. The FILLIES commited 3 errors to hurt their chances for another victory. "Maddy" Mertz and Davis each had 2 hits and Mertz drove in 2 runs also.