Central Indiana Knights: Welcome
Welcome To Your 2017 Class 3A State Champion Central Indiana Knights Hockey Team Homepage!
updated 11-29-2017
See "Events" link on the left for the most up to date scheduled items.
Alumni Game: December 20, 2017 at the Fishers Fuel Tank, **New Time:8:30PM, Tank 2. To reserve your spot on the ice, please RSVP to Mike Bell at taco11542@yahoo.com.
2017-2018 Season Practice Times:
Mondays and Wednesdays: 9:20-10:35 PM, Fishers Fuel Tank 1
Acceleration (96th Street) Tuesdays, from 6:30-8:00 PM
September 29 – October 1: Columbus, Indiana, Fall Foliage Tourney - Won 1st Place!
November 3-5 – Fort Wayne Crossover (3 games)
December 8-10 – South Bend Crossover (3 games)
January 19-21 – Indianapolis Crossover (3 games)
January 26-28 – Hoosier League
March 2-4 – State (Championship on the 10th)
For questions or concerns, please contact team manager Evan Porter: evanporter2@comcast.net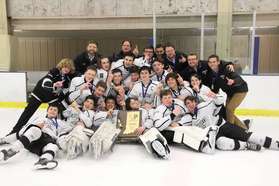 Knights win the 3A State Championship