Central Indiana Knights: Welcome
Welcome To Your 2017 Class 3A State Champion Central Indiana Knights Hockey Team Homepage!
Spring Hockey is here! See menu item (bottom left) for more details! The calendar is updated with all current dates/times (as of May 1, 2017).
2017-2018 Season Tryout dates have been set:
May 8, 2017: 7:30-8:45 PM
May 11, 2017: 7:30-8:45 PM
May 13, 2017: 10:20-11:35 AM
All at the Fishers Fuel Tank.
For questions or concerns, please contact team manager Evan Porter: evanporter2@comcast.net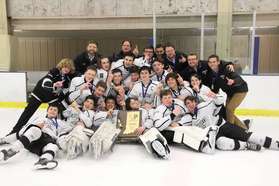 Knights win the 3A State Championship