Central Indiana Knights: Welcome
Your Central Indiana Knights Homepage Has Moved!
Please use the following link for all CIK related hockey news, events, and registrations.
https://www.cikhockey.com/
**The third and final CIK tryout will be held on Sunday, July 15, at the Fuel Tank at Fishers, from 1-2:15PM. All accepted players and those indicated for the call back via email, please plan on attending. If you are unable to do so, please let coach know as soon as possible.
Accepted offers for the 2018-2019 Hockey Season:
Aidun
Bedich
Bell
Cuffel
Didonna
Einterz
Freudenthal
Sawyer
Supernaw
Tomich
Hushkin
For website questions, please contact Mike Bell: taco11542@yahoo.com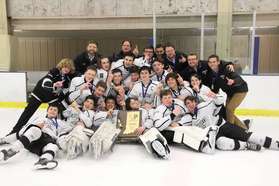 Knights win the 3A State Championship