Central Indiana Knights: Welcome
Welcome To The Central Indiana Knights Hockey Team Homepage!
updated March 19, 2018
See "Events" link on the left for the most up to date scheduled items.
Congratulations Knights Players and Coaches on a Fantastic 2017-2018 Hockey Season!
Check this site for all CIK related information and updates. We will continue to utilize this site as the primary communication tool for off season activities.
Team Indiana U18 and U16 Tryout Information can be found on the ISHSHA website.
For questions or concerns, please contact schedular Evan Porter: evanporter2@comcast.net
For website questions, please contact Mike Bell: taco11542@yahoo.com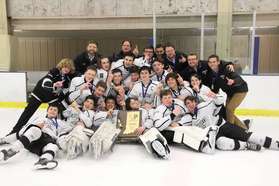 Knights win the 3A State Championship