Central Citrus Little League: CCLL News
Tuesday, December 8
Spring Registration
Registration Dates for the Spring 2016 Season
Tuesday, January 12 from 6 - 8 pm
Thursday, January 14 from 6 - 8 pm
Saturday, January 16 from 10 am - 2 pm
Tuesday, January 19 from 6 - 8 pm
Thursday, January 21 from 6 - 8 pm
Saturday, January 23 from 10 am - 2 pm
**ALL REGISTRATIONS WILL BE HELD AT **
St. Paul's Lutheran Church/School located at 6150 N. Lecanto Hwy in Beverly Hills.
** PLEASE NOTE THE LOCATION OF OUR REGISTRATIONS THIS YEAR **
St. Paul's is being a gracious host site for our Spring Registrations this year. Please direct all League and registration related questions to either CCLL Player Agent or the CCLL President. All CCLL contact information can be found on the CCLL Board page.
Please bring with you the following:
* Player's birth certificate
* Three Little League acceptable Proofs of Residence
* Your Player (so they can try on a uniform & get a correct fit)
For your convenience, the player registration and medical release form
can be found on the "Information & Forms" page.
><><><><><><
Tuesday, December 8
Horse Shoe Tournament
CCLL was invited to join other local youth sports organizations after the parade in a Horse Shoe Tournament. Eash team had to consist of 1 adult & 1 youth competitor. President Norm Plante & his daughter, Melissa, represented CCLL & did well.
They came in 2nd place and earned the League $300!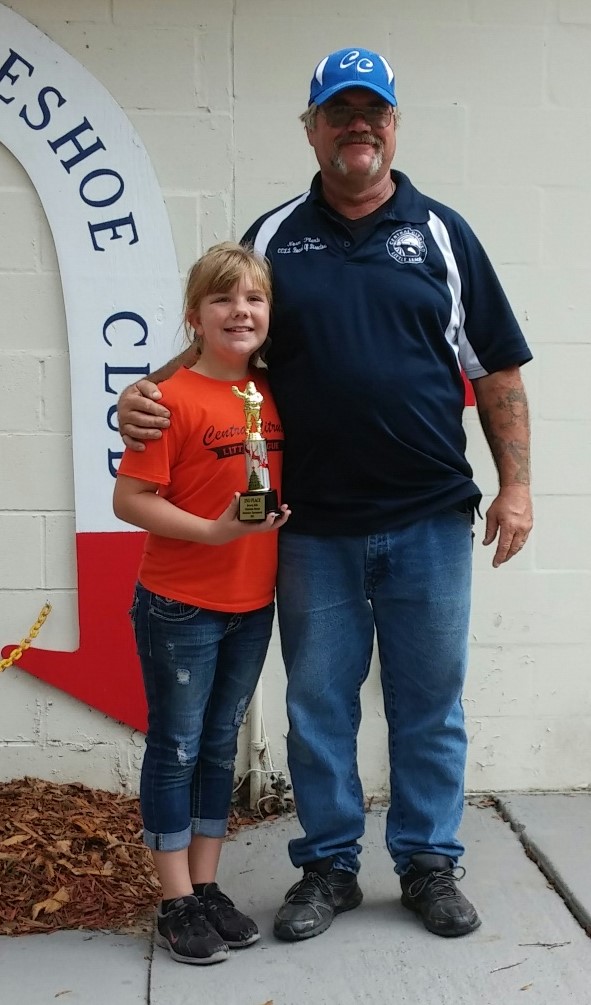 Pres- Norm Plante & his teammate, Melissa
Wednesday, January 7
Facebook
Check out our Facebook page & be sure to "Like" us!
><><><><><><
Wednesday, January 7
Volunteers Needed
Want to volunteer? Click on the "Volunteers" tab to see where you could help.