Central Citrus Little League: Welcome
Thank you to all of our teams, coaches, parents and sponsors who help make our league great!!
Central Citrus Little League
District 15
Central Citrus Little League offers
competitive baseball & softball programs for ages 5-18.
We also offer a Challenger Division for mentally and
physically challenged players.
Youth ages 4-14
Senior Challenger age 15 & up (including adults).
><><><><><>< -
Interested in becoming a sponsor for the 2016 spring season?
We have sponsorships to fit your budget
* Partner
* Team
* Sign
* Team/Sign Combo
All sponsors also get advertised on our Sponsors page.
Check out our Sponsor Form in the Information & Forms tab.
<><><><><><>
Mailing address: PO Box 586, Lecanto, FL 34461
Field location: 6905 N Lecanto Highway, Beverly Hills, FL 34465
><><><><><><
CONGRATULATIONS to Chris Parks!
Chris is a CCLL, volunteer umpire that has been selected by Little League to umpire at
the 2016 Senior Softball Regional level of the All-Star Tourna,ent.
When you see Chris around the fields be sure to give him a high five & congratulate him.
><><><><><><>
Tuesday, December 8
Spring Registration
Registration Dates for the Spring 2016 Season
Tuesday, January 12 from 6 - 8 pm
Thursday, January 14 from 6 - 8 pm
Saturday, January 16 from 10 am - 2 pm
Tuesday, January 19 from 6 - 8 pm
Thursday, January 21 from 6 - 8 pm
Saturday, January 23 from 10 am - 2 pm
**ALL REGISTRATIONS WILL BE HELD AT **
St. Paul's Lutheran Church/School located at 6150 N. Lecanto Hwy in Beverly Hills.
** PLEASE NOTE THE LOCATION OF OUR REGISTRATIONS THIS YEAR **
St. Paul's is being a gracious host site for our Spring Registrations this year. Please direct all League and registration related questions to either CCLL Player Agent or the CCLL President. All CCLL contact information can be found on the CCLL Board page.
Please bring with you the following:
* Player's birth certificate
* Three Little League acceptable Proofs of Residence
* Your Player (so they can try on a uniform & get a correct fit)
For your convenience, the player registration and medical release form
can be found on the "Information & Forms" page.
><><><><><><
Tuesday, December 8
Horse Shoe Tournament
CCLL was invited to join other local youth sports organizations after the parade in a Horse Shoe Tournament. Eash team had to consist of 1 adult & 1 youth competitor. President Norm Plante & his daughter, Melissa, represented CCLL & did well.
They came in 2nd place and earned the League $300!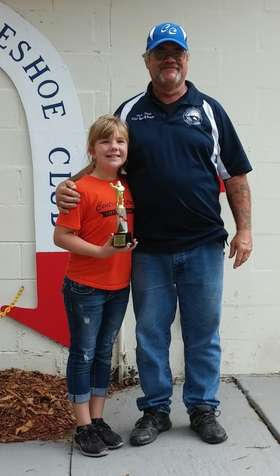 Pres- Norm Plante & his teammate, Melissa