Central Arkansas Razorbats: Welcome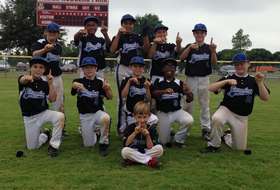 Gold Ring Champs!!
Welcome to the home of Razorbats Baseball!
2011 State Champions AABA, USSSA 8AAA Top 5 with five 1st place finishes
2012 9AAA State Runner Up, Trophy Finishes in 11 of 18 tournaments & 4th Place finish in Global World Series
2013 Fall - 10 Major, Spring - Played as 11U with Trophy Finishes in 7 of 14 tournments including a Global Gold Ring.
2014 Fall - Currently 13-0 for the Fall Season and 1st Place finishes in all 3 tournaments.
See our Featured Player of the Week! We will have a new player each week during the seasons. Click the Featured player tab on the left. Also see our NEWS page for the latest happenings and information.
A huge thanks to all our sponsors who help make this happen! Click the sponsor link get more information and locations for each of them.
Sept Slam Gold Ring Champs & Finished 13-0 for Fall 2014 !!
Congratulations to the Razorbats on winning the September Slam Gold Ring Tournament in West Memphis this weekend! The Razorbats went 4-0 for the weekend and are now 13-0 for the 2014 Fall season!
Load Up The Bases
Friday, February 8
Central Arkansas Razorbats