Central Dauphin Boys Volleyball: PINK OUT MATCH 2008

CDVB in Pink 3-28-08
Sunday, March 30
2008 Pink Out Team Picture Central Dauphin and Red Land JV and Varsity
The enduring image of the two teams together for the 2008 Pink Out Match which raised over $2500 for breast cancer charities in our area. The 2009 match will be held at Red Land high school, date TBA.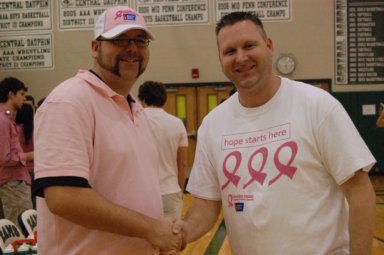 Red Land Coach Dan Mickle (left) and Coach JB shake hands before the match

Principal Carol Johnson preforms the first serve!
Sunday, March 30
Complete success: 1st Ever Boy's Volleyball Pink Out Match at CD High School
Check for $2500 to American Cancer Society
Friday March 28th 2008 Central Dauphin High School- A small idea turned into one incredible night as the Red Land and Central Dauphin Boy's Volleyball Teams came together to raise money for Breast Cancer charities in a Piink Out Match. Both teams wore pink in honor of all the women that have been affected by breast cancer, the gym was decorated with pink and white balloons, and 99% of the fans who attended the game were in pink themselves.
The night raised an astounding $3,000 that was presented to the American Cancer society.
A complete article will be written by Coach JB in the coming week once I have find the time the correct words. Also look for a bevy of pictures on this page so we can remember this special night forever.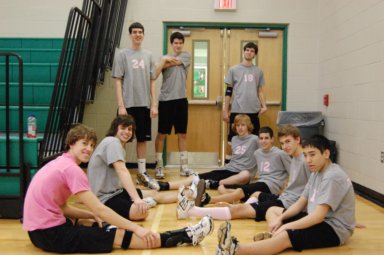 Red Land Varsity before the big match

PINK OUT MATCH 3-28-08
Wednesday, January 23
PINK OUT MATCH 2008 3-28-08 at Central Dauphin High School
The Central Dauphin Coaching staff along with the fine coaches from Red Land High School are pleased to announce the first ever "Pink Out" match to benefit finding a cure for breast cancer.
All proceeds from the match will go directly toward breast cancer charities in our area.
Wear PINK to the match!!!
Match date: Friday March 28th at CD High School (Linglestown, PA)
Time: JV match starts at 6
Admission Price: $5 per adult and $2 for students (all gate proceeds to charity)
Serving contest: inbetween the 2nd and 3rd varsity game
Reception after the varsity match for all who attend
Full concession stand, open at 5:30 p.m.
Match time: Varsity match should be a classic with the defending Mid Penn champion Rams vs. 2005 and 2006 champs Red Land.
What we need you to do: Spread the word about this exciting event and lets pack the gym full of fans that night!!!