Kaminski's Bar and Grill Football: Welcome
The Website of Kaminski's Bar and Grill Touch Football Team
Kaminski's Bar and Grill
GrogFootball.com
Kaminski's Men's Rough Touch Football Est. July 8, 2007
"Any man's finest hour, the greatest fulfillment of all that he holds dear, is that moment when he has worked his heart out for a good cause and lies exhausted on the field of battle... victorious." - Vince Lombardi
THANKING OUR SPONSOR:
Kaminski's Bar & Grill
1424 Brace Road • Cherry Hill • NJ • 08002
www.kaminskisbarandgrill.com
A WINNING TRADITION SINCE 2007
Fall 2007 ASTFL 'C' Division Champions
Spring 2010 ASTFL 'A' Division Champions
Winter 2011 ASTFL 'B' Division Champions
Spring 2011 'C' Division Champions
Fall 2011 'B' Division Champions
Spring 2012 'A' Division Champions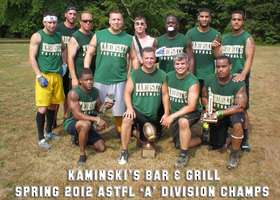 ASTFL Spring 2012 Div 'A' Champs
The Contender by Hans Zimmer
Tuesday, July 10
Kaminski's mounts a comeback to win 6th team title
DEPTFORD - Kaminski's Football defeated Self Made 21-18 to secure the ASTFL Spring 2012 'A' Division Title and their sixth team championship since it's establishment in 2007.
Down 12-0 in the second half, Kaminski's initially had a difficult time on offense in the 97 degree heat.
Quarterback Chris Crowley eventually found Center Matt Hardy who rumbled 30 yards for Kaminski's first score. Antwain Perez, who administered a crushing block to free Hardy on the scoring drive, caught the 2 point conversion.
Following a booming kick by Mark "Shoes" Gettsinger Self Made started the next series on their own 10 yard line. Advancing the ball to their own 35, and looking for the first down, rusher Chris Sasse forced Self Made's elusive quarterback to scramble side line to side line before throwing a cross body pass into the hands of Kaminski's Saftey Steve Asey who returned the interception for the go ahead score.
After stopping the Self Made offense on a 4th down attempt Kaminski's got the ball back with excellent field position. on third down Crowley scrambled into the endzone the the team's third touchdown.
Self Made did find the endzone with 22 seconds left on the clock but had missed the 3 point conversion in an attempt to tie the game.
Following the victory Captain Chris Sasse selected Matt Hardy as the team's MVP.
"Matty played the entire season with heart and intensity. It was that intensity that carried him into the endzone and got this team back into this football game," Sasse commented.
The ASTFL's Fall Season is likley to begin on Sunday, September 9th.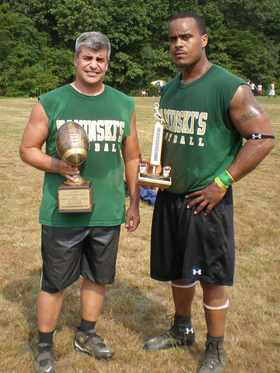 Team Captain Chris Sasse presents Matt Hardy with the MVP Trophy
Monday, December 12
Kaminski's captures 5th team title with dramatic win over Slow Town.
Kaminski's Bar & Grill established a game winning drive with 4 minutes left in the fourth quarter to defeat Slow Town for thier 4th Team Title in the past 5 ASTFL seasons.
Early in the first quarter quarterback Chris Crowley found Jamel St. John on a deep post for his first of 4 touchdown strikes. Chris Sasse caught the extra point. Slow Town answered with a score off of a deep post corner route on third and long.
Crowley found Victor Cobbs for Kaminski's second score following an impressive drive that started inside of the Kaminski's 5 yard line.
The defense shut down the Slow Town offense and forced a punt that gave Kaminski's the ball with 56 seconds on the clock and 2 time outs. Crowley marched the offense down the field scoring on a quick sprint out pass to Sasse with 5 seconds left in the half. The point after was missed.
Up 19-6 Kaminski's let up a stop and go seam route on Slow Towns first possession in the second half. The point after attempt was good as Slow Town pulled within 6 points.
Both offenses struggled to make yards for the remainder of the 3rd quarter. Mid-way through the 4th quarter Slow Town broke the offensive dead lock tying the game up at 19 each with a center release and going ahead 20-19 with a similar play to the center.
Crowley remained consistent in the game winning drive hitting Sean Simms for a deep first down catch that put Kaminski's inside of the 20 at the 2 minute warning. Crowley completed the game winning score to St. John with 1:17 left on the clock.
The defense was able to shut down Slow Town with a critical sack by Dan Jankovits. On the following play Slow Town's elusive quarterback scampered 50 yards for what looked to put his team in a position to tie or win the game, however a holding call brought the offense back to beyond mid-field. Saftey Mark "Shoes" Gettsinger picked off a hail mary pass on the game's final play to secure the 'B' Division Championship for Kaminski's.
Monday, July 18
Kaminski's defeats The Spartans to Capture ASTFL Spring 2011 'C' Division Championship.
Kaminski's Bar & Grill pulled it together yet again in time for the spring playoffs to capture their fourth team title since its inception in 2007.
Following a lopsided victory over long-time rival, Rage, in the Semi-Finals, , Kaminski's defeated a tough opponent, The Spartans, in triple overtime 42-36 to win the ASTFL 'C' Division Title.
Thursday, April 29
Grog turns to new sponsor for the Spring 2010 Season - KAMINSKI'S BAR & GRILL
Kaminski's Bar & Grill on Brace Road in Cherry Hill, NJ has graciously offered to sponsor the Grog Football Team for the Spring 2010 Season.
Kaminski's, know for hosting THE BEST HAPPY HOUR as per South Jersey Magazine and the Philadelphia Inquirer is owned and operated by the Adelphia Family. Kaminski's is conveniently located on Brace Road in Cherry Hill, NJ.
Our players ask that you visit Kaminski's new outdoor patio and enjoy their famous roast beef sandwiches! Happy Hour Specials from 3:00pm to 7:00pm daily!
Also check out the rest of the Adelphia Family Restaurants: www.adelphiarestaurant.com and www.philydiner.com
Friday, October 9
eteamz Spotlight Site Winner!


Catch It Grog N' Grill
Spotlight Site Winner
October 2009

Football
The website for Catch It Grog N' Grill's Men's Rough Touch Football Team has won eTeamz Spotlight Award for October 2009!
Catch It Grog and Grill, nicknamed "The Grog", plays in the All Star Touch Football League (www.allstartouchfootball.com) which is based out of Southern New Jersey.
"I am excited," said Chris Sasse who designed and maintains the site. "eTeamz has always been a smart and easy to use tool. I receive compliments on the site from team mates and other league teams on a regular basis."
Chris recently used eTeamz to design the league's site which received over 5000 hits in less than 4 weeks.
"I started using eTeamz over 5 years ago. The commitment from ESPN and Active Network to continue to improve the site's offerings has been outstanding. I am looking forward to the new features including the improved Photo Album."
Monday, April 8
Kaminski's Spring 2013 season starts strong despite major changes.
Following a difficult Fall Season and a winter hiatus Kaminski's Football opened their Spring 2013 season with a decisive victory along with major personnel changes.
KAMINSKI'S will be hosting a Spring Fund Raiser on Sunday, April 28th from 12pm – 2pm (Kegs and Eggs Brunch) for the team and their guests. Invite as many as you can to supports Kaminski's Football!