Casa Grande Little League: Welcome
***** Bracket Information *****
Please note that District and State All-Star tournaments are hosted by various Little League organizations throughout the state of Arizona, and tournament schedules - including dates, game times, and field locations - are subject to change, sometimes at the last minute.
All-Star brackets for the District Tournaments are posted here.
---
****** 2014 ALL-STARS ******
Last year Casa Grande Little League teams won FOUR District Championships and our 9-10 Softball team brought home a well-earned State Championship Title.
This year CGLL fielded All-Star teams in seven divisions, and now that the dust has settled from the District tournaments we are proud to announce FIVE District Championship teams!!!
As of 7/22, three teams are still battling it out at the State Level. Let's go CG!!!!!
* 9-10 Baseball made it all the way to the District Championship game, capturing 2nd place
* 11-12 Baseball * District Champions * Went 1-2 in State at Peoria/Rio Vista Park
* Junior Baseball * District Champions * Play for State Championship on 7/23 in Kingman
* Senior Baseball * District Champions * Play for State Championship on 7/23 in Nogales
* 9-10 Softball * District Champions * Play for State Championship on 7/24 in Tucson
* 11-12 Softball * District Champions * Went 1-2 at the State Level in Maricopa
* Senior Softball represented CGLL well against some tough competition at the District Level
*** We are proud of ALL of our All-Stars! ***
The dedication shown by the players, families, managers, coaches, umpires, board members, and other volunteers has been outstanding!
Casa Grande also hosted several District All-Star Tournaments this year, which required a great deal of preparation and manpower to ensure that tournaments were run professionally and were enjoyed by all of the teams and families who participated from District 4. THANK YOU to the countless volunteers involved, as well as the City of Casa Grande, District 4 LL officials, and all of our sponsors for helping to ensure another year of success for CGLL's teams and tournaments.
---
---
Our regular 2014 season has ended. Registration for 2015 will begin around November/December. Check our calendar beginning this Fall for dates and locations, or find more information about registration here.
---
Are you ready to help shape the future of CGLL?
Our Board has been hard at work since being elected in August 2013 to prepare for our 2014 season, but we cannot do it alone. The more people pitching in, the better job we can do for the kids and our community! Please consider what YOUR contribution can be toward making CGLL's 62nd season a fun and memorable one for everyone. Check our Volunteer Information page for more information. The success of any youth sports program is dependent on the efforts of people who care enough to do more than watch from the sidelines.
_____________________________________________________________________________________________________

We would love to have you as a sponsor this season! Thousands of people from Casa Grande and surrounding communities will see your business logo and information on banners posted from January through July at the local CGLL fields, as well as your business name on uniforms worn by hundreds of players of all ages.
Check our Sponsorship Information page to learn how. Our 2013 Sponsorship Form is available HERE.
Our sponsors are awesome, and we couldn't do this without them! Please check them out on our sponsor page and support them like they support CGLL.
---
Become a fan on Facebook and follow us on Twitter!
Get information on registration, sponsorships,important dates etc!
---
Or leave us a message at (520)421-3253
---
District 4 Administrator: Mona Vaughn - Coolidge, AZ
---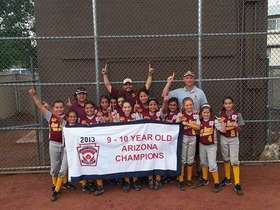 2013 9-10 Softball STATE CHAMPIONS
WHAT DOCUMENTS WILL YOU BRING TO REGISTRATION?
As you get ready to register for Casa Grande Little League, make sure you take a minute to get your documents ready to go. For first-time players in our League, we will need you to bring your birth certificate to verify your age and eligibility, as well as one proof of residency (check which documents you can bring HERE). Returning players do not need proof of age (we already checked it!), but will need proof of residency unless you played last year AND are still at the same address. We need a REGISTRATION FORM for each player, as well as a MEDICAL RELEASE FORM in case of emergency. If you have any questions, contact us!