Casa Grande Little League: Welcome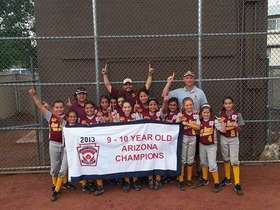 2013 9-10 Softball STATE CHAMPIONS
Online Registration is now Available. See our Registration Page to Sign Up.
---
***** 2013 All-Star Update *****
CGLL sent six teams into competition all over Arizona this summer, with stellar results! 9-10 Softball, 9-10 Baseball, 11-12 Baseball and Senior Baseball dominated in District 4 Tournament play, bringing 4 Championship banners back to CG and continuing on to the State level. Our softball ladies performed spectacularly in Flagstaff, pouring a lot of blood, sweat, and tears into a well-earned State Championship Title for CGLL!!!
We are proud of ALL of our All-Stars. The sacrifice and dedication by everyone who spent much of their summer at the ballfields did not go unnoticed. Go CG!!!

---
2014 Registration and Season Information:
In-person registration begins Saturday, November 16th from 9am to Noon and will take place at the Casa Grande Little League Complex at 1000 N Amarillo, behind Food City. Online Registration for 2014 is available now!
We will once again have two seasons. Our first season will consist of Tee-ball (boys and girls ages 4-6) and Coach Pitch (boys and girls ages 6-8). Registration for the first season will run through Saturday January 11th, and games will be played from February 8 through March 15. The fee for the first season is $85.
Our second season will be player pitch for ages 7-12 and several leagues will be put in place for both baseball and softball, depending on age and skill level. Registration must be completed prior to evaluations, which will take place February 8th and 12th. The season will begin after Spring Break for CGESD, and the fee for the second season is $100.

Registration for our Junior/Senior divisions (baseball and softball ages 13-16) runs through evaluations, which generally take place after the high school season has completed play (for the 2013 season, evaluations were on May 4th), with play running from mid-May through June. More details will follow as the Jr/Sr season approaches.
Finally, we offer a Challenger division (boys and girls ages 5-18) with registration beginning in November and running through generally the first week of March. In 2013, the Challenger season ran from about the end of March through mid-May.
Scholarships are available and questions on how to qualify will be answered at registration.
Check our calendar for registration dates and locations, or find more information about registration here.
---
---
Are you ready to help shape the future
of Casa Grande Little League?
Our Board has been hard at work since being elected in August 2013 to be ready for our 2014 season, but we cannot do it alone. The more people pitching in, the better job we can do for the kids and our community! Please consider what YOUR contribution can be toward making CGLL's 62nd season a fun and memorable one for everyone. Check our Volunteer Information page for more, and we appreciate your help!
_____________________________________________________________________________________________________
We would love to have you as a sponsor this season! Check our Sponsorship Information page to learn how. Our 2013 Sponsorship Form is available HERE.
---
Become a fan on Facebook and follow us on Twitter!
Get information on registration, sponsorships,important dates etc!
---
Or leave us a message at (520)421-3253
---
District 4 Administrator: Mona Vaughn - Coolidge, AZ
---
Our 2013 Post-Season Tournament Brackets are posted. As the season winds down and the final seeds are determined we will update the brackets. Click on the division name to see the bracket. Good luck to all our teams!
WHAT DOCUMENTS WILL YOU BRING TO REGISTRATION?
As you get ready to register for Casa Grande Little League, make sure you take a minute to get your documents ready to go. For first-time players in our League, we will need you to bring your birth certificate to verify your age and eligibility, as well as one proof of residency (check which documents you can bring HERE). Returning players do not need proof of age (we already checked it!), but will need proof of residency unless you played last year AND are still at the same address. We need a REGISTRATION FORM for each player, as well as a MEDICAL RELEASE FORM in case of emergency. If you have any questions, contact us!