Carolina Bombs 12U Fastpitch Softball: Welcome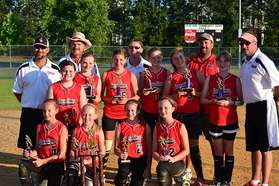 2nd Place!
Carolina Bombs 12U Fastpitch Softball
Welcome to the home of the Carolina Bombs, a girls fastpitch softball organization based out of Angier, NC. Our organization fields teams in several age groups and is continuing to grow and provide an avenue for players of all ages to develop their softball skills under the mentoring, leadership and instruction of a tenured staff.

This page is dedicated to our 12U team which is comprised of young ladies from the Harnett County area whose goal is to play competitive fastpitch softball at the collegiate level. We believe that Desire, Discipline and Dedication along with a stellar work ethic are the keys for success. Our players are committed to both academic and athletic excellence and work to be leaders on and off the field.
Click on the News tab and Practice/Game Calendar to see updated tryout information and practice times. Thanks.
*The Carolina Bombs are a 501(c)3 non-profit organization by declaration of the United States Internal Revenue Service. The Carolina Bombs are not associated with the Fuquay Bombs or the Fuquay Varina Athletic Association (FVAA).