Carolina Athletics: Welcome
Carolina Athletics - An Organization with Heart, Drive, and Passion!
July 14, 2013 - 9U Champions
Mission: To build strong young men, strong baseball players, and strong friendships.
Vision: Networking with families to assist with college recruitment and placement of our athletes while developing mature, responsible, young men that love the game of baseball.
Philippians 4:13 "I can do all things through Christ which strengtheneth me."
For Information Call -
10 U - Call Brad Wall (336)462-1349, Chris Boyd, (336) 314-5195, or Mark Wylam (336) 692-2444
13U - Call Jody Chandler (336)588-9085
14U - Call Roddy Chandler (336) 416-0977
Looking at starting 11U and 12U as well. Call if interested.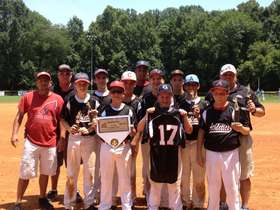 July 21,2013 - 13U Champions