CA RAGE : Welcome
Monday, August 24
CA RAGE GOLD (12u - Stellakis)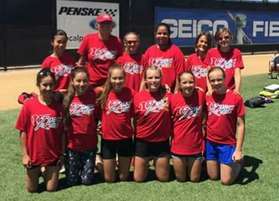 CA Rage Gold - TCS WS '16
- The CA Rage Organization welcomes their newest generation of athletes with the creation of the CA Rage Gold (12U Stellakis) softball team. This team will carry on the CA Rage tradition of training athletes to have solid aggressive and smart softball fundamentals while they learn the strategies of the game they love. The team originally started out as a 8U league tournament select team in 2013 and was very successful with top finishes at every tournament they attended. They moved up to the 10U division in 2014 Winter and qualified at ASA State for ASA 10U Nationals in the Summer of 2015. In the fall of 2015 they will be a 12U team with mostly '04 players and a few '03 and '05 talented athletes. They will continue to be managed and coached by Jennifer "J.D." Guido Stellakis as they grow and progress through the various age groups while playing at the highest levels available..
- Since CA Rage Gold (12u) is coached by experienced 18u-Gold/College level coaching with college recruiting experience. The program will be extremely competitive and work on all the necessary skills needed for the girls to learn the game of softball and work towards their dream of someday playing at the collegiate level like the older teams in our program have and are doing. All of this will be done while they also continue to have fun bonding with team mates over their genuine "love" of the game they share. Our goal is to play competitively against all the top talent in the nation while still maintaining a schedule that allows the girls some balance so they can continue to love the game while they grow. We at CA Rage feel this is possible because our focus is quality over all else. Our CA Rage Organization has been around for over 23 years and has been kept small on purpose. Unlike big name teams who have sold their name to countless inexperienced coaches in order to financially support the Gold program, we work closely with our Gold coaches and only allow the highest quality of coaches to take our team's name. In additon, since we have been around for over 22 years and been run by the same board that entire time, we also have the credibility and experience that many young programs lack. We don't make vague promises based on hot air and false promises. Rage will continue to teach and play quality softball while we let our actions and reputation speak for themselves..

- James Guido, Head Coach (CA Rage Gold 18G & 12U / Founder of CA Rage Organization) has been coaching for over 35 years and was the founder of CA Rage Organization and current acting 1st Vice-President. Responsible for helping over 250 athletes get collegiate offers. He is both ACE Certified and a member of the NFCA organization. Coach Guido joined the '04 coaching staff in 2016 and we are pleased to have his years of experience and expertise to guide our girls.
- Jennifer "J.D." Guido Stellakis, Head Coach/Manager (CA Rage ('04) / College Recruiter (CA Rage 12U-Gold / 18U-Gold) has been involved with (coaching/playing) at the 18U Gold level and College level for many years, is the owner/lead instructor for PowerHouse Softball Academy and has been the College Coordinator and a board member for the organization and Gold program since 1999. She has been involved in over 200 student athletes receiving college scholarships as of this date. In addition, she is both ACE Certified and a member of the NFCA organization. She will be the Head Coach and Manager of the '04 program.
Organization History:
- The CA Rage Organization was established in 1993 by Jim Guido. The overall goal of the CA Rage organization is to assist its players in maximizing college exposure and for them to excel at the collegiate level and beyond. The gold team is coached by Jim Guido, who has over 32 years of coaching experience. The Gold team also consists of a highly experienced coaching/recruiting staff that has a combined 200 years of experience, are NFCA, ASA and AFA insured and have assisted over 250 players in attaining College Scholarships. They are a serious team with serious goals and our 12U team has all the potential to follow in their footsteps.
- The CA Rage Organization is here to assist young ladies who have the desire and discipline to continue their education beyond high school and take their talents and abilities to the highest level in an effort to obtain athletic scholarships and become successful contributors to their communities.
- CA Rage Gold is known for playing 110% hardcore fastpitch softball and will settle for nothing less and the CA Rage Gold 12u team hopes to continue that tradition like the CA Rage Organization is known for.
- See you on the field!!!!
*********************************************************************

* CA Rage Gold 12U - Stellakis - Web-site: http://www.eteamz.com/carage/
* Facebook GOLD 12U-Stellakis Group (Must Request to be a Member of this Group):
https://www.facebook.com/groups/598371386884437/
*****************************************************
MORE INFORMATION ON THE CA RAGE ORGANIZATION & OTHER CA RAGE TEAMS...
- Facebook CA Rage Organization Page: https://www.facebook.com/pages/CA-RAGE-GOLD-Softball/285502164803301
- CA Rage 18U-Gold - Head Coach/Manager Jim Guido (626-914-3293 H/W & 626-664-5155 C),
Web-site: http://www.eteamz.com/caragegold/
As of Fall '15 there will also be the following teams:
- CA Rage 8u Milton ('07/'08) - Coach Amy Milton (626-672-5885 / E-mail: AmyNineteen19@yahoo.com)...
Note: This will be a 8U Select Team grooming future 10u travel players, 10U-A team in Fall '17
- CA Rage 12u Vidal ('03) - Manager Carlos Martinez (323-707-3880) & Coach Mike Vidal (562-242-5719 / E-mail: VidalMichael@ymail.com)
- CA Rage Gold 14u Covarrubias ('03) - Manager Ray Covarrubias (626-483-3081 / E-mail: stingray10.rc@gmail.com / E-mail: Covarrubias@charter.net)
- CA Rage Gold 18U Salinas ('01-'98) - Manager Rene Salinas (626-320-4796 / E-mail: Rene_Salinas73@yahoo.com)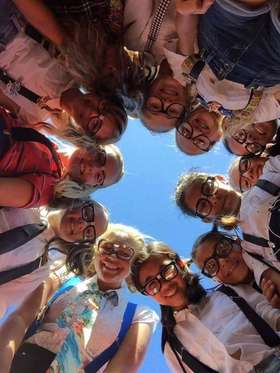 CA Rage Gold - TCS WS '16 Open Ceremonies (Nerd Herd)
Thursday, August 10
CA RAGE GOLD (12u - Stellakis)
After a strong showing all summer and top placements, including a 2nd place finish at TCS Aprils Finest and Athletics Mercado Memorial Tournament the CA Rage Gold 12u team took a top 6 finish at the USSSA Nationals as they finished their final tournament of the summer and of their final 12u season. Our girls fought hard and went down with a fight losing in an international tie breaker vs the USA Athletics Mathis team. The girls were focused and worked together as a team with everyone contributing to the team's success and the coaching staff couldnt be prouder of them and their progress over this season. Great diving catches were made by Kennedy Griego #77 (2B) and Haley Ganino #2 (OF). Our pitching staff held us strong with Caitlin Kelley #4, Haley Ganino #2 and Maddie "Mad Dog" Stewart #13 pitching their hearts out. Haley Ganino #2 even came out with 2 no hitters in the tournament! In addition we had some outstanding outfield catches by Sydney Jacobs #15 and Nikki Wong #22 and tremendous leadership in center and at the plate by Bianca Diamond #8. Natalie Basurto #3, Mad Dog Stewart #13, Kennedy Griego #77, Caitlin Kelley #4 proved they carry a big stick throughout the tournament. Natalie Basurto #3 proved no one can bunt when she is at 3rd base. Our catchers, Lily Thomas #88 and Maddie Fraer #18 were fearless and led the team with their great attitude and strong arms. KK Banales #10 showed off her skills in short and at the plate with consistent contact all week. Lastly, Lily Hawker #21 showed what teamwork is by using her speed to help our our pitchers and catchers all week, including scoring in some of the toughest situations! It was a honor to coach and watch these players develop and we are excited as we continue onto 14u this season.
Saturday, October 1
CA RAGE GOLD (12u - Stellakis) finishes in the top percent at the USSSA National Tournament!!!
The team battled hard during the week long national tournament and finished up on Saturday in the top % at the USSSA National Tournament. All the girls did their part to contribute to the teams success. We are so proud of their hard work. Way to finish the season strong ladies!!!!
Saturday, October 1
CA RAGE GOLD (12u - Stellakis) places in Gold Bracket at TCS World Series ('16)
After a strong showing in a very tough pool, the team did an amazing job and placed in the Gold Bracket with the top 12u teams in the nation. They were one of the few 04 teams to make it into the Gold Bracket and we couldn't be prouder of them!!!
Thursday, May 12
CA RAGE GOLD (12U - Stellakis) Qualifies for '16 ASA Nationals!!!!
CA Rage Gold (Stellakis) performs well at ASA Nationals and picks up a berth to the ASA Nationals in Salem, VA for the 2nd year in a row. All the girls were critical in the team's qualification. We had some great pitching by Sophia, Ashley and Aniah.... Outstanding hitting by Adriana, Carly, Brooke, Morgan and Alexia... Amazing fielding by Maddie, Liv, Andee... Game changing baserunning by Ella & Jenna. Great Job Ladies, your coaches are so proud of you.
Monday, December 7
CA RAGE GOLD 12U TAKES 1ST PLACE at SA XTREME TOYS 4 TOTS TOURNAMENT!!!!
Congratulations CA Rage Gold (12u-Stellakis) on kicking some major butt this weekend at the SA Xtreme Christmas Tournament. The team went undefeated in pool and bracket play and did some serious damage with their bats!!!! Rage's defense was amazing and their pitchers dominated the competition!!!! The coaching staff is so proud of the mental and physical dominance they displayed .... Way to go Big Dogs... WOOF!!!!