Capitol Little League: Welcome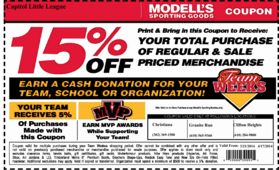 Modell's Team week coupon
Capitol Little League is located in New Castle County, Wilmington Delaware. CLL offers recreational and competitive baseball to youths ages 4-18. Our T-ball, Pee-Wee, Minor B, & Minor A programs offer instructional baseball to youths ages 4 - 11. The Majors, Juniors and Seniors programs offer a competitive atmosphere, and interleague play with other local leagues for youths ranging from 9 - 18 years old. Our league office is located at Catalina Field off Greenbank Road adjacent to the Wilmington Western Railroad. If you would like to obtain any further information we can be reached through the leagues email @
capitollittleleague@gmail.com
_________________________________________________________________________
Opening day
Hello Everyone, I know that I'm excited and I hope that you and your player(s) are also excited about getting our 2014 season started. I think we have all had enough of the cold and wet weather, especially snow days. You should have received from the manager of your player's team a schedule of the events taking place on Saturday. Opening Day ceremonies will be held @ Brandywine Springs School, 2916 Duncan Rd. The fields where the ceremonies will take place are located behind the school building. We would like all the players and families from the Majors and Minors teams to arrive @ 7:45, Peewee & Tballers can arrive @ 8:30 unless you have heard something different from the manager. Please be mindful of where you park and do not park in the fire lane, your car will be towed if it is parked in the fire lane. The Red Clay School district generously allows us use their facilities and it is important for us to treat them with respect. The concession stand will be open and will be serving refreshments for our early morning. Opening Day is also Picture Day @ Capitol Little League. Please fill out the picture forms provided to you by your team parent in advance so that we can stay on track with our very tight schedule. Some teams will have their pictures taken as early as 8am, so arrive early. If you would like to download the form or order on-line, here is the link: https://opr.sportography.com/OPR/Begin.aspx The forecast looks like it will be 56 degrees and windy, hopefully no more rain. The weather has been a challenge for the board of directors in getting the fields and facilities ready. We have had to cancel or reschedule Field Days because even though we had a plan, mother nature had her own ideas. Consequently, the fields are not in the condition we would hope due to the weather. We will continue to work on them with your help. Safety of the children is the boards #1 concern. To help us keep the ceremonies as safe as possible please have your players leave their bat bags, gloves, balls and bats in the car until after the ceremonies and pictures are completed. We will have lots of little guys running around and we don't want any of them to be injured. For those of you who didn't have all your documents available on the day you registered your player, the board is going to schedule a date for you to complete your players registration packet. We will notify you of that date and time as soon as it is scheduled. Thank you for signing up with Capitol Little League. I'm sure we are all looking forward to a fun season.
Capitol LL Board
Picture Schedule 8:00 am Giants / Cardinals (Majors)
8:15 am Cubs / Brewers (Majors, Minors)
8:30 am A's / Orioles (Minors)
8:45 am Dodgers / Juniors (Minors, Jrs)
BREAK - Ceremony
10:00 am Braves / Seniors (Majors, Srs)
10:15 am Tigers / Angels (tee ball)
10:30 am Blue Jays / Indians (tee ball)
10:45 am Yankees / Royals (pee wee)
11:00 am Nationals / Pirates (pee wee)
**Note: Pictures after ceremony break may run behind.
__________________________________________________________________________________________
Registration for the 2014 season
Baseball for boys & girls ages 4-16. In person registration at, Catalina Field in Greenbank Park adjacent to the Wilmington & Western Railroad on Greenbank Road. Saturday, January 25th, 10 a.m.-3 p.m. Saturday, February 1st, 10 a.m.- 3 p.m. & Tuesday, February 4th 6p.m.- 8p.m. For on-line registration until January 25th visit http://302sports.com/ Home page. (follow link to homepage & "Register Now" button) or email capitollittleleague@gmail.com
If you reside within the area of the map in the below link, you are eligible to play in CLL.
If you reside outside of the map area but attend one of the following schools you can also play at CLL with your friends: Brandywine Springs Elementary, Marbrook Elementary, Mote Elementary, H.B. Dupont, Baltz, Sanford, All-Saints, St. John's, Wilmington Christian or any of the pre-schools within the area of the map.
Capitol Little League Boundary Map & Field Locations
https://maps.google.com/maps/ms?msid=206465480902514013113.0004b7b5909b8a2130346&msa=0&ll=39.753228%2c-75.676661&spn=0.013824%2c0.02944
Please check the "Capitol News" page for our Volunteer Commitment for 2014
For additional information regarding fees go to the 2014 Registration form in the "Handouts" section.
Local Weather
Game Day Weather
Wednesday, April 2
Capitol Little League