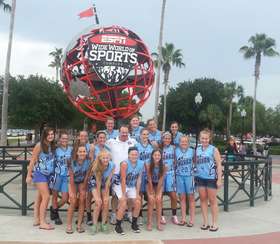 Waves Teams at this years Nationals in FLA
NEWS!! Updated 6/14/ 2014

* 10th Annual Cape Cod Summer Championship Tournament:
Saturday results are posted. It can be found by clicking on the menu bar to the left.

* 2014 TOURNAMENT DATES ARE SET:
Dates Are:
4th Annual ST Pat's Girls Travel Team Tournament March 8, 9 & 10th, 2014. Co Hosted with the Bourne High School Backboard Club. SCHEDULE IS POSTED -Please click HERE to be linked to the tournament info page.
7th Annual Cape Cod Open Invitational April 12th & 13th, 2014
11th Annual Cape Cod Spring Classic May 17th & 18th, 2014
10th Annual Cape Cod Summer Championship June 14th & 15th, 2014


Contact us at
basketballwaves@aol.com
** CONGRATULATIONS **

To our teams that participated in this years 2013 Massachusetts State Division 1 and 2 Championship Tournament. Below is an order of finish for 2013 and all other years.

CAPE COD WAVES "9" YEAR HISTORY IN STATES DIVISION 1 & 2
2013
16U Tierney 1st Place Division 2
5th Place Division 1
Also Finished 4th at D2 Nationals in Florida

13U Tierney 7th Place Division 1

2012
14U Tierney/Curtin 3rd Place Division 1
12U Tierney /Hill 7th Place Division 1
10U Tierney/Ferierra 5th Place Division 2
16U Tierney /Girourd 1st Place Division 2

2011
15U Tierney/Girouard 1st Place Division 2
14U Tierney/Girouard 6th Place Division 1
13U Bent/Tilton 4th Place Division 1
13U Tierney 1st Place Division 2
12U Houston/Freedman 7th Place Division 2
11U DiBona 6th Place Division 2


2010
13U Tierney/Girouard 5th Place Division 1
12U Bent/Tilton 5th Place Division 1
12U Tierney/Curtin/Foley 7th Place Division 2
11U Freedman/Norris 4th Place Division 1
11U Heath 7th Place Division 2
10U Wardwell/Worden 5th Place Division 1
10U DiBona/Gelson 6th Place Division 1
2009
14U Norris 8th Place
13U Tierney 5th Place
12U Tierney/Girouard 2nd Place
11U Bent 6th Place
10U Freedman 3rd Place
2008
14U Adams 2nd Place
13U Norris 5th Place
12U Tierney 6th Place
11U Tierney/Girouard 3rd Place
10U Bent 3rd Place
2007
16U Tierney 2nd Place
13U Adams 2nd Place
12U Norris 2nd Place
11U Tierney/Girouard 5th Place
10U Norris 4th Place
2006
15U Tierney 3rd Place
12U Adams 3rd Place
11U Norris 3rd Place
2005
14U Tierney 6th Place
2004
13U Tierney 6th Place
12U Lowe 2nd Place


About The Cape Cod Waves
Updated 1/17/12

The Cape Cod Waves are a Girls Amateur Athletic Union (A.A.U.) Basketball Program and are entering our 9th year. More information about AAU can be found on www.neaau.org or www.aausports.org.
The Waves will have as many as 6 - 10 Girls Teams this 2011-12 Season. We will add 2nd teams at any level that has the demand. We have and invite players from all over Cape Cod and Southeastern Massachusetts. Towns such as Bourne, Sandwich, Falmouth, Mashpee, Barnstable, Yarmouth, Brewster, Chatham, Dennis, Plymouth, Wareham, Hingham, Pembroke, Hanover, Scituate, Carver, Middleboro, Marion, Rochester, Duxbury, Acushnet, Mattapoisett and Kingston.
Our Mission is to have an organization that will allow the Youth of Cape Cod and surrounding area to hone their basketball skills in the competitive A.A.U. environment under the guidance of qualified coaching.
The coaching goal will be to work on developing individual skills and to incorporate those skills into a competitive team environment.
Good sportsmanship is not only taught - it is expected.
Our teams have traveled to tournaments in Connecticut, Rhode Island, New Hampshire, New York, Washington DC, New Jersey, Pennsylvania, Ohio, Tennessee, Bermuda and Hawaii. The Spring Season runs from April to the end of June, Fall Season Mid September through Thanksgiving. Teams can choose the amount of tournaments they participate in. Usually our 16s, 15s and 14s will play in 10 to 12 Spring tournaments, the 13s in 9 to 10 tournaments and the 12s and 11s in about 7 to 9 tournaments. We will host 4 of those tournaments. All of our Girls "A" teams will participate in the A.A.U. Massachusetts State Championship Tournament. There is also a short Fall season in which the older teams will participate in October and November. We use the Fall season to try-out new players for the Spring Season and to help our players get ready for their High School or Middle School Teams. More information on Tournamenrts can be found on www.acahoops.com.
Check out our Waves Photo Album and our Teams Page by clicking on the left.
If you would like more information about the Cape Cod Waves, please contact Michael Tierney at 781-405-5746 or at basketballwaves@aol.com