Cape Cod Waves: Welcome
OUR MISSION
7th and 9th Graders at USJN's in Washington D.C.
The mission of the Cape Cod Waves Girls and Bay State Waves Boys AAU programs is to create an environment where players can develop and improve skills while learning the values of teamwork, commitment and integrity.
* The Saturday Results are Posted. It is the same file as the Schedule and Team List, but click on the Saturday Results Tab on the bottom of the excell Sheet. Please click on the "2015 CC Summer Championship" menu bar to the top left.
2015 SPRING TOURNAMENT DATES Announced
The Cape Cod Waves Girls program will host its 4 annual Spring Tournaments in 2015. 1 Travel Team Tournament in March and 3 AAU Tournaments.
The Bay State Waves Boys program will host 1 Spring Tournament.
Dates are:
* 5th Annual St Patty's Girls Tournament - For Boys & Girls Town Travel Teams 3rd - 8th Grade. Proceeds benefit the Bourne High School Backboard Club. March 7, 8, and 9, 2015
* 8th Annual Cape Cod Open Invitational - Girls AAU April 18-19, 2015. 3+ Games
* 12th Annual Cape Cod Spring Classic - Girls AAU May 9th and 10th, 2015. 4 Games
* Bay State Waves Open Invitational - Boys AAU May 16th and 17th, 2015. 3+ Games
* 11th Annual Cape Cod Summer CHampionship -Girls AAU June 13th and 14th, 2015. 3+ Games
Information on all these tournaments can be found by clicking on the "2015 Hosted Tournaments" Tab.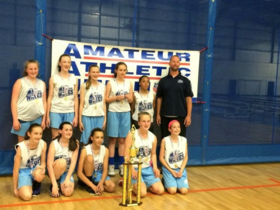 2014 6th grade DIII champs!