CANYON SPRINGS Little League: Welcome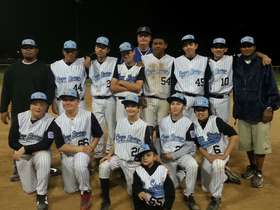 2013 Toys 4 Tots Champions
Thursday, January 9
WELCOME TO CANYON SPRINGS LITTLE LEAGUE
Come Be Part Of A Winning Tradition!
Congratulations to the Intermediate team that played in the 2013 Toys for Tots Tournament hosted by Arlanza Little League The boys went there and represented Canyon Springs by winning the Tournament, this was the first year that they had an Intermediate division. WAY TO GO BOYS!!!!!!!
######################################
Important Dates
April 19, 2014 66ER'S Game Canyon Springs Little League Night (Mike Trout bobble head giveaway) If you can not make it to this game your vouchers are good for any game Sunday thru Thursday ( No Friday or Saturday ) You can also pick a promotional night that lands on any Sunday thru Thursday.
Check back soon for additional information
############################################################
ATTENTION EVERYONE!!!!!
ALL OF THE CANYON SPRINGS BOARD OF DIRECTORS ARE ASKING FOR YOUR HELP ONE OF OUR PLAYERS DESPERATLY NEEDS OUR HELP HE HAS BEEN DIAGNOSED WITH STEVEN JOHNSON SYNDROME OR SJSTEN HE HAS ALSO BEEN DIAGNOSED WITH VANISHING BILE DUCT DISEASE THIS IS A RARE DISEASE THAT THEY DON'T KNOW TOO MUCH ABOUT. ERIK NEEDS A LIVER TRANSPLANT AND ANY LITTLE BIT HELPS PLEASE GO TO YOUTUBE AND SEARCH tHE fRAY HOW TO SAVE A LIFE LIL ERIK. YOU CAN ASLO GO TO www.gofundme.com/eriktorres-SJSTEN to donate.
**************************************************************************
ATTENTION MANAGERS AND COACHES
If you are interested in coaching one of the All Star teams you must submit and email of your intent and why you think you should get a team to the Minor/Major player rep Jeff Saludares you can find his email on the Board page, for Little Stars, 9-10, 10-11, 11-12 If you are interested in the Intermediate team or Juniors you must email the Junior player rep Bob Anderson his email is also on the board page. You also need to send a copy to the league President. This email must be received by May 16 you will then come to the board meeting on May 21 and speak to the board.
~~~~~~~~~~~~~~~~~~~~~~~~~~~~~~~~~~~~~~~~~~~~~~~~~~~
C.S.L.L. WOULD LIKE TO THANK DISTRICT 24 ADMINISTRATORS FOR HAVING FAITH IN US TO HOST ALL OF THE DIVISIONS THAT THEY GAVE US. IT WAS A GREAT LEARNING EXPERIENCE AND WE WELCOME THE CHANCE TO DO IT AGAIN NEXT YEAR. WE WOULD ALSO LIKE TO THANK ALL OF THE PEOPLE WHO CAME AND HELPED OUT WITH THE VARIOUS JOBS THAT THEY DID WE COULDN'T OF DONE IT WITH OUT YOU. THANK YOU!
*************************************************************************
The Snack Bar at Sunnymead Park is now accepting ATM cards for your convienence. We are also now serving Shakey's Pizza, If you have suggestions about something you would like to see at the Snack Bar please feel free to suggest it when your at the Park. Don't forget we have our Snack Shack at Shadow Mountain Park on Tuesday night We have sodas, gatoraide, water, chips and candy located next to the south field for your convienence.
+++++++++++++++++++++++++++++++++++++++++++++++++++++++++++++++++++++++++++++++++++++++++++++++++++++++++
***Attention Volunteers***
Please remember that you MUST have your Badge on your person at all times when you are on the field or in the dugout with the kids. There are NO exceptions!!!!! We will do ramdom checks for your badges so PLEASE have them with you or you will not be allowed to participate.
++++++++++++++++++++++++++++++++++++++++++++++++++++++++++++++++++++++++++++++++++++++++++++++++++++++++++++++++++++++
Canyon Springs Little League would like to welcome all of our New Parents and Kids and also we would like to welcome back our Returning Parents and Kids!!!! We would like to say Thank You to our New Board of Directors for all of their new ideas. All of us at CSLL are committed to making sure that each and everyone of our families has a Great experience and that the Kids have fun and learn about teamwork, loyalty, fair play, and commitment. We are getting off to a great start we have alot of great things planned this season. Make sure you check the web site regularly for updates on upcoming events
**************************************************************************
Team Moms,Parents,Grandparents,Aunts,Uncles and friends take lots of pictures of your kids they will enjoy looking back on them as they get older. Please remember NO flash photography during the games it distracts the players and is a safety hazzard!
If you would like to share some of your photos from your team with others such as a friend or family member please email them to gina.oviatt@yahoo.com and I will put them in the albums section. Please indicate what division and team your pictures are from and I will get them in the right team album. Thank you!
*************************************************************************
We want to Thank our managers, coaches, Team Moms and volunteers for taking on teams and helping out our youth and league.
We also want to thank our player agents in each division for doing a great job in putting teams together in each division.
And of course we want to thank or Board of Directors for their countless hours of service without ALL of our volunteers we would not be able to give our kids a clean, fun, and safe environment. Thank you, Thank you, Thank you!!!!!!!!!!!!!!!!
CSLL Volunteers Wanted!
CSLL is always looking for people who love kids and are enthusiastic about baseball and softball to volunteer as a Manager, Coach, be a Team Mom, or be a scorekeeper. We are also looking for Board Members with fresh ideas to make Canyon Springs a more succesful Little league. Please fill out a volunteer form at any of the registration dates.
Thank you for all your dedication and support!
The Greatest