CANYON SPRINGS Little League: Welcome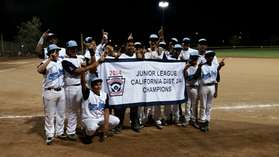 2014 District 24 Champs
Friday, January 23
WELCOME TO CANYON SPRINGS LITTLE LEAGUE Phone Line 951-247-1716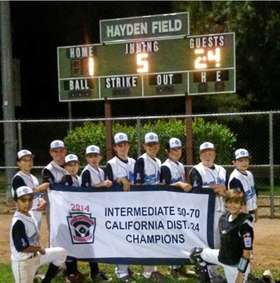 2014 District 24 and Section 9 Champs
Come Be Part Of A Winning Tradition!
Congratulations to our Junior Division All Stars on their 2014 District Flag win. Way to go boys!!!!!
Congratulations to our Intermediate 50/70 All Stars they brought home the 2014 District Flag and the Section 9 Flag Great Job Boys !!!!!!!!
Congratulations to all of our kids who made All Stars this year!
***********************************************************************************************
2015 Spring Sign ups
Registration will be January 3rd, 10th, 17th, and 24th
At Stater Bros. On Ironwood and Pigeon Pass rd. and at Sports Authority on Day st. From 9AM to 1 PM. We will have late sign ups on January 31st and February 7th at Sunnymead Park from 8AM to 1PM. Tryouts will also be held on January 31st with make up tryouts on February 7th. Any child moving up a division, or new to the league from Minor, Major, Junior divisions must try out. Please remember to bring Birth Certificate and 2 proofs of residency. If you live on the south side of the 60 freeway and your child goes to a school on the north side of the 60 freeway they can play with Canyon Springs Little League please bring a progress, report card or something showing what school your child goes to.
Registraions Fees...........................
T-Ball $80 Intermediate/Juniors $120
Farm $90
Minor/Majors $100
############################################################
Trunk or Treat
Everyone had a great time at our 1st annual Trunk or Treat Thanks to the teams that participated. The kids enjoyed the games, Jumper, good food and the Trunk or Treating. It was a Fun Safe night for all.
Congratulations to the T-Ball Yankees for winning the best decorated Trunk.
We all look forward to doing it again next year!!!!!!
**************************************************************************
The Snack Bar at Sunnymead Park is now accepting ATM and Credit cards for your convienence. We are also now serving Shakey's Pizza, If you have any suggestions about something you would like to see at the Snack Bar please feel free to suggest it when your at the Park.
+++++++++++++++++++++++++++++++++++++++++++++++++++++++++++++++++++++++++++++++++++++++++++++++++++++++++
***Attention Volunteers***
Please remember that you MUST have your Badge on your person at all times when you are on the field or in the dugout with the kids. There are NO exceptions!!!!! We will do ramdom checks for your badges so PLEASE have them with you or you will not be allowed to participate.
++++++++++++++++++++++++++++++++++++++++++++++++++++++++++++++++++++++++++++++++++++++++++++++++++++++++++++++++++++++
Canyon Springs Little League would like to welcome all of our New Parents and Kids and also we would like to welcome back our Returning Parents and Kids!!!! We would like to say Thank You to our New Board of Directors for all of their new ideas. All of us at CSLL are committed to making sure that each and everyone of our families has a Great experience and that the Kids have fun and learn about teamwork, loyalty, fair play, and commitment. We are getting off to a great start we have alot of great things planned this season. Make sure you check the web site regularly for updates on upcoming events
**************************************************************************
Team Moms,Parents,Grandparents,Aunts,Uncles and friends take lots of pictures of your kids they will enjoy looking back on them as they get older. Please remember NO flash photography during the games it distracts the players and is a safety hazzard!
If you would like to share some of your photos from your team with others such as a friend or family member please email them to mailto:giovia9@aol.com and I will put them in the albums section. Please indicate what division and team your pictures are from and I will get them in the right team album. Thank you!
*************************************************************************
We want to Thank our managers, coaches, Team Moms and volunteers for taking on teams and helping out our youth and league.
We also want to thank our player agents in each division for doing a great job in putting teams together in each division.
And of course we want to thank or Board of Directors for their countless hours of service without ALL of our volunteers we would not be able to give our kids a clean, fun, and safe environment. Thank you, Thank you, Thank you!!!!!!!!!!!!!!!!
CSLL Volunteers Wanted!
CSLL is always looking for people who love kids and are enthusiastic about baseball and softball to volunteer as a Manager, Coach, be a Team Mom, or be a scorekeeper. We are also looking for Board Members with fresh ideas to make Canyon Springs a more succesful Little league. Please fill out a volunteer form at any of the registration dates.
Thank you for all your dedication and support!
The Greatest