Canyon Spring Cross Country & Track and Field: Welcome
BUILDING CHAMPIONS FOR 28YEARs "DEDICATION, COMMITMENT, HARD WORK"
Monday, September 23
New Web Address
Go to our new website address www.canyonspringscrosscountry.com
Sunday, September 22
DANA HILLS SEP 28th
RACE TIMES FOR DIV. 2
10:00 am - Boys Senior
10:15 am - Girls Senior
10:30 am - Boys Junior
10:45 am Girls Junior
11:00 am - Boys Sophomore
11:15 am - Girls Sophomore
11:30 am - Boys Freshmen
11:45 am Girls Freshmen
We will be leaving at 7:00am and will be returning around 2:30pm. Last Years Times Can You Beat Last Years Time?
Hector Hernandez 15:10
Michael Simpson 16:22
Nick Cohenour 17:01
Javier Aceves 17:04
Rudy Perez 17:32
John Rivera 18:16
John Hernandez 19:35
Alyssa Ruiz 21:18
Kennedy Walters 24:24
Julia Ursulo
Monday, September 23
THIS WEEK AT A GLANCE
September 23 - September 28
Monday- PRACTICE
Tuesday- PRACTICE Pre-Race
Wednesday- League Meet #1 Andulka Park Riverside
Thursday- PRACTICE
Friday-PRACTICE Pre-Race
Saturday- Dana Hills Invitational Bus Leaves at 7AM.
Thursday, September 5
COUGAR CARD FUNDRAISER
Fundraising has been minimal this season and I have tried to keep it that way for a reason. I know what a drag it can be to sale things, wash cars, sale tickets and many other things, but it's a big part of our team income when it comes to paying for races and team events. Everyone on the team has been given the option to sale 5 COUGAR CARDS as a fundraiser so please go out and sale these cards ASAP. These cards will pay for a schedule to dream about as a Cross Country Runner and optional in our season, but we choose a schedule that will give you an unforgettable experience outside of our community and give you a vision beyond Moreno Valley. What do you mean by optional? The season consist of 3 meets and only 3 meets, everything else is an experience that is not part of our 3 league meets, meaning they don't have to be part of the scheduled. I hope you understand the importance of fundraising and the difference between League meets, which are required and free, to that of an Invitational, which are paid by the team including buses (sports Department), and are not required by the school for team or coach to schedule or attend. My point: "just sale the Cards Please". THANK YOU ALL, YOU ARE AWESOME, YOUR THE BEST, AND YOU ARE THE REASON WHY TEAM SPORTS IN HIGH SCHOOLS SURVIVE. J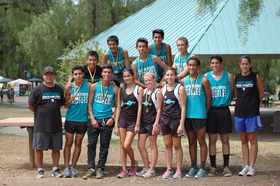 Tuesday, September 3
COUGARS TAKE IT TO THE VAQUERO STAMPEDE
The Vaquero Stampede with its 90 degree heat was good to the Cougars this year as we put on a good show in all race divisions. In the Frosh/Soph boys race Canyon Springs place all 4 runners in the top 8, Rudy Perez 3rd, Sergio Lemus 4th, John Hernandez 7th, Manuel Villarreal 8th. In the Junior/Senior boys race Canyon Springs place runners in 1st Hector Hernandez, 8th Nick Cohenour, 17th John Rivera, and 25th Javier Aceves. Junior/Senior girls race Canyon Springs placed runners in 7th Baellae Hoops and 24th Kennedy Walter.
Vaquero Stampede here are some of our past times and results.
Name

2013

2012

2011

2010
Hector Hernandez 10:09(4:44) 10:45 - -
Michael Simpson 8:18 8:41(5:16) -
Nick Cohenour 11:23(5:18) 11:32 9:24(5:42) 9:38(5:51)
Javier Aceves 11:50(5:31) 11:44 9:22(5:41) 10:28(6:21)
John Hernandez 9:05(5:31) 10:18 - -
John Rivera 11:42(5:27)
Rudy Perez 8:54(5:24)
Manuel Vallarreal 9:07(5:32)
Alex Ortiz 14:04(6:33)
Sergio Lemus 8:58(5:27)
Baellae Hoops 11:10(6:47)
Sophie Pintar 12:27(7:33)
Alyssa Ruiz 10:41 11:08(6:45) -
Julia Ursulo 11:38 - -
Kennedy Walters 12:23(7:31) 12:07 - -
Tuesday, May 28
PHYSICAL FORMS DOWNLOAD HERE
CLICK ON THE LEFT TAB UNDER CLEARANCE PACKET OR THE LINK BELOW
Handout:
Physical Forms
Sunday, August 18
FIRST TEAM DINNER A SUCCESS
Our season opener team dinner at the Olive Garden was a success. All team members presented themselves with class and a very nice attire. We had a great time talking and sharing old stories. We would like to continue this tradition on a yearly basis.
Tuesday, September 3
VAQUERO STAMPEDE