Colorado Cannons: Cannons News
Sunday, May 22
Cannons defeat Bison, 18-7
DUGGAN: grand slam & five RBI
LAKEWOOD, Colo. (May 22, 2016) - The Cannons defeated the Bison (2-3) by the score of 18-7 on Sunday evening, May 22, at Bear Creek High School. BOX SCORE
The Cannons amassed season-high totals in both runs and hits (21) while improving to 3-2 on the season. Jeff Duggan (3-for-4, three runs, BB) delivered a first-inning grand slam and finished the day with five RBI. Starting pitcher Josh Zavislan (6.0 IP, 8 H, 5 R, 3 ER, 0 BB, 9 K; now 3-1) scattered eight hits, fanned nine and did not allow a base on balls. Zavislan also went 4-for-5 with a double, two runs and four RBI.
Jay Barmore, who was sidelined by an ankle sprain for the first four games, went 3-for-4 with a walk and two RBI in his 2016 debut. Carlos Bossy (2-for-2, two runs, RBI, three BB) reached base safely in each of his five plate appearances and Mike Allgire (SB, two runs) went 3-for-5.
Terry Harrison (2-for-3, two BB, SB, three runs) collected his team-leading ninth RBI, Michael Smith (HBP, BB) scored three runs, Kyle Way (1-for-3, BB) belted a two-run double, and John Bode (run, RBI) went 2-for-4.
The Cannons are scheduled to return to action on Sunday, June 5, with a 9:00 a.m. game against the Buffaloes at North High School. DIRECTIONS TO NORTH HIGH SCHOOL
QUOTABLES FROM MAY 22
"Is there a statistic for wind-aided homeruns?" - Smith
"That's Kyle's first extra-base hit since the Carter administration." - Duggan
"You know ... I get more than my fair share of crap from you guys." - Bode
"I want my name listed at least twice in every game recap." - Maupin
CANNONS NOTES: All five games thus far in 2016 have been played at Bear Creek High School ... Both games postponed by snow/rain (April 17 and May 1) were scheduled to be played elsewhere ... Jacob Maupin (.421 avg.) made a pair of nice plays at third base after moving out from behind the plate for the final two innings on May 22 ... The Cannons did not issue a walk against the Bison ... Allgire made a great catch deep in the left-center gap in the bottom of the eighth inning to preserve the ten-run-rule victory ... Allgire (.429 avg.) grounded into a very rare "fielder's choice double play" against the Bison ... Zavislan (1.44 ERA) is now averaging better than 10 strikeouts (10.05) per nine innings less than two walks (1.72) per nine innings ... Zavislan, who is hitting .600 overall and .857 (6-for-7) with runners in scoring position, leads the team in hits (12) and has a team-second-most eight RBI ... Harrison is hitting .529 overall and .778 (7-for-9) with runners in scoring position ... Duggan is third on the team with seven RBI ... Smith (.474 avg., three triples, .895 slg. %, five RBI) leads the team in runs scored (12) ... Bode is now hitting .500 ... Bossy (.500 on-base %) leads the club with six walks ... Beautiful weather paved the way for a voluminous (by NABA standards) crowd at Bear Creek High School on May 22 ... Kyle's family had perhaps the strongest showing, with mother Susie, brother Dan, son Dylan, daughters Taylor and Adrienne, and Zach (Taylor's boyfriend) in attendance ... Five Cannons showcased their defensive versatility by playing at least two positions against the Bison.
CANNONS 2016 SCHEDULE (PDF version)
Get your customized Cannons team apparel for the 2016 season on the CANNONS GEAR link. Customize shirts with your name and jersey number, or design great team gear for your kids, wife, friends or girlfriend(s).
-- CANNONS --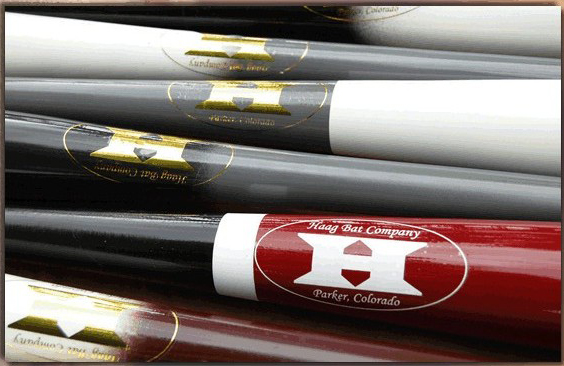 Haag Bat Company / haagbatco@comcast.net
harryCARAYhomerun