Colorado Cannons: Welcome
Sunday, June 25
Cannons prevail 16-8 over Bulldogs
GATOR-AID: 3-for-3, two RBI / one earned run
AURORA, Colo. (June 25, 2017) - The Cannons (7-1-0) recorded a 16-8 victory over the Bulldogs (5-1-2) on Sunday afternoon, June 25, at Regis Jesuit High School (JV field). BOX SCORE
Billy Settlemire (7.0 IP, 7 H, 8 R, 1 ER, 4 BB, 5 K) allowed just one earned run in seven innings on the mound while improving his season record to 2-1. John Bode (double, SF) had three RBI while Settlemire (3-for-3, BB, two runs) and Mike Allgire finished with two RBI apiece. Settlemire and Jeff Renz (2-for-2, BB, RBI) both reached base safely in each of their four plate appearances. Michael Smith (2-for-4, SB) tossed a scoreless eighth inning to seal the deal.
Josh Zavislan (double, two runs), Ted Jimenez (double), Kyle Way, Jeff Duggan (2-for-3) and Jacob Maupin (two BB, two runs) each had one RBI. Jimenez and Renz each crossed the plate three times. Renz, who has trimmed down by more than 70 pounds since last year, scored only two runs during the course of the entire 2016 campaign. The Cannons pounded 15 hits and drew seven walks to help offset 11 fielding errors and seven unearned runs.
The Cannons will have a bye over the Independence Day holiday weekend before resuming action on Sunday, July 9, with a 12:30pm game against the Mudcats (3-3-1) at Green Mountain High School. DIRECTIONS TO GREEN MOUNTAIN HIGH SCHOOL
2017 SCHEDULE / RESULTS (printer-friendly PDF)
Get your customized Cannons team apparel for the 2017 season on the CANNONS GEAR link. Customize shirts with your name and jersey number, or design great team gear for your kids, wife, friends or girlfriend (boyfriend??).
-- CANNONS --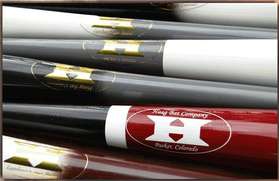 Haag Bat Company / haagbatco@comcast.net / 303-358-0695
VICTORYisMINEstewie