Colorado Cannons: Welcome
Sunday, June 19
Cannons dealt 15-2 thumping by Aces
ALLGIRE: 4-for-4 with an RBI
LAKEWOOD, Colo. (June 19, 2016) - The Aces (5-3) defeated the Cannons (3-4) by the score of 15-2 on Sunday afternoon, June 19, at Bear Creek High School. BOX SCORE
Mike Allgire went 4-for-4 with an RBI and starting pitcher Josh Zavislan went 2-for-2 with a walk. Zavislan (5.0 IP, 8 H, 7 R, 6 ER, 6 BB, 7 K), who was struck by a line drive on his non-throwing thumb in the top of the fifth, saw his record slip to 3-3.
Jacob Maupin (double, RBI, BB) went 2-for-3 while Danny Hodges and Carlos Bossy both went 1-for-3. Hodges scored both of the Cannons' runs in the lop-sided defeat.
The Cannons are scheduled to play the Mudcats (6-1) on Sunday morning, June 26, at 9:00 a.m. at Green Mountain High School. DIRECTIONS TO GREEN MOUNTAIN HIGH SCHOOL
CANNONS 2016 SCHEDULE (PDF version)
Get your customized Cannons team apparel for the 2016 season on the CANNONS GEAR link. Customize shirts with your name and jersey number, or design great team gear for your kids, wife, friends or girlfriend(s).
-- CANNONS --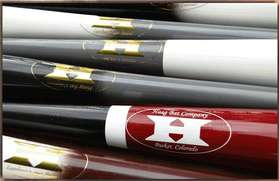 Haag Bat Company / haagbatco@comcast.net
Wide World of Sports??