Colorado Cannons: Welcome
Sunday, August 27
Shockers upset top-seeded Cannon, 8-7, in quarterfinals
Team BBQ at Danny's place - Nov. 11
DENVER, Colo. (August 27, 2017) - The #8 seed Shockers (7-11) upset the top-seeded Cannons (13-5) by the score of 8-7 in the quarterfinal round of the playoffs on Sunday afternoon, Aug. 27, at North High School. BOX SCORE
The Cannons led 4-1 after four innings of play, but the Shockers pushed across four runs - all with two outs - in the top of the fifth to take a lead that would not be relinquished. A two-spot for the Shockers in the sixth, combined with another tally in the seventh, increased the Cannons' deficit to four runs at 8-4.
Down to their final out in the bottom of the ninth, Jacob Maupin lifted a routine fly ball to right field. Almost willing the ball to be dropped, Maupin took off around the base paths as if he'd mashed a gapper. Sure enough ... the ball caromed off of the right fielder's glove, and Maupin slid head-first safely into third base.
Mike Allgire's routine ground ball to shortstop followed, and a low throw allowed him to reach first base and Maupin to cross the plate. Allgire was also awarded second base on the errant throw, and came home on Michael Smith's ensuing RBI single. Smith swiped second base, Ted Jimenez walked, and Smith stole third before Josh Zavislan pushed a run-scoring base hit to right field. Jimenez went first-to-third on Z's single, and the Cannons had the tying run just 90 feet away. An infield pop-up ended the furious rally, the game, and the Cannons' outstanding 2017 season.
Smith finished the contest going 3-for-4 with a double, two stolen bases, two runs scored and three RBI. Allgire went 2-for-3 with three runs scored. The Cannons went just 4-for-17 with runners in scoring position, struck out 13 times and stranded 12 runners on base en route to being eliminated by the Shockers in the quarterfinal round for the second consecutive year.
Now's the time to order your customized Cannons team apparel for the 2018 season on the CANNONS GEAR link. Customize shirts with your name and jersey number, or design great team gear for your kids, wife, friends or girlfriend. Sizing for shorts and sweatpants does not account for swollen testicles.
-- CANNONS --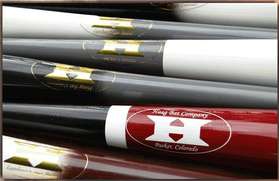 HAAG - official bat of the Cannons
Something About Mary - Those Goofy Kids