Colorado Cannons: Welcome
Sunday, August 13
Bison edge Cannons, 10-7
LAKEWOOD, Colo. (August 13, 2017) - The Bison (10-6) defeated the Cannons (13-3) by the score of 10-7 on Sunday afternoon, August 13, at Bear Creek High School. BOX SCORE
The first five-and-a-half innings took only 75 minutes to play, during which time the Bison crept out to a 2-0 lead. A 15-minute rain delay was administered by the umpires as the Cannons came to bat in the bottom of the sixth, but when the storm subsided, the Cannons used seven free passes (6 BB, 1 HBP) and a pair of base hits to carve out seven runs. The Bison, however, returned the favor and pushed across eight runs in the top of the seventh.
Billy Settlemire allowed just one earned run in 6.2 innings of work as his season record fell to 3-3. Settlemire, Michael Smith, Jeff Duggan (2-for-3), Josh Zavislan (two BB) and Ted Jimenez had one RBI apiece.
2017 SCHEDULE RESULTS (printable PDF)
The Cannons, who have clinched the #1 seed for the playoffs, will conclude the regular-season portion of their schedule against the Buffaloes (10-6) on Aug. 20 (9am at Bear Creek High School). Playoff seedings, game locations and start times have yet to be announced by the NABA, but the quarterfinals will be held on Sunday, Aug. 27. After a bye over the Labor Day weekend, the semifinals will resume on Sept. 10, and the championship game is slated for Sept. 17.
Get your customized Cannons team apparel for the 2017 season on the CANNONS GEAR link. Customize shirts with your name and jersey number, or design great team gear for your kids, wife, friends or girlfriend (boyfriend??).
-- CANNONS --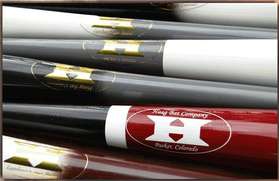 Haag Bat Company / haagbatco@comcast.net / 303-358-0695
fightLIKEitJOKER