Colorado Cannons: Welcome
Sunday, May 1
Cannons snowed out on May 1
CANNONS: snowed out on May 1
ENGLEWOOD, Colo. (May 1, 2016) - The Cannons and Greensox were snowed out on Sunday afternoon, May 1, at Englewood High School.
The Cannons (2-1) will next play on Sunday, May 15, against the Shockers (1-2) at 9:00 a.m. at Bear Creek High School. All teams in the NABA's 35W division will be idle on Mother's Day (Sunday, May 8). DIRECTIONS TO BEAR CREEK HIGH SCHOOL
CANNONS NOTES: The Cannons have a team on-base % of .419, and a team batting average of .360 ... Opponents' on-base % is under .300 (.290), thanks in large part to the Cannons' pitching staff surrendering a meager average of 3.52 walks per nine innings ... Michael Smith (team-most seven runs scored) has four extra-base hits (two doubles, two triples) in the first three games and is slugging 1.000 ... Terry Harrison leads the club with six RBI ... Josh Zavislan (0.95 ERA) is averaging 8.05 strikeouts per nine innings and had allowed opponents just a .203 batting average in 19.0 innings on the mound ... Zavislan and Smith have four RBI apiece ... Jacob Maupin has thrown out three would-be base stealers.
CANNONS 2016 SCHEDULE (PDF version)
Get your customized Cannons team apparel for the 2016 season on the CANNONS GEAR link. Customize shirts with your name and jersey number, or design great team gear for your kids, wife, friends or girlfriend(s).
-- CANNONS --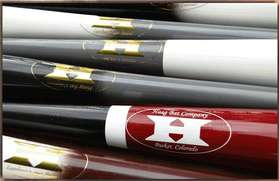 Haag Bat Company / haagbatco@comcast.net / 303-358-0695
Start Drinking Heavily