Colorado Cannons: Welcome
Sunday, April 23
Cannons conquer Hitmen, 13-5
SMITH: 2-for-4, 2B, HR, BB, 2 RBI, 4 runs
DENVER, Colo. (April 23, 2017) - The Cannons (2-0) recorded a 13-5 victory over the Hitmen (1-1) on Sunday afternoon at North H.S. BOX SCORE
Michael Smith and Josh Zavislan both homered as the Cannons rebounded from an early 4-1 deficit. Smith (2-for-4, double, two RBI, walk) scored four runs and Zavislan (2-for-4, two runs, HBP) drove in four runs. Terry Harrison went 2-for-3 with two walks and a pair of RBI.
Billy Settlemire (5.0 IP, 9 H, 5 R, 4 ER, 1 BB, 1 K; now 1-0) earned the victory while Danny Hodges and Smith combined for three scoreless innings out of the bullpen. Ball magnet Kyle Way got drilled between the shoulder blades twice, leaving a pair of bruises that would make an MMA fighter cringe.
The Cannons will play the Royals (0-1-1) on Sunday, April 30, at 9am at Arvada High School. DIRECTIONS TO ARVADA HIGH SCHOOL
2017 SCHEDULE / RESULTS (printer-friendly PDF)
Get your customized Cannons team apparel for the 2017 season on the CANNONS GEAR link. Customize shirts with your name and jersey number, or design great team gear for your kids, wife, friends or girlfriend (boyfriend??).
-- CANNONS --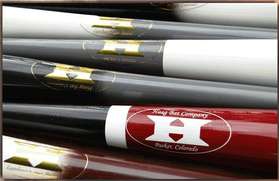 Haag Bat Company / haagbatco@comcast.net / 303-358-0695
Stewardess