Colorado Cannons: Welcome
Thursday, February 27
Cannons add Barmore to roster; Opening Day set for April 6
DENVER, Colo. (February 27, 2014) – The Cannons added Jay Barmore to their 2014 roster on Thursday, February 27.
A 6'2", 200-lb. outfielder who hails from Freeport, Ill., Barmore is the third newcomer added to the Cannons' roster this month, joining draft picks Mike Allgire and Erik Hansen.
"I played outfield (in the past), but have dabbled at other positions," said Barmore, who garnered All-Conference accolades at Freeport High School. "I am excited to get started."
The 2014 season is scheduled to begin on Sunday, April 6. CLICK HERE for a tentative game schedule, and stay tuned for updates to the roster as the beginning of the season approaches.
Get ready for the 2014 season with customizable CANNONS GEAR. Customize shirts with your name and number, or even design great team gear for your family and children to wear to the games,
-- CANNONS --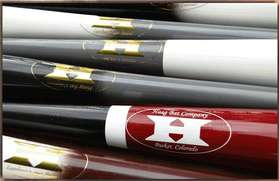 HAAG BAT COMPANY / haagbatco@comcast.net / 303-358-0695
FERRIS BUELLER righteous dude