California Thunder 16u: Welcome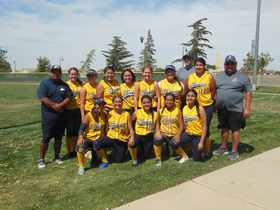 Cal Thunder at USA Preps Summer Sun-Sational Camp & Tournament
We are proactive in evaluating prospects....players, especially pitchers who are interested in playing for Cal Thunder please contact Team Manager Gil at gmguillen@msn.com or call/text 626-825-6843

Upcoming opportunities to see Cal Thunder 16U play! (tentative schedule)

June 6 - 8 : Surf City "June Invitational"- California Oaks Sports Park in Murrietta
June 13 - 15 : PGF "So Cal Qualifier"

June 30 - July 6 : "Colorado Explosion" in Parker, CO - Details can be found at http://www.coexplosion.com
July 10 - 13 : Surf City "Summer Showcase"
July 20 (Sunday) : Hosting Friendlies @ Workman HS
July 25 - 27 : USA Preps "Summer Sun-Sational Camp & Tournament" in Palmdale/Lancaster - CLICK HERE to see coaches who are coming
July 28 - Aug 3 : USSSA "World Series 2014" @ Big League Dreams Chino (Click here for bracket)
Aug 8 - 10 : Triple Crown Sports Showcase - San Diego
Aug 17 (Sunday) : Hosting Friendlies
Aug 31 (Sunday) : Hosting Friendlies
Sept 19 - 21 : Triple Crown Sports "Fall Classic"
Sept 26 - 28 : ASA Heartland Showcase
Oct 4 - 5 : Triple Crown Sports "Best of the West" - Palmdale
Oct 10 - 12 : Surf City "Fall Showcase"
Oct 17 - 19 : ASA "Cancer Showcase" in Chino
Oct 25 & 26 : Triple Crown Sports "Sparkler" in San Diego
Nov 15 & 16 : Triple Crown Sports "Pre-Thanksgiving Cup" in Big League Dreams - West Covina
Nov 21 - 23 : Surf City "Early Thanksgiving Showcase"
Nov 28 - 30 : ASA "Brenda Tournament"
PRACTICE LOCATIONS INFO:
Shadow Oak Park - 2121 Shadow Oak Drive, West Covina 91792
Covina HS - 463 S. Hollenbeck, Covina, corner of Hollenbeck & Puente (park in the lot on the Puente side of campus.)
Strength Training: 212 Training Center, 542 N. Second Ave., Covina 91723 - Every Tues/Thurs 7-8pm
Batting Practice: California Softball Academy, 515 W Allen Ave, San Dimas 91773 - Weds 6-7pm & 7-8pm
About Cal Thunder Organization:

This 16U team is a part of the California Thunder Organization. California Thunder is a PREMIER Travel Softball Organization that has had 10+ years of success and a history of "assisting" almost 100 players in receiving college scholarships in all divisions around the nation. Our goal is to assist all athletes in receiving a scholaship at a university that is the "best fit" for their academic and athletic needs.
Remember that softball ends 4 years after HS for the majority of the population. Your future matters to us! We encourage our athletes to make decisions that will impact the rest of their life, not just their athletic career. Softball is a tool that helps us pave the way for a successful career.
Valerie Van Kirk-LeVier (Gold Coach) vvankirk@aol.com (909) 851-3595.

Valerie is a former National Champion (NCAA and ASA), National Team Player and All- American, who has had the opportunity to play on some of the best teams in softball history and for some of the best coaches.

Mark LeVier (14u) MLeVier22@aol.com (909) 851-7656.

Mark is a former Boston Red Sox Associate Scout with 35 years of experience as a hitting instructor, coaching and teaching the sport of Softball and Baseball.

Together, both of their children have been successful Division I athletes.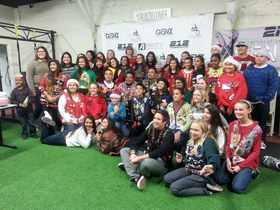 212 Training Center Holiday Party - Dec. 12, 2013
Thunder 16U celebrated "the reason for the season" at 212 Training Center/Man-E-Moreno Foundation on Thursday, December 12, 2013. The team alongside other student/athletes who train at 212 enjoyed dinner, a white elephant gift exchange, and came in their festive and creative attire for the ugly sweater contest. Community leaders stopped by to share a few words of inspiration to our future community leaders. City of Covina Council Member Jorge Marquez, representative from Senator Ed Hernandez office Richard Florez and the Los Angeles County Fire Engine 154 were all in attendance. The firefighters were thankful and picked up the donated toys for their "Spark of Love" toy drive. Thank you Robert for sharing your kindness and for your dedication to the youth of the community.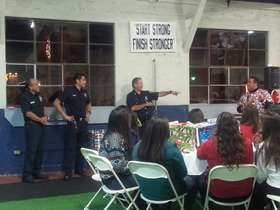 LA County Fire Engine 154 Dec. 12, 2013