California Thunder 16u: Welcome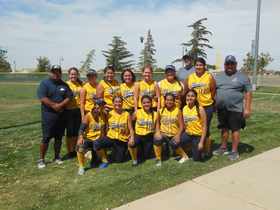 Cal Thunder at USA Preps Summer Sun-Sational Camp & Tournament
Upcoming opportunities to see Cal Thunder 16U play! (tentative schedule)

June 6 - 8 : Surf City "June Invitational"- California Oaks Sports Park in Murrietta
June 13 - 15 : PGF "So Cal Qualifier"

June 30 - July 6 : "Colorado Explosion" in Parker, CO - Details can be found at http://www.coexplosion.com
July 10 - 13 : Surf City "Summer Showcase"
July 20 (Sunday) : Hosting Friendlies @ Workman HS
July 25 - 27 : USA Preps "Summer Sun-Sational Camp & Tournament" in Palmdale/Lancaster - CLICK HERE to see coaches who are coming
July 28 - Aug 3 : USSSA "World Series 2014" @ Big League Dreams Chino (Click here for bracket)
About Cal Thunder Organization:
This 16U team is a part of the California Thunder Organization. California Thunder is a PREMIER Travel Softball Organization that has had 10+ years of success and a history of "assisting" almost 100 players in receiving college scholarships in all divisions around the nation. Our goal is to assist all athletes in receiving a scholaship at a university that is the "best fit" for their academic and athletic needs.
Remember that softball ends 4 years after HS for the majority of the population. Your future matters to us! We encourage our athletes to make decisions that will impact the rest of their life, not just their athletic career. Softball is a tool that helps us pave the way for a successful career.
Valerie Van Kirk-LeVier (Gold Coach) vvankirk@aol.com (909) 851-3595.

Valerie is a former National Champion (NCAA and ASA), National Team Player and All- American, who has had the opportunity to play on some of the best teams in softball history and for some of the best coaches.

Mark LeVier (14u) MLeVier22@aol.com (909) 851-7656.

Mark is a former Boston Red Sox Associate Scout with 35 years of experience as a hitting instructor, coaching and teaching the sport of Softball and Baseball.

Together, both of their children have been successful Division I athletes.