Calgary Wolfpack Football Club: Welcome
AFL All Star Game - Saturday Sept. 7
The first ever AFL All-Star Game is set to take place this Saturday, September 7th in Lacombe, Alberta. The game will feature combined Calgary Team (Wolfpack & Gators) vs. The AFL (Driller, Buccs, Stars & Vandals). Kickoff is set for 6:00PM at ME Global Athletic Park in Lacombe. Admission is $5 and free for 12 & Under. The Team Calgary Roster is as follows:
TEAM CALGARY ALL-STARS

Offence

QB Darryl Leason
QB Liam Greaney
RB Sean Ahronson
RB Mitch Szigety
RB Tyler Shaver
FB Matt Squires
FB Cody Szigety
SB Orin Doneff
SB Andrew Complak
SB Adam Greene
SB Mike Wasylinuk
WR David Slatcher
WR Scott Sargent
WR Gordon Swindells
WR Tim Johnson
WR Andrew Jones
WR James Thompson (special teams)
LT James Ardnt
LT Will Dunn LG Kyle Robbins
LG Ryan Bellerose
C Donny Nelson
RG Jeff Chitwood
RT Mark Ingram
RT Kent Newton

Defence

DE Devin Mullen
DE Devron Brown
DE David Dominic
DE Clif Cox
DT Tony Verbrugge
DT Joshua Abram Comeau
DT Darcy Hodge
DT Joshua Joynson
DT Shannon George (special teams)
MLB Brad Richmond
MLB Don Scott
MLB Gunnar Godhe
MLB Oryama Okot (special teams)
OLB Jon Scratch
OLB Kurt Howland
OLB Pepe Garcia
OLB Ken Fournier
HB Matt Lamontagne
HB Garry Wilson
HB Richard David
CB David La
CB Chris Wollin
CB Alex Issik CB
S Scotland

K/P Ian Hewitt
Returner- Blake Hawco
Jesse Krsa (special teams)
Tony Melicchio (special teams)
Dylan Halliday (special teams)
Friday, July 12
New Sponsor: All Weather Windows
The Calgary Wolfpack Welcomes our new sponsor:
All Weather Windows
Business Description:
When having renovations done in your home you need to know that it's done right. For window and door renovations look no further than All Weather Windows Renovations.
For more information, contact Brenda Redwood:
E: bredwood(at)allweatherwindows.com
Direct: 403.510.0637
5, 5342 - 72 Avenue SE, Calgary
www.allweatherwindows.com
Friday, July 12
Week 5 vs. Central Alberta Buccaneers
Offense MVP: Sean Ahronson
Sean came to Lacombe ready to play, moving the ball well on the ground and making some big receptions deep to keep drives rolling.
Defense MVP: Reilly Penner
Reilly was all over the field, and chased down a number of players who broke into the secondary.
Special Teams MVP: James Balsdon
Despite a nagging injury, James kicked the ball deep numerous times to give our defence some relief and better field position to work with.
Pride Award: Miles Myers

While the entire defence was also nominated, Miles covered his area well and individually made some key knockdowns to stall the Buccs offence.
'Wolf' Award: Graham McKendry
This award goes to the most aggressive player. Graham played a tough but clean game making some big hits and tackles.
Tuesday, June 4
Central Alberta TV Spot: Gunnar Godhe
Great clip of Linebacker and Defensive Captain Gunnar Godhe courtesy of CATV:
Thursday, June 6
New Sponsor: Roof Works Ltd.
The Calgary Wolfpack welcomes another new 2013 sponsor!
Roof Works Ltd.
Business Description:
Roofworks' Roof Repair Services are here when you need us. We provide top quality roofing service throughout much of southern Alberta, and we always strive to serve your needs through socially responsible and accepted community standards!
Friday, May 17
New Sponsor: A-Squad Power Inc.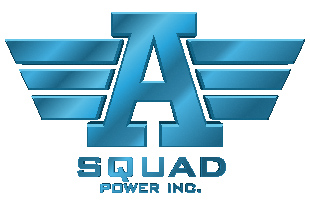 The Calgary Wolfpack is pleased to announce 2013 Sponsor:
A-Squad Power Inc!
Business Description:
A small, family owned and run electrical company specializing in small commercial construction. and also deal in residential and commercial service. A-Squad prides itself on exceptional workmanship and costumer service with over 30 years of of experience to draw from.
Let our family take care of yours.
@ASquadpower
Facebook.com/ASquadPower
Tuesday, June 4
New Sponsor: IMV Projects
The Calgary Wolfpack welcomes a new 2013 Sponsor!
IMV Projects
Business Description: Creative vision. Innovative results. IMV Projects is a seasoned project execution company for the energy industry delivering project management, engineering, procurement and construction management services with efficiency and integrity. Our mission is to be Canada's go-to project execution provider for the energy industry. Our vision is to deliver extraordinary results by empowering and energizing our team members. Whether you are a prospective client or employee, we invite you to experience IMV Projects.
Monday, May 13
2012 Player Awards
The much overdue 2012 Wolfpack Player Awards were announced this past weekend at the Rembrandt Bar & Grill Team Windup Dinner. The following players were selected:
Most Valuable Player: Gunnar Godhe
Rookie of the Year: Gordon Swindells
Offensive MVP: Mike Wasylyniuk
Defensive MVP: Mike McEachern
Special Teams MVP: Eric Clark
Offensive Line MVP: James Arndt
Defensive Line MVP: Chris Lutz
Dave Antonius Pride Award: Danny Warrack
Congratulations to all award recipients!