Calgary Blizzard Soccer Club: The Winning Pitch
Monday, July 22
Gold for Galaxy!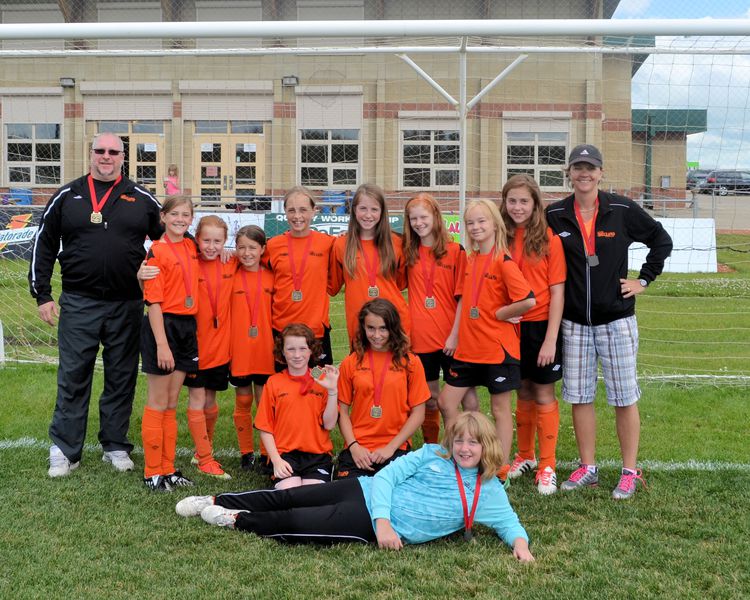 Congratulations to Blizzard Galaxy for winning gold in Group C Inter-cities U12! The team quickly overcame the adversity of losing more than half the team to summer holidays and, with the assistance of players called up from the U-10 Bears and U-12Bobcats, worked very hard over the last 6 playoff games to win 5 out of6 matches. They also won 2 matches and tied 1 at the Inter-cities for a combined record of 7 wins/1 tie/1 loss. The teamwork demonstrated by this group was nothing short of remarkable given the short time in which they had to gel. The coaches and parents of the Galaxy team are exceedingly proud of how well the girls played together as a team in order to ultimately achieve what they chose as their final goal.
Well done, girls!
Monday, July 8
Gold for Dynamo!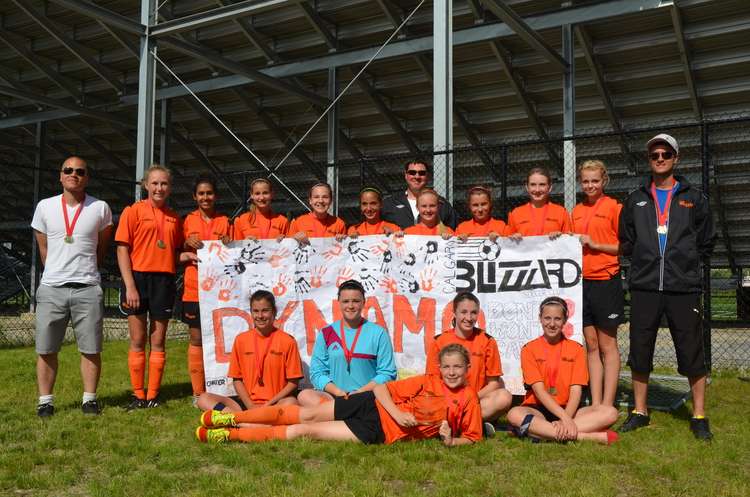 After playing three undefeated games and a nail-biting fourth game that ended in penalty kicks, Blizzard Dynamo win gold in Giddy Up Cup. Way to go girls!
Friday, July 5
Silver for Azzurri, $$ for Red Cross!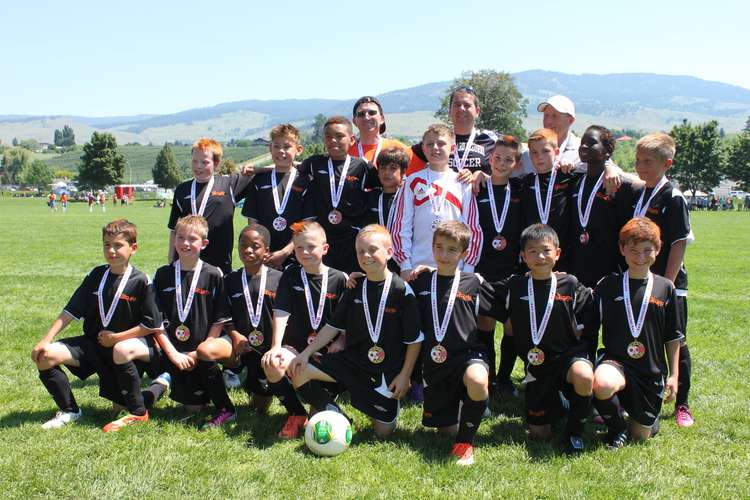 The Blizzard Azzurri U12 boys at the Kelowna Canada Day Soccer Tournament. The boys played magnificently and were undefeated over the first 3 games to earn a berth in the final. In the final, they earned a hard fought silver medal due to a late goal by the opposing team, but a stellar effort nonetheless. In addition, the boys used the tournament to raise $500 for the Canadian Red Cross which will be matched by a generous private corporate donor. Well done team!
Tuesday, July 2
Silver for Villa!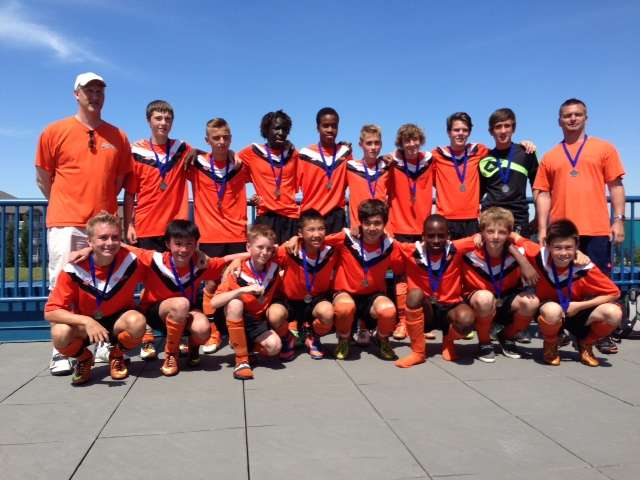 Blizzard Villa win silver at the Mac's Powerplay Cup showcase tournament in Spruce Grove on Canada Day!
Tuesday, July 2
Gold for Celtic!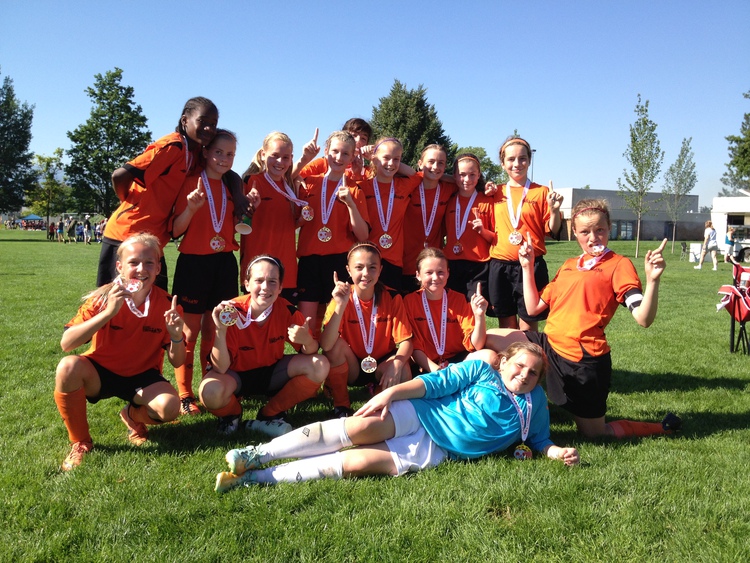 Blizzard Celtic U12G won gold in the U13 division of the Canada Day Tournament in Kelowna. Excellent job!
Tuesday, July 2
Silver for Everton!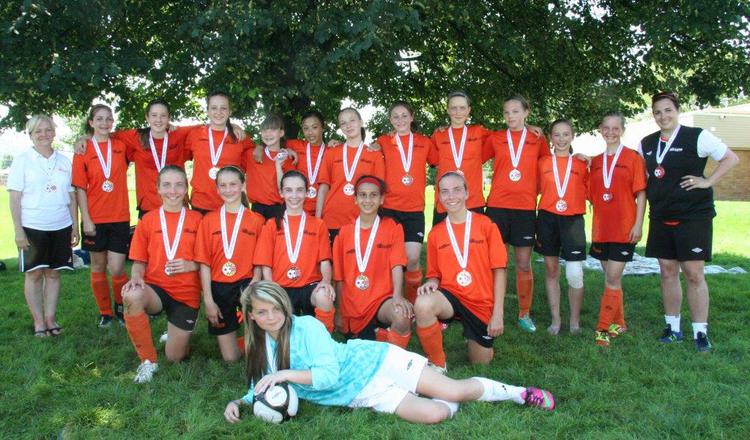 Blizzard Everton U14G had a great tournament on the Canada Day weekend in Kelowna. The team entered a higher age group level to give them a more challenging competition and the girls rose to the challenge superbly! Winning every game on their journey to the final, they lost only 1-0 in what was a thrilling game between 2 evenly matched teams.
Outstanding effort girls..proud of you all!!
Wednesday, June 19
Santos Win Gold!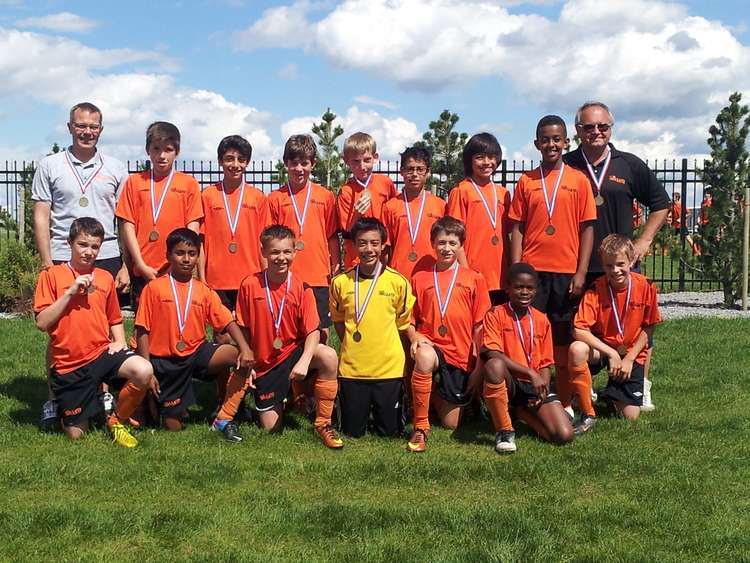 The U-12 Blizzard Santos take home a gold medal from the Lethbridge tournament, capping off an excellent weekend.
Wednesday, June 19
Silver for Spurs!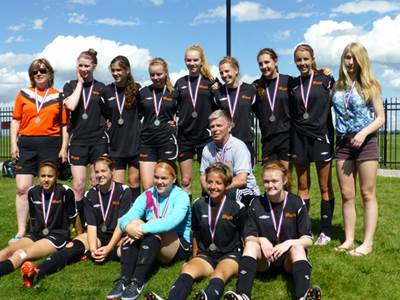 Congratulations to the Blizzard Spurs, who won the Silver Medal at the Lethbridge Father's Day Soccer Tournament this past weekend. The Spurs, with a roster of 12, were undefeated in four games.
Outstanding effort girls!
Monday, June 17
Gold for Napoli!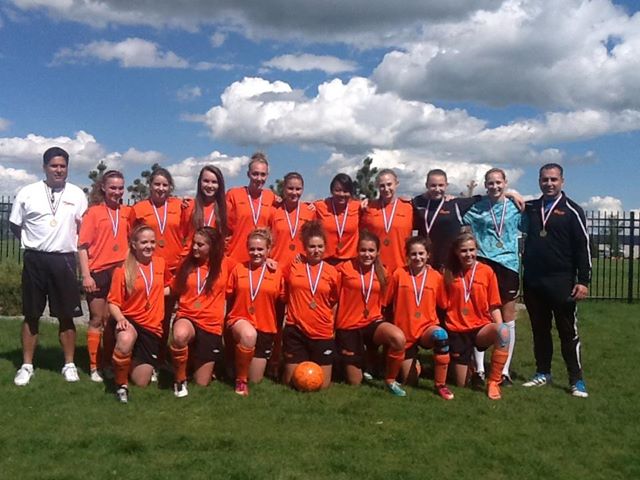 Congratulations Blizzard Napoli, winners of the Gold Medal at the Lethbridge Soccer Tournament. The girls played well in a thrilling final, winning the gold after a penalty shoot-out!
Monday, June 17
Silver for Atletico!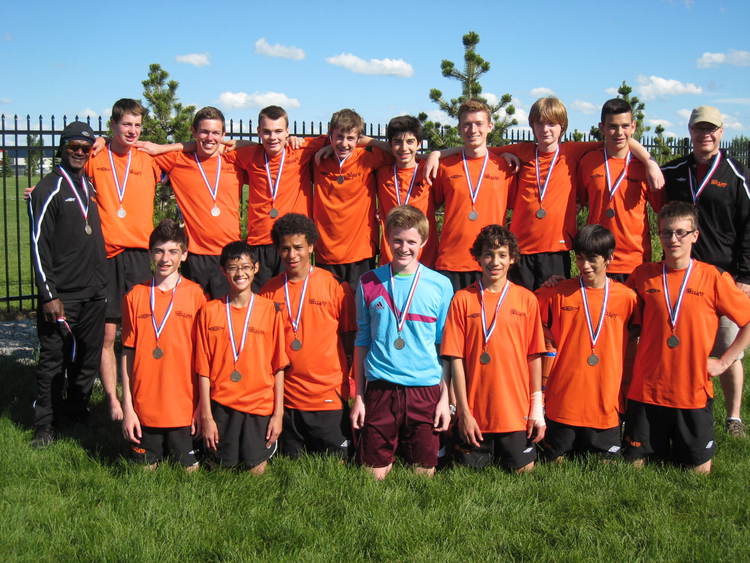 Blizzard Atletico won silver at the Lethbridge FC Tournament this weekend!! They played really well against two tough '97 teams (1 year older than our boys). Congratulations for the great soccer!
Wednesday, June 12
Celtic #1 in Montana!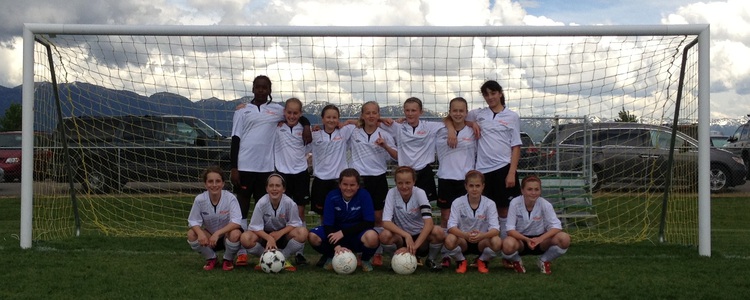 The U12 Tier 1 Blizzard Celtic had to declare gold when crossing the US border on June 2. The girls played in the top U12 division of the Three Blind Refs Tournament in Kalispell, MT and went undefeated. They won 9-0 against Magic City, 8-0 against Missoula FC, and 6-2 versus the Idaho Thunder. Celtic met their league counterparts from Foothills in the final, winning 5-1.
Congrats, Celtic! Keep up the great work.
Tuesday, June 11
Gold and Bronze for Avalanche!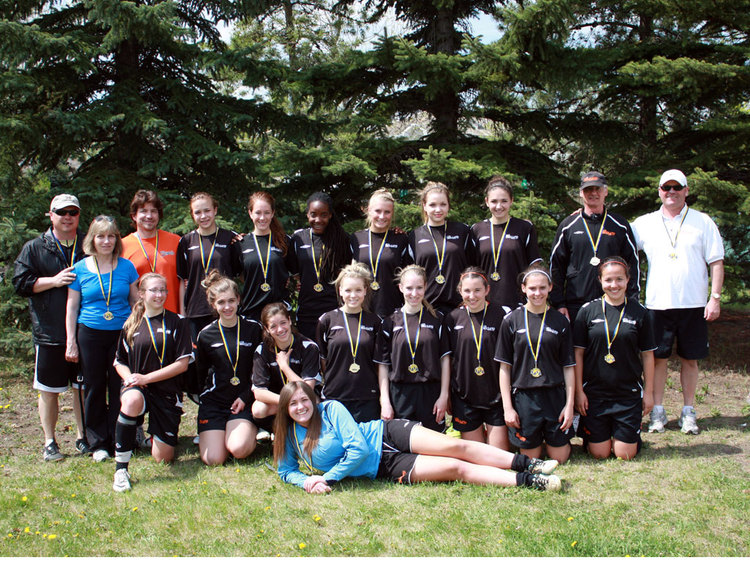 Congratulations to GU18 Avalanche, gold medal in the St. Albert Tier 1-2 Tournament, and bronze medal in the provincial indoor championships!
Thursday, May 23
Gold for Pumas in President's Cup!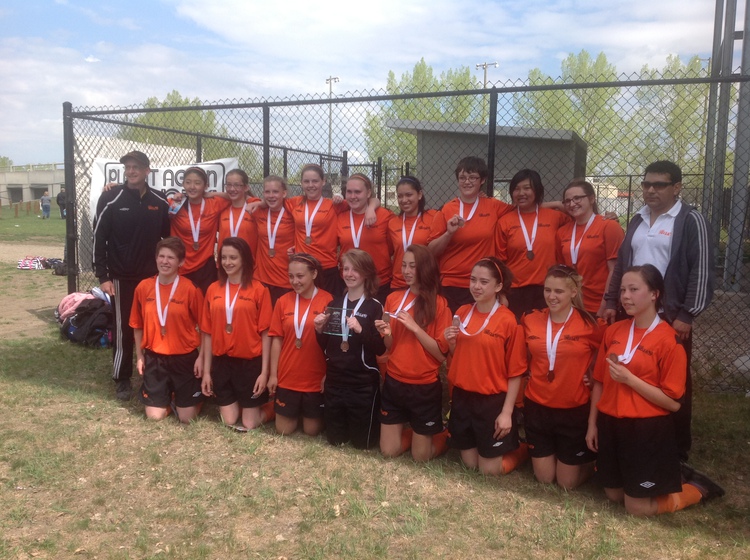 The girls U16 Pumas won gold at the 2013 President's Cup. Congratulations!
Thursday, May 23
Silver for Santos in President's Cup!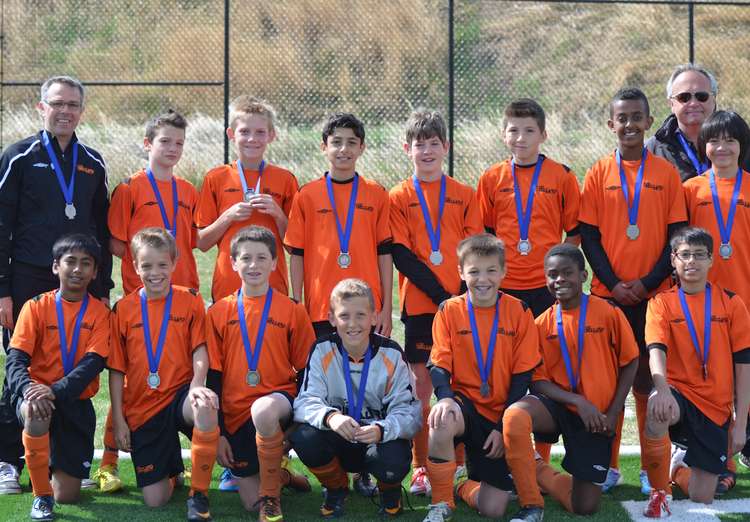 The Blizzard Santos took home a silver medal from U12 Boys Tier 1 in the CMSA President's Cup. Congratulations!
Friday, April 26
Imperials Win Bronze in Provincials!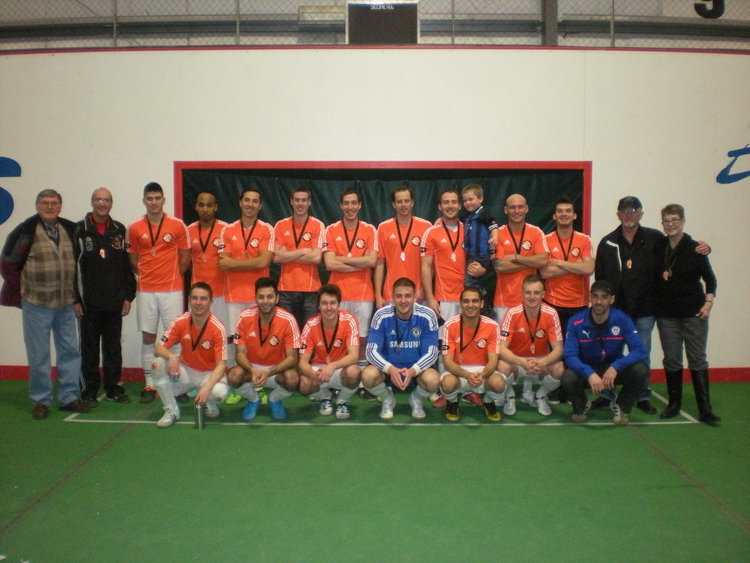 Blizzard Imperials won Bronze in Tier 1 Men's Provincials. Excellent job, and proof that competitive soccer can continue long after you leave minor soccer.
Wednesday, April 10
Santos Wins Provincials Gold!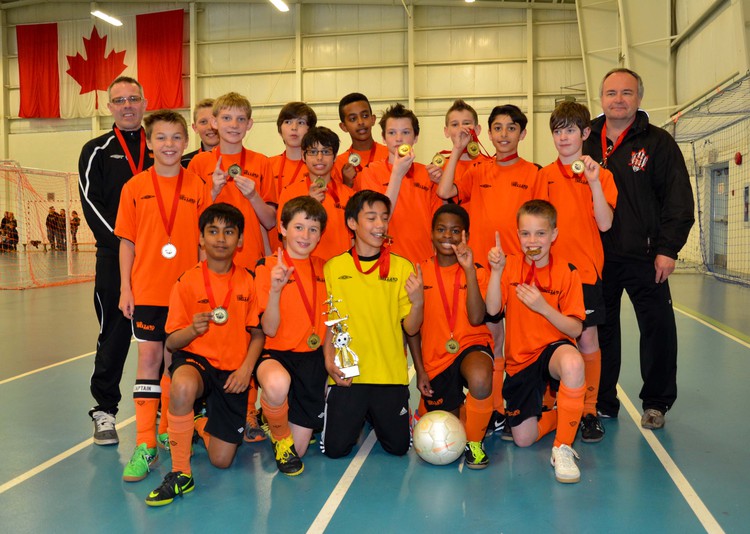 The U-12 Santos completed an undefeated regular season by capturing provincial gold for tier 2 Futsal.
A 9-3 win over the Fort McMurray Fury got the tournament off to a positive start. In game two the Santos met a Calgary Foothills team looking for some redemption from a regular season loss. Foothills had the Santos down 3-1 until a second half rally by the Blizzard boys clinched their second victory 5-3. The Santos then took game three 7-1 over the Edmonton Drillers.
Congratulations on an outstanding season boys! Your coaches and parents are very proud of you.
Sunday, March 24
Blades Win Gold and Alex Flynn Award!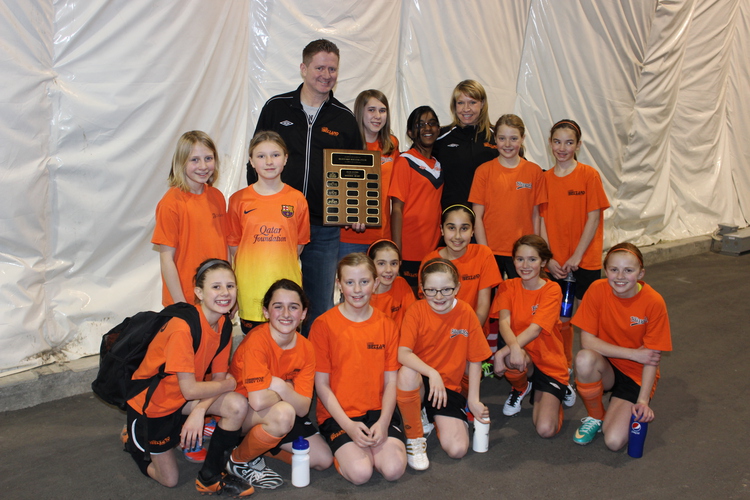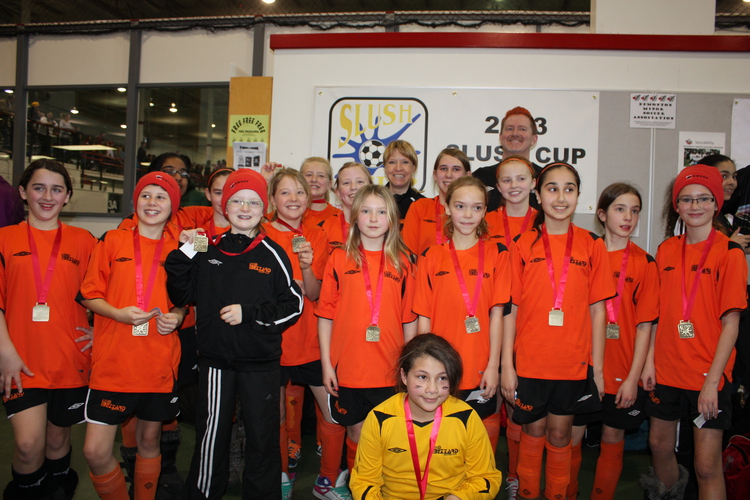 Congratulations to the GU 12 Tier IV Blizzard Blades, winner of the Gold Medal at the Slush Cup and also the recipient of the 2012 prestigious Alex Flynn Memorial Award. This award is presented to a Blizzard team that best epitomizes the values of Alex Flynn, a Blizzard player whose life was tragically cut short in 2008; Alex was an extremely good player but the most important values to Alex were team values. The Blades represent all that is good about team sports, a strong bond with each other, good sporting values and most importantly, fun is what soccer should be about.

Once again, many congratulations to Coach Kerry Hargreaves and the Blizzard Blades.

Friday, March 22
GU14 Lightning win Bronze at Tier 2 Provincials in Fort McMurray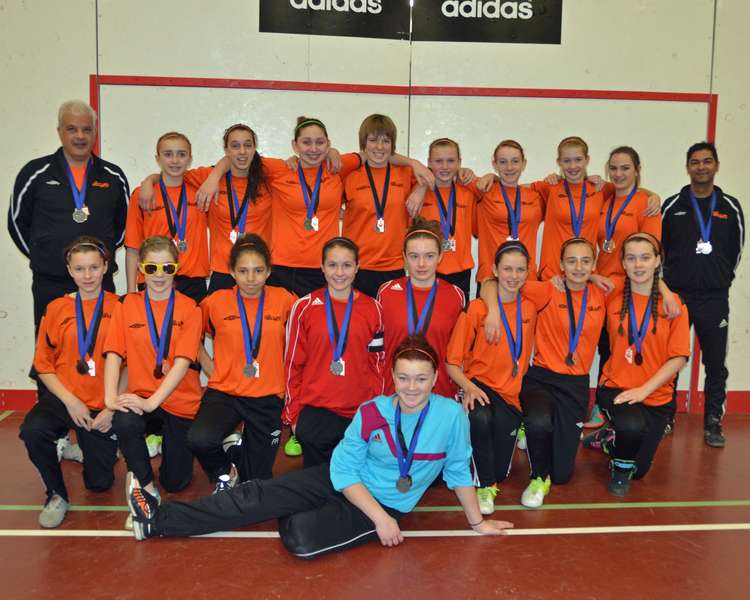 Congratulations!
Tuesday, March 12
Santos Wins Gold!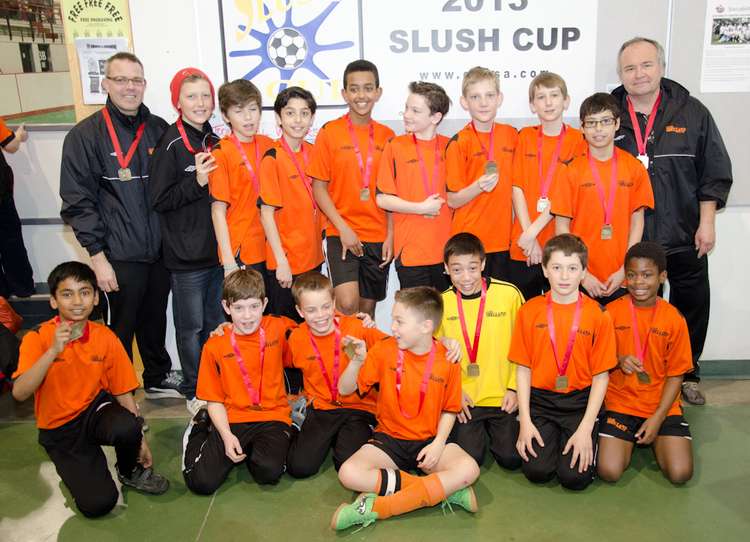 After a nervous first game win over the Calgary Rangers, the Santos composed themselves and carried on to victories against teams from Red Deer and Lethbridge. Great work Santos earning your Slush Cup gold!
Monday, March 11
Storm Win CMSA Gold!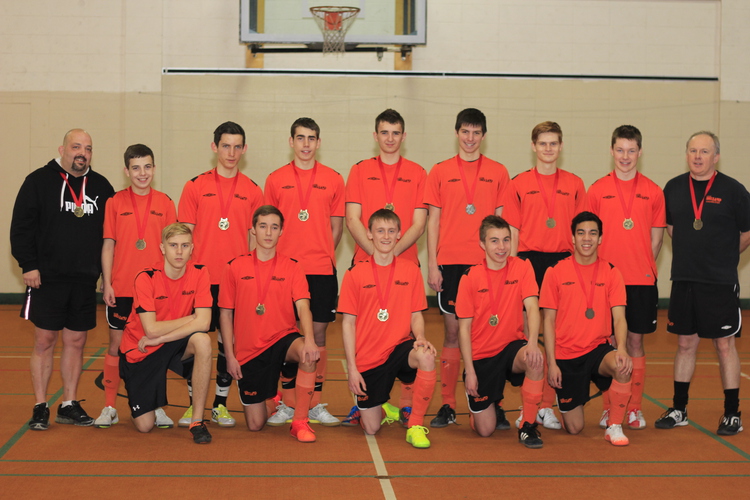 The Blizzard Storm team won Gold medals in the CMSA U18 T3 league this season. An unbeaten playoff round [6-0] capped a great indoor season performance.
Well done lads !
Friday, March 8
Silver for Real!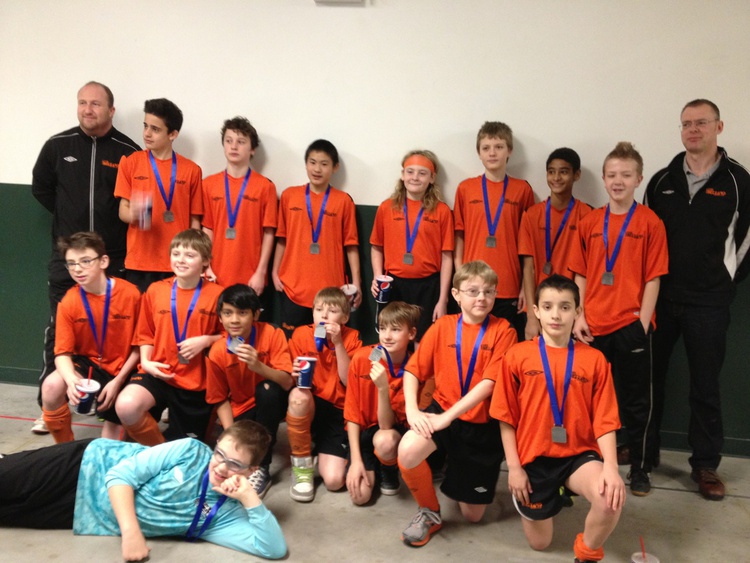 Congratulations to Blizzard Real for winning Silver in the Slush Cup!
Wednesday, March 6
Slush Cup Success!
Many congratulations to the many Blizzard teams that traveled to Edmonton during the weekend of 1-3 March. There were many close games and the following teams came home with medals. Well done to all that competed and represented the Club so well on the field and with great sportsmanship.
Gold: GU12 Porto; GU 12 Blades; BU12 Santos; GU14 Roma; GU 14 Grizzlies
Silver: BU 10 Arsenal; BU12 Saints; BU14 Real
Bronze: GU16 Leopards

Monday, March 4
Gold for Grizzlies!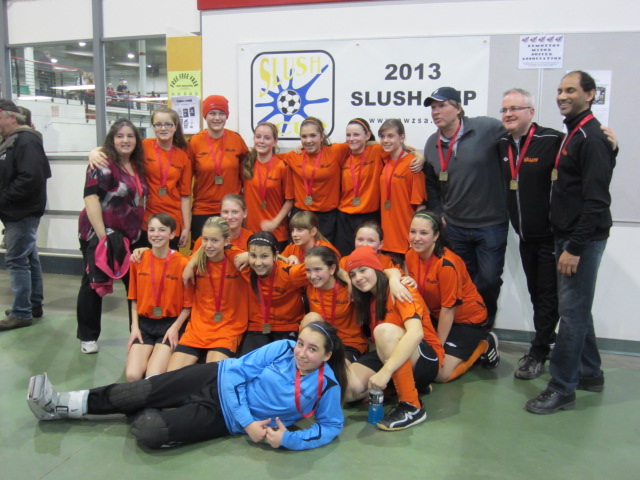 Blizzard Grizzlies won gold at the 2013 Slush Cup in Edmonton. Excellent job!
Monday, February 25
Bayern Takes Silver!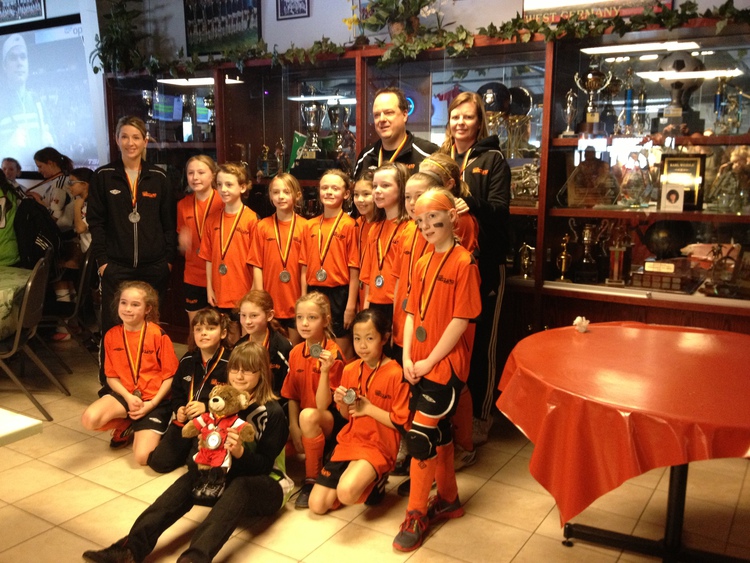 Blizzard Bayern, with 5 guest players from the Strikers, won Silver in Edmonton's Victoria Club 7v7 tournament. Congratulations!
Sunday, February 24
Fuego and Napoli Win Gold in Saskatoon!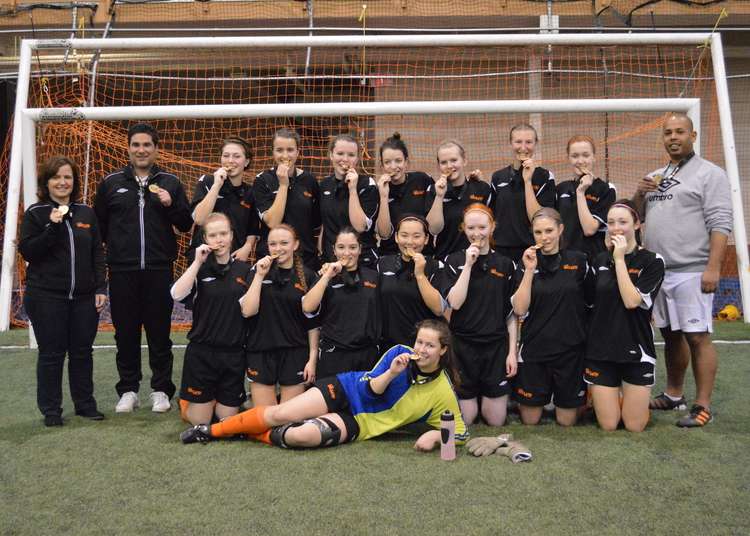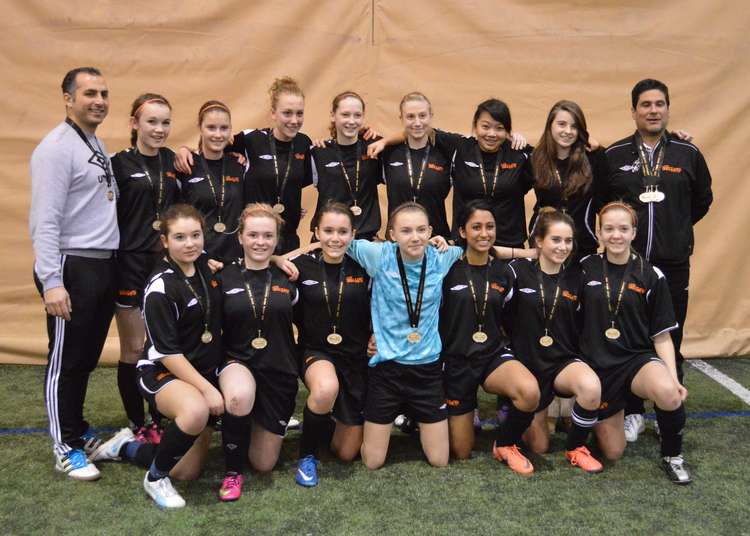 Blizzard Fuego (GU18 tier 2) and Napoli (GU16 tier 2) travelled together to Saskatoon for the SUSC Tournament Feb 15 - 18. They brought home a bus load of gold as both teams won gold medals in the finals of their divisions. Congratulations!
Thursday, February 21
Avalanche Wins in Red Deer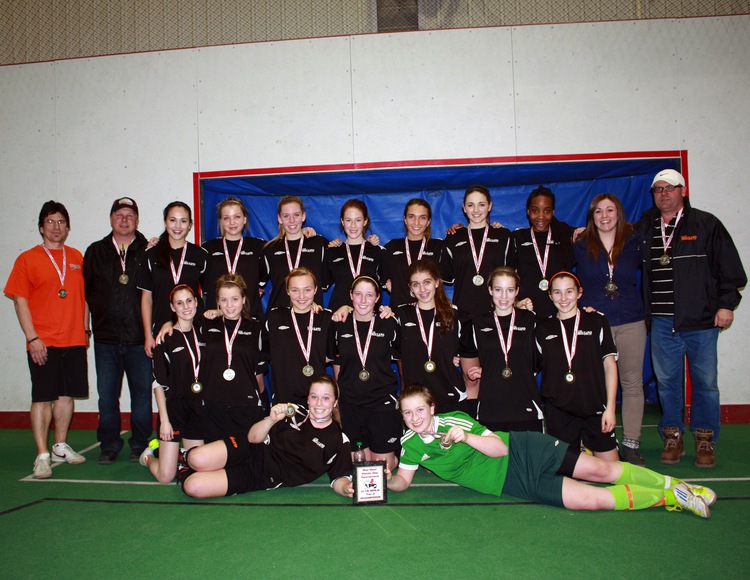 Congratulations to GU 18 Blizzard Avalanche who won Gold and Most Sportsmanlike Team in Red Deer, winning the gold medal after a penalty Shoot Out

Avalanche 8 – Medicine Hat Rattlers 0

Avalanche 3 – Spruce Grove Saints 2

Gold Medal Final Avalanche 1 – Edmonton Drillers 1 at full time.
Monday, January 28
Silver for Hornets!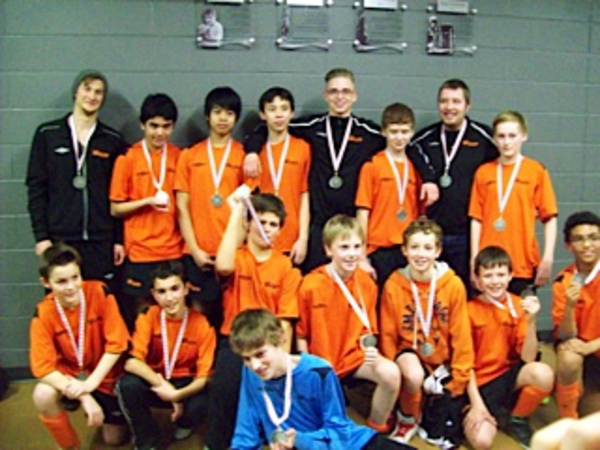 Blizzard Hornets won silver in the Airdrie Blizzard Buster Tournament. Congratulations!
Wednesday, January 16
Santos Takes Gold!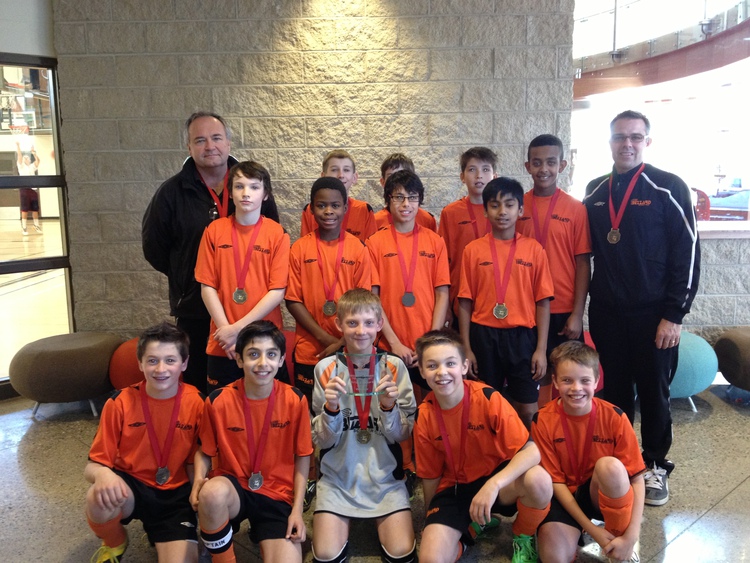 The Santos won gold in the U-12 boys div. 2 at the winter classic. They outscored their opponents with a margin of 46 – 6. They showed character and composure throughout the tournament. Well done Santos.
Tuesday, January 15
Blizzard Wolves Win Bronze in Lethbridge December Tournament!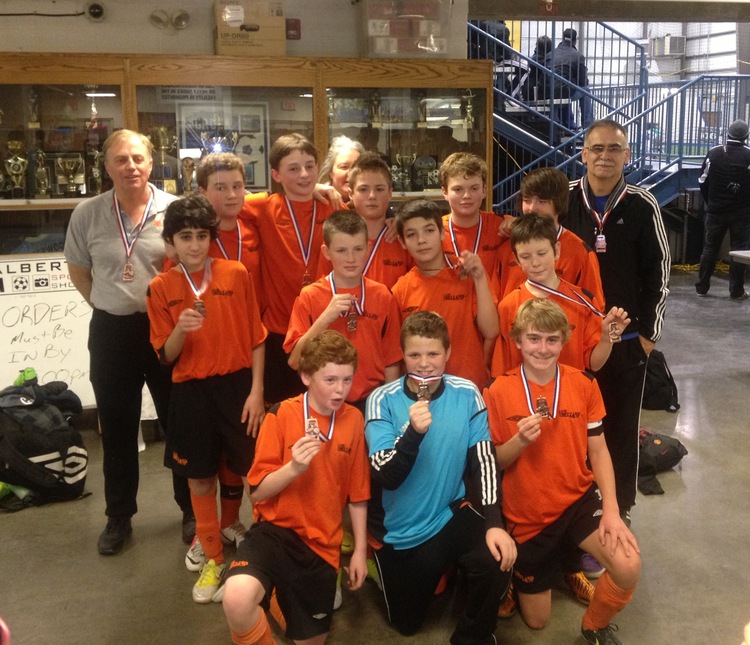 Congratulations!
Monday, January 7
CMSA Winter Classic
Many congratulations to all the teams that competed in the CMSA Winter Classic tournament January 3-6. Lots of good games and plenty of fun had by all. It was good to see so many Blizzard teams entered and well done to the following medal winners
Gold:
GU12 Celtic, GU12 Strikers & BU12 Sant
os
Silver:

BU12 Barca,

BU12 Wanderers, BU14 Real, GU14 Roma
Bronze:
GU12 Porto, BU16 Madrid, GU16 Spurs
Wednesday, December 19
GU14 Lightning Win Bronze in Red Deer!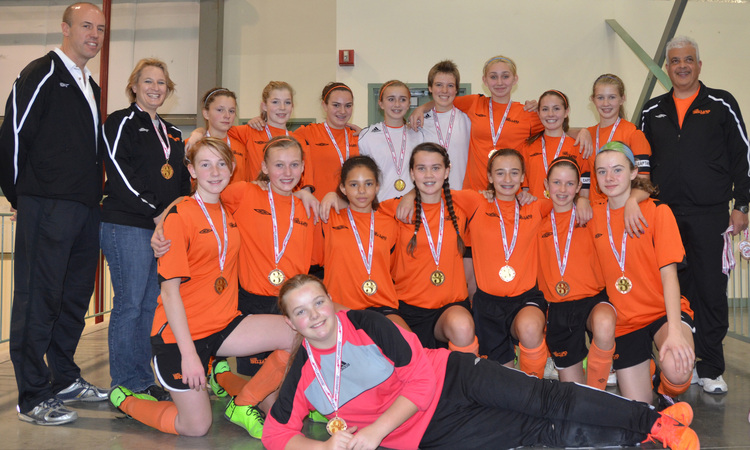 Congratulations!
Monday, November 26
Avalanche Win Gold in Red Deer!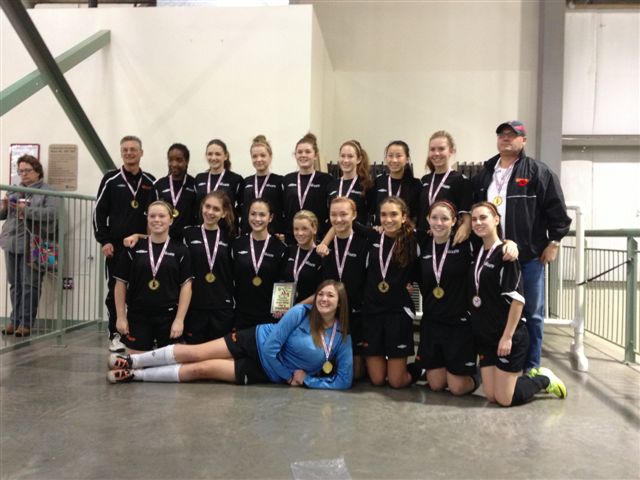 Blizzard Avalanche won the Red Deer Tier 1-2 Tournament, including a penalty shoot-out in the gold medal final. Congratulations!
Monday, November 26
Villa Win Tier I Silver at Red Deer Boys Tier 1 Tournament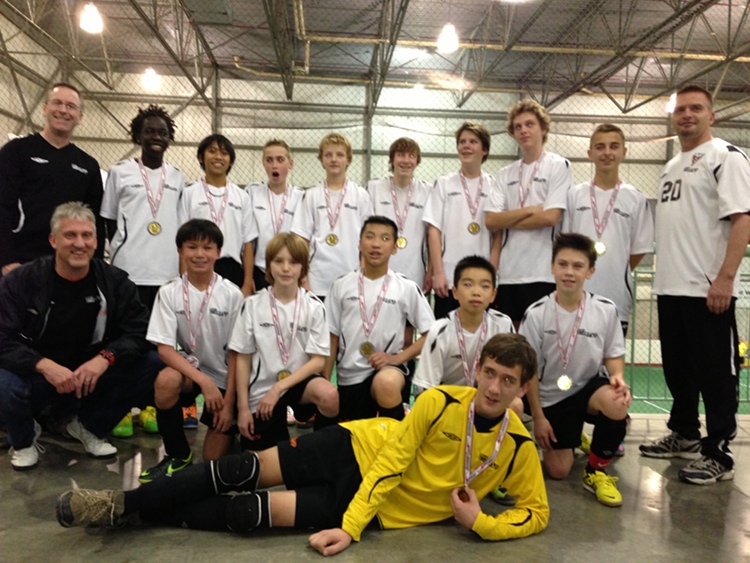 Congratulations to the players and coaches on winning the BU14 Tier 1 Silver Medal at this fun and competitive weekend tournament!
Tuesday, November 20
Gold for Napoli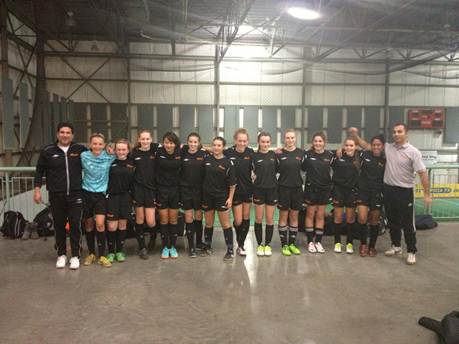 Gold medal for Blizzard Napoli at the 11th Annual Kick Off Tournament in Red Deer. Congratulations!
Sunday, October 14
Ajax in Germany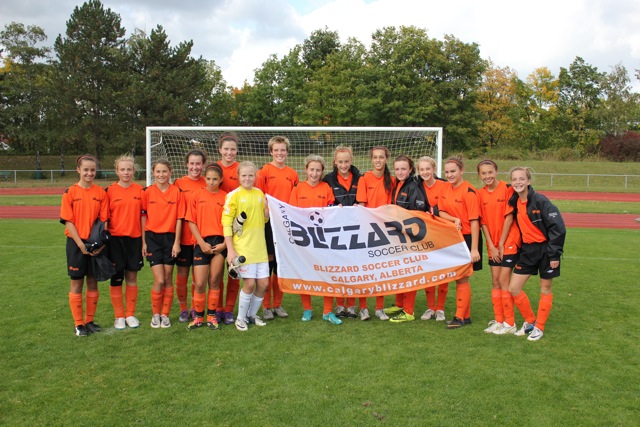 Congratulations to the girls under 14 Blizzard Ajax who have just returned from a training week in Cottbus, Germany. Whilst they were there they played three games against local teams, remaining undefeated, beating Energie Cottbus 1-0, Hertha Berlin 7-4 and tied with FC Dresden 2-2. All the teams were at least a year older than the 99 Ajax girls so the results were excellent.
The girls enjoyed training twice a day with German coach Sven Benken of Fussballschule Benken, and made a number of new friends from our opponents whose hospitality was outstanding.
Tuesday, October 9
Porto Wins Gold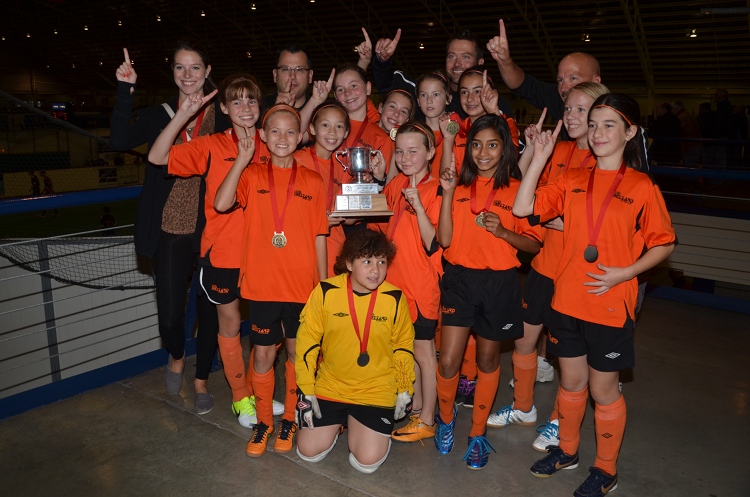 Blizzard Porto took the gold medal in the Tier II Wild Turkey Cup! Excellent job, team!
Tuesday, September 11
Imperials Win Gold!
Monday, September 10
Spurs Win Gold in Revelstoke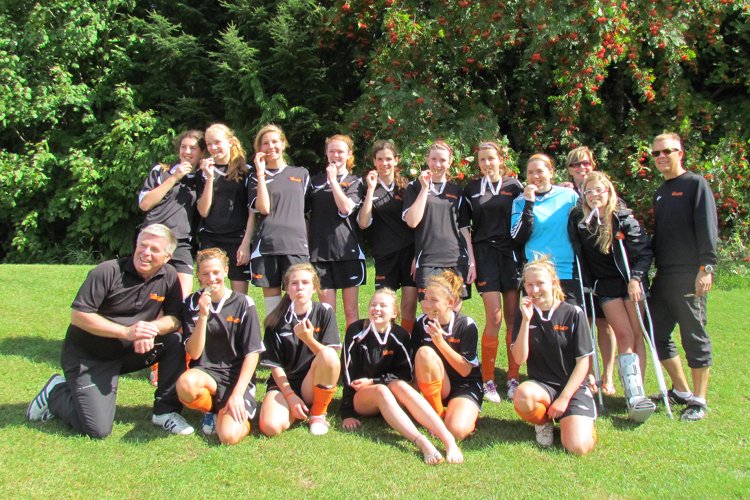 The Blizzard Spurs U14GT2 won a gold medal this past weekend in Revelstoke. The Spurs were undefeated and allowed no goals against. Congratulations girls for another successful tournament!
Wednesday, August 29
Force Win Silver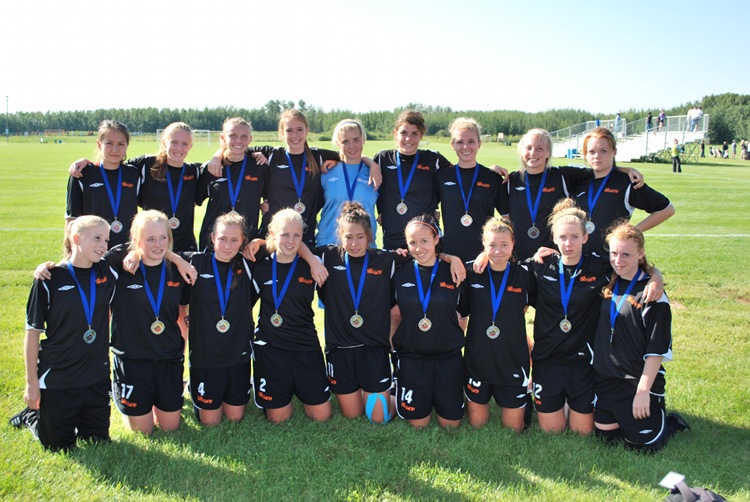 The Blizzard Force U16G won silver in the Tier 1 Provincials. The final was a close match that could have gone either way, and was only decided in the last minute of play. Excellent effort from everyone on the team, and they have a lot to be proud of!
Monday, August 20
Lightning Win Gold for Sixth Time!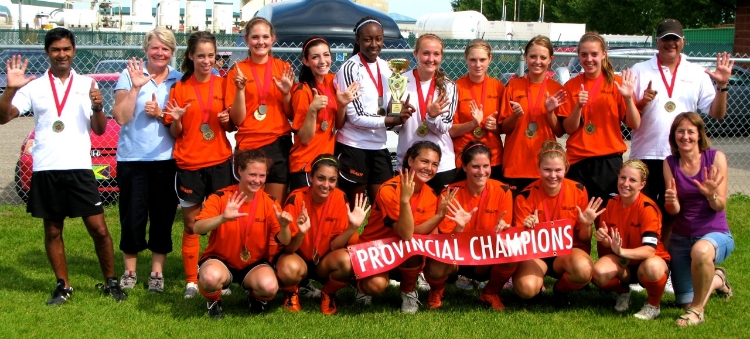 Lightning win gold at Provincials for a sixth time, finishing their Blizzard careers by winning the girls under 18 Tier II final. What a terrific achievement, well done Lightning !!!
Monday, August 20
Blizzard Boys Dominate!!!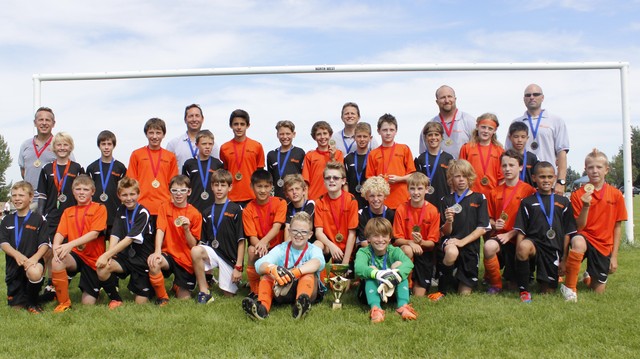 Blizzard boys under 12's dominated the Tier II Provincial Finals in Red Deer, with both the Blizzard Real 2000 boys and the Blizzard Wanderers 2001 boys winning their respective groups and advancing to the final. In a fantastic advertisement for Blizzard soccer, the large crowd was kept entertained by some lively and skillful soccer.

Tony Nagrani put the Real 1-0 up in the first half, and a fine penalty save by Liam Collens kept that the scoreline at half time. The younger Wanderers team piled on the pressure in the second half, but a resolute Real defence kept them at bay and in the last minute Dante Kohrs added a second for Real with Wanderers stretched looking for the equaliser.

Both teams posed for the photo after the medal presentation. Huge credit to the boys and coaches of both teams for such a great game.
Friday, August 3
Blizzard Villa win Silver at Keele International Cup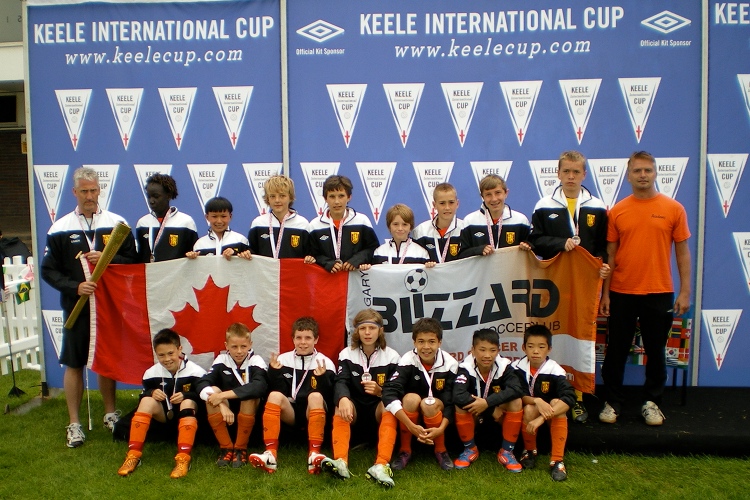 The Villa traveled to Stoke-on-Trent near Manchester to take part in the Keele International Cup, the largest international football tournament in Great Britain. Between training at the Man City Academy and taking in Olympic matches at Old Trafford, the boys won their matches v teams from Kenya, Ireland and England, before falling in a very close final to Greece. Congratulations to the players and coaches on a terrific showing!
Friday, August 3
Riot Bring Home Silver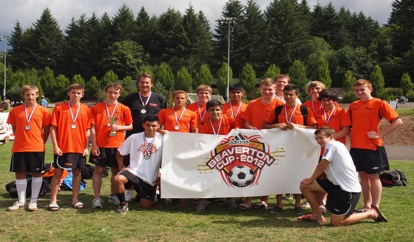 The Blizzard Riot Under 16 Boys Team returned from their trip to Portland with a silver medal in the adidas Beaverton Cup. The boys went undefeated through round robin play, won their semi final game quite handily and then lost a heart breaker in the final, in penalty kicks. Way to go Riot!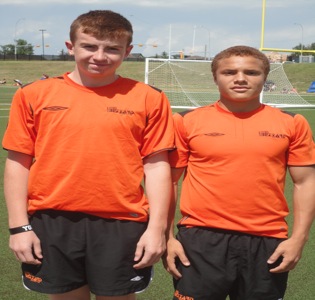 Prior to their playing in the adidas Beaverton Cup, the Riot team attended the exclusive boys residential camp run by the MLS Portland Timbers. It was a great experience for the boys as they were training and playing with the best 16-19 year olds in the Portland area. Two boys, Nigel Stebanuk and Colin Reynolds, were asked to return to attend the Portland Timbers Academy Tryouts. These tryouts will take place August 1 and 2. Best of luck to those boys.
Monday, July 30
California Gold for the Force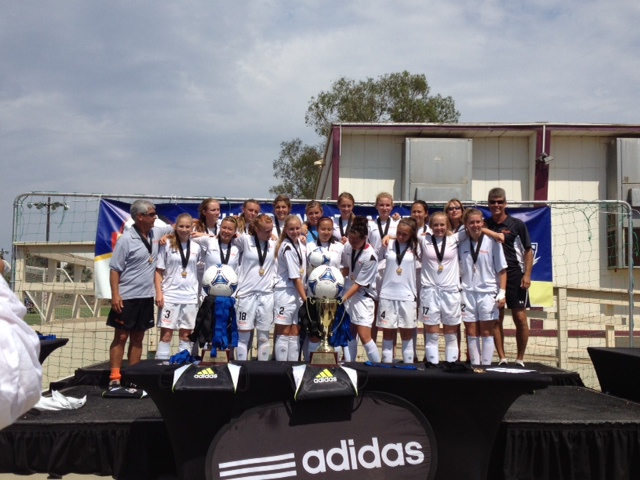 Blizzard Force U16 G won gold in the Copa Del Mar Invitational in San Diego, competing against U16, U17, and U19 players. Congratulations!
Monday, July 30
Lightning Take Gold!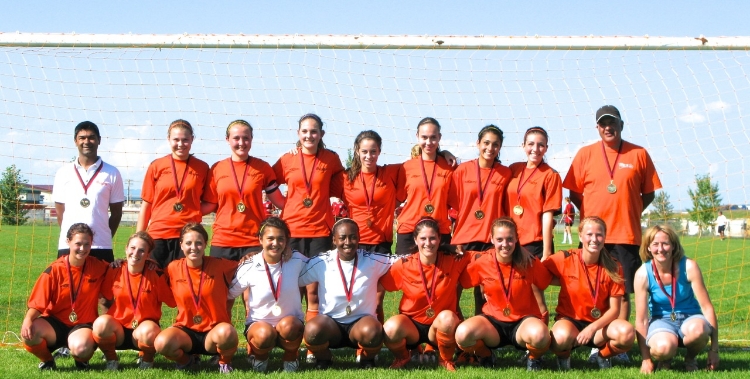 Blizzard Lightning won gold in the Red Deer Outdoor tournament. Great job, ladies!
Wednesday, July 18
Avalanche Win Gold!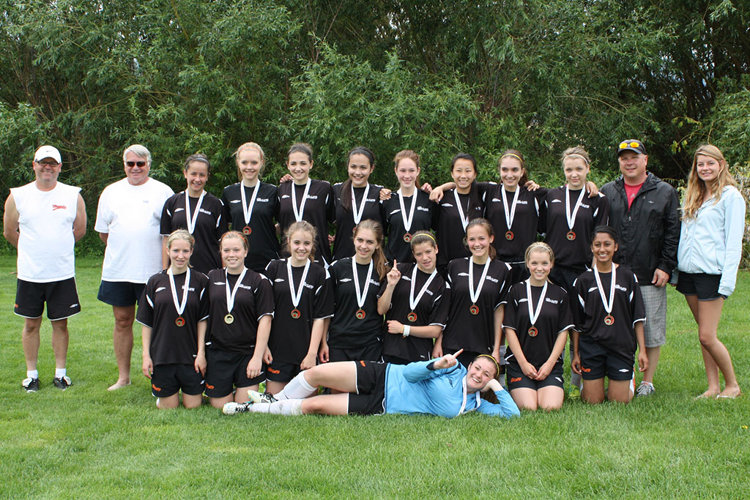 Congratulations Blizzard Avalanche, winners of the girls under 18 Gold Medal at the Kelowna Canada Day tournament.
Monday, July 16
Galactico Take Silver!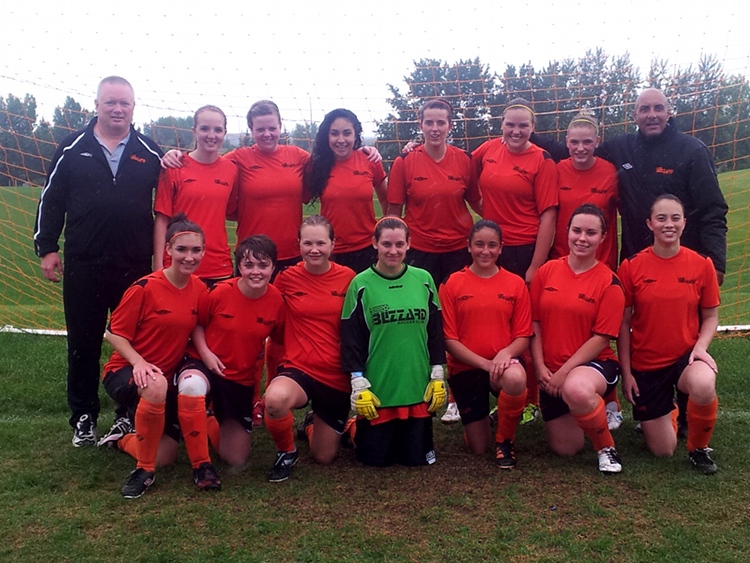 Well done, Blizzard Galactico, winners of the silver medal at the Inter-Cities competition for U16 girls!
Thursday, July 5
Wanderers take Gold in Kelowna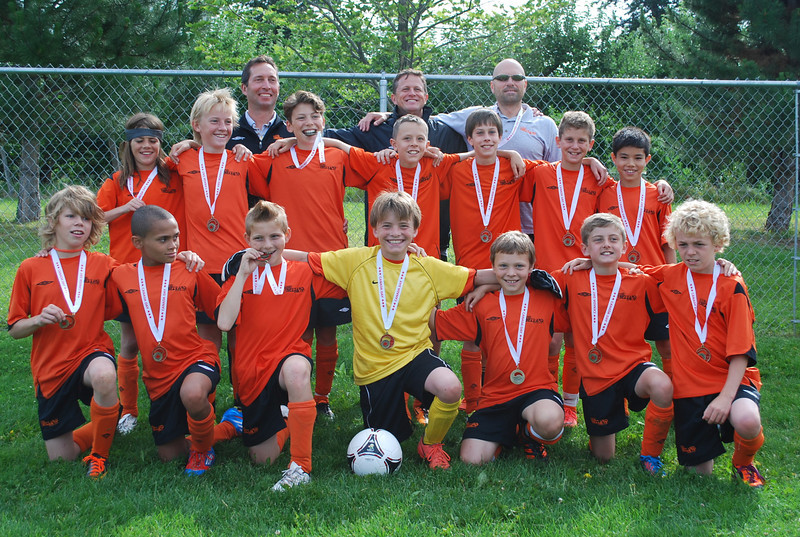 Congratulations to the Blizzard Wanderers, U12 Boys, who won gold in Kelowna in the Canada Day tournament. Out of four games, the boys had 26 goals for and none against. Way to go boys!
Wednesday, July 4
Excellent Weekend for Spurs Keeper!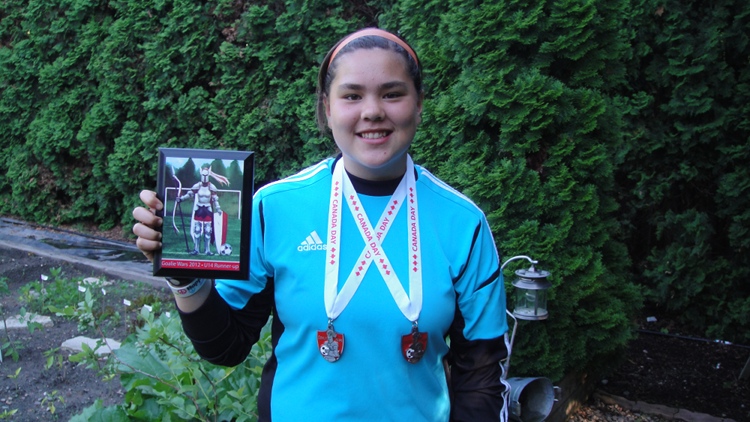 In Kelowna this past weekend, Blizzard Spurs keeper Cailyn won a bronze medal for the 'Punt, Throw and Kick' competition, and a silver medal for the Cannon competition. She had the second highest combined score in her division for the 3 events and was in the finals, but lost out in the final goalie war. She is very happy and proud, as this is her first goalie war, and she receives 2 medals and a runner-up plaque in her age group. Wonderful experience for her, however 3 hours in the hot sun was very tiring.

Cailyn is extremely dedicated in her keeper role. Her team-mates, coach David, Monika and Phil of EKT MVP Soccer Elite Keeper Training are all quite proud of her performance and dedication.

Congratulations Cailyn!!
Wednesday, June 20
Second Silver for Santos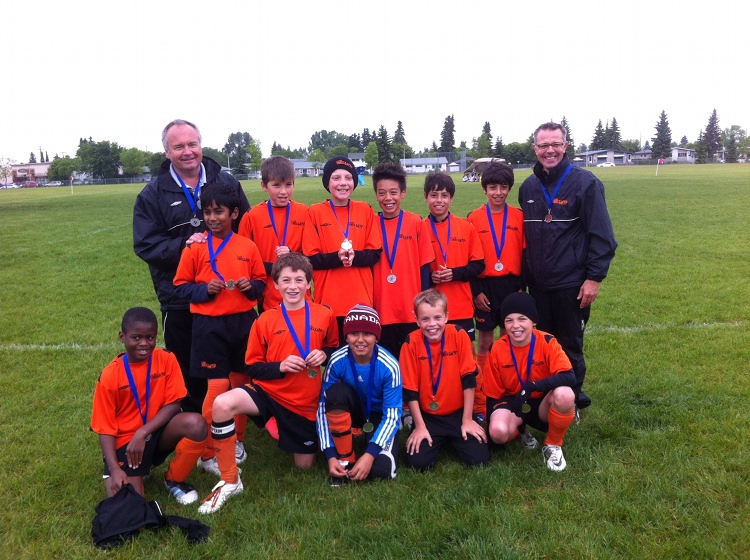 The U-12 Santos collect their second consecutive silver medal in as many tournaments. The boys had a great weekend in Edmonton playing in the Summer Sizzler, unfortunately they fell a little short in the final game against the FC Extreme from Edmonton. Well done Santos!!
Sunday, June 10
Strikers Win Silver in Edmonton!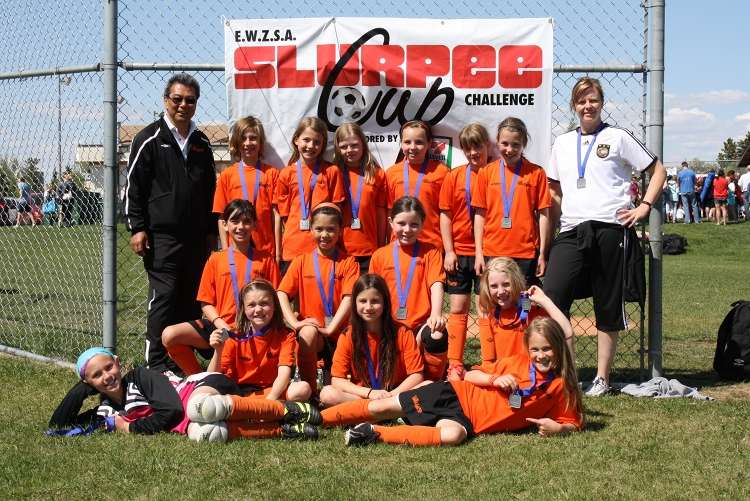 Blizzard Strikers won silver medals in the Edmonton Slurpee Cup. Congratulations, girls!
Thursday, June 7
Congratulations Blizzard Porto, Gold Medal Winners in Lethbridge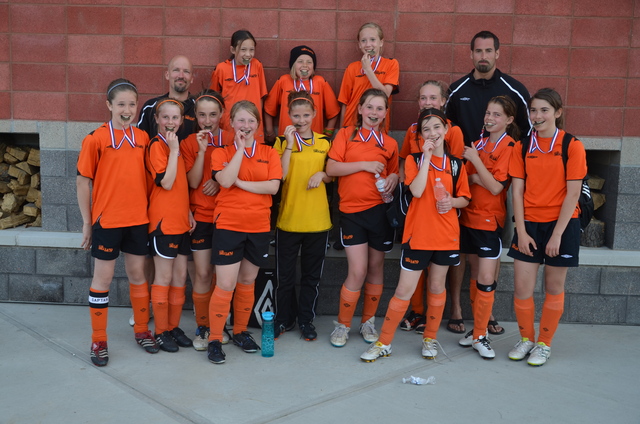 Blizzard Porto played a few hard games in Lethbridge, June 2 and 3, and managed to return home with gold medals. Excellent job, girls!
Wednesday, May 23
Santos Win Silver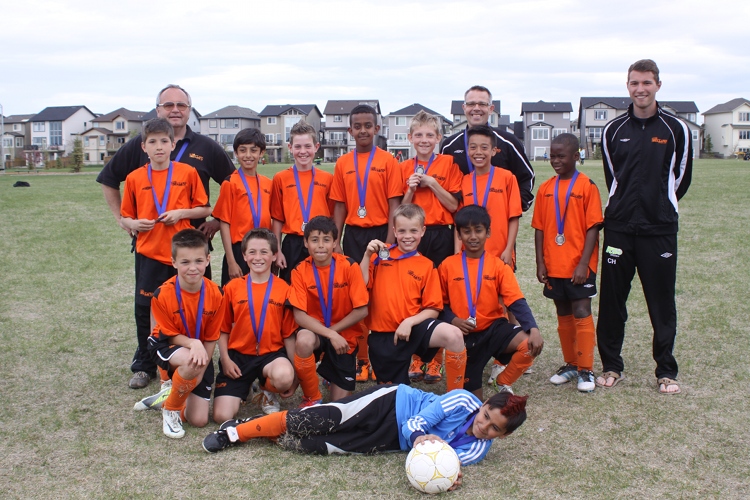 The U-12 Blizzard Santos took home a silver medal from the CMSA Presidents Cup over the May long weekend. After finishing the round robin undefeated, they met up against a feisty Foothills team in the final game. Foothills scored three early goals to quickly put the Santos on their heels. After a spirited half time talk, the boys came out strong and cut the deficit to one goal. There were numerous chances to tie the game but we just couldn't find the back of the net. This young group of U-12's showed character, determination and a sense of sportsmanship well beyond their years. Congratulations Santos!!
Wednesday, May 23
Bilbao Win Silver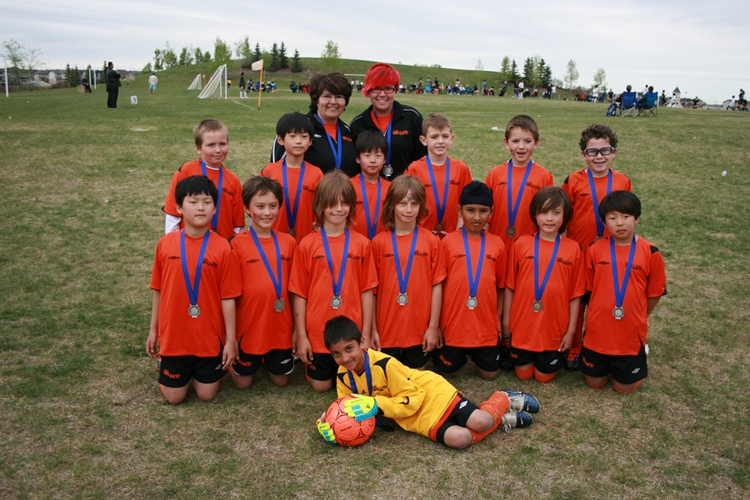 Blizzard Bilbao won silver in the President's Cup on the May long weekend. Congratulations, boys!
Tuesday, May 22
Avalanche Win Silver in St. Albert
Wednesday, May 16
Spurs Win Bronze for Mother's Day
Wednesday, May 2
Gold for Bullets in Victoria
Wednesday, April 25
Gold for Lynx!
Friday, April 13
Terrific Season for Dynamites
Monday, March 26
Celtic Win Bronze!
Saturday, March 24
Storm Win Silver!
Friday, March 23
Lightning Win Bronze!
Monday, March 19
Azzurri Win Bronze!
Monday, March 19
Villa Win Gold!
Friday, March 16
Arsenal Win Gold!
Friday, March 16
Lightning Win Gold!
Wednesday, March 14
Azzurri Win Silver!
Wednesday, March 14
Hawks Win Gold!
Monday, March 12
Force in Vegas!
Monday, March 5
Milano Win Gold!
Tuesday, February 21
Silver for Napoli!
Wednesday, February 8
Gold and bronze for Atletico!
Tuesday, January 31
Storm Win Silver!
Tuesday, January 17
Lazio Win Silver!
Tuesday, January 10
Villa Win Silver!
Tuesday, January 10
Thunder Win Gold
Wednesday, December 21
Lazio Win Silver in Red Deer
Tuesday, December 6
Spurs Win Silver in Lethbridge
Tuesday, November 22
Lightning Win Gold in Red Deer
Wednesday, October 12
Lynx Win Bronze
Wednesday, October 12
Bullets Win Bronze
Saturday, September 10
Lightning Provincial Champions!
Wednesday, September 7
Phoenix (Men's) Provincial Champions!
Friday, August 26
Juventus Provincial Champions!
Tuesday, August 16
Ajax Provincial Champions!
Monday, July 18
Grizzlies Take Bronze!
Monday, July 18
Blades Provincial Champions!
Friday, July 15
Azzurri Win Gold at 2011 Outdoor City Finals
Monday, July 11
Barcelona Take Gold
Monday, July 4
Lynx Take Silver in Lethbridge
Friday, July 1
BU16 Storm Win Silver in Kalispell
Thursday, June 16
Blizzard Santos Tier 2 U-10 Boys Win Bronze in Edmonton Summer Sizzler Tier 1 Division
Tuesday, June 14
Spurs Take Silver
Monday, June 13
Blizzard Bullets GU14 take bronze
Friday, June 10
Thunder U16 Boys Win Gold