CA DISTRICT 14 LITTLE LEAGUE: District 14 News
Thursday, April 24
District 14 To Hold Refersher Scorekeepers Clinic
CA District 14 will hold a refersher scorekeepers clinic on April 26th from 1-6 PM at DeVry University, located at 6600 Dumbarton Circle, Fremont, CA.
This clinic will be of breakout sessions where we will have small groups together for instructions. Come when you have time and join or start a round table session. Bring a pencil and a page from your scorebook.
Some Tournament Scorekeeping duties will aslo be covered after 3:30 PM for those who want this type of instruction.
The clinic is free to any member of a Little League Baseball, Inc, chartered league.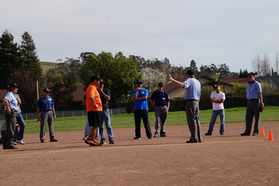 Rob instructing
Saturday, March 29
District 14's Advanced Clinic
CA District 14 held their 2014 Advanced Mechanics Clinic on March 23. The clinic was originally scheduled for earlier in March but was rained out.
Close to 50 students attended the all day clinic and all walked away with a new respect for what it takes to be a Little League Umpire.
District 14 Umpire Coordinator, Rob McCarthy, led a highly qualified staff of instructors at this clinic.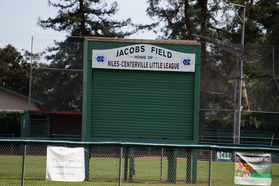 Jacobs Field
Saturday, March 29
Moria Jacobs Honored By NCLL
Moria Jacobs, the outgoing President of Niles-Centerville Little League was honored for her ten years as League President at the leagues Opening Day Ceremonies. "The league continued it's growth as not only a baseball program, but one of the best directed leagues in District 14". "I have been remiss in saying this, but during Moria's tenure as a League President, I feel she was the best in the District. The leagues impact reaches to other leagues within the District as more and more leagues are using the NCLL By-Laws as a foundation for their own set. This happened during Morias term as President" said Reggie Torres, the District Administrator for CA 14. To Honor Moria, the fields at Vallejo Mills Elementary School will now be known as the Jacobs Field. Congratulations Moria!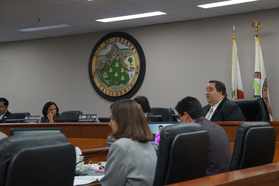 Fremont City Council
Friday, March 28
District 14 Big League Honored By Fremont City Council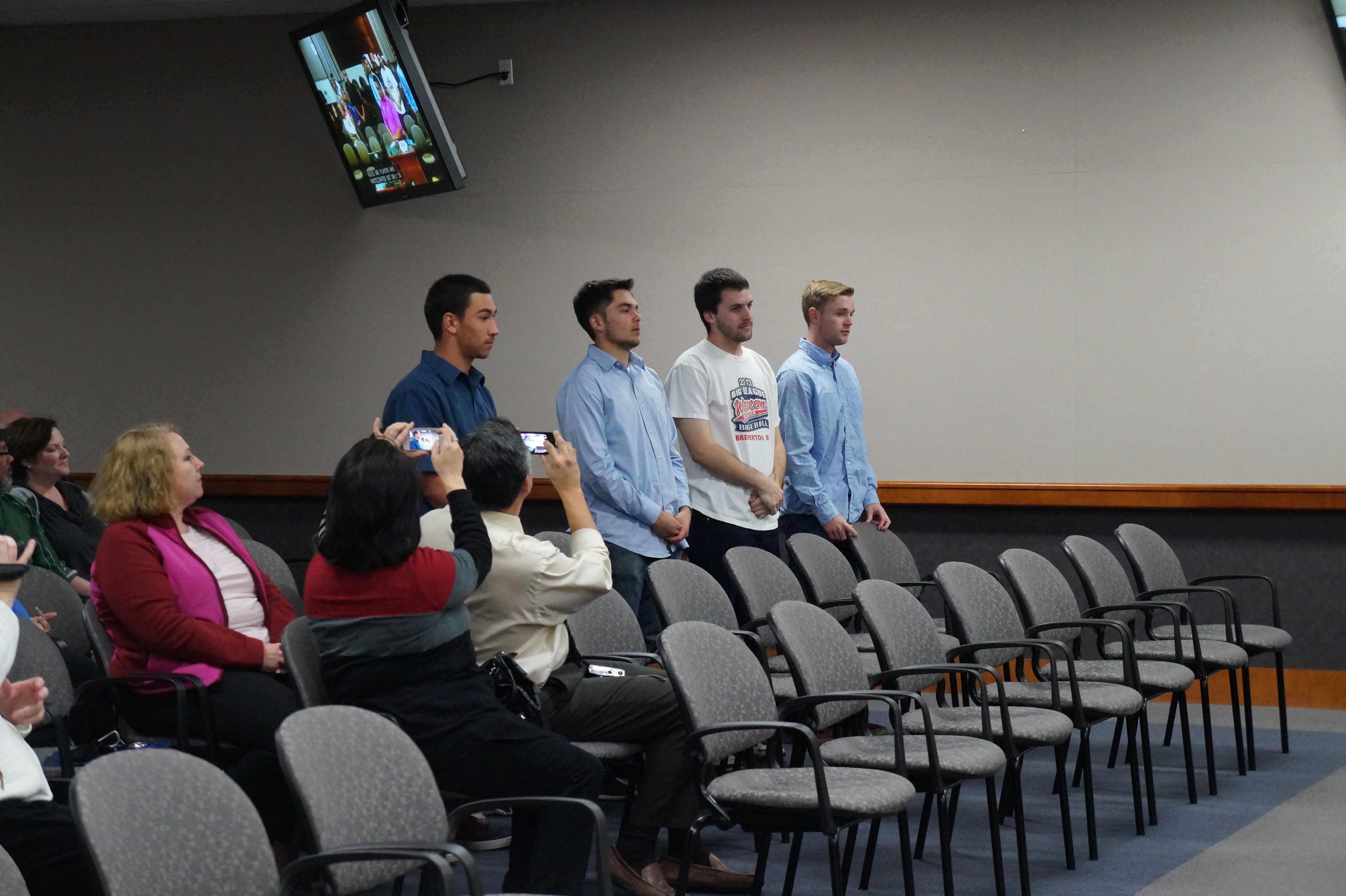 Players at the meeting
The CA District 14 Big League All Stars were honored by the Fremont City Council at their March City Councils Meeting.
The team was recognized for not only winning the 2013 CA Section 3 and California Division II Big League Championships, but for their display of good sportsmanship during the post season.
CA District 14 finished second in the Western Region Big League All Star Tournament, just one win away from being invited to play in the Big League World Series.
Congratulations to the players, coaches and parents on receiving this award.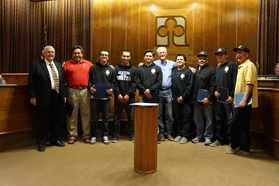 Mayor Nagy with Team
Thursday, February 20
Newark Honors The 2013 CA District 14 Big League All Stars
Mayor Nagy, Players and Coaches
The Newark City Council honored the 2013 CA District 14 Big League All Stars at their meeting on Feburary 27th.
The council honored the team for their outstanding play and sportsmanship in winning the 2013 CA Section 3, and  California Division 2 Championships and their great showing in the Western Regional Big League Tournament.
Congratulations to the players, coaches and parents, you should all be proud, CA District 14 is.
Thursday, February 20
Vic Langford Selected To Umpire In Western Regional Intermediate All Star Tournament
Vic Langford has been selected as the first umpire from CA District 14 to be selected to umpire in the Intermediate Regional Tournament.
Vic has been selected to umpire in the 2014 Western Regional Intermediate All Star Tournament in Nogales, Arizona. This years tournament will be held July 18-25.
Vic has been with Little League since 1994, donating his time to Warm Springs Little League and was a member of the CA District 14 staff, as the Major Division Coordinator.
Vic went through the Little League ranks, starting as a Tee Ball manager and coached all the way through the Junior Division.
Vic also served on the WSLL Board from 1997-2006, serving as the Umpire in Cheif and V.P. Vic currently is coordinating the establishment of the new Intermediate Division for CA District 14.
Vic started umpiring in 1997 and joined the District 14 Umpire Staff. Vic also volunteers as an umpire for CA District 15.
Vic has attended the 1998 Western Region Umpires Mechanics Clinic, the 2002 Western Region Weeklong Umpire School, the 2003 Western Region Chief Umpires' Clinic, all in San Bernardino. He has also attened clinics in CA District 57 (advanced Field Mechanics) besides those in District 14.
Vic has also instructed at the Warm Springs Little League and CA District 14 Rules and Mechanics Clinics, including the Western Region Outreach Clinic in 2012.
Vic has umpired in the 2002 & 2005 9/10 NOR CAL State Tournaments and in the 2004  NOR CAL 10/11 State Tournament. In 2005 Vic umpired in the NOR CAL Little League (Majors) Junior State Tournaments.
2006 saw Vic being selected to umpire in the EMEA Little League (Majors) Regional Championship in Kutno, Poland. Vic was selected again for this tournament in 2008.
Vic is a recipient of the 2005 CA District 14 Jay Horry Umpire of the Year Award.
Vic has been supported through this by his wonderful wife Jenny, who also donated her time to WSLL, and two sons, Ian 26 & Steven now 21, who both played in WSLL from Tee Ball thru Big League.
Congratulations, Vic, on a Honor that's well deserved!
PS. Better take some sun tan lotion!!
CA District 14 Little League 
Wednesday, March 5
New Photos in Albums
Check out the CA District 14 albums under the files and photos section. There you will find photos showing the Pre-Congress Meeting, Beginning Umpires Clinic and more.
We hope you enjoy them.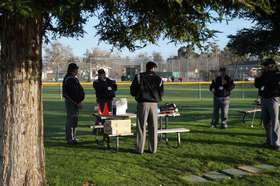 Instructors
Thursday, February 27
District 14's Beginning Mechanics Clinic
CA District 14 held their 2014 Beginning Mechanics Clinic on Saturday February 22nd at the fields at Warm Springs Little League.
The CA District 14 Umpire Coordinator, Rob McCarthy, led an outstanding group of instructors at the clinic.
The students, and there were 75 students there, were given a crash course on the basic mechanics of umpiring.
The clinic lasted from 8 in the morning until 2:30 in the afternoon and every student left learning a little something that will help them with their umpiring duties in their local leagues.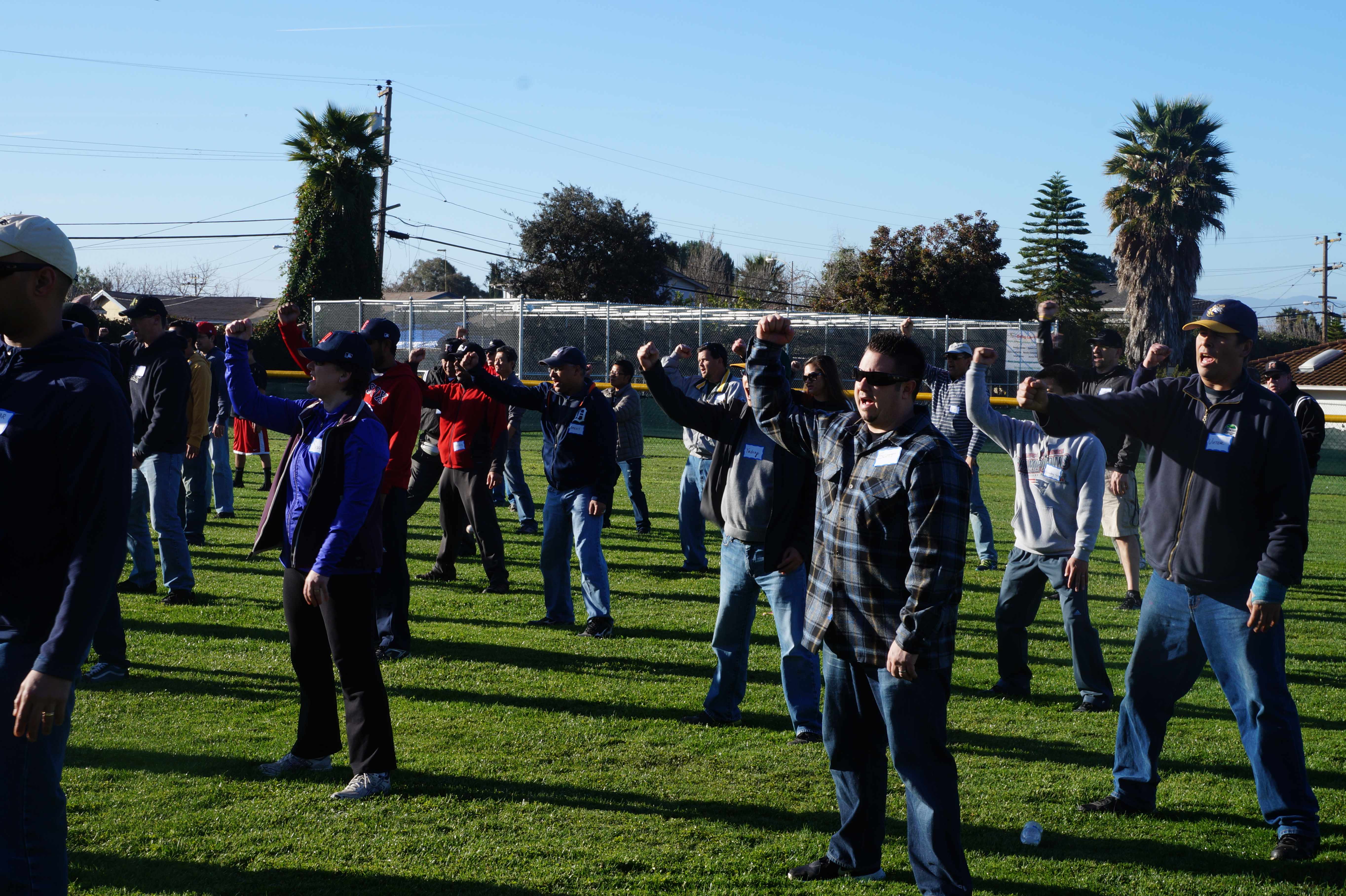 He's Out!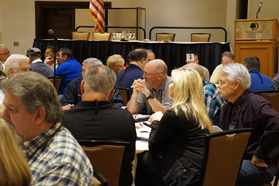 Tom Curtis
Monday, February 24
CA District Attends Pre-Congress Meeting
The CA District 14 Administrator, Reggie Torres, Assistant District Administrator, Tom Curtis, the District 14 Umpire Coordinator, Rob McCarthy and Frank Bontempo, the District 14 Big League Coordinator all attended the 2014 Western Region Pre-Congress Meeting, held in Ontario, CA, February 7, 8 and 9.
The Pre-Congress is where the District Administrators and their staffs from the 11 western states gather together to discuss the congress agenda items. This gives the DA's a chance to see how the items will impact other parts of the Little League world and this can be an eye opener.
The CA District 14 staff members were assigned different tables and all had imput to the discussions and  gave a report on the meeting at the CA District 14 Presidents Meeting.
The District 14 staff feels they all learned something and that it will help in the operations of the district.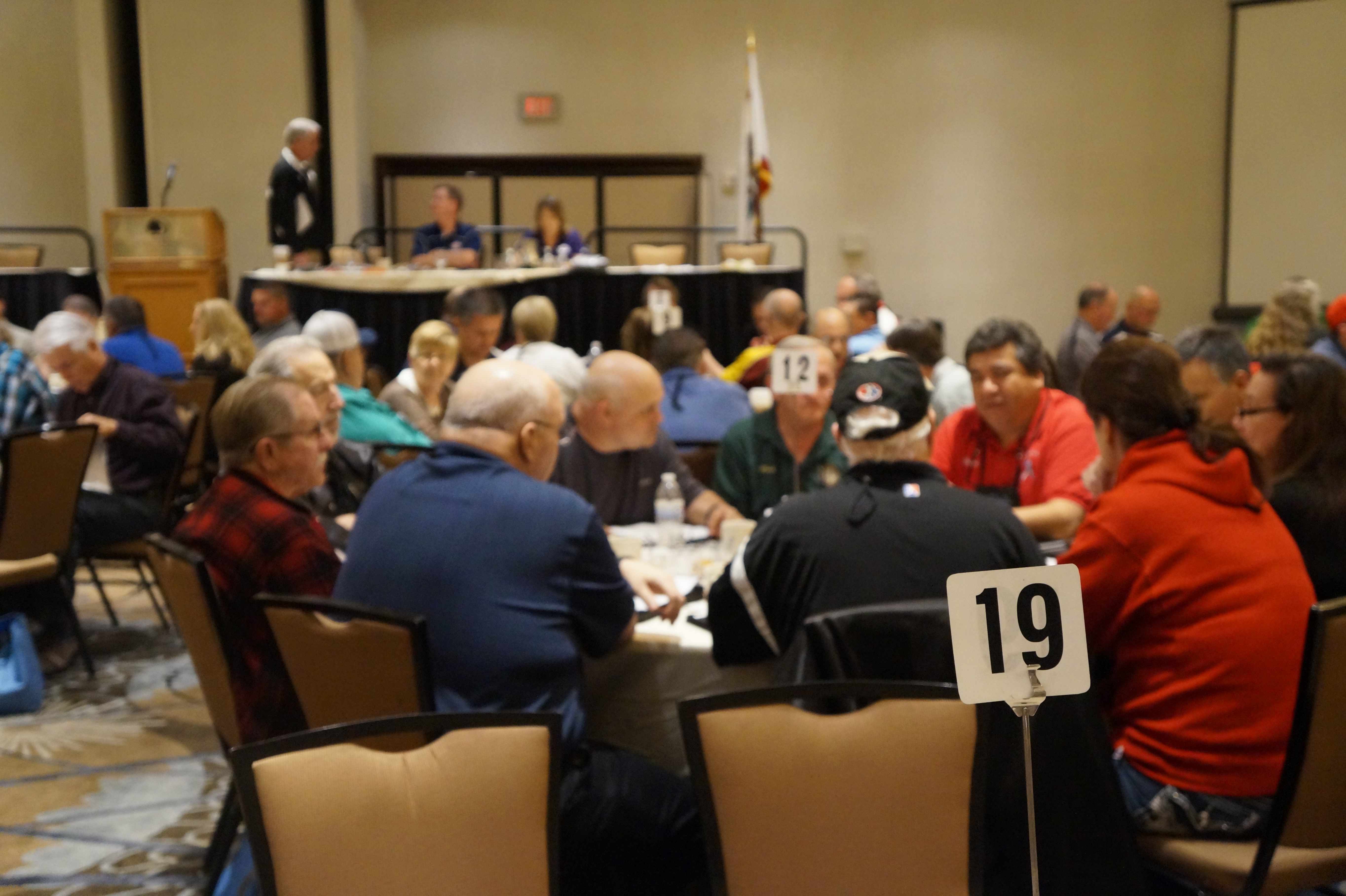 Frank Bontempo
Thursday, December 5
Little League Baseball Celebrates It's 75th Anniversary
In 1938 Carl Stotz, working with the local community in Williamsport, PA, formed three teams. On June 6, 1939, the first official Little League game was played.
The first 10 years, Little League was played locally. After World War II, Little League began to grow, with the first Little League World Series being played in 1947. The organization expanded internationally and in 1957, the first team from outside the United States, Monterrey Mexico, won the Little League World Series.
In 1974 the organization launched the softball division and in 1989 the Challenger Division, created to give children with developmental challenges the opportunity to play ball.
What started as a group of 30 children playing baseball in Williamsport 75 years ago has grown to 2.4 million boys and girls plating Little League Baseball and Softball in 83 countries.
Some of the notable Little League Alumni include;Kareem Abdul-Jabbar, President George W. Bush, Vice President Joe Biden, Vice President Dan Quayle, Kevin Costner, Mike Ditka, Tony Hawk, Derek Jeter, Huey Lewis, Brent Musburger, Kyle Petty, Nolan Ryan, Adam Sandler, Mike Schmidt, Bruce Springsteen, Dick Vital and Mike Trout.Little Leagues are currently holding signups.
If you do not belong to a Little League, contact Dan Velte at dvelte@littleleague.org, to find a Little League near you.
Tuesday, November 27
League Boundary Maps On Our Site!
CA District 14 has added a new tool for everyone to use....a League Boundary link. This link will allow you to see all eight league boundary maps, to help find the Little League in your neighborhood, or to see what leagues make up CA District 14 Little League.
To get to the link, select the "League Boundaries" link on the sidebar. From there click on the link to view all the boundary maps.
Find a league and sign-up!!