California District 15 Little League: Welcome
California District 15 Little League
Donations Received: $ 0
$0
$ 1,000
Welcome to the California District 15 Little League
Welcome to California District 15 which encompasses eight leagues throughout the Mother Lode and the counties of Amador, Calaveras, San Joaquin, Stanislaus, and Tuolumne. This is where you will find all Little League information regarding the district from season to season. Any suggestions or recommendation on how to improve this page should be directed to CADIST15@COMCAST.NET
Saturday, June 17
District All Stars
Start date is June 13,2017 for 50/70
Hosted by Westside Little League
at Soulbysville Elementary
Start date is June 24, 2017 for 8/10, 9/11, Little League, and Juniors
Hosted by Anador County West Little League
at Howard Park, Ione
Click on District All Stars for link to brackets.
Sunday, June 18
2017 TOC CHAMPIONS
Sunday, June 18
50-70 Champions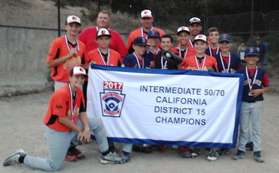 Westside Little League
They go to Section 6 Held at Paterson Field, Jamestown
1st game 6/24 at 9:00am agaist Dist 67 - Tracy LL Lost 0-17
2nd game 6/25 at 12:30pm agaist Dist 73 - Turlock National
YOU CAN DO IT!! Go get them!!!