California District 42 Little League: Welcome
California District 42 Little League
Donations Received: $ 0
$0
$ 0
Welcome to the California District 42 Web Site, District of Champions!
District 42 was formed in 1960. In our present configuration, the District includes all Leagues south of Highway 54 to the U.S. - Mexico border; and from the Chula Vista city boundary in the east, to the Pacific Ocean.
---
Little League Rules Changes for 2014 can be found HERE!
---
All Leagues!
Our Presidents meetings are open to ALL Board members from all the local Leagues in our District, and ALL Board members are encouraged to attend.
Click on the headlines below for more information.

Thursday, April 17
2014 Tournament Locations
Check out our new Tournament Locations page. Click on the title link to view the file.
Thursday, April 17
Safety Spotlight: Warm Up to Prevent Injuries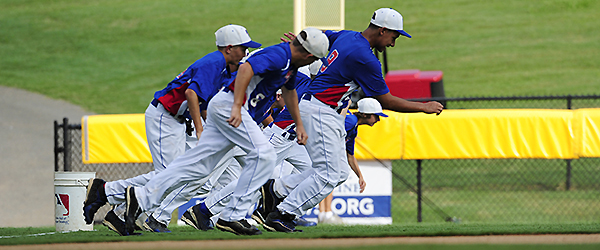 With Little League® practices in full swing around the nation, there are more baseball and softball gloves getting used right now than any other time of year. And in the early part of the season, it's crucial to remember the importance of warming up, stretching and keeping young arms healthy. Click here to read more

Wednesday, April 16
ESPN's Chris McKendry, a Proud Little League® Parent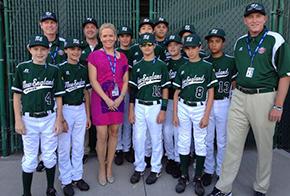 My husband, Eduardo Andrade, and I have been Little League parents since 2008 when our oldest turned 5 and signed up for our league in Westport, Conn. We have been a part of the program ever since. My husband coaches each season and absolutely loves it. Click here to read more Monday, April 14

Give Your Local League Website a 75th Anniversary Upgrade
Local Little League® programs can share in the 75th Anniversary with a simple update to their eteamz.com website templates! This new template will give local league websites a celebratory feel for the Diamond Anniversary. Teams and Leagues can get the template in five, easy steps:
Click here to read more Monday, April 14

From the Little Leaguer® Archive

In 1956, Little League® held its first International Congress, a gathering of volunteers to discuss the future of the organization. From April 4-7, Little League convened the 26th Little League International Congress with thousands of volunteers in attendance. Check out this Little Leaguer magazine from the second Congress in 1957. Click here to view the pdf.
Thursday, March 27
Imperial Beach Little League® Showcases Unique 75th Anniversary Sculpture
A group of former Imperial Beach Little League players and volunteers created a unique sand sculpture in celebration of their league's opening ceremony and the 75th Anniversary of the founding of Little League®. Local leagues are invited and encouraged to recognize Little League's Diamond Anniversary as part of their own special events throughout the season. Click here to read more
Saturday, March 15
Make the 75th Anniversary of Little League® Part of Your Season

Little League® International has started celebrating its 75th Anniversary, and local leagues and volunteers have begun to bring that celebration home to local ball fields. We invite you to be part of the festivities. You can help combine the past and the present by assisting your league and community organize its celebrations for our 75th Anniversary. Click here to read more
Saturday, March 15
Your Voice
Since The Parent Connection was launched in October, we've been thrilled with how you have embraced this newsletter and we've received some wonderful feedback. As parents, grandparents and guardians of Little Leaguers, this is your newsletter and we encourage everyone to let us know what's on your minds.
Click here to read more
Friday, February 28
It's Time to Submit Player Registration, Manager and Coach Info – Here's What You Need to Know and How to Do It
| | | |
| --- | --- | --- |
| Now is the time to upload your league's Player Registration and Coach/Manager Information. The earlier in the year that your league provides this information, the more familiar Little League® International becomes with your league officials and the quicker we can connect with your volunteers and Little League families. Click here to read more | | |
Saturday, March 15
The Dangers of Steroids and Appearance and Performance Enhancing Drugs
Here's an eye opener for parents, the average age that a child starts taking dietary supplements is 10.8 years old, so they would likely still be playing in the Minor division of Little League®. Taylor Hooton, a former Little Leaguer®, was a 17-year-old high school athlete from Plano, Texas.
Click here to read more
Friday, February 28
Do you have a favorite Little League® Memory?

Do you have a favorite Little League® Memory?

Your first home run? The ice cream party after the season?
Coaching your son or daughter's tee ball team?

Cement your place in Little League history by sharing your moment with the
Little League Big Legacy Project and becoming part of our 75th Anniversary mosaic.
Upload your favorite photos and/or short text memory from your Little League experience
and check back on June 6, 2014 to see the finished mosaic.

Click Here to Submit Your Memory Today!

For each moment submitted, Little League will donate $1, up to $50,000, to Pitch In for Baseball
to provide new and gently used baseball and softball equipment to local leagues in need!



© Little League Baseball, Incorporated. All Rights Reserved.
www.LittleLeagueBigLegacy.com
Saturday, November 23
Put The Brakes On Travel Ball
Little League® is so much more than baseball and softball. At our core, we are a teaching organization dedicated to providing life-lessons that help parents guide their children as they transition from youth to young adult to adult. Click here to read more.
Saturday, October 5
Is There Such A Thing As Too Much Baseball?
We hear the horror stories about kids spending nearly every week of the year playing in one particular sport; about parents spending thousands of dollars so their child can play on an "elite" traveling team; about pitchers being used so much in non-Little League play that they require surgery that used to be reserved for Major League pitchers looking to extend their careers. How much is too much? Check out the essay by President and Chief Executive Officer Stephen D. Keener. This article was featured in the 2005 Little League World Series program. Read the entire article here...
Coaches Tool Kit
Little League Coach and Umpire Resource Centers
How to Be a Sports Parent