California District 42 Little League: Welcome
All Leagues!
Our Presidents meetings are open to ALL Board members from all the local Leagues in our District, and ALL Board members are encouraged to attend.

Sunday, February 18
New Bat Standard
As you know, this year marks the first year in the adoption of the USABat Standard by many youth baseball organizations, including Little League® International. We greatly appreciate your understanding over the past three years as we've worked with USA Baseball to transition to this new standard.
Recently, USA Baseball has provided Little League and other youth organizations with some additional guidance on how organizing bodies, like Little League International, can make it easier for local leagues, volunteers, and players to use bats within our programs. We encourage you to review their FAQs at USABat.com, as well as the information on LittleLeague.org/BatInfo.
Effective immediately (Thursday, February 15, 2018), Little League has amended Rule 1.10 for Little League Baseball for the Coach Pitch/Machine Pitch Divisions and the Intermediate (50/70) Baseball Division and Junior League, to reflect this guidance from USA Baseball. Read the fully updated Rule 1.10 on LittleLeague.org.
Coach Pitch/Machine Pitch
Players may use approved Tee Ball bats, including those that were produced and/or purchased prior to the implementation of the new standard that have been certified using an Approved Tee Ball Sticker via the USA Baseball Tee Ball Sticker Program (USABaseballShop.com) ONLY FOR USE WITH APPROVED TEE BALLS.
Little League International encourages leagues using approved Tee Ball bats at the Coach Pitch/Machine Pitch level to only use approved tee balls in these instructional divisions to help avoid confusion as to what type of baseball should be used at any given time.
Intermediate (50/70) Baseball Division and Junior League
In addition to using bats approved for Little League play based on the USABat Standard, players in these two divisions can also choose to use bats that have been approved and appropriately certified using the BBCOR standard. All bats not made of a single piece of wood shall meet the Batted Ball Coefficient of Restitution (BBCOR) performance standard, and such bats shall be so labeled with a silkscreen or other permanent certification mark. The certification mark shall be rectangular, a minimum of a half-inch on each side and located on the barrel of the bat in any contrasting color. Aluminum/alloy and composite bats shall be marked as to their material makeup being aluminum/alloy or composite. This marking shall be silkscreen or other permanent certification mark, a minimum of one-half-inch on each side, and located on the barrel of the bat in any contrasting color.
Please note that these changes are only applicable to these levels of play within the Little League Baseball program. If you have any additional questions, please contact us at support@LittleLeague.org.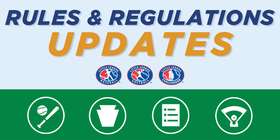 Rules Updates
Monday, January 8
2018 RULE CHANGES & CLARIFICATIONS
At its annual fall meeting this past November, the Little League® International Board of Directors approved new updates to the Little League Official Regulations, Playing Rules, and Policies that will take effect starting in the 2018 season. On this page, you will find a full breakdown of all the changes to the rules and regulations, including a summary of each and where it is located in the Little League Rulebooks.
*Please note that all rule and regulation changes and clarifications are reflected in the 2018 Little League Rulebooks. The information provided below is strictly a summary of the changes.
Tuesday, October 17
Next President's Meeting Moved to November 29, 2017.
Hello everyone, Our next President's meeting will be held on Wednesday, November 29th at 6:30 PM at Mueller Elementary School. The school is located at 715 I Street in Chula Vista, 91910. Don't forget to bring your Player Agents, Treasurers and Safety Officers to this meeting. If you are unable to attend, please send your Vice President, or any other Board member. See you there!
Friday, July 8
New USA Baseball Bat Standard Starting in 2018
With the Little League® International Board of Directors formally adopting USA Baseball's new standard for bat performance testing, Little League International fully supports this program. For more than seventy-five years, Little League has used improvements in science, engineering, and technology to take the sport of baseball to higher levels. By utilizing the most current advancements available, manufacturers can now develop bats with a wood-like performance, which is important for the long-term success of the game.
Developed by a USA Baseball committee of scientific experts, Little League Baseball® has decided to adopt the new bat standard for mandated use effective January 1, 2018. All national members of USA Baseball, including Little League, are encouraged to adopt this new standard. Little League-approved bats can be used through December 31, 2017, and our current bat regulations will be in effect until then. That includes the moratorium prohibiting the use of all 2 ¼ inch barrel baseball bats constructed with composite material in the barrel, unless approved.
Visit LittleLeague.org for detailed information. Little League looks forward to working with USA Baseball, and will begin educating our local leagues, and the parents of our 2.1 million baseball players, preparing them for the important change coming in 2018.
Click here to read the full release from USA Baseball.
Friday, November 13
Can you explain the new Little League Baseball® Age Determination date, and why the change was made?
Little League® International always welcomes feedback from every one of our 7,000-plus leagues. We feel that the only way to provide the best experience for Little Leaguers® and their parents is to hear from and listen to our valuable volunteers and participants in communities worldwide.
Little League conducted a very detailed participation research project. That research showed that parents, players, and volunteers want to see Little League® become, as a whole, a younger program, and give children an easier way to play Little League with their classmates. Our volunteer District Administrators and the Little League International Board of Directors carefully considered the results of the research, and ultimately changed the Age Determination Date for all divisions of Little League Baseball and the Little League Challenger Division® to August 31. This change will ensure that no child playing in the Little League/Major Division will turn 13 years old at any point during their final season in that division.
Friday, November 13
Can you tell me more about the new bat standard, and how it will affect my Little Leaguer®?
Little League International has assembled an online resource page dedicated to baseball bat information. Click here to find the latest bat information, including the current Little League Baseball rules and regulations governing bats, definition of terms, the moratorium on the use of composite bats, and a series of frequently asked questions, with answers and licensed bat lists.