California District 42 Little League: Welcome
Every league should strive to have Managers and Coaches that inspire their players, such as Coach David Belisle. Check out his video below.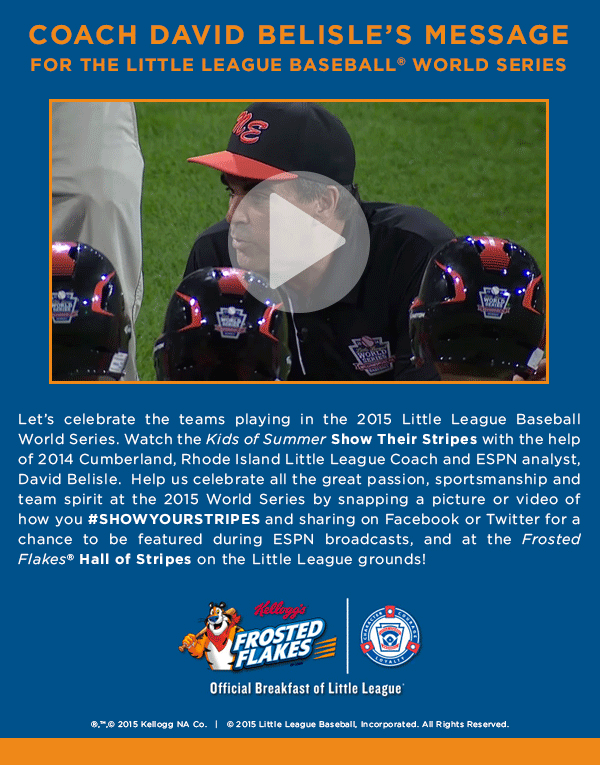 All Leagues!
Our Presidents meetings are open to ALL Board members from all the local Leagues in our District, and ALL Board members are encouraged to attend.

Wednesday, April 22
Don't Miss the 10th Annual District 42 T-Ball Jamboree!
The 10th annual District 42 T-Ball Jamboree is right around the corner. On Saturday, April 30, make plans to stop by SouthWest Little League and watch our future all-stars strut their stuff. Games start at 8:15 AM, so get there early to grab your spot. Check the Handouts page for schedules and information.
Wednesday, April 27
Padres to Offer a Series of Summer Baseball Camps
New in 2016, the San Diego Padres will offer a series of summer baseball camps throughout the San Diego area. Padres Baseball Camps are open to boys and girls ages 5-12 and will be offered Monday-Friday from 9:00 AM-3:00 PM. Camp tuition is $525 and net proceeds from the camp benefit the Padres Foundation and support the club's youth baseball and softball outreach efforts.
Camp Highlights:
Official Padres Baseball Camp uniform

Meet & greet with a current or former Padres player or coach

Autographed photo of a current or former Padres player or coach

Two (2) tickets to the camp reunion hosted at a Padres regular season game in August or September
For more information and to enroll, please visit padres.com/playball. To speak with a member of the Padres Baseball Camps staff, please call (619) 213 - 1600 or email info@padrescamp.com.
2016 SCHEDULE
| | | |
| --- | --- | --- |
| Dates | Location | Camp Site |
| June 13 - 17 | Poway | Twin Peaks Middle School |
| June 20 - 24 | Rancho Bernardo | 4S Ranch Sports Park |
| June 27 - July 1 | Coronado | Coronado Tidelands Park |
| July 18 - 22 | Scripps Ranch | Hourglass Community Park |
| July 25 - 29 | Point Loma | Bill Cleator Community Park |
| August 1 - 5 | Carlsbad | Stagecoach Community Park |
| August 8 - 12 | Del Mar | Ashley Falls Fields (across from Cathedral Catholic) |
Sunday, April 17
Updates and Changes to Little League® Rules and Regulations for the 2016 and 2017 Regular and Tournament Season Play
Throughout the winter of 2016, Little League® International held meetings with District Administrators, Assistant District Administrators, and other volunteers at each of our nine regions throughout the world. At each of these meetings, updates and changes to Little League Rules and Regulations were discussed, and at the conclusion of the meetings, these potential new rule and regulations were amended to reflect the direct input from the attendees at these meetings.
The amended agenda was then distributed to District Administrators to vote on whether or not Little League should adopt these new rules and regulations. In total, 463 District Administrators voted on these 10 items, which were then discussed, along with implementation strategies, at the annual spring meeting of the Little League International Board of Directors.
The full voting results can be found on LittleLeague.org.
ITEMS TO BE IMPLEMENTED IMMEDIATELY FOR THE 2016 SEASON:
All Division of Baseball and Softball:
Summary:
Beginning with the 2016 tournament season, League Presidents may be eligible to be selected by local league Board of Directors as tournament team manager or coach with written approval from their respective District Administrator. In the event that a District Administrator does not approve the selection, the League President may request the District Administrator determination be reviewed by the Little League International Charter/Tournament Committee through the appropriate Regional Office.
Read the full version and voting results of the amended Regulation 1(b) and Tournament Manager and Coaches
Softball Junior, Senior, and Big League:
Summary:
This allows players within the Junior, Senior, and Big League Softball divisions to be replaced on the pitcher's plate and return to pitch, even if removed from the game, providing they meet the substitution, charged conference, and mandatory play rule(s).
Read the full version and voting results of the amended Regulation VI(c), Playing Rule 3.03, and Tournament Rule 10
All Divisions of Baseball and Softball:
Summary:
This change allows leagues to release their tournament teams and begin holding tryouts or practices by tournament teams starting on June 1. Teams shall not be released until the availability and eligibility of all prospective team members has been established. Previously, leagues could announce their teams on June 15 or two weeks prior to the start of their tournament. The Little League group accident insurance underwritten by an AIG member company for tournament teams will not go into effect until June 1. In the event that a tournament would start prior to June 14, a league must obtain a waiver from the Little League International Charter/Tournament Committee to announce its tournament team and begin to hold tryouts or practice prior to the new date of June 1.

All leagues are strongly encouraged to continue to provide regular season and special game opportunities for their players after June 1.

Read the full version and voting results of the amended Tournament Release of Names

Read the full version and voting results of the amended Tournament Team Practice
Baseball and Softball 9/10-, 10/11-, 11/12-Year-Old Divisions:
Summary:
This change expands the tournament opportunities, making these three tournaments open to a three-year range of players, and provides leagues additional flexibility in their player selection. The new age structure will create the 8/9/10-Year-Old Division; 9/10/11-Year-Old Division; and 10/11/12-Year-Old Division.
Read the full version and voting results of the amended Tournament Player Eligibility
ITEMS TO BE IMPLEMENTED FOR THE 2017 SEASON:
Baseball and Softball Major, Intermediate (50/70), Junior, Senior, and Big League:
Summary:
This change provides participants at these levels of play the ability to participate in two divisions, provided they qualify under age requirements, Residency/School Attendance Eligibility Requirements, programs, and divisions of play. A player may only be selected to one Tournament team, and must meet tournament eligibility requirements for that specific division.
Read the full version and voting results of the amended Regulation 1(a) and IV(c)
Thursday, February 11
Ground Rules/Local Rules for Local Leagues
What is the purpose of Local Rules?
Local Rules establish the league's policies in certain areas where leeway is allowed by Little League Baseball Rules, Regulations and Policies. No league's Local Rules can conflict with the published Rules, Regulations, Policies, or Principles of Little League Baseball without the expressed written permission from the Charter Committee in Williamsport. A league's Local Rules, once approved by Western Regional Headquarters, should be distributed to all who are required to implement or uphold the policies or directives (i.e., managers, coaches, umpires, player agent(s), Board of Directors, etc.). They should also be made available upon request to any Member of the Local League. The Local Rules should be adopted by the Local League Board of Directors at least one month before the first game of the regular season.
What's the difference between Local Rules and the Constitution?
The Local Rules are not considered part of the Constitution. They are two separate documents. The Local Rules are reviewed, revised (if necessary) and adopted annually by the Board of Directors. The Constitution governs the Local League operation from year to year and can only be amended by the Membership at a duly organized meeting as provided in article XII of the Model Constitution.
What should be in the Local rules?
Any field conditions not already covered by Little League Rules and Regulations, such as a telephone wire erected partially inside fair or foul territory.
Any specifically optional Rules or Regulations, such as the 10-run rule (Rule 4.10 (e)) and any of the several noted optional rules in Minor League and Tee Ball.
An optional rule limiting the number of visits a manager or coach may make to the mound per game to talk to his pitcher. (Rule 8.06 already covers the number of visits per inning).
Local directives, such as requiring each manager to umpire in other divisions, require teams to clean their own dugouts after games, etc.
The method of selection for the Tournament Teams in all Divisions.
The draft method for all divisions, if different from the Operating Manual. (A detailed description of the Draft Method, if different from the Operating Manual, must be submitted in writing to Western Regional Headquarters, and the league must receive approval before the draft begins. This process requires about three weeks, so the method must be submitted to Headquarters at least one month before the draft).
Duties of those persons or committees not specifically covered by the league's Constitution, such as Concession Stand Coordinator, Hat Collection Coordinator, Fence Repair Committee, etc.
The league's policy on when a team may no longer call up a player from the Minor League (Regulation III (d) 2-note 1), and when a team must fill a vacancy.
Non-baseball/softball related directives, i.e. no animals allowed on complex, no bike riding on complex, etc.
What must not be in Local rules?
Any rule that alters supersedes or conflicts with published Little League Baseball Rules, Regulations, Policies, or Principles.
Any rule already covered by a published rule, regulation or policy. Re-wording already published Little League Baseball Rules, Regulations, or Policies invites conflicting opinions on how the rules are to be interpreted and must be avoided.
Rules that remove or replace authority granted to certain persons by the Little League Baseball Rules and Regulations.
Saturday, December 26
Free Tee Ball Resources for Every Chartered Team

Little League is excited to announce a new resource to help you grow participation in your community. For the 2016 season, Little League will be providing a free printed copy of its 10-week Tee Ball Curriculum to every chartered Tee Ball team. The Little League Tee Ball Curriculum aims to improve player acquisition and retention by providing coaches with everything they need to teach the fundamentals of the game in a fun, active environment and includes:

10 detailed practice plans focused on fun, fitness, and fundamentals

Over 40 drills and activities to be used during practices

Tips for creating an exciting and engaging game play environment

Sample schedules

Everything a first time coach needs to have a successful coaching experience
Copies of the curriculum will be included with your league's 2016 league supplies. Additionally, charter online prior to December 31 and also receive an additional 10 rulebooks free of charge!
Friday, November 13
Can you explain the new Little League Baseball® Age Determination date, and why the change was made?
Little League® International always welcomes feedback from every one of our 7,000-plus leagues. We feel that the only way to provide the best experience for Little Leaguers® and their parents is to hear from and listen to our valuable volunteers and participants in communities worldwide.
Little League conducted a very detailed participation research project. That research showed that parents, players, and volunteers want to see Little League® become, as a whole, a younger program, and give children an easier way to play Little League with their classmates. Our volunteer District Administrators and the Little League International Board of Directors carefully considered the results of the research, and ultimately changed the Age Determination Date for all divisions of Little League Baseball and the Little League Challenger Division® to August 31. This change will ensure that no child playing in the Little League/Major Division will turn 13 years old at any point during their final season in that division.
Friday, November 13
Can you tell me more about the new bat standard, and how it will affect my Little Leaguer®?
Little League International has assembled an online resource page dedicated to baseball bat information. Click here to find the latest bat information, including the current Little League Baseball rules and regulations governing bats, definition of terms, the moratorium on the use of composite bats, and a series of frequently asked questions, with answers and licensed bat lists.
Saturday, October 4
Have you updated your League Officers?
The new fiscal year for Little League began on October 1st. All Leagues should have had their elections for their 2016 Boards of Directors. Don't forget to go to the Little League Data Center to update your League Officers.