California District 42 Little League: Welcome
Welcome to the California District 42 Web Site, District of Champions!
District 42 was formed in 1960. In our present configuration, the District includes all Leagues south of Highway 54 to the U.S. - Mexico border; and from the Chula Vista city boundary in the east, to the Pacific Ocean.
---
Little League Rules Changes for 2014 can be found HERE!
---
All Leagues!
Our Presidents meetings are open to ALL Board members from all the local Leagues in our District, and ALL Board members are encouraged to attend.

Click on the headlines below for more information.
Saturday, October 4
Have you updated your League Officers?
It's October, and the new fiscal year for Little League has begun. All Leagues should have had their elections for their 2015 Boards of Directors. Don't forget to go to the Little League Data Center to update your League Officers.
Saturday, October 4
Western Region Leadership Training Schedule
Little League Western Regional
2014/2015 Leadership Training Schedule

Chief Umpire's Clinic
"Train the Trainer"
December 12 - 14, 2014

Designed to instruct and train the local League and District Chief Umpires how to plan and conduct rules and mechanics clinics for their own League and District. This is a hands-on leadership training session.

No Gear Necessary
Cost: $80.00

Rules Instruction Clinics
Baseball and Softball
January 10 - 11, 2015
January 24 - 25, 2015

This clinic is open to anyone who desires more knowledge of Little League rules. Managers, Coaches, Umpires and District officials are encouraged to attend. Includes training material, dormitory style housing and all meals.

No Gear Necessary
Cost: $65.00

Umpires Mechanics Clinic
January 23 - 25, 2015

This clinic will provide the experience and knowledge for the local League and District Umpire to return to their Leagues and Districts and provide sufficient training to others. Includes training material, dormitory style housing and all meals. Bring plate and base shoes.

Cost: $85.00

Scorekeepers Workshop
January 31, 2015
10:00 AM - 2:00 PM

This workshop is offered to acquaint both veteran and new scorekeepers with the tools needed to perform their duties.

Cost:$ 10.00

Adult Umpire School
February 21 - 27 2015
1 Session Only

The school is designed for the volunteer umpire. Each day and evening will consist of classroom and field instruction throughout the week. Includes training material, dormitory style housing and all meals.

Cost: $360.00

All training sessions are limited to adults 18 years of age or older.

Clinic and Seminar Registration begins October 1, 2014.

Register early as space is limited.

Outreach Clinics

Various dates throughout the Spring, conducted in all Western Region States.

To request an Outreach Clinic, go to the Western Region website at www.eteamz.com/llbwest

Little League Baseball does not limit participation in its activities on the basis of disability, race, creed, color, national origin, gender, sexual preference or religious preference.
Wednesday, October 1
2015 Vendor Show Hosted by District 32
District 32 has cordially invited our Leagues to attend their 2015 Vendor Show.
The show will be held at the Holiday Inn at 9335 Kearney Mesa Road, San Diego, CA 92126. Phone: (619) 291-5720.
Please let your board members know about this event, and thank you to District 32 for inviting us.
Check out the event flyer HERE.
Thursday, April 17
Safety Spotlight: Warm Up to Prevent Injuries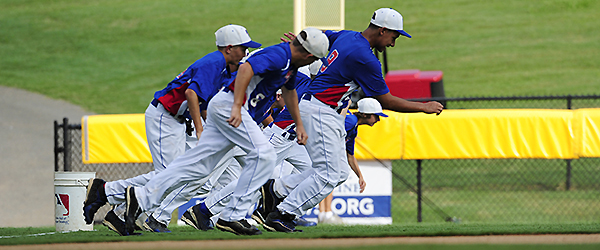 With Little League® practices in full swing around the nation, there are more baseball and softball gloves getting used right now than any other time of year. And in the early part of the season, it's crucial to remember the importance of warming up, stretching and keeping young arms healthy. Click here to read more

Saturday, March 15
Your Voice
Since The Parent Connection was launched in October, we've been thrilled with how you have embraced this newsletter and we've received some wonderful feedback. As parents, grandparents and guardians of Little Leaguers, this is your newsletter and we encourage everyone to let us know what's on your minds.
Click here to read more
Saturday, March 15
The Dangers of Steroids and Appearance and Performance Enhancing Drugs
Here's an eye opener for parents, the average age that a child starts taking dietary supplements is 10.8 years old, so they would likely still be playing in the Minor division of Little League®. Taylor Hooton, a former Little Leaguer®, was a 17-year-old high school athlete from Plano, Texas.
Click here to read more
Saturday, November 23
Put The Brakes On Travel Ball
Little League® is so much more than baseball and softball. At our core, we are a teaching organization dedicated to providing life-lessons that help parents guide their children as they transition from youth to young adult to adult. Click here to read more.
Saturday, October 5
Is There Such A Thing As Too Much Baseball?
We hear the horror stories about kids spending nearly every week of the year playing in one particular sport; about parents spending thousands of dollars so their child can play on an "elite" traveling team; about pitchers being used so much in non-Little League play that they require surgery that used to be reserved for Major League pitchers looking to extend their careers. How much is too much? Check out the essay by President and Chief Executive Officer Stephen D. Keener. This article was featured in the 2005 Little League World Series program. Read the entire article here...
Coaches Tool Kit
Little League Coach and Umpire Resource Centers
How to Be a Sports Parent