California District 42 Little League: Welcome
All Leagues!
Our Presidents meetings are open to ALL Board members from all the local Leagues in our District, and ALL Board members are encouraged to attend.

Thursday, April 18
Start Time Changes to the 2019 Junior League Schedule
The starting time for two Junior League games hosted by EastLake have been pushed back to 5:30 PM. This will affect games on two dates, Tuesday, May 7, 2019 (Park View #2 vs. EastLake) and Tuesday, May 14, 2019 (Park View #1 vs. EastLake). Please make sure your teams are aware of this change. The updated schedule has been posted on the Handouts page.
Sunday, April 7
District 42 Pin Contest Under Way!
Hey District 42 Players! We're looking for some new ideas for our new District 42 pins, and we're looking to you for it! District 42 Little League is looking for two new designs for our pins. The pin images will appear on our website, and will be handed out to players during tournaments. The actual pins will be around 1-1/2" in size. The following guidelines apply:
You must be a current player within District 42.
Design should include names of the nine little leagues in California District 42: Chula Vista American, Chula Vista National, Eastlake, Imperial Beach, Luckie Waller, Park View, South Bay, Southwest and Sweetwater Valley
Design should include our District name: California District 42
Design should include the saying: The Home of the 2009 Little League World Series Champions, 2013 Little League United States Champions, 2015 Little League West Region Champions, 2016 Little League West Region Champions
Little League logo can be included in design but not required
Pin should be baseball themed
Here's some examples of prior pins to help you out: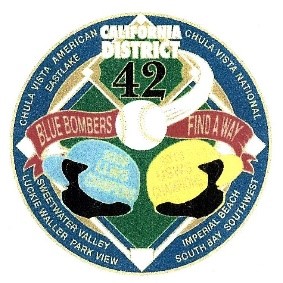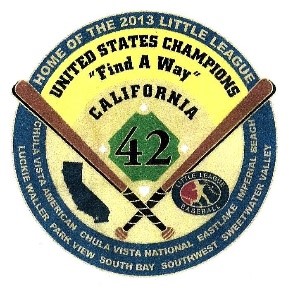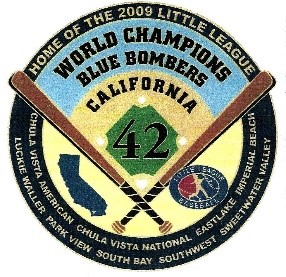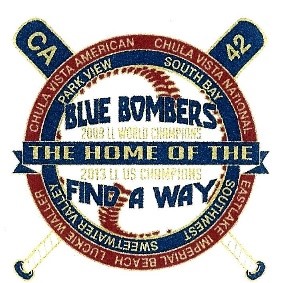 Two pin designs will be selected; the District 42 little leaguers who design the winning logo will each receive a $200 gift card! So, get your paper and pencils out and start etching out your vision for the new District 42 logo! Your design can be submitted via email to: district42logo@gmail.com. Have a parent help you send a JPG or PDF file and be sure to include your name, age, contact number, and the Little League that you belong to. Enter as often as you wish, but all logo entries must be submitted by April 30, 2019.
Sunday, November 4
Chula Vista's Little League Legacy is One to Behold
SAN DIEGO (NEWS 8) - Residents of Chula Vista know just how big of a deal baseball is in their city. The area has had multiple little league teams compete against the highest competition on the world stage. The sport really has brought the community together.
Click on the title link to read the article and view the videos.
Tuesday, May 8
Bat Decertification - What You Need to Know
Receiving a notice that a bat has been decertified, especially in the middle of the season, is challenging, inconvenient, and disappointing for everyone. On Thursday, May 3, USA Baseball informed Little League and other yout organizations about the decertification of the Easton Ghost X 30/20 5/8. We are committed to sharing that information with all of you as soon as we received it. According to the official notice from USA Baseball, "official compliance testing determined that the Ghost X 30/20 exceeds the performance limit set by the USABat Standard. Per the USA Baseball Youth Bat Performance Test Protocol as well as (USA Baseball's) contracts with Easton, these results constitute a non-compliant bat that must be decertified."
For any family or league that is impacted by USA Baseball's decertification of the Easton Ghost X 30/20 5/8, we strongly urge you to read Easton's release, which includes information about how to return your bat to receive a $500 voucher for Easton.com.
How Certification and Decertification Works
For the USABat Standard, bat manufacturers are required by USA Baseball to have their bats certified by following the protocols set out by the standard. Once a bat is certified, additional compliance testing is done to make sure that the bats remain complaint with that standard. Little League® International has no role in bat testing or compliance testing.
Once a bat that is currently in the marketplace and available for purchase fails to meet the performance standard, it is decertified, and pursuant to Rule 1.10, is an illegal bat.
What Little League® Parents and Volunteers Need to Know
Little League does not decide whether a bat meets, doesn't meet, or no longer meets the performance standard. Bats used for Little League play in all divisions must remain compliant to the applicable bat standards, as explained in the current year's rulebook (Rule 1.10).
Through LittleLeague.org/BatInfo, as well as Little League's social media and email efforts, we are committed to sharing any information about the decertification of bats as soon as possible, so that all our families and volunteers know which bats are permitted and which bats that may have already been sold are no longer approved for play.
What are the Standards?
There are three bat performance standards that Little League International uses for its various divisions of play:
BASEBALL:
USABat: Overseen by USA Baseball and used by most youth baseball organizations, USABat Standard bats must be used at the Little League Baseball® Tee Ball, Coach/Machine Pitch, Minor League, and Major League (Little League) divisions. USABat Standard or BBCOR bats must be used at the Little League Intermediate (50/70) Baseball Division and Junior League Baseball Division. USA Baseball reserves the right to select any USABat product for compliance testing. At that time, the bat is sent to Washington State University for additional testing. If the bat is found to be out of compliance with the standards set forth in the USA Baseball Performance Test Protocol, the bat becomes decertified.
BBCOR: BBCOR-approved bats must be used in the Senior League Baseball Division. Either BBCOR or USABat Standard bats must be used at the Little League Intermediate (50/70) Baseball Division and Junior League Baseball Division.
SOFTBALL:
BPF: For all divisions of Little League Softball®, all non-wood bats must be printed with a BPF of 1.20.
---
Again, we apologize for any inconvenience, and we strongly encourage you to visit LittleLeague.org/BatInfo for complete information about how bat standards impact all divisions of Little League and resources on which bats are approved for Little League use. For all information pertaining to the USABat Standard, visit USABat.com.
For those parents and leagues who purchased the Easton Ghost X, 30" -10 USA Baseball bat (model #'s YBB18GX10 30/20 & LL18GHX 30/20 Japan model), we, again, encourage you to read Easton's release and contact them as soon as possible at 1-844-531-7079, or ghostreturn@easton.com, to return your bat and receive your $500 electronic voucher.
Saturday, May 5
Easton Bat Decertified by USA Baseball
On Thursday, May 3, USA Baseball informed youth organizations, including Little League, that effective immediately, the bat identified as the Easton Ghost X YBB18GX10 30/20 2 5/8" (or the "Easton Ghost X 30/20 5/8" at retail) has been decertified by USA Baseball and is no longer an approved bat under the USABat Standard. This applies to the 30-inch drop 10 variation of the Easton Ghost X only. Pursuant to Rule 1.10, this is now an illegal bat. At the time of this decertification notice, all other lengths and drops of the Easton Ghost X bat remain approved for play.
All parents, coaches, and umpires must check their bats and remove these bats from play if they are in possession of these bats.
Any questions regarding returns, refunds, or warranty claims for the Easton Ghost X 30/20 should be directed to Easton at ghostreturn@easton.com.
Please visit USABat.com/Decertified-Bats for more information.
More information on how the USABat Standard impacts Little League can be found at LittleLeague.org/BatInfo.
We apologize for any inconvenience and thank you all for your attention to this matter.
Wednesday, April 11
Important Update to Mandatory Play Tournament Rule
At the conclusion of the Little League® International Congress in January, we shared with you the full voting results of the Congress Voting Agenda. The final two items, Item 12 (tournament mandatory play) and Item 13 (tournament tie-breaker scenario), both received a majority vote. Item 13 will be referred to the Regional Roundtable agenda in 2020.
Regarding mandatory play for tournament play, the Little League International Tournament Committee was directed to further review and provide due diligence in order to appropriately enhance the mandatory play rule for the benefit of all tournament participants in 2018.
Following this directive, the Tournament Committee worked with the Little League International Board of Directors Operations Committee and the Advisory Board to develop a new mandatory play rule for tournament play effective with the 2018 Little League International Tournament. Please note that the mandatory play regulation is for tournament season play only.
Beginning this year, a manager's failure/refusal to insert players into the line-up as outlined in the new rule shall result in immediate ejection of the manager and removal for the remainder of the International Tournament, without replacement. The umpire-in-chief or other individual designated by the game Tournament Director in consultation with the official scorekeeper, shall advise both team managers, at the appropriate time as outlined in the new rule, of their obligation to insert all players who have not completed their mandatory play requirement.
The full text of the updated Tournament Rule 9, which pertains to baseball and softball 8- to 10-Year Old Division, 9- to 11-Year-Old Division, Little League, Intermediate (50-70) Division, and Junior League can be reviewed at LittleLeague.org/Rules. The full text is also available for download.
I strongly urge you to fully review this new rule and ensure that you share this with all of your fellow volunteers and parents within your district and/or league. Please note that the updated Tournament Rule 9 is not included in the printed or eBook version of the Little League Rulebooks for this season, but will be in full effect immediately.
Questions?
We know that you will have questions regarding this new rule. We strongly urge you to submit those questions through this Submit a Question link. Little League International will use these questions to develop additional support, including an FAQ and an upcoming webinar to discuss the rule to help all volunteers, coaches, umpires, and parents to fully understand the rule prior to tournament play this season.
As always, Little League International Headquarters and Regional Staff is here to support you as we adopt this new change, which provides a structure that remains consistent with the spirit of Little League's mandatory play rule. We urge you to use the Submit a Question link, and please be on the look for additional educational resources for the updated Tournament Rule 9 in the coming weeks.
Thank you for your continued volunteer service and dedication to Little League.
Sunday, February 18
New Bat Standard
As you know, this year marks the first year in the adoption of the USABat Standard by many youth baseball organizations, including Little League® International. We greatly appreciate your understanding over the past three years as we've worked with USA Baseball to transition to this new standard.
Recently, USA Baseball has provided Little League and other youth organizations with some additional guidance on how organizing bodies, like Little League International, can make it easier for local leagues, volunteers, and players to use bats within our programs. We encourage you to review their FAQs at USABat.com, as well as the information on LittleLeague.org/BatInfo.
Effective immediately (Thursday, February 15, 2018), Little League has amended Rule 1.10 for Little League Baseball for the Coach Pitch/Machine Pitch Divisions and the Intermediate (50/70) Baseball Division and Junior League, to reflect this guidance from USA Baseball. Read the fully updated Rule 1.10 on LittleLeague.org.
Coach Pitch/Machine Pitch
Players may use approved Tee Ball bats, including those that were produced and/or purchased prior to the implementation of the new standard that have been certified using an Approved Tee Ball Sticker via the USA Baseball Tee Ball Sticker Program (USABaseballShop.com) ONLY FOR USE WITH APPROVED TEE BALLS.
Little League International encourages leagues using approved Tee Ball bats at the Coach Pitch/Machine Pitch level to only use approved tee balls in these instructional divisions to help avoid confusion as to what type of baseball should be used at any given time.
Intermediate (50/70) Baseball Division and Junior League
In addition to using bats approved for Little League play based on the USABat Standard, players in these two divisions can also choose to use bats that have been approved and appropriately certified using the BBCOR standard. All bats not made of a single piece of wood shall meet the Batted Ball Coefficient of Restitution (BBCOR) performance standard, and such bats shall be so labeled with a silkscreen or other permanent certification mark. The certification mark shall be rectangular, a minimum of a half-inch on each side and located on the barrel of the bat in any contrasting color. Aluminum/alloy and composite bats shall be marked as to their material makeup being aluminum/alloy or composite. This marking shall be silkscreen or other permanent certification mark, a minimum of one-half-inch on each side, and located on the barrel of the bat in any contrasting color.
Please note that these changes are only applicable to these levels of play within the Little League Baseball program. If you have any additional questions, please contact us at support@LittleLeague.org.