District 10: Welcome
Friday, September 14
Welcome to the California District 10 Little League Website
Thank you for visiting our new website, we hope that you will check this site regularly for updates and information regarding Little League activity. We will continually update this site with District 10 and league specific news. Take a minute to sign our guestbook with comments or suggestions and click on the "like" tab to join our growing family on Facebook.
District 10 is located in the agricultural heartland of the United States, Central California's San Joaquin Valley. Eight leagues make up District 10 with over 3000 boys and girls in six baseball divisions. Visit our links page to find access to our individual league sites.
Our new District Administrator is Doug Wells. Doug comes to us from Selma Little League and he would love to get your thoughts regarding Little League baseball in our area. Doug can be reached at dougfbi@comcast.net
District 10 Welcomes

Gamergy Hybrid Energy Drink
District 10 would like to announce a generous sponsorship from Gamergy Hybrid Energy Drink supporting ALL leagues within District 10. Gamergy has agreed to donate product to each league to sell at their individual league events. This donation can total in excess of $500 per league with a retail value over $5000 for District 10! Get it today and ask for Gamergy Hybrid Energy Drink at your next local league event. Gamergy also has a video game bus available for your next party or entertainment event.
Gamergy Hybrid Game Drink is a locally based sports drink company that caters to the gamer in all of us. Gamergy is a low calorie sports drink with an added all-natural energy enhancer, D-Ribose. So, it's not just a sports drink- Gamergy helps to hydrate, replenish, and restore the body and also aids with mental enhancement. The best part, is that it actually tastes great and without any aftertaste!
Visit the Gamergy web site for additional information www.gamergy.net You can also view our other website, www.gamergygamebus.com to book our mobile video game bus for parties. Hydrate Your Body….Energize Your Game!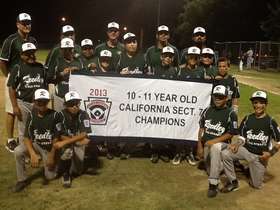 Take Me Out To The Ballgame!