District 10: Welcome
Tuesday, December 24
Welcome to District 10
Big Al is coming to District 10
Parents and Coaches, 
The Big Al Coaching Clinic is coming to District 10. I have heard nothing but amazing reviews and I'm happy to announce this Nationwide Clinic will be in Reedley, CA on January 18th at Immanuel High School. Please visit BigAlbaseball.com for details on how to register. If you are in one of District 10's Little Leagues please check with your President to see if they registered.
You may also check with your individual leagues for additional information. This clinic is a great opportunity to help all coaches and parents who assist thier player's team (s) or would like to one day coach their kids. We will have additional information soon after the holiday so check back soon.
In the mean time, we wish you a joyous holiday with your friends and family. Be safe and we look forward to seeing you in 2014.

Doug Wells


CA District 10 Administrator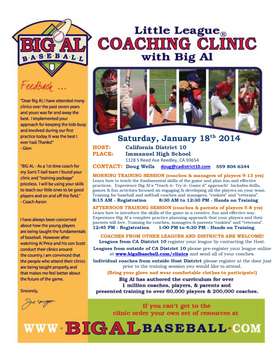 Click link for a map
Monday, December 30
District 10 - Northern California