Welcome to the Brazos Valley Renegades Baseball Club Website
BASEBALL EXCELLENCE SINCE 1994
B.E.S.T Baseball 16u National Finalist - 2013
AAU 18u National Finalist - 2005 ,2008, 2011, 2013
AAU Underclassmen National Champions - 2013
AAU 18u National Champions - 2010, 2012

Thursday, July 24
18 Maroon claims AAU National Championship




The BV Renegades 18 Maroon team capped a perfect 7-0 run in the AAU Upperclassmen National tournament by defeating the Louisiana Warriors 10-9 Thursday morning at Ed Smith Stadium. The Renegades claimed their 3rd AAU Upperclassmen National Championship in the last 5 years with the win. The Renegades finished the season on a 14 game winning streak and an overall record of 26-4-4.



Wednesday, July 23


AAU Nationals update




The BVR 18 Maroon team defeated the Wiregrass Cardinals of Georgia 5-4 in 9 innings Thursday Moring at the Baltimore Orioles Buck O'Neil Complex to move into the championship game of the AAU Upperclassmen National's. The Renegades are in the national championship game for the 5th consecutive year and 7th time in the last 10 years. The Renegades will face the Louisiana Warriors at 8:30am Thursday morning at the Baltimore Orioles Ed Smith Stadium for the title.
The BVR 17U team defeated the Orlando Assult 2-0 in their quarterfinal matchup but fell 5-2 to the TSA Titans in the semifinals of the Underclassmen National Championships.



Friday, July 18


18 Maroon and 17U teams advance at AAU Nationals




The BVR 18 Maroon team finished pool play at 4-0 and advanced to the double elimination bracket play as the #1 overall seed. In the opening game of bracket play the Renegades defeated the Georgia Eagles 13-1 and will now face the Wiregrass Cardinals with the winner moving into the championship round. With the win over the Eagles the Renegades extended their winning streak to 12 consecutive games, tying a BVR record.
The BVR 17U team won their final pool game Tuesday morning 7-4 over the Colorado Gold and now advances to Diamond bracket play, which will begin Wednesday Morning. The Renegades will face the Orlando Assult in their opening game.



Friday, July 18


16 Maroon claims National Title!


The BVR 16 Maroon team defeated the 17U Louisiana All Stars 4-0 to claim the B.E.S.T. Baseball underclassmen National Championship in Pensacola, FL. It is the 4th National Championship won by the BVR organization in the last 5 years.

Monday, July 14


18U and 16U TSL World Series Schedules




Schedules for the 16U White team and 18U White and 18U Grey teams for this weeks TSL World Series are posted on team pages.

Team Travel could not secure enough rooms in Waco area for team hotel so all players and parents of 18 Grey and 18 White teams will need to handle their own hotel reservations for the 18u TSL World Series.



Saturday, July 12


BVR INVITATIONAL - SUNDAY RESULTS




Quarterfinal Results
BVR 17U 11, Texas Slam 1
Texas Slam Easton 4, Killeen Rebels 2
Baton Rouge Marucci Whitesox 11, DBAT 4
BVR Maroon 6, Dirtbags 2

Sundays Pairings


Consolation
Franklin Ranch Field #2
9:00am - Texas Slam vs Dirtbags
11:15am - Dbat vs Killeen Rebels

Semifinals
Olsen Field
9:00am -BVR 17U 3, Texas Slam 2 - 8 innings
11:15am - BVR Maroon 2, Baton Rouge Marucci Whitesox 1
Championship
2:30pm Olsen Field - BVR Maroon 8, BVR 17U 6



Handout: 2014 bvr inv 3

Monday, July 7


July 10-13 BVR Invitational




Games schedules for all teams for the BVR Invitational are posted on team pages.

16U White team - hotel info for the 16U TSL World Series in Dallas is posted on team page as well. Deadline to reserve room is Thursday July 10

18 Grey team - Hotel info for the 18u TSU World Series July 17-20 in Waco will be posted soon



Wednesday, July 2


Florida info




The 18 Maroon,17U and 16U Maroon will all be playing in tournaments in Florida to end their summer season in July. We will have trip details and hotel info by this weekend.
The 18 Maroon and 17U teams were emailed hotel info for the trip to Sarasota, FL last week. If you did not receive the email please let us know ASAP.
Any player on any of these teams that will need either a ride or will need to stay in a player room please email us at bvrenegades@aol.com immediatly.

18 Maroon and 17U - Sarasota, FL
Spring Hill Suites
Sarasota, FL
505-346-0522
Block Code - 91858
CLICK HERE TO RESERVE ROOMS
Deadline to reserve rooms - Saturday July 5

Tournament starts Saturday July 19 - Arrive no later than evening of Friday July 18



Thursday, June 26


2014 18U BVR Classic Schedule - Final Results


BVR 17U wins 18U BVR Classic with a 5-1 win over League City on Sunday at Blinn College.
Handout: 2014 BVR 18U CLASSIC

Wednesday, June 18


THSBCA All-State Teams




Congratulations to the following BVR players on their All-State honors

Willy Amador- Bryan HS- P- 5A 1st Team
Tanner Driskell- Round Rock HS- 2B- 5A 3rd Team
Cameron Salvaggio- Magnolia HS- 1B- 4A 1st Team
Clayton Gibbs- Rockdale HS- 2B- 3A 2nd Team
Timmy Blakeney- Yoakum HS- SS- 3A 3rd Team
Clayton Harp- El Campo HS- OF- 3A 1st Team
Justin Pratt- Cameron Yoe- 3B- 2A 2nd Team
Carson Skala- Rogers HS- OF- 2A 1st Team
Weston Smart- Hempstead- OF- 2A 3rd Team
William Bruns- Flatonia HS- C- 1A 2nd Team
Logan Stoelke- Fayetville HS- SS-1A 1st Team



Sunday, June 8


BVR Players taken in MLB Draft


Congratulations to former BV Renegade Players Tyler Eppler and Chase Wellbrock on being drafted in the 2014 MLB Draft. Eppler a RHP from Navasota HS who attended Sam Houston State was taken in the 6th round by the Pittsburgh Pirates. Wellbrock a RHP from Brenham HS who attended the University of Houston was taken in the 33rd round by the Toronto Bluejays.
Since 1996 , 24 BVR players have been taken in the MLB Draft


Sunday, June 1
18U Rosters - click here

Monday, May 26
2014 BVR 16U Rosters - UPDATED

Friday, May 23
2014 BVR 17U Roster

Sunday, May 11
2014 Summer Schedules

Sunday, March 2


Official BVR Twitter


follow all BVR Teams @BVRenegades

Saturday, March 15


Chase Wellbrock




Congratulations to former Renegade Chase Wellbrock on becoming the all-time saves record holder for the University of Houston Cougars!





2014 Signees/Commits




Willy Amador (Bryan HS) - Rice University
Kyle Barfield (A&M Consolidated HS) - San Jacinto College
Timmy Blakeney (Yoakum HS) - Wharton County Junior College
Chase Bledsoe ( Rudder HS ) - McMurry University
Ross Bludau ( Schulenburg HS ) University of Houston Victoria
Austin Caffey (Rockdale HS) - Texas State University
Derek Dane (Lexington HS) - East Texas Baptist University
Joseph Dimaline (SA Churchill HS) - Texas State University
Tanner Driskill (Round Rock HS) - Texas Tech Univeristy
Marshall Goodwin ( New Waverly HS ) North Arkansas College
Montana Hammack (Rudder HS)- Schreiner University
Kylen Harrell (Cameron Yoe HS) - Sam Houston State University
Tanner Holly (Huntsville HS)- Blinn College
Adam Hunter (Yoakum HS ) University of Incarnate Word
Blake Kopetsky (Rudder HS) - Texas A&M University
Matt Lemon (Caldwell HS ) - Texas Lutheran University
Tanner Luna (Caldwell HS) - North Central Texas College
Grant Martin (SA Marshall HS)- Cisco College
Nick Masarik (Columbus HS) - Blinn College
Jake Payonk (Caldwell HS ) SW Assembly of God
Jeremy Pfuntner (Bryan HS) - Hill College
Cameron Salvaggio (Magnolia HS) - Stephen F. Austin University
Weston Smart ( Hempstead HS) Tyler Junior College
Mason Schuh (Magnolia HS ) - McLennan College
Logan Stoelke (Fayetteville HS) - University of Louisiana Lafayette
Blaine Suehs (Caldwell HS) - University of Louisiana Lafayette
Bryan Warhurst (SA Regan HS)- Hill College
Lane Willenborg (West HS) - Hill College





2013 signees/commitments


Hayden Besetzny (Schulenburg HS) - Texas A&M Kingsville
CJ Bills (Caldwell HS) - Navarro College
Travis Gibson (Bryan HS) - University of Louisiana Lafayette
Ronnie Gideon (Hallsville HS) - Texas A&M University
Cullen Jozwiak (Brenham HS) - Blinn College
Troy Kacir (Yoakum HS) - Texas Lutheran University
Garrett Luna (Magnolia HS ) - San Jacinto College
Colin Miner (San Antonio Regan HS ) - Cisco College
Taylor Rich (Lovelady HS) - Tyler Junior College
Reed Robinson (Kingwood HS) - Blinn College
Brett Rohde (Fayetteville HS) - Blinn College
Gabriel Sager (A&M Consolidated HS) - Abilene Christian University
Zach Schneider (Converse Judson HS) - St. Mary's University
Tyler Stubblefield (Lufkin HS) - Texas A&M University
Jerry Vasquez (Victoria St. Joseph HS) - Alvin College
Cole Williams (Magnolia HS) - Stephen F. Austin Univeristy

Sunday, July 28


BVR 17U claims AAU Underclassmen National Championship, 18 Maroon falls in upperclassmen finals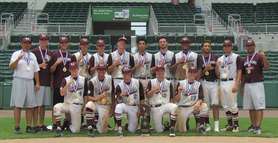 The BVR 17U team won a pair of games Thursday to capture the programs 3rd National Championship, claiming the AAU Underclassmen title.
In the semifinals the Renegades defeated the Orlando Assult 11-6. Logan Stoelke was the winning pitcher tossing a complete game while striking out 13. The Renegades trailed 3-2 after 4 innings but erupted for 7 runs in the 5th inning highlighted by RBI basehits by Carson Skala,Tanner Luna,Willy Amador,Blaine Suehs,and Brandon Kveton to retake the lead and never trailed again. Stoelke struck out the side in the 6th and retired 3 of the 4 he faced in the 7th including a game ending strikeout to send the Renegades to the finals.
The Renegades defeated the Ontario Bluejays 7-2 in the finals at Jet Blue Stadium. Ontario entered the championship game with an 8-0 record in the tournament including a 4-0 win over the Renegades. The Renegades jumped out to a 2-0 lead on a 2 RBI basehit by Tanner Luna in the 3rd inning. Ontario cut the lead to 2-1 but once again the Renegades used a big 5th inning to seize control of the game, this time plating 5 runs in the 5th on RBI basehits by Jacob Moseley, Tanner Luna, and Willy Amador. Willy Amador pitched 5 solid innings for the win allowing only 2 runs on 3 basehits while striking out 7. Ryan Hendershot recored the save throwing the final 2 innings allowing no runs and striking out 3. Kylen Harrell, Tanner Luna, Carson Skala, Willy Amador and Ryan Hendershot were selected to the All Tournament Team.
The BV Renegades 18 Maroon team was in the AAU upperclassmen National Finals for the 4th consecutive year and looking for back to back National Championships. Tuscaloosa Baseball, riding the momentum of winning back to back elimination games after being knocked to the losers bracket by the Renegades a day earlier , defeated the Renegades 4-1 in the championship game. Tuscaloosa scored a pair of runs in the top of the 1st, Cullen Jozwiak came on in relief and retired 21 of the 26 batters he faced the rest of the way. The Renegades out hit Tuscaloosa 8-4 but time and time were turned away as Tuscaloosa claimed their 1st AAU National Title. Travis Gibson, Justin Holder, Garrett Luna and Cameron Salvaggio were selected to the All Tournament Team



Wednesday, July 24


18 Maroon and 17U continue to advance at AAU Nationals




Following exciting and dramatic 4-3 victories both the 18U Maroon and 17U teams will be playing on the tournaments final day and looking to capture AAU National Championships.
The 18U Maroon team earned a spot in the AAU upperclassmen National Championship game for the 4th consecutive year by defeating Tuscaloosa Baseball 4-3 at City of Palms Stadium in Ft Myers, FL. The Renegades got on the board in the bottom of the 1st when Garrett Luna delivered a 2 out double and was plated on an RBI double by Cameron Salvaggio. Justin Holder retired 9 of the first 10 Tuscaloosa batters he faced as the Renegades took a 3-0 lead on RBI hits by Tanner Holly and Luna. Tuscaloosa cut the lead to 3-1 in the 4th but the Renegades answered in the bottom of the inning as Bryan Warhurst delivered a one out single and scored on an RBI single by Holly to extend the lead to 4-1. Tuscaloosa answered with a pair of runs in the top of the 6th to cut the lead to 4-3. After the Renegades went scoreless in the bottom half of the inning the drama mounted in the 7th. Tuscaloosa first hitter was hit by the pitch and after an unsuccessful bunt attempt, Holder recored the 1st out with a strikeout but the runner advanced to 2nd on the 3d strike. With the tying run in scoring position Holder induced a flyout to the rightfield for the 2nd out. Tuscaloosa sent a pitch hitter to the plate and with a 1-2 count fouled off 4 consecutive pitches before grounding out to SS to end the game and send the Renegades into the finals.
The Renegades, looking for back to back AAU National titles and 3rd in the last 4 years will face the winner of Tuscaloosa and Connecticut BlueJays in the finals at 2pm at Jet Blue Stadium.
The BVR 17U team won a pair of games Wednesday to punch their ticket to the Semifinals in the AAU underclassmen bracket. The Renegades got off to a quick start in the one game elimination bracket by defeating the BCC Patriots 10-0 in 5 innings. Willy Amador pitched 4 innings allowing only 2 baserunners and no hits while striking out 5. Ross Bludau pitched a scoreless 5th inning. At the plate the Renegades collected 10 hits led by Amador, Tanner Luna, Bludau and Kylen Harrell who all had 2 hits apiece.
With the win the Renegades advanced to face back to back National Champions East Cobb Titans in the Quarterfinals. The Titans, who defeated the Renegades 5-0 in pool play had a bye in the 1st round.
Blaine Suehs retired 12 of the 1st 15 East Cobb batters he faced as the teams battled to a 0-0 tie untill the Renegades broke thru in the top of the 4th. Carson Skala and Tanner Luna led off with back to back singles and Amador drew a walk to load the bases with no outs. Ross Bludau then hit a grounder to 2nd on a drawn in infield however the the throw home was wide plating the 1st run of the game. Jeremy Pfuntner drove in a run with an RBI SAC fly and Kylen Harrell then delivered a 2 out RBI double to extend the lead to 3-0. East Cobb would answer with 3 runs of their own in the bottom of the 5th but Suehs would escape further damage by getting a groundout and flyout to end the inning and leave 2 East Cobb runners stranded in scoring position leaving the game deadlocked at 3. After both teams went scoreless in the 6th the Renegades went back to work in a pressure filled 7th. Kylen Harrell again delivered a big hit, leading off the inning with a sharply hit single. Pinch runner Ryan Hendershot moved to 2nd on a SAC bunt by Suehs. Following a strikeout for the 2nd out of the inning, Jacob Moseley delievered a clutch 2 out RBI single to plate Hendershot and give the Renegades the lead. In the bottom of the Inning Suehs retired the 1st batter before giving up a 1 out walk. The runner then moved to 2nd on a wild pitch. With the drama increasing on each pitch Suehs got a called 3rd strike on a 2-2 pitch for the 2nd out of the inning. With the tying run standing on 2nd Suehs induced a 6-3 groundout to end the game and give the Renegades an emotional hard fought 4-3 victory. With the win the Renegades advance to the AAU underclassmen semifinals for the 2nd straight year and will face the Orlando Assult at 8am at Jet Blue #5. With a win the Renegades will advance to the National Title game at Jet Blue Stadium at 11am.



Monday, July 22


18 Maroon and 17U advance at AAU Nationals in Florida




The BVR 18 Maroon team, looking to defend its 2012 AAU National Championship, finished pool play at 3-0 defeating the Connecticut Bluejays 11-3, SW Florida Sox 8-4 and New Jersey Tigers 10-0 and will enter bracket play as the #1 overall seed. The Renegades will begin the double elimination bracket play Monday afternoon at 3:30pm at City of Palms Stadium against the winner of the New Jersey Tigers and Virgina Storm who play earlier in the day.
The BVR 17U team finished pool play at 2-1 defeating the Boston Southshore Huricanes 11-7 and Indiania Playmakers 11-1 and falling to the East Cobb Titans 5-0. The Renegades will begin championship pool play Monday morning against the Crystal Lake Cardinals of Illinois.



Friday, July 19


16 Maroon Advances to B.E.S.T Baseball Championship Game


The BV Renegade 16U Maroon team picked up two wins in B.E.S.T Baseball Championships in Pensacola, Florida today to advance to the Championship Game. Jacob Stegent threw a complete game shutout in a (1-0) Quarterfinal win over Team Louisiana. In the Semifinal game the Renegades faced the Hammond Yankees who beat the Renegades earlier in the tournament (1-0) for BVR's second loss. Jacob Kovar also pitched a complete game two hitter as the Renegades banged out 11 hits and routed the Yankees (13-1). BVR will face the Dullins Dodgers out of Memphis, Tennessee in the Championship Game on Saturday!



2013 TSL BVR INVITATIONAL SCHEDULE - SUNDAY PAIRINGS


Handout: 2013 BVR INV

Monday, July 1


BVR 17U and BVR 16U Maroon claim tourney titles over the weekend,




The BV Renegades 17U team went 5-0 and claimed the title of the 18U TSL Brenham Tournament with an 8-4 victory over the Houston Saints on Sunday afternoon at Blinn College. It was the 17U teams second consecutive week to reach a tourney championship game.
The 16U Maroon team finished 6-0 while claiming the championship at the 16U TSL Houston Classic, defeating the Texas Bandits Black 11-6 in the finals.
Congratulations to both teams on an outstanding weekend of Renegade Baseball.



Tuesday, June 25


BVR COLLEGE WORKOUT DAY




Open to all current BVR underclassmen players and 2013 Grads who have not yet signed

Tuesday July 2
Players need to show up by 10:30am and be ready to go at 11am
A&M Consolidated High School




Wednesday, June 26
16U BVR CLASSIC SCHEDULE - click here - UPDATES/ SUNDAY PAIRINGS

Wednesday, June 26
18U BVR CLASSIC SCHEDULE - click here - UPDATED - SUNDAY PAIRINGS

Sunday, June 9


3 BVR Players selected in MLB Draft




Two current and one former BVR players were selected in the MLB First Year Player Draft.


Ryan Ullmann - Washington Nationals
Tyler Stubblefield - Atlanta Braves
Ronnie Gideon - Colorado Rockies

Congratulations to these young men and their families.



Monday, June 3


Langwell makes MLB Debut




Former Brazos Valley Renegade Pitcher Matt Langwell made his Major League debut for the Cleveland Indians on Sunday June 2. Congratulations to Matt and his family.




Sunday, May 12
2013 Rosters/Schedules/updates

Sunday, July 29


BVR Maroon claims AAU National Championship!


The Brazos Valley Renegades Maroon team defeated the Tallahassee Baseball Club 3-0 Sunday afternoon at Jet Blue Park in Ft Myers, FL to claim the AAU National Championship, it was the Renegades 2nd AAU National title in the last 3 years. The Renegades finished the tournament with a perfect 7-0 record.
Austin Baron, Jacob Huckabay, Ford Moore, Alec Paradowski and Matt Roberts were selected to the all tournament team. Congratulations to all players on an outstanding week.



Friday, February 7


BVR 14U Practice


We will practice this Sunday, February 9, at 10am at Henderson Park in Bryan. The field is located behind Milam Elementary across Mockingbird Rd. The schools's address is 1201 Ridgedale, Bryan, TX 77803.



College Signees - Please visit our College Signee Page for full history of signees




2010 Signees
Jacoby Almaraz (San Antonio Johnson HS) - San Jacinto College
Kevin Bishop (A&M Consolidated HS) - Stephen F. Austin University
Krey Bratsen (Bryan HS) - Texas A&M University
Kyler Crenshaw (Brenham HS) - McNeese State University
Colton Eubanks (Caldwell HS) - Stephen F. Austin University
Derrick Hadley (Navasota HS) - Texas A&M University
Justin Hartgroves (Bryan HS) - Temple College
Dillon Knebel (Brenham HS) - Angelina College
Gregory Mendoza (Rogers HS) - Texas A&M University
Isaac Nuti (Brenham HS) - Texas State University
David Pfuntner (Bryan HS) - Houston Baptist University
Michael Todaro (A&M Consolidated HS) - Angelina College
Chase Wellbrock (Brenham HS) - University of Houston
David Williams (Bryan HS) - Texas Southern University

2011 Signees/Commitments
Blake Allemand (Boerne Champion HS) - Texas A&M University
Corey Bentke (Brenham HS) - Wharton Junior College
Chance Bolcerek (Brenham HS) - Texas A&M University
Stafford Brantley (A&M Consolidated HS) - Texas A&M University Corpus Christi
Andrew Brown (A&M Consolidated HS) - Texas A&M University
D.J. Cumby (Caldwell HS) - Wharton Junior College
Kyle Danford (Rudder HS) - Texas A&M University Corpus Christi
Tyler Eppler (Navasota HS) - Texarkana College
Brig Gerlich (Seguin HS) - Texas Tech University
Billy Gonzalez (Rockdale HS) - West Texas A&M University
Taylor Holt (A&M Consolidated HS) - Sam Houston State University
Scott Jones (A&M Consolidated HS) - Blinn College
Chad Miles (Kyle Lehman) - West Texas A&M University
Tim Oberhelman (A&M Consolidated HS) - McMurry University
Dusty Palmore (A&M Consolidated HS) - Ranger College
Matt Roberts (New Waverly HS) - Angelina College
Ty Schlottmann (Brenham HS) - Texas A&M University
Jonathan Schmitz (A&M Consolidated HS) - Tarleton State University
Matt Smith (Rudder HS) - Temple College
Gandy Stubblefield (Lufkin HS) - Texas A&M University
Garrett Vail (Belton HS) - University of Central Arkansas
Hayden Vesely (Victoria St. Joseph HS) - Blinn College
Colten Walla (Brenham HS) - Angelina College
Duncan Wendel (Magnolia HS) - Baylor University
Tyler Widiker ( Magnolia West HS) - Henderson State University
Nick Wright (Belton HS) - Baylor University

2012 Signees
Kash Armstrong (Malakoff HS)- Concordia University
Jesse Baker (Brenham HS) - University of Texas San Antonio
Austin Baron (Rudder HS) - Galveston College
Connor Bertsch (Fayetteville HS) - Concordia University
Dylan Blaha (Weimar HS) - University of Houston Victoria
Kyle Bludau (Schulenburg HS) - Temple College
Ty Culbreth (Bryan HS) -University of Texas
Colin Fry (Bryan HS) - Blinn College
Austin Gallego (Bryan HS) - Lincoln College
Seth Holbert (A&M Consolidated HS) - Sam Houston State
Jacob Huckabay (Bryan HS) - Univesity of Texas Pan American
Adam Hunter (Yoakum HS) - Weatherford College
Blake Kopetsky (Rudder HS) - Temple College
Kevin Kubezka (Benham HS) -Tyler Junior College
Marshall Laine (Bryan HS) - University of Texas Tyler
Grayson Long (Barbers Hill HS) - Texas A&M University
Miles Manning ( Victoria West HS) - Sam Houston State University
Chad McElroy (Uvalde HS) - Lubbock Christian University
Jaxton McNair (Brazos Christian HS) - Texas A&M University
AJ Minter (Tyler Brook Hill HS ) - Texas A&M University
Ford Moore (A&M Consolidated HS) - Sam Houston State
JB Moss (Tyler Brook Hill HS) - Texas A&M University
Cory Raley (Uvalde HS) - Texas A&M University
Kale Slone (New Braunfels HS) - Cisco College
Alec Paradowski (A&M Consolidated HS) - Wofford College
Austin Ray (A&M Consolidated HS)- Sam Houston State
Casey Skalaban (Bryan HS) - Concordia University
Eric Stegent (Brenham HS) - Tyler Junior College
Cody Vasquez (Caldwell HS) - Galveston College
Garrett Webb (Brenham HS) - University of Mary Hardin Baylor