Barons Baseball Club: Barons News
Friday, December 19
2015 TRY-OUTS
2015 Spring Try-outs Begin February 21, 2015 for all three levels,
Varsity & Junior Varsity begin at 9:00AM,
Freshman begin at 12PM.
There will be two sessions for Varsity and JV on 2/21. (9:00AM & 2PM) and one session for freshman.
Varsity & JV will break for lunch around 12PM and resume at 2PM.
All players must be cleared through ASB prior to try-outs.
ASB will provide every player with a receipt/copy of forms after you are cleared.
These forms are presented to the baseball staff at the beginning of the try-out session.
No papers-No try-outs-No exceptions.
Please plan ahead and get your ASB clearance papers completed and approved prior to the week of Try-outs to ensure their completeness. This includes a Doctor's Physical for those that have not been cleared in 2014-2015 school year.
All players must also have a CIF and District academic approval with a 2.0 GPA. The BARONS BASEBALL CLUB also maintains a stricter academic code. All players must agree to this code upon making the teams.
Thursday, June 4
History of Head Coaches @ BVH
Wednesday, April 24
"Hard work beats talent when talent doesn't work hard"
Talent is a good starting point but it takes much more to win championships in Division I or II baseball. In the 40 plus years at Bonita Vista, talent has lost to hard work, committment and opportunity. In eight season's we've developed something special at BVH with 8 straight play-off appearances. Three league championships, two semi-final finishes in CIF and two tournament championships highlight this change.  Hard work does not guarantee success BUT it does eliminate the chances for regret when the season is over.
The year Bonita Vista has a core of committed, hard working senior athletes, utilizing the opportunity they are given, is the year Bonita Vista plays in the championships.  Only solid preparation coincides with success. Seniors are key because they pace the program and establish the program's perpetual motion and winning attitude.
Hard work beats talent when talent doesn't work hard. That is the answer to many a high school players' questions about what happened to them. What happened to that guy who was the PONY league star, the freshman sensation, the sophomore surprize? Most likely they rested on their laurels. They thought they were good enough. They forgot that the competition continues and others are looking for ways to get better. If one stands still long enough, the whole world will pass them by. This is true in high school sports. Once a player stops trying to get better, there are others that will pass them by.
Don't be THAT guy. Don't be that "whatever happened to that guy" guy?  Instead, be THE GUY that continues to work toward a goal. Be THE GUY that passes the others. Practice with a designed purpose; play the game right. Do not allow your self to have regrets. Start with legendary Coach Wooden's definition of success:
"Success is a peace of mind which is a direct result of self satisfaction in knowing you made the effort to do the best of which you are capable."
Your character counts.
Friday, March 3
Three Barons Baseball Rules
Play Catch! Throw Strikes! Put the ball in play!

Be a gentleman at all times.
Be respectful to the game and its parts.
Play aggressively!
Be quick but do not rush (John Wooden).
Play the "game" of baseball.
Have a two-strike plan.
Hit with a purpose.
Wednesday, March 19
Barons Baseball Landmarks
CIF - San Diego Section Division II Champions2014
CIF--San Deigo Section Finalists / Runner-up - 1975 & 1992.
CIF-San Deigo Section Semi - finals appearances - 1974, 1975, 1976, 1977, 1979, 1985, 1986, 1992, 2009, 2010, 2014.
Lions Tournament championships - 1975 (Only one division) & 2009 5A Division
Metropolitan Tournament/ Baumgarten Classic championship -- 2012
Wednesday, August 6
2014-15 Freshman Baseball FALL Camp
Registration begins immediately for this Fall's freshman camp at BVH.
Print Handout and return with registration fee.
Camp Dates are August 25-29.
Early Registration good through August 22 -- $75
Walk-up registration first day of camp, August 25 -- $90
Camp runs from 3pm to 5pm each camp day.
See flyer (handout) for details.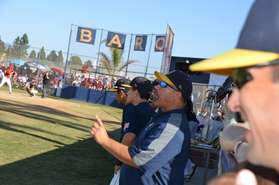 Capture the Post-Game images
Friday, June 6
BARONS BREAK 20 Year DROUGHT with classic play at the plate.
Classic Play with Classic "At the Plate Skills" that propels the Barons to the CIF-SDS Championship Game.