Barons Baseball Club: Welcome
Barons Baseball Club (BVHS)
Donations Received: $ 500
$0
$ 5,000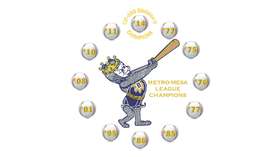 A New Gold Standard
********************WELCOME TO BONITA VISTA HIGH SCHOOL BARONS BASEBALL********************
VARSITY SCORES -- WRAP UP Follow us on Twitter: BaronsBaseball Club @BonitaBaseball
JUNIOR VARSITY SCORES -- WRAP UP
FRESHMEN SCORES -- WRAP UP
Courtesy of Maxpreps.com Bonita Vista High School Boys Baseball Team
A New Gold Standard!
____________________________________________________________________________________________
Wednesday, April 24
Covered Hitting Area
First the Barons softball team built a covered area for hitting, now the Eastlake Titans baseball has the same. Poway High School has had one for ten years now and Torrey Pines is building a 6 tunnel cage. So one can ask;
Why not Bonita Vista High School baseball?
We need the funds raised; we need the plans submitted and approved; we need the materials; and we need the labor. Our area is roughly 70 feet by 50 feet and half the area is at two different levels.
Let's get this done!
Sunday, August 31
2014--2015 Barons Baseball Club Registration
Friday, December 19
2015 TRY-OUTS
2015 Spring Try-outs Begin February 21, 2015 for all three levels,
Varsity & Junior Varsity begin at 9:00AM,
Freshman begin at 12PM.
There will be two sessions for Varsity and JV on 2/21. (9:00AM & 2PM) and one session for freshman.
Varsity & JV will break for lunch around 12PM and resume at 2PM.
All players must be cleared through ASB prior to try-outs.
ASB will provide every player with a receipt/copy of forms after you are cleared.
These forms are presented to the baseball staff at the beginning of the try-out session.
No papers-No try-outs-No exceptions.
Please plan ahead and get your ASB clearance papers completed and approved prior to the week of Try-outs to ensure their completeness. This includes a Doctor's Physical for those that have not been cleared in 2014-2015 school year.
All players must also have a CIF and District academic approval with a 2.0 GPA. The BARONS BASEBALL CLUB also maintains a stricter academic code. All players must agree to this code upon making the teams.
Thursday, June 4
History of Head Coaches @ BVH
Wednesday, August 6
2014-15 Freshman Baseball FALL Camp
Registration begins immediately for this Fall's freshman camp at BVH.
Print Handout and return with registration fee.
Camp Dates are August 25-29.
Early Registration good through August 22 -- $75
Walk-up registration first day of camp, August 25 -- $90
Camp runs from 3pm to 5pm each camp day.
See flyer (handout) for details.
Tuesday, August 12
Do Sports and Other Physical Activities Build Self-Esteem
Click on the link and read the article written by Richard Bailey, Ph.D., writer and researcher on education and sport. Dr. Bailey writes about Sports Activity and Self-Esteem. The message is in the details that we see the high powered correlation between physical activity and a strong self-image.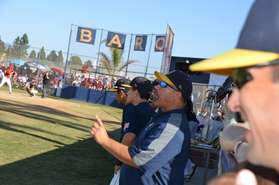 Capture the Post-Game images
Friday, June 6
BARONS BREAK 20 Year DROUGHT with classic play at the plate.
Classic Play with Classic "At the Plate Skills" that propels the Barons to the CIF-SDS Championship Game.
Friday, February 20
Click Here for SUHSD Community Service Forms
The link takes you to the required forms (2) for Sweetwater Union High School District Community Service. Every SUHSD high school student is required to complete thirty hours of community service to fulfill this community service graduation requirement.