Barons Baseball Club: Welcome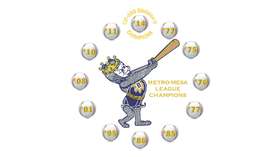 A New Gold Standard
********************WELCOME TO BONITA VISTA HIGH SCHOOL BARONS BASEBALL********************
Courtesy of Maxpreps.com Bonita Vista High School Boys Baseball Team
CIF-SDS Division II Champions
BONITA VISTA 4
EL CAMINO HS 0
____________________________________________________________________________________________
2014 Baseball League Champions
at all three Levels!
Congratulations to Repeat Champion Freshman,
to Junior Varsity and to Varsity baseball teams.
A New Gold Standard!
____________________________________________________________________________________________
Wednesday, April 24
Covered Hitting Area
First the Barons softball team built a covered area for hitting, now the Eastlake Titans baseball has the same. Poway High School has had one for ten years now and Torrey Pines is building a 6 tunnel cage. So one can ask;
Why not Bonita Vista High School baseball?
We need the funds raised; we need the plans submitted and approved; we need the materials; and we need the labor. Our area is roughly 70 feet by 50 feet and half the area is at two different levels.
Let's get this done!
Sunday, August 31
2014--2015 Barons Baseball Club Registration
Friday, November 14
Upcoming Fundraisers
We have three fundraisers in the mix.
NOV. 29 & NOV. 30 -- Sweetwater Valley Little League Fields -- tournament support
See linked spreadsheet for duty spots and times to volunteer:
Snack Bar Duty, Admissions, Field maintenance. Sign up at the following URL for duties and times.
https://docs.google.com/spreadsheet/ccc?key=0AkTymGv4bkN4dDZuNUhwbzlVNXZsQ2pneXlINFlUdWc&usp=sharing_eid#gid=8
CLICK ON THE ABOVE LINK TO ACCESS VOLUNTEER SPREADSHEET
DEC. 6 -- Harrah's Resort & Casino Trip
5pm to 11pm
Leave BVH Parking lot at 5pm
Arrive at Harrah's at 6pm
Depart from Harrah's to BVH at 11pm
SEE HANDOUT FOR DETAILS
Handout:
Forms
Wednesday, August 6
2014-15 Freshman Baseball FALL Camp
Registration begins immediately for this Fall's freshman camp at BVH.
Print Handout and return with registration fee.
Camp Dates are August 25-29.
Early Registration good through August 22 -- $75
Walk-up registration first day of camp, August 25 -- $90
Camp runs from 3pm to 5pm each camp day.
See flyer (handout) for details.
Tuesday, August 12
Do Sports and Other Physical Activities Build Self-Esteem
Click on the link and read the article written by Richard Bailey, Ph.D., writer and researcher on education and sport. Dr. Bailey writes about Sports Activity and Self-Esteem. The message is in the details that we see the high powered correlation between physical activity and a strong self-image.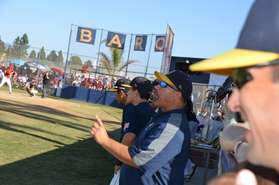 Capture the Post-Game images
Friday, June 6
BARONS BREAK 20 Year DROUGHT with classic play at the plate.
Classic Play with Classic "At the Plate Skills" that propels the Barons to the CIF-SDS Championship Game.
Thursday, June 4
History of Head Coaches @ BVH
Friday, February 20
Click Here for SUHSD Community Service Forms
The link takes you to the required forms (2) for Sweetwater Union High School District Community Service. Every SUHSD high school student is required to complete thirty hours of community service to fulfill this community service graduation requirement.