Barons Baseball Club: Welcome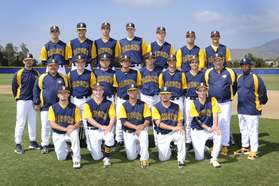 A NEW GOLD STANDARD!
**********************WELCOME TO BONITA VISTA HIGH SCHOOL BARONS BASEBALL**********************
Courtesy of Maxpreps.com
Bonita Vista High School Boys Baseball Team Info
VARSITY SCOREBOARD
JUNIOR VARSITY SCOREBOARD
Bonita Vista High School Boys Baseball Team Info
Use the Barons Team's link to view our team rosters and Barons history. Feel free to browse and enjoy your stay. Remember to please support the baseball program at all levels.
Check out the Sponsors pages to find out how.
Bonita Vista High School Boys Baseball Team Info
For teams information and the Program Schedules for Bonita Vista High School including team & individual statistics and results in county High School sports,
click on this link Max Preps.
FRESHMAN SCOREBOARD
For the Latest in Barons Baseball Apparel goto the new
TEAM Store
2011 Co-Champions
Saturday, May 18
We are IN as the 11th seed
Bonita Vista Barons Baseball earned the 11th seed in this year's CIF Division 1 Championship play-in round. The play-in round is Tuesday May 21. BVH goes to play #6 Valhalla HS at 3:30 pm. #3 St.Augustine awaits the winner on Wednesday for the start of the double elimination championship tournament. The top four seeds were Carlsbad, Grossmont, St. Augustine, and Montgomery all have bye's into the double elimination rounds. While Cathederal Catholic, Otay Ranch, El Capitan, Patrick Henry, Mira Mesa, and Ramona play-in to get the tournament started.
Wednesday, April 24
"Hard work beats talent when talent doesn't work hard"
Talent is a good starting point but it takes much more to win championships in Division I baseball. In the 40 plus years at Bonita Vista, talent has lost to hard work, committment and opportunity. In eight season's something special has developed at BVH. Three league championships in five years, two semi-final finishes in CIF and two tournament championships highlight this change. Hard work does not guarantee success BUT it does eliminate the chances for regret when the season is over.
The year Bonita Vista has a core of committed, hard working senior athletes utilizing the opportunity they are given is the year Bonita Vista plays in the championships. Only solid preparation coincides with success. Seniors are key because they pace the program and establish the program's perpetual motion and winning attitude.
Hard work beats talent when talent doesn't work hard. That is the answer to many a high school players' questions about what happened to them. What happened to that guy who was the PONY league star, the freshman sensation, the sophomore surprize? Most likely they rested on their laurels. They thought they were good enough. They forgot that the competition continues and others are looking for ways to get better. If one stands still long enough, the whole world will pass them by. This is true in high school sports. Once a player stops trying to get better, there are others that will pass them by.
Don't be that guy. Don't be that "whatever happened to that guy" guy? Instead be the guy that continues to work toward a goal. Be the guy that passes the others. Practice with a designed purpose; play the game right. Do not allow your self to have regrets. Start with Coach Wooden's definition of success:
"Success is a peace of mind which is a direct result of self satisfaction in knowing you made the effort to do the best of which you are capable."
Your character counts.
Thursday, April 25
Barons win 8th in a row; 3 wins and 0 losses in League play
Early boost from Perez helps Bonita Vista Barons Varsity get past Olympian, 4-1
Three first-inning runs helped Bonita Vista Barons Varsity to a 4-1 win over Olympian on Wednesday.
Eduardo Perez racked up two RBIs on one hit for Bonita Vista Barons Varsity. He tripled in the first inning.
Brandon Torio had an impressive outing against Olympian's lineup. Olympian managed just two hits off of Torio, who allowed one earned run, walked one and struck out three during his four innings of work.
The lone run of the game for Olympian crossed the plate in the fourth inning on a wild pitch.
Austin wilkes had two hits and Adrian Ventura added 3 of his own.
"Powered by Narrative Science and GameChanger Media. Copyright 2013. All rights reserved." Any reuse or republication of this story must include the preceding attribution.
Big Poppa by Biggi Smalls
Tuesday, April 23
BVH takes a break from league play to win its 7th game in a row
Bonita Vista Barons Varsity defeats Montgomery after late game single, 5-4 Bonita Vista Barons Varsity outlasted Montgomery on Saturday after six lead changes, squeaking out a 5-4 win.
Bonita Vista Barons Varsity finally managed to grab the lead after a strong seventh inning. Bonita Vista Barons Varsity scored on an RBI single by Brandon Torio off HERMAN ALVARADO, plating Wyatt Miller. An RBI single by Torio scored Miller to give Bonita Vista Barons Varsity the lead for good. Eduardo Perez had two extra-base hits for Bonita Vista Barons Varsity. He doubled in the first and third innings.
Andrew Lopez got it done on the hill on the way to a win. He pitched 2 2/3 shutout innings. Lopez struck out three, walked two and gave up four hits. Montgomery jumped out to an early 1-0 lead in the bottom of the second. The lead was Bonita Vista Barons Varsity's to lose after seventh inning. More runs came home on a two-run double by Miller.
"Powered by Narrative Science and GameChanger Media. Copyright 2013. All rights reserved." Any reuse or republication of this story must include the preceding attribution.
Thursday, November 11
BV Middle School Fall Ball-ers play in One game Play-in Game
On Friday, Novemebr 12th at 3PM on the BVH baseball field the Bonita Vista Middle School fall baseball team plays a one game make-up game versus Hilltop Middle School that turns out to be a one game play-in for the play-offs.
Saturday, November 13th is the championship rounds for the Fall Middle School league hosted by the Sweetwater Union Scholl District and sponsored by the area YMCA's. Friday both school's make up a postponed by rain game originally scheduled on October 30th at Coronado's Silver Strand field.
This winner of the Friday match-up plays Saturday at 11 AM versus Montgomery Middle School. Immediately following this contest the winner of the 11 AM game plays the winner of an earlier match-up between Southwest Middle School and Eastlake Middle in the Fall Ball Championship.
The distict set up this fall league to allow the middle school's an avenue to compete with other school's in and around the district. This league also allows the high school's to get an early look at their futures and free's the high school coaches from the desire to play middle schooler's on the freshman spring team. Too many opportunities presented itself to recruit middle schooler's and risk liability issues that may arise with middle school children playing with high school aged kids.
Come out and support the local team's either Friday at 3 PM at BVH or Saturday at 9 and 11 AM at Southwest High School.

Middle School Ball -- Catch It!
Sunday, January 20
Middle School Invitation
Barons Baseball Club works out Tuesday thru Friday each week from 3PM to 5:15PM. Middle School aged baseball prospects and their families are invited to come out and watch our sessions. See our program first hand. The head coaches are usually available for your questions.
Friday, February 20
Click Here for SUHSD Community Service Forms
The link takes you to the required forms (2) for Sweetwater Union High School District Community Service. Every SUHSD high school student is required to complete thirty hours of community service to fulfill this community service graduation requirement.
AN EASY WAY TO MAKE BONITA MONEY WITH EVERY SEARCH... PLEASE USE THIS SEARCH ENGINE
Please change the home page to www.goodsearch.com on your internet Internex Explorer/FireFox application. Add Bonita Vista Senior High as the charity you are searching for. and hit verify before you start your search. Every time you make a search you will be giving one penny to Bonita's baseball program. Pass the word around and have EVERYONE that you know use this engine. If we get 50 people to search 10 times a day we give $5 to the program every day. Instead of making money for Google or Yahoo make money for our program. Please make the change today!!!
REMEMBER TO MAKE YOUR HOME PAGE: goodsearch.com and make Bonita Vista Senior High your charity of choice!!!!!!!