Burroughs (Ridgecrest) Cross Country and Track & Field: Welcome
Burroughs High School Cross Country
2013 Burros Cross Country
Burroughs High School Cross Country* Fall 2013 Season* GO BURROS!
Welcome to the Burroughs High School Burros Cross Country and Track and Field Teams website. Browse our news of the season. See our pictures at
Albums
. Sign
Our Guestbook
-- tell us what you think of our site.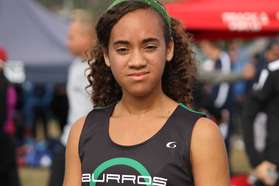 Maryah @ Finals
Sunday, November 24
Marcano Runs Strong, Just Misses Qualifying for State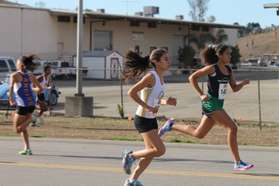 Maryah Racing
HAPPY THANKSGIVING!
Marcano Runs Strong, Just Misses Qualifying for State
Maryah Marcano despite a strong effort placed 22nd out of 114 runners and missed qualifying for the state meet. Her time of 18:39 was just 5 seconds and 6 places away from the last qualifier. The race was very competitive and close. She was able to close the gap on the leaders as she moved from 35th to the 22nd in the second half of the race, but it was not quite enough. This ends a great season for her and the whole team. She is only a junior and will look forward to her senior year as one of the favorites in the southern section and the state returning for her senior year. We congratulate her on and all on a very great and successful 2013 Cross Country Season.
See Attached Handout for Results :)
Handout:
CIF Finals SS Girls D3 Results - Individual
Sunday, November 24
Weekly Newsletter 11-25-2013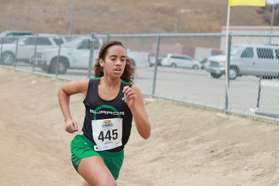 Marayah on her Way to CIF Finals
Sunday, November 17
Marcano Makes Burroughs History! Boys Run Strong at CIF Prelims
Burroughs Cross Country/Track Weekly Newsletter
Week of November 18, 2013
Marcano Makes Burroughs History!
Maryah Marcano became the first ever Lady Burro to Qualify for the CIF Southern Section Cross Country Finals by placing sixth in her heat in a personal best 18:31. It was a miraculous performance as she was rated as the 9th best individual entering the race. She ran the best race of her life in the toughest of all heats. In doing so, she smashed the old school record of 19:18 (Jenny Dutschi in 2008) and beat her personal best of 19:34 for the course. The rest of the Lady Burros performed well with 3 other personal best times for the Mt. SAC course, but are now finished for the season. Their team time of 110:35 was better than last year and good enough for 334 points and 13th place. Others competing included: 67. Anne Ewbank in 20:57 PB, 72. Julia Ernst in 21:13 PB, 92. Mrain Carey in 22:47, 109. Cindel Barnes in 27:07 PB, 110. Rawiah Osman in 27:24, and 111. Jenna Daugherty in 27:59. The rest of the team had a great year while managing to keep together a TEAM and finish with seven runners. Highlights are Maryah making CIF Finals and running at the Walt Disney World Classic.
Boys Run Strong at CIF Prelims
The boys' team finished the season at the CIF Southern Section prelims with strong performances, but were not able to qualify, neither a team or individual, to the Finals, despite two personal bests and two best for the course performances. Josh Boston again ran well and a personal best for the course but it was not good enough as he finished in 12th place with a time of 15:44. The team placed 11th and were faster than last year running a team time of 85:00. Others competing included: 39. Christian Schultz in 16:26 PR, 72. Greg Ostrom in 17:19, 80. Nathaniel Aralar in 17:31 PR, 89. Alex Salinas in 18:00, 90. Andrew Estabridis in 18:01 PB, and 103. Alan Bradford in 18:52. The boys are now done for 2013 and had a very successful cross country season with many great accomplishments highlighted by the Desert Sky League Championship and Josh Boston's 2nd place run at the Walt Disney World Classic.
Handout:
Weekly Newsletter 11-18-2013
Sunday, November 17
CIF Prelims Results and Stats
See Website for CIF Results and Handout for Burroughs Stats.
Handout:
2013 CIF Prelims Results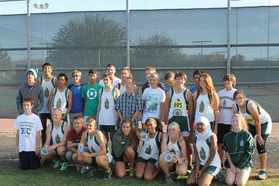 DSL Finals Competitors
Thursday, November 7
Boys Win First League Title, Girls Second...Next Up CIF Prelims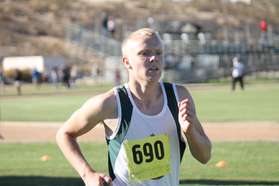 Boston on Way to Defending DSL Champion
Boys Win DSL Championship! Boston Repeats as Champion – 3 All-League
The boys' team won their first ever Cross Country league championship easily by defeating Granite Hills and all other with 37 points to Granite Hills 49. Josh Boston repeated as DSL Champion becoming the first ever repeat Champion in school history. His time of 15:53 equals the #2 time in boys history. More importantly was the team performance of all the runners. All seven Burros placed ahead Granite Hills' fourth runner. Nathaniel Aralar's freshman time of 17:38 is the #2 freshman time ever. Showing that the team also has a future, the JV squad easily won, as well by placing seven runners in the top 10. All-League performers along with Josh Boston were 4th place Christian Schultz in 16:42 and 7th place Greg Ostrom in 17:20.
Girls Place Second, Qualify for CIF! Marcano Second – 3 All-League
The girls' team once again fielded a full team of seven runners for the first time in many weeks. Maryah Marcano once again showed not to be intimidated by placing second in 18:56 setting a new school record. All of the girls ran well in helping the Lady Burros to second as a team and a CIF Prelims berth. Along with Maryah achieving All-League status were 9th Julia Ernst in 21:41 and 10th Anne Ewbank in 22:03.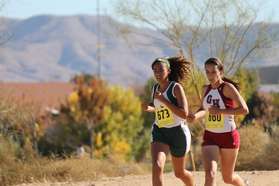 Marcano Battling Deimling at DSL Finals
Handout:
2013 DSL Finals Team Results
Sunday, November 17
2013 Girls XC Season Stats 11-18
See Handout
Handout:
2013 Girls Season Stats 11-18
Sunday, November 17
2013 XC Boys Season Stats 11-18
See Handout
Handout:
2013 XC Boys Season Stats 11-18