Burroughs (Ridgecrest) Cross Country and Track & Field: Welcome
Burroughs High School Cross Country
Burroughs High School Track and Field Distance* Spring 2013 Season* GO BURROS!
Welcome to the Burroughs High School Burros Cross Country and Track and Field Teams website. Browse our news of the season. See our pictures at
Albums
. Sign
Our Guestbook
-- tell us what you think of our site.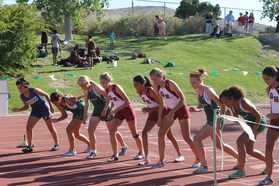 Girls 1600 Start
Saturday, May 4
Boston, Marcano and Wood Qualify for CIF Prelims!
Beverlee and Maryah in the 3200
Josh Boston led the way in qualifying for the CIF Southern Section Division III Track and Field Preliminaries, Saturday, May 11 at Estancia High School. He also was a dual Desert Sky League Champion by winning both races (1st in 1600 in 4:32.33 and 1st in 3200 in 9:52.86, PR). Maryah Marcano qualified in both the 1600 (3rd in 5:29.25, PR) and 3200 (2nd in 11:47.76) meter runs, also. Beverlee Wood qualified in the 800 meter run (3rd in 2:29.75, PR). Beverlee also finished 4th in the 1600 (5:34.84, PR), but did not qualify for CIF. Beverlee Wood and Marissa Morales were members of the 3rd place 4 x 400 relay (4:24.35) team that also qualified for CIF competition.Others competing included Anne Ewbank in the 1600 (8th in 5:58.73) and 3200 (4th in 12:53.16), Marin Carey in the 1600 (9th in 6:17.61) and 3200 (7th in 13:37.71), Marissa Morales in the 800 (7th in 2:37.19), Greg Ostrom in the 1600 (8th in 5:09.31) and 3200 (6th in 11:04.69), John Wilson in the 1600 (9th in 5:17.01) and 3200 (8th in 11:44.54), Alex Salinas in the 3200 (7th in 11:35.90), Tristan Goedert in the 800 (10th in 2:22.74), and Andrew Estabridis in the 800 (11th in 2:22.74).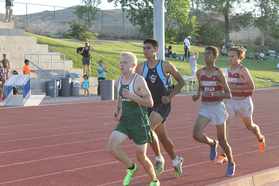 Josh Boston on his way to win the 3200
Handout:
DSL Track Finals Results
Saturday, May 4
Weekly Newsletter 5-5-2013
Burroughs ...

Saturday, May 4

Season Stats 5-5-2013
Handout:
Season Stats 5-5-2013
Sunday, February 10
2013 Track Schedule
Click on Handout
DRAFT
Burroughs High School
500 E. French Ave.
Ridgecrest California 93555
Phone (760) 499-1800
2013 Track and Field Schedule
Date Opponent Level Location Time
Sat 2/23 Desert Christian/AVC Invite JV/Var Antelope Valley College 8:30 am
Thu 2/28 Team Picture ALL CCCC 1:00 pm
Thu 2/28 Palmdale HS JV/Var CCCC 3:30 pm
Thu 3/07 Burros Invite (5Way) JV/Var CCCC 3:30 pm
Wed 3/13 Oak Hills HS** JV/Var Oak Hills HS 3:00 pm
Sat 3/16 Maurice Green Inv JV/Var Oaks Christian HS 8:30 am
Sat 3/23 Roosevelt Inv Varsity Corona, CA 8:00 am
Thu 3/28 Barstow HS * JV/Var Barstow HS 3:00 pm
Thu 4/04 Granite Hills HS * JV/Var Granite Hills HS 3:00 pm
Sat 4/06 Arcadia Inv Qualifiers Arcadia HS 9:00 am
Thu 4/11 Silverado HS * JV/Var Silverado HS 3:00 pm
Sat 4/13 Junior Olympics*** Volunteers CCCC 7:30 am
Sat 4/20 Mt SAC Inv Qualifiers Walnut, CA 8:00 am
Sat 4/20 Orange County MOC FS/Var Orange, CA 8:00 am
Thu 4/25 Green vs White++ JV/Var CCCC 3:30 pm
Wed 5/01 DSL Finals Qualifiers Silverado HS 2:00 pm
Sat 5/11 CIF Prelims Qualifiers Estancia HS 10:00am
Sat 5/18 CIF Finals Qualifiers TBA TBA
Wed 5/22 Awards Banquet ALL BHS 6:00pm
Fri 5/24 CIF Masters Meet Qualifiers Cerritos TBA
Fri 5/31 CIF State Meet Prelims Qualifiers Clovis TBA
Sat 6/01 CIF State Meet Finals Qualifiers Clovis TBA
* Desert Sky League Conference Meet
** Cross League Dual Meet
++ Intrasquad Dual Meet to make up for VVHS Dual
***Desert Area Junior Olympics for Elementary and Middle Schools
Handout:
Track Schedule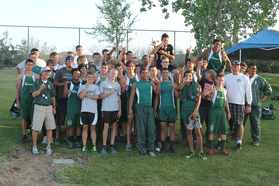 2013 DSLBoys Champions
Sunday, April 21
Boys Win DSL Title for First Time
Boys 1st Ever DSL Track Champions, Girls Lose
(Distance Runners Excel)
The boys' team was victorious 78-58 to capture the DSL Championship and go undefeated, while the girls lost 50.5-80.5 against Silverado at Cerro Coso Thursday. Josh Boston again led the distance team with two wins in personal best times in the 1600 (4:31.69) and 3200 (9:58.84) meter runs. Greg Ostrom captured a key 3rd place in the 1600 and added a 4th in the 3200. In another key matchup the Tristan Goedert finished 2nd in the 800 and Andrew Estabridis added a 3rd. This helped to clinch the win. The girls D-crew swept all three distance races led by Maryah Marcano, 1st in the 3200, second in the 1600, and 3rd in the 800. Beverlee Wood placed 1st in the 1600, 2nd in the 800 and was part of the winning 1600 meter relay along with Arinee Ellison, Marissa Morales and Joelle Steichen. Anne Ewbank was 2nd in the 3200 and 3rd in the 1600. Marin Carey was 3rd in the 3200 and 4th in the 1600. Lastly, Marissa Morales was 1st in the 800. All 800 meter runners had personal bests.
Go to the following sites for full results: http://www.athletic.net/TrackAndField/MeetResults.aspx?Meet=180606#1583