Burke Jammers: Welcome
Congraulations to all the young ladies that have made the 2015 Lady Jammers. Rosters will be loaded to each individual page in the next few days.
Mission Statement
To provide an opportunity for the team players and families to engage in activities that will promote fellowship, team spirit and cooperation in a competitive environment. Team players will learn about and be involved in an atmosphere of committment and hard work. Part of learning about committment will be from example of their parents or care givers as the teamwork and commitment will extent well beyond the basketball court.
The Burke Jammers provide opportunities for youth across Burke and surrounding counties to play basketball, regardless of the school that a player attends. We are the oldest and most established girls travel basketball organization in Burke and surrounding counties and have produced numerous Regional and State Championship teams that gone on to compete at a National Level. In the past we have also fielded several boys teams. We are looking forward to having 1-2 boys teams for our 2014 season.
Burke Jammers 6th Grade Garrison Wins NC AAU Division 1 State Championships
A BIG congratulations to our Burke Jammers 6th Grade Garrison Team! The team participated in the NC AAU State Championships in Greensboro, NC 5/2/14-5/4/14 and came home NC State Champions! We're so proud of the team's hard work and dedication! Way to go ladies!!
2014 Burke Jammers Spring Invitational
We want to thank all of the teams that participated in this year's Spring Invitational. We were happy to see familiar faces from last year and many new teams this year. We had an incredible turnout. Special thanks to all of the Burke Jammers players, parents and coaching staff for all of your hard work! We couldn't have done it without you.

Be on the lookout for details regarding our 2014 Fall tournament. There is discussion underway for a September date (exact weekend still TBD but will be posted as soon as possible)!
2013 Spring Season Highlights
Burke Jammers 7th Grade Setzer/Moore - USBA 7th Grade NC State Champions

Burke Jammers 6th Grade Hise/Arney - AAU 6th Grade Division II NC State Champions

Burke Jammers 5th Grade Garrison - AAU 5th Grade Division I NC State 2nd Place, AAU Division I Nationals 10th Place
Check us out on Facebook: http://www.facebook.com/pages/Burke-Jammers-official-organization-page/164503140319168
---
"Talent wins games, but teamwork and intelligence wins championships."
Michael Jordan
Burke Jammers Email: burkejammersbball@yahoo.com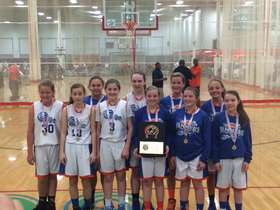 2014 Burke Jammers NC AAU State Champions
Jam On it