Bull Run Little League - Haymarket, Gainesville, Bristow, VA: Welcome
Thursday, March 6
Statement Regarding Recent Events
Bull Run Little League has been made aware of a website that discusses the past and the future of the Cal Ripken/Babe Ruth baseball league in our area. We are also aware of the mentions of Bull Run Little League on that website.
To be clear, Bull Run Little League is not part of any lawsuit. We are unaware of any of our directors or members that are involved in any lawsuit. The marketing of our league has consisted of a grass roots effort including advertisements, signs, word-of-mouth and emails to former Little League members in our area. Our goal is to become the best baseball league a community could want, not the largest.
Bull Run Little League was founded by a group of parents who wanted to see Little League Baseball back in our area since it's departure after the spring 2011 season. Little League Baseball is the world's largest youth sports organization and has a structure that is fair to all members. This year, Little League celebrates its 75th Anniversary.
Bull Run Little League will not comment on any of the negative Facebook posts that others, including current/former board members of other leagues, their legal counsel, their spouses, or anyone else, have posted. We feel these types of posts have no place in a civilized discussion and certainly should not be put on the Facebook page of a youth baseball league. Any such posts on our Facebook page will be deleted and the user blocked. We would expect other leagues and groups to do the same.
We are also aware of the email that was sent by another league in our community in December 2013 that "warned" their membership not to be "enticed" to sign up for the new league in town. Although we found this email to be unprecedented (we are unaware of any such similar action by other "competing" leagues in localities such at Nokesville and Manassas where "rival" leagues exist) we would never encourage a family to not sign up for another league. We will only stand on our merits and put forth our product of a great, caring, responsible, communicative Little League organization.
We encourage all members of our community to be active in youth sports. Certainly, we hope to have young baseball players in the Bull Run Little League but we would encourage any young person to participate in any sport, not just our sport or our league.
Bull Run Little League picks up the 40-50 year tradition where the Gainesville District Little League left off. We are proud to carry the baton and offer another baseball option to our community like those that exist in other local communities like Nokesville and Manassas.
Bull Run Little League will work with all local leagues and groups, whether baseball related or not, in a constructive and professional way. We believe strongly there is room for multiple leagues and travel organizations in our community. Most importantly, we believe in Little League Baseball and are proud to offer it to our community.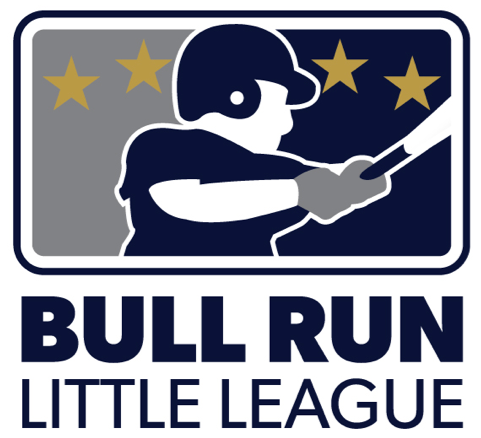 Click Here to Register Your Child for Bull Run Little League
Registration is now open for the 2014 Bull Run Little League Spring Season
There are two ways to register for Bull Run Little League (BRLL)
1) Register online using a credit or debit card by clicking the button below
2) Register at our Registration Drive at Chick-fil-A in Gainesville December 16-20, 2013 (credit/debit cards & checks accepted)
Hours: Monday - Friday: 5:30 pm - 8:00 pm

If you register by January 31, 2014 then you will be entered into a drawing to win Chick-fil-A for a year! That is 52 meal coupons for you to use all year long.
Click on the "Play for Free Program" link in the menu to the left. There you can learn how everyone in our league can play for free. Our goal is to make this a great league and a great experience and figured it would be a great start if everyone in our league could PLAY FOR FREE! Again, see the link on the left side of this page for details.

The BRLL is for baseball players ages 4-12. Anyone born between May 1, 2001 and April 30, 2010 is eligible to participate in the BRLL.

Who is eligible? See our League Boundaries link on menu to left. If you LIVE or GO TO SCHOOL within the boundaries of this map then you are eligible to play in the BRLL.
There are flyers going home through the elementary schools in our league. Attached to the bottom of that flyer is a coupon for a free Chick-fil-A Kids Meal (no purchase necessary) courtesy of Chick-fil-A and Bull Run Little League. Just another small way, we're trying to help out families in western Prince William County.

___________________________________________________________________________________________
Gainesville, VA - We are proud to annouce the formation of the Bull Run Little League (BRLL) to serve the communities of Haymarket and Gainesville by providing the option to play Little League Baseball, the world's largest youth sports organization. We will serve baseball players ages 4-12.
Little League Baseball provides a path to Williamsport, PA, Home of the Little League World Series, for all players in the league. The focus of the BRLL will be to provide parents, players and other members of the league with a great experience through baseball. We are a community based organization formed by local parents interested in providing a quality, balanced and fun experience for all involved. The BRLL is a 501(3)c organization filed under Little League International's tax exempt status.
Registration will begin soon here on
BullRunLittleLeague.com
. We will also be holding a registration drive in the Gainesville/Haymarket area soon. Please be patient with us as we get our website up and running over the next month.
Wondering if you live in our boundaries? Take a look at our League Boundary Map (on the left side of the page) to see if you live within our boundaries. Primarily we serve Haymarket and Gainesville but we also include parts of other communities. You see a map as well as a written description of our boundaries.
Lamade Stadium in Williamsport, PA - Home of the Little League World Series
Tuesday, December 10
Bull Run Little League