Admin

Buffalo Babes

Joe Hartman

2224 El Canto Circle

Rancho Cordova, California

95670
THE BIG DATES FOR 2013
| | | | | |
| --- | --- | --- | --- | --- |
| | | | | |
| US XC CHAMPS | SIMPLOT GAMES | TAHOE CAMP | FOOT LOCKER WEST | JR. OLYMPICS |
| ST LOUIS, MO | BOISE, ID | TAHOE AREA | LOS ANGELES | SAN ANTONIO |
| Feb. 2, 2013 | Feb 14-16 | July 2013 | Dec. 7 | Dec. 14 |
---
---

The Youth Chips are looking good, too! Check out their site.





2007 News




+ FORMER BUFFALO BABES SHOWING UP ON COLLEGE WEBSITES...
Nicole Bowler (Del Oro/USF) - Lauren Lewis (Yuba City/Utah) - Ashley Silva (Oak Ridge/UNLV)
Mel Lawrence (Reno/Washington) - Alex Kosinski (Oak Ridge/Oregon) - Maritza Garcia (Riverbank/UN-Reno)
Katie Fritzke (Mt. Shasta/Westmont Coll) - Kelsey Croall (Lincoln-L/Lewis and Clark)
+ HARD TRAINING WEEKS... BUT RESULTS LOOK FRESH! 9/21-9/22
Easy as 1-2-3 for PONDEROSA Trio at YUBA-SUTTER
DANZEL wins TROJAN INVITE... NICOLE, COURTNEY close behind... SF wins Pix
KELLY takes FROGTOWN SM SCHOOL with day's 2nd fastest time... CB 2nd team Pix
NATALIE 4th at NORTHWEST CLASSIC (OR)... CYNTHIA helps Mt. Shasta to Team 3rd
+ SJS TEAM RANKINGS: Girls 9/18 - Boys 9/19
+ BUILDING MOMENTUM FOR STANFORD! 9/14-9/15
KELSEY roars to 5th place at WOODBRIDGE, KATE not far behind; movie on dyestat cover
5 of Top 6 are Babes at YOLO COUNTY... led by LAURYNNE, MARIA, and NICOLE
COURTNEY one of only 2 girls under 20:00 at NEVADA UNION!!
... also BRIANNA and MERIE shine in NU varsity small school race
NINA takes 3rd in Santa Rosa at the VIKING OPENER
CRYSTAL deals with the NCS top dogs at NIKE INVITE, LINDSEY debuts!
NATALIE third at MT. SHASTA INVITE with 20s PR, CYNTHIA 5th, Media Story
+ Mt. Shasta girls defend home turf (in Mt. Shasta newspaper)
+ Albert Caruana's NorCal Rankings are out 9/16
TEAMS: Davis #2, Pondo #3, St Francis #6, Placer #7, Del Oro #10
INDIVIDUALS: Laurynne #1, Deb #8
+ First Round of League Meets - 9/12
CAL: 1. Hillary, 5. Kelly
DVL: 1. Laurynne, 2 Maddie
SVC: 1. Deborah, 3. Samantha (UM), 4. Sammi (Pondo), 5. Kelly (Pondo), 6. Kelly Mc (CB)
SFL: 2. Courtney, 3. Brianna, 4. Kristine, 9. Merie
MEL dual: 1. Danzel
NEVADA: 1. Kelsey
+ Mini-interview with Laurynne Chetelat
+ Another Babe gets the Statewide Spotlight!... This time it's Natalie Sojka!
Read her interview with Doug Speck.
+ CRUSHING THE COMPETITION IN WEEK TWO. 9/7-9/8
MARIA cruises in ROCKLIN. Jordan makes Top 5 again. Lauren is Top 10.
LAURYNNE debuts in style as #1 at LAGOON VALLEY. 7 Buffalo Babes in Top 10!!
What Else? CRYSTAL wins again in Modesto at the SIERRA INVITE
NINA wins the SOUTH FORKS INVITE up north and establishes new CR
NATALIE and NICOLE take top Babes honors at ED SIAS
+ Girls SJS Runner of the Week is Danzel Bradshaw 9/6
+ Joe's Collosal SJS Girls Preseason Preview!
+ Doug Speck's SJS Boys Preseason Preview!
+ UP AND RUNNING: Buffalo Babes Win 4 Races over the weekend!! 8/31-9/1
KELSEY wins NEVADA TWILIGHT. Kate 2nd! Kelly AWESOME for 4th.
Courtney, Tiffany, Alex all in Top 20. Kelsey's time beat all the NCAA girls!
CRYSTAL stays hot, wins GRANITE BAY... Nicole, Jordan Top 5, Samantha Top 20
NATALIE and CYNTHIA go 1-2 at SISKIYOU INVITE... Natalie was blazing.
MARIA PR's on home course at FOLSOM RELAYS - 19:10!! - MORGAN 2nd
+SJS CBEDs released 8/31 - some divisional changes for '07.
+Statewide Runner of the Week is Crystal Esparza!! 8/27
-Crystal gets it going early!
The Beyer Speedster takes the season opener - DELTA KINGS INVITE - 18:30 for 2.98 miles
-Ponderosa is SJS August Team of the Month
Deb, Kelly, Sammi featured in Ponderosa HS Story on DyestatCal
-Monster summer for Sarah Sumpter
-Rankings CA NTN - CA Div 1 - CA Div 2 - CA Div 3
Pondo is #10 for NTN, Davis is #7 in D1, St Francis is #3 in D2, Pondo is #5 in D2, Placer is #3 in D3, Del Oro is #4 in D3
-Check out this link - Buffallo Babes featured on new PA-USATF youth site.
Might have to click on 'Play Flash Video'
-Nice story on PA-USATF website about Alex Kosinski





2006 News


(9/30) MARIE LAWRENCE STORY AT SPORTS ILLUSTRATED ONLINE.
(9/6) MARIE LAWRENCE INTERVIEW ON DYESTAT.
(9/6) SJS RELEASES NEW CBEDs FOR DIVISIONS
The big news: Fairfield moves to D2, Placer stays in D3... both unexpected.
Great news for Modesto, Folsom... Bad news for All of D2.
(9/2) YASMINE 39TH AT WORLD TRIATHLON - an improvement from 2005. Way to go Yasmine!
(8/29) YASMINE - SWISS MISS! SHE LEADS TEAM USA AT WORLD JUNIOR ELITE TRIATHLON
(8/26) AMY'S BROTHER KYLE #8 ALL-TIME AT MEETING OF THE MARAUDERS
2006 Jesuit team is #2 All-Time. Kyle now ranked ahead of - say it ain't so - Scott Abbott.
(8/23) YASMINE GETS SOME PRESS IN THE EUREKA REPORTER.
(8/17) MARIE LAWRENCE 10TH IN 3K STEEPLE AT WORLD JR TRACK MEET IN BEIJING!!
Erin Bedell 10th in 1500. Amy Fowler 8th in Steeple. Meet is in Osaka in 2007.
(8/5) KAREN FRAZIER IS 50TH AT US SENIOR NATIONALS IN 200m BREAST (2:38), Irvine, CA
She still has plenty of time to make her Olympic Qualifying cut.
(8/13) SHELLY WINS THE DAVIS KIDS TRI FOR THE THIRD YEAR IN A ROW!
Photo - Results - She beat 11 of the 14 boys and was 10 minutes faster than the #2 girl.
(8/5) YASMINE IS THE TOP AMERICAN TRIATHLON GIRL.
Yasmine wins Junior Elite USAT title in CONNECTICUT. Photo 1 - Photo 2
She'll lead TEAM USA again in the ITU World Triathon in SWITZERLAND on Sept. 2nd.
The Brown-bound former Buffalo Babe is currently ranked #1 in the nation for ITU-Style Rankings with 175 points.
JOE'S PRE-SEASON GIRLS SJS XC TEAM RANKINGS
DANZEL and CAPRICE COMPETE AT AAU JO'S in Virginia!
Three Top 10's for CAPRICE and a nice 1500m for DANZEL, who were running for Alex Van Dyke TC
2000 Steeple - 8 Caprice Bradshaw 87 Sacramento, CA 7:55.13
3000 Meter Run - 9 Caprice Bradshaw 87 Sacramento, CA 11:12.41
1500 Meter Run - 10 Caprice Bradshaw 87 Sacramento, CA 5:08.44
1500 Meter Run - 12 Danzel Bradshaw 91 Sacramento, CA 5:03.72
MORGAN, SHELLY, HILLARY perform well at July 27 O.R.H.S. All-Comers
CAPRICE (representing Alex Van Dyke) wins 2000m Steeplechase (7:42) at Track City Invite (OR)
HILLARY wins 3200m at Oak Ridge All-Comers. Results
Hillary also pours it on at Buffalo Chips Free 5-Miler at Glen Hall Park...31:30... 5 secs behind 1st female.
CHELSEA is #8, Maria Malone is #12 on DyeStat's Preseason D1 Girls Rankings
Davis HS is ranked #3, Fairfield HS #10 in team rankings.
MERIE PR's in the 1500 at USATF Meet - 5:26.
YASMINE AND KAREN PERFORM WELL AT TRI-FOR-FUN AT RANCHO SECO (6/10-11)
Yasmine wins Women's Elite in Tri-for-Fun, Karen is #1 15-19 in Tri-for-Real
Tri-for-Fun = .5 mi/16 mi/3 mi; Tri-for-Real = 1.5 km/40 km/10 km (Olympic Distance)
MARIE LAWRENCE - one of the best distance female runners ever.
Story at YouthRunner.com. Marie won NV State 800/1600/3200 titles!
KAREN FRAZIER BECOMES A 4-TIME ALL-AMERICAN AT SJS SWIM FINALS.
100 Breast! (2nd), 200 I.M! (3rd), Two Relays (1st/1st)!!
MERIE SETS NEW 10K PR ON TOUGH ROAD COURSE at the Old Mill Run
10K Run Merie Paddeck 43:56, 3rd female, 1st 15-19 female, new 10K Personal Record
JORDAN STUNS 'EM WITH A 10:07 AT ARCADIA.
THE LIGHTS CAME ON, AND THE "STAR" CAME OUT! ... Fastest Freshman Ever.
JORDAN DOES 4:49/4:44 BACK-TO-BACK - #2 Time in USA - Newslink
WORLD XC: TEAM U.S.A. JUNIOR WOMEN TAKE 8TH IN JAPAN
Order of USA finish: Plank, Bedell (team captain), Tarver, Blood, Lawrence, McKeever Results
KAREN FRAZIER MAKES 200m BREASTSTROKE 'B' FINALS AT USS SWIMMING SPRING NAT'LS
Top 16 from Omega Timing. Her times were 2:38 prelims and 2:40 finals. Congrats Karen
CHECK OUT KAYLIN PENNINGTON'S BIO on the Stanford track website!
She has a 2:09.57 indoor 800 this year and has been on the same relay team as L Allen & A Follmar.
QUACK. QUACK. ERIN LEWIS WILL RUN FOR VIN LANANA!
So now Oregon has Nicole Blood, Zoe Nelson, Keara Sammons, Bria Wetsch, Erin Lewis... Wow!
AMANDA MORENO CHOOSES UNR Go Wolfpack! DyeStatCal Interview
JAKE MATTHEWS COMMITS TO U.C.L.A. DyeStat Link Good Luck Jake!!
TEAM U.S.A. WINS "AMERICAS" XC CHAMPS in Florida. Dyestat link Tarver is 3rd!



2005 News


TEAM PICNIC
Sat. Sept 3
CSUS Aquatic Center - Lake Natomas/Nimbus Flat, Rancho Cordova
Great Time! Thanks to...
1. Buffalo Chips Running Club for renting the beach and the hydrobikes
2. Raleys in Lincoln, CA for food donation (Mairin's dad)
3. Dietler-Bennion and Ruzicka-Smith families for kayaks
4. 11 Buffalo Babes and parents for coming out for a fun day!

10 BUFFALO BABES RECEIVE MENTION IN...
"DYESTAT'S PRESEASON STATE INDIVIDUAL RANKINGS"
D5 Rankings - Katie #2, Natalie #3 !
D4 Rankings - Yasmine #1, Amanda #2, Maritza #5 !
D3 Rankings (Ariel Wright of Bishop O'Dowd is #1)
D2 Rankings - Alex #3! Top 20 Alex C (Kauren Tarver of Serrano is #1)
D1 Rankings - Top 20: Chelsea, Erin, Caprice. (Lauren Saylor of Buchanan is #1)

YASMINE HEADED TO WORLD TRIATHLON CHAMPIONSHIPS IN JAPAN
Sept 8th-11th. By virtue of her 2nd place finish (3rd overall, 2nd American) in Bellingham WA on Aug. 7th at the USA Triathlon National Championships, Yasmine qualified for the Junior (16-19) World Team in Japan. It's only her first year in that age group. Last year Yasmine was ranked #1 in the Nation and was the National Champion in the Youth (13-15) age group. She is currently ranked 4th in the Junior age group and is closing in on All-American status again. Her splits in Washington..... 11:04 for 750 meter swim - 0:56 transition - 37:33 for 20K Bike - 0:28 transition - 18:49 5K run - for a total of 1:08.47. Wow, an 18:49 5K AFTER all that. More info at USA Triathlon, check out 'Juniors'. (OK Yasmine, what other neat things are you holding out on us?)

KAREN QUALIFIES FOR SENIOR NATIONALS
Dangerous when wet! By virtue of her 2:36.41 (a significant PR) at Sectionals in the 200 meter breaststroke, Karen qualified for the Senior Nationals in Irvine, CA Aug 3-7. If Karen can get a 2:35.99 in Irvine, she qualifies for the Olympic Trials. Not the Junior Olympics, the Olympics. Karen was an All-American swimmer her sophomore year, but was slowed this past spring by a broken arm. Even though she had her cast removed just two days before section trials, Karen was 2nd in the SJS in the 100m breast, only .50 seconds behind legend Heather West of Davis HS (the CIF statewide Scholar/Athlete of the year). Obviously, Karen has returned quickly to top form. Karen was 9th of all Buffalo Babes at the 2004 JO's and is the fastest area XC runner of HS age that no one knows about. Update: Karen had a 2:39+ at Sr. Nationals but has plenty of time and opportunity to get her Oly. trials time in the next couple years.

CAPRICE IS AAU NATIONAL CHAMPION - KAYLIN ALSO ON TOP!
KAYLIN is a dual winner at Track City Invitational (Eugene, OR)
1500 meters Young Women - 1st place - 4:54.76
3000 meters Young Women - 1st place - 10:43.45
CAPRICE shows her stuff at the AAU Junior Olympics 7/30-8/6 in New Orleans with nearly identical times.
CAPRICE WINS THE 3000 METERS RACE (10:37) !! and is 3rd in YW 1500m, 4:53.48


Caprice takes the Young Women's 3000m race.

5 BUFFALO BABES END 2005 NATIONALLY RANKED AT 1600m
Of the Top 50 national runners in DyeStat's "Elite Rankings" of July 8, a whopping FIVE have run for the Chips. Additionally, these five are among the Top 11 in the Golden State. Congratulations Alex, Chelsea, Danielle, Brecken, and Erin. Here is the list...
1 G-1600 4:35.25 c e Bowman, Sarah, Warrenton VA
2 G-1600 4:38.01 c e Felnagle, Brie, Tacoma WA
13 G-1600 4:49.26 Kosinski, Alex, CA
32 G-1600 4:54.61 Reilly, Chelsea, CA << missing from DyeStat rankings
37 G-1600 4:55.73 Domenichelli, Danielle, CA
45 G-1600 4:57.08 Drager, Brecken, CA
50 G-1600 4:57.24 p Lewis, Erin, CA
BUFFALO BABES ALSO AMONG USA LEADERS AT 3200m AND 800m
3200 meters
1 G-3200 10:11.93 c e Yetzer, Elizabeth, Lakeville MN
24 G-3200 10:35.68 Kosinski, Alex, CA
25 G-3200 10:35.89 Moreno, Amanda, CA
75 G-3200 10:54.17 Bradshaw, Caprice, CA
800 meters
1 G-800 2:03.73 Noble, Becca, 2005, Spokane WA
44 G-800 2:11.80 Kosinski, Alex CA << DyeStat doesn't have her best time
120 G-800 2:14.55 p Pennington, Kaylin, CA

MICHAEL STEMBER ON THE COMEBACK TRAIL Here's the Bee Story


| | |
| --- | --- |
| KAREN FRAZIER'S ASTOUNDING PERFORMANCE AT ALCATRAZ Buffalo Babe Karen Frazier posted a time of 1:25.41 in the 25th annual Alcatraz Challenge Aquathon on Sun June 26. Get this: She was the 2nd youngest one in the race. Out of 215 entries she was 1st in her age group, the 3rd woman, and 10th overall. Karen beat 139 of the 146 guys. The race was a chilly 1.5 mile wetsuit swim from Alcatraz to Crissy Field (36 minutes) and a 7-mile run across the Golden Gate bridge and back (46.30 mins, 6:40 pace) with some transition time. Results here. Girl, you are unstoppable. NOTE: Props to Karen's mom and brother too. This is from a recent Buffalo Chips Update: "Linda Frazier and Nathan (age 14) journeyed north (Bellvue, WA) to allow Nathan his DEBUT at the marathon distance. Unfortunately the course turned out to be harder than anticipated with many more HILLS in the second half than anyone expected and most runners, including our Frazier duo turning in positive splits. Nathan was about 24th overall and second in the 19 and under division in a SUPER 3:10 and Mom Linda produced a great 4:05 for 4th in her division. Reportedly Nathan was recruited by a Western Washington State University coach who saw him finish...still looking good.Congratulations to both and a wonderful DEBUT for Nathan!" (careful with those NCAA rules, coach) | |

MERIE PR'S TWICE AT P.A. J.O. QUALIFIER
Merie ran 11:41 for 3000m and 5:35 for 1500m to get new personal bests at each distance. She was racing at Granada HS in Livermore CA and advanced to the Region 14 JO Qualifier on July 9/10. Her 3000m race was an especially good time, a strong run from end to end, and she even caused her dad to get all choked up. George, there's more where that came from!

BUFFALO BABES FEATURED IN NATIONAL MAGAZINE
YOUTH RUNNER MAGAZINE devotes 5 pages to the Buffalo Babes in their Spring 2005 Issue, with the focus on the Vancouver trip. If you didn't get a copy or need more for friends and family, see Joe.

SACRAMENTO BEE ALL CITY
The List includes SIX Buffalo Babes...
TRACK FIRST TEAM - Danielle Domenichelli, Alex Kosinski
TRACK SECOND TEAM - Brecken Drager, Caprice Bradshaw, Chelsea Reilly
SWIMMING FIRST TEAM - Karen Frazier
Congratulations to all !!
MODESTO BEE ALL-CITY - Runner of the Year - Amanda!

2005 TRACK PHOTO ALBUMS
State Meet June 3/4, Hughes Stadium
Master's Meet - May 27, Hughes Stadium
Section Finals - May 20, UC Davis and ARC
Meet of Champions May 1, Hughes Stadium
USA XC CHAMPS - Album 1 - Album 2 - Album 3 - Feb 12/13, Vancouver WA
Just found this page: Photos of our 6K race in Vancouver at fast-women.com
---




2005/2004 News Links


2005
DYESTAT STORIES
Alex Kosinski and Jake Matthews are DyeStatCal's Athletes of the Week!
Yasmine represents the Red, White, & Blue! in Triathlon
Doug Speck's DyeStat interview with Yasmine
DyeStat wrap-up of Yasmine's Trip to the Orient

2004
NCAA College Listing and Websites - Year-End Wrap-Up of Former Buffalo Babes and Notables
DyeStat Buffalo Babes Coverage - Sac BEE's pre-race coverage
Buffalo Babes repeat on Sac BEE's list of amazing area feats for 2004 12/31/04
BUFFALO BABES story in Keith Conning's Column at caltrack.com.
Sacramento Bee All-Metro XC Teams - 8 Buffalo Babes on this list!
SAT and ACT test date info (it's at the bottom of the 'alumni' page)
Cherise is Modesto Bee's Runner of the Year - Erin Lewis is Modesto Bee All-District - So is Amanda Moreno
Great inspirational XC story by Rick Reilly of Sports Illustrated.






2005 News


MAIRIN is awarded SFHS Booster Club & Science Club Scholarships.
KAYLIN is the Benicia HS Class of '05 Valedictorian
BRECKEN is named Del Oro High School Athlete of the Year.
MAIRIN and KATIE V are named CIF-SJS Lacky Scholarship recipients.
HEATHER WEST of Davis HS named California Scholar Athlete of the Year by CIF. She swam and ran at DHS and led the DHS water polo team to four straight section titles. Go to link and scroll down to bring up a PDF copy of her file and essay.
MORE AWARDS?? Send 'em in.
---

photos by Peter Reilly
Sunday, May 15
VOLUNTEERS
THANKS to Chelsea, Mairin, Allison & Kim
for helping out at the 2005 PAL Jr Varsity Championships. And thanks also to Kathleen Steinkamp, and Jenny and Greta from Davis who were valuable volunteers, too. And how about Chika Eke and Robby Hartman of St. John Vianney each earning Hi Points and taking SJV's 4-person team to 3rd place! Chika won the 100, 220 hurdles, Long Jump and got 2nd in the 220. Robby finished in a dead heat tie for the mile, and got 2nd in the 880, 70 hurdles, and high jump. Woo-Hoo! The Buffalo Babes volunteered at the meet, passed out medals, and signed autographs (even shoes) after the meet

Tuesday, October 5
KAYLIN PENNINGTON
KAYLIN PENNINGTON has saved her best for last. The senior at Benicia is running this year like no other and has had some stunning results to show for her summer of hard work. Kaylin has run XC in the past, but never with the success of 2004.

Kaylin was 2nd at the Cowchip Classic Varsity race with the 4th fastest time of the day (19:07), including the Golden Cowchip race. Only Jenny Bergren, Ashley Stratman, and Kaitlin Gregg were faster. One week later, she finished Top Ten in the Stanford Div 1 unseeded race, just losing a stretch battle to Babe Caitlin Clark. Her time of 19:38 was the 6th fastest of all the Sac-Joaquin Section girls at Stanford, which is remarkable considering how many fine teams were there. Just last week, Kaylin won the Solano County Center Meet by almost 2 1/2 minutes. Come league championship time, Kaylin will have a good battle for the league title with Caprice Bradshaw of Fairfield. She must also be considered a contender for the Division 2 section title.

Kaylin is also very active at school. She is secretary of the Key Club at Benicia HS, tutors math four days a week, and is also involved with church choir. She was accepted into the Stanford "High School Summer College" program and spent eight weeks on campus in Palo Alto. Kaylin attributes some of her athletic improvement to the availability of excellent training facilities while rooming at Stanford.

Kaylin is the 2nd Buffalo Babe from Benicia HS following the 2002 invitation of Tina Firouz, who is now a sophomore at UC San Diego. Kaylin's acceptance completes what has become yet another outstanding Young Women's Buffalo Babe side.



KAREN FRAZIER


KAREN FRAZIER will be joining the Buffalo Babes in December. The Frazier family has been associated with the Youth Buffalo Chips for a very long time. Karen's parent, Tim and Linda, are very helpful at youth events. Sister Susan runs frequently wearing the Chips singlet. His hard work notwithstanding, Jesuit's freshman sensation Nathan Frazier owes some credit for his ascension to the help and encouragement he received from his past Chips coaches, like Coach Jim and Coach Ken. And last but not least, Karen's older sister Barbara swims collegiately at Calvin College in Michigan.

But back to Karen... If there is a better runner in the Sac-Joaquin Section who does not do HS track or cross country, I would like to know who she is. My vote goes to Karen. Karen is one of the area's top year-round swimmers, who is quite adept on solid ground, as well. Karen swims for Jeff Pearson on the Sierra Marlins USS team, one of California's top programs. She took 2nd place at the Sac-Joaquin section swimming finals last May in the 100yd Breaststroke, and became an All-American (Top 100 highschoolers nationwide) in that event.

Karen often swims 8-10,000 yards in one day. Prior to last year's JO's, Karen would get up at 4:30 for AM swim, take a heavy load at St. Francis, go to most of the PM swim, and then for a nightcap, do the Buffalo Babes workouts at Mather Field, a regimen which the mere thought of leaves most people breathless - or worse. She was on the Nat'l Champion Buffalo Babes IG team in 2003, looking strong and finishing in 80th place.

At the Feb. 2004 Davis Stampede, Karen won her age group with a 19:40 5k PR. She's been working even harder lately, and judging by her recent 21:22 on the Willow Hill Resv. course at a recent USATF meet, she's looking 'mahvelous'. That time (on the slightly modified course) would have been good for 5th PLACE !!! at the Granite Bay Invitational. Karen's goal is to be an All-American in swimming and cross country in the same year. Don't bet against it.

Saturday, September 25


ALEX KOSINSKI


The addition of Alex Kosinski to the Buffalo Babes makes the already solid Intermediate Girls age group one of the best compilations of female high school runners ever in Northern California, maybe in the whole state. Even though she is just beginning her sophomore year, Alex has become one of the most feared runners in the section. Her 4th place finishes at Section finals in Division 2 cross country and 1600 meters in track were just a small tidbit of what this athlete will deliver before her four years are up.

People who were still used to seeing Natalie White in an Oak Ridge uniform were completely caught off guard in late October 2003 when Alex began to get noticed. While Cherise McNair used the Placer Invite as her breakthrough race on her way to the Div 3 Section title, it was also Alex Kosinksi that equally headlined that day, edging Hillgals Andrea Gruber and Amanda Gillming for 2nd place at Placer's own race. She had been a complete unknown quantity, but that all ended on Oct. 24. Within the next 3 weeks, Alex defeated veterans Erin Wachter and Amanda Burkhardt for the Sierra Valley Conf. league title, and had claimed 4th place at Sections which earned her a trip to the State Meet, and a selection to the Sac Bee 2nd team All-City list.

Alex continued her great running into the spring at distances from 400m all the way to 1600m. She earned a berth at the Sacramento Meet of Champions and, in one of the great races all spring, the freshman dueled NorCal all-stars Kim Conley and Lindsey Kirschman to the wire and had a 4:56 1600m PR to show for it, finishing 3rd. She went on to post outstanding subsequent times in the 800 and 1600, and just missed a trip to the CIF state track meet at Hughes, taking the dreaded 4th spot in the 1600m at section finals.

Her accomplishments were not lost on the selection committee at the USATF Junior Elite Camp at the Olympic Training Center in Chula Vista, CA. Alex received an invitation to learn and train with a couple dozen of the finest female HS distance runners in the nation, all expenses paid. Her running future is as bright as anyone's in the Sac-Joaquin area. Alex has accomplished all this while still playing competitive soccer for the El Dorado soccer club.

To simply say that we are 'excited' to have Alex on the Buffalo Babes would be a misuse of the English language. Great luck the rest of the year Alex, and we're glad to have you.

Saturday, September 25


BRECKEN DRAGER


Brecken Drager of Del Oro High School has earned a spot on the 2004 Buffalo Babes.

While the Eagles of Del Oro have always had a top-notch distance program, optimism may be near an all-time high on the Loomis campus, partly because Brecken and her teammates have improved to the point where Del Oro can probably, at worst, make plans for state and, at best, find place for another section XC banner.

Last year Brecken, the #2 Del Oro runner, was 16th in D3 at section finals. Her time was 21:16 on the very difficult and wet Sierra College course. She then ran 20:33 at state. With Bethany Gardner's graduation, it was time for Brecken to step up to the role of senior leader. From the day of her very first invitational in 2004 (Rocklin), it was obvious that this was a Brecken Drager we had not yet seen. She took 6th in that race, was 3rd in the small school race at Nevada Union (the #1 girl from this section), and took 4th in her SFL league meet. Most recently Brecken was Top 20 at Stanford with a very fine 19:26 time, which is a huge accomplishment given the quality of that field. She is currently ranked among the Top 5 individuals the whole section.

Brecken's races are characterized by a patient start and three even-paced miles. When the finish line is in sight, Brecken can call upon the footspeed that led her to a spot in the 2004 track section finals with a 2:20 time.

Good luck to you this fall, Brecken, and we are very, very happy you will accompany us to Illinois.

Friday, September 17


FRANCESCA STONUM


The Young Women's team gets a huge boost. Senior Francesca Stonum of Lodi HS is the newest Buffalo Babe! Fran has three Top 10 finishes already this year: 3rd at Lodi, 9th at Granite Bay, and an awesome 2nd against a quality field at Lagoon Valley, hanging on with Caprice Bradshaw until the bitter end. A veteran of the cross country battles over her high school years, Fran has clearly taken her game to a new level and will shooting for a high Div 1 finish in 2004.

During track, Fran began to show many signs that she was serious about improvement. She sported 5:27 mile times at both subs and section trials and ran a 11:37 3200m for 4th place at the Modesto subsections. In 2003, she was 13th at Frogtown subsection with a 19:49 but neither she nor her team were able to make State. Count Fran among the very hungry runners that will be all-business on Nov 13 at Willow Hill.

Francesca is coached by Jeff Tillett at Lodi.
Check out this article on 'Flying Franny' Stonum in the Lodi News!

Saturday, September 4


CAITLIN CLARK


One of the brightest young stars in the Sac-Joaquin Section has joined the Buffalo Babes. Caitlin Clark of Granite Bay, who ran with the youth Buffalo Chips in her junior high days, is the latest in this amazing crop of Intermediate Girls that will don the yellow and black in Chicago.

Caitlin is a sophomore at Granite Bay High School and will help continue the Grizzly tradition of excellent girls' distance running. (Granite Bay has won four straight Division 2 cross country section titles.) Not that Caitlin is willing to attempt to make people forget about the other 'Caitlin', but she has already drawn comparisons beyond the similar name. As just a freshman last spring, the Jim Hunt trained runner accomplished something her namesake wasn't ever able to do: qualify for the state meet in track and field. Her Hughes Stadium time of 2:15.26 on May 28th for 800 meters was good enough for 2nd in the entire section and Caitlin nearly made the finals at the CIF meet, ending up 12th overall. Caitlin also had a 5:07 mile PR.

On the dirt, Caitlin had a great 2003 XC season for G-Bay, helping the team to 4th in the state. She was 11th in the wicked-tough Sierra Foothill league and was a fine 14th in the Div. 2 Section meet. She raced great at state: 19:47, the #7 Sac-Joaquin girl (75th overall). Judging by Caitlin's 4th place finish (#1 Grizzly) at the Granite Bay invite, and her successful summer training program, we haven't seen anything yet from Caitlin. Proud to have ya on board, Caitlin!

Friday, August 13


AMANDA MORENO


As in the Simone Denny song "All Things Just Keep Getting Better", things got really better for the Buffalo Babes this week when Division 4 State Champion Amanda Moreno declared her intention to run in Chicago for the Babes.

Amanda claimed the SJS Divison 4 Section Title in November at Sierra College with the 5th fastest time of the day (19:48) section-wide! Only Chock, Bryan, LaBeaud, and McNair were faster. Two weeks later she outlasted Marlene Elizalde by 3 seconds to win our section's 3rd girls' individual CIF State championship of the day! (Bryan-D1, Chock-D2, Moreno-D4). Amanda continued her fine running into the spring dropping way below 11 minutes in the 3200m (10:42 at Subs) and earning a coveted spot at the state track meet. Amanda had hoped for a better run at Hughes stadium but 10:59 is still pretty good and Amanda settled for 14th. She was back at Jim Hunt's camp this summer, and is ready to repeat her state title. Oh yeah, Amanda was also the Modesto Bee Runner of the Year last fall.

Amanda's family includes parents Marlin and Cindy, and brother Vic who holds an amazing athletic distinction. Vic himself was the Div 4 cross country section champion in 1998, but in the 1999-2000 school year, Vic won the individual section title in cross country AND in wrestling. Now there's a unique double. Vic is now an All-American wrestler at Cal Poly. Vic also took 3rd place in the PAC-10 conference.

Modesto Bee article on Amanda - The Runner of the Year

Monday, August 9


KATIE FRITZKE


The 88-89 team received a huge boost this week when Katie Fritzke joined the Buffalo Babes. Katie is a sophomore at Mt. Shasta H.S. (Elevation = 3500'. Katie also does some training at 7000'.)

As a freshman cross country runner, Katie posted some impressive credentials for Mt. Shasta. On a very hot day, she won the frosh/soph division at the Ed Sias Invitational (13:14) ahead of Mo Huber and Kelsey Dallara. Three weeks later, Katie would finish 2nd in the Division 5 race at Stanford Invitational behind only nationally-known Heather Iatauro of New York. In November, Katie became the North Section Champion (all divisions combined). She won the race by 12 seconds finishing in 19:06. Katie was Top 10 at State, finishing 7th in Division 5 with a 19:53 time. For 2004, she has been ranked 1st Team All-State in Division 5 by dyestatcal.com. Katie's brother Austin also runs for Mt. Shasta High. Welcome to the team Katie and good luck this season.

Katie wins North Section Crown - Read about it in PrepBeat.com

Tuesday, August 3


ERIN LEWIS


Great News. Erin Lewis, a junior at Modesto H.S. will be running for the Buffalo Babes in Chicago. Erin is in the IG (88-89) age group.

Erin was a STATE QUALIFIER in the 1600m and one of only 4 girls in the Sac-Joaquin Section to be below 5:00 during the 2004 track season. She clocked a 4:59 at section finals to take 2nd. Erin also had a spectacular cross country season as she finished 4th at subsections and sections in Division 1. Her 19:02 at the subsection meet put her in the Top 10 all-divisions-combined for the Sac-Joaquin Section. It's a great run whenever you are below 19:00 at state and Erin had a career race at Woodward Park with an 18:46 time, making her the #3 Div 1 girl from our section. (23 overall in D1)... and for the topper, at the cross country state meet, the only girls from our area faster than Erin were Chock, Bryan, LeBeaud, Moreno, and Gruber. To say it another way, Erin was the 6th fastest girl in the Sac-Joaquin section...and the 3rd fastest returning runner. We are very pleased to have Erin Lewis as a Buffalo Babe. (Erin is shown wearing #11 running alongside Liza Pascuito at the CIF state meet.)

You can check out this Modesto Bee article on Erin.

Wednesday, July 21


CHELSEA REILLY


Chelsea Reilly of Davis H.S. has accepted an invitation to join the Buffalo Babes. She will be in the Intermediate Girls age group.

Expect some great things out of Chelsea this coming year. Having played metro soccer in the past, Chelsea has decided to focus solely on running and the rapid improvements at the end of last year should only continue. After decent but unspectacular runs at League and Subsections in her 2003 freshman year, it was Chelsea's huge improvement to 10th place at Section Finals that led to DHS 'upset' of Nevada Union in the Div 1 race. Her time at sections was 20:49, a pretty good time at that course in that weather, and the 4th fastest freshman time in all the Sac-Joaquin Section. (Only Kosinski, Gove, and Lackner were faster.) She followed that run up with a solid 19:58 at state. Only 15 freshman were faster in the whole state in D1. We are really glad to have Chelsea aboard.




MERIE PADDECK


Welcome to the team, Merie. Well, actually Merie has been a Buffalo Chip for quite a while... so welcome to the Buffalo 'Babes', Merie. Merie will be qualifying individually as we only have 8 spots on the Team Roster, but she IS a Buffalo Babe, which is something she's had her sights set on for a couple years. She's worked hard and we're really proud of her. Good luck the rest of the HS season, Merie. Merie's mom is Lili and her dad is George, who will be in Chicago coaching his son Nathan and the rest of the youth Buffalo Chips.

7th grade highlights
1st - 12-14 Age Group - Three mile John Frank Memorial Run Redding, 12/02, 21:02
2nd - 12-14 - Spear-It Festival, 5K, 4/19/03, 20:34
1st - Overall female, Grape Stampede (3.35 miles), 5/3/03, 23:03

8th grade highlights
4th - Int. Girls - Track City International Classic - 7/24/04 - 12:04

9th Grade Highlights
5th Frosh/soph girls - Rocklin Thunder Invitational, 9/10/04, 12:50
8th Frosh/soph girls - Nevada Union Invitational (3 mi), 9/18/04, 21:44
3rd Frosh/soph girls - Sierra Foothill Lg Meet #2, 10/13/04



Accomplishments Detailed


2004 BUFFALO BABES ROSTER
(check ROSTER page for detailed bios)

INTERMEDIATE GIRLS (IG) - '88-'89
Amanda Moreno - Junior - Escalon HS (Div 4)
2003 Div 4 XC CALIFORNIA STATE CHAMPION
2003 Div 4 SJS SECTION CHAMPION, Trans-Valley League Champion
2003 Modesto Bee XC RUNNER OF THE YEAR
2003 3rd Team All-NorCal, 1st Team All-State Soph. Team
2004 TRACK - STATE QUALIFIER 3200m, 10:42 PR
Cecily Lemmon - Junior - Vacaville HS (Div 2)
2003 Div 2 Section Runner-Up, 1st Team All-City
2003 and 2002 Monticello League Champion
2003 31st Place at State Div 2, NorCal Honorable Mention
2002 Div 2 Section 3rd Place, 1st Team All-City
2002 NorCal FRESHMAN OF THE YEAR
Cherise McNair - Junior - Sierra HS (Div 2)
2003 Div 3 SJS SECTION CHAMPION
2003 Valley Oaks League Champion
2003 16th Place at State - Division 3
2002 Div 3 Section 3rd Place, NorCal All-Frosh Team
Alex Kosinski - Sophomore - Oak Ridge HS (Div 2)
2003 Sierra Foothill League Champion, 2nd Team All-City
2003 Div 2 Section - 4th place; 2nd place at Placer Invite
2004 Track - 4:56.07 PR 1600m at SMOC (Photo), 4th place at Sections
Received Invitation to USATF Elite Distance Camp, July 2004 (Photo)
Caitlin Clark - Sophomore - Granite Bay HS (Div 2)
2004 TRACK - STATE QUALIFIER 800m, 2:15.26,
2004 2nd Team All-City, Set School Record in 800m
2003 GRANITE BAY HS Section Champions
Erin Lewis - Junior - Modesto HS (Div 1)
2004 TRACK - STATE QUALIFIER 1600m, 4:59
2003 XC 4th place Section Div 1, 18:46 time at State Meet
2003 Central Calif. Conf. (CCC) League Champion
2003 NorCal Honorable Mention
Katie Fritzke - Sophomore - Mt. Shasta HS (Div 5)
2003 NORTH SECTION CHAMPION
2003 Shasta-Cascade League Champion
2003 7th Place at State Div 5, 2nd Place at Stanford Div 5
2003 NorCal All-Frosh Team
Chelsea Reilly - Sophomore - Davis HS (Div 1)
2003 DAVIS HS Section Champions
2003 Top 10 Finish Div 1 Section Finals
Karen Frazier - Junior - St. Francis HS (Div 3)
2003 2nd Fastest 100 yard Breaststroke in SJ Section
ALL-AMERICAN High School Swimmer - 100yd Breast
2003 Won age group at 5K Davis Stampede, 19:40



YOUNG WOMEN (YW) - '86-'87
Kim Crouch - Senior - Placer HS (Div 3)
2003 Div 3 Section 4th Place, 1st Team All-City
2003 Honorable Mention All-NorCal
2003 and 2002 PLACER HS 3rd Place at State
2003 and 2001 PLACER HS Section Champions
2002 Div 3 SJS SECTION CHAMPION, 1st Team All-City
2002 4th Place at State, 2nd Team All-NorCal
2001 NorCal FRESHMAN OF THE YEAR
Erin Wachter - Senior - Cordova HS (Div 2)
2003 5th Place Subsections Div 2, 2nd Team All-City
2002 2nd Team All-City
Six Time USATF All-American
Shannon Lingo - Senior - Nevada Union HS (Div 1)
2003 5th Place at Subsections Div 1, 2nd Team All-City
2003 Metro Lg. Runner-Up, All-League '02-'03
2003 Top 10 at Bear River, Nevada Union, Clovis Inv.
Allison Steinkamp - Senior - Roseville HS (Div 3)
2003 Div 3 Section 7th Place, 2nd Team All-City
2001 Div 3 Section Runner-Up
Francesca Stonum - Senior - Lodi HS (Div 1)
2004 9th place at Granite Bay, 2nd place at Lagoon Valley
2003 13th place at Frogtown, 19:49
2001 XC - Just missed SJAA League Title by 8 seconds
Brecken Drager - Senior - Del Oro HS (Div 3)
2004 XC 3rd at NU (SS), 6th at Rocklin, 17th D3 at Stanford
2004 TRACK - 7th in Section 800m (2:20 Section Trials)
2003 XC 16th in Div 3 at Sections, 21:16, 20:33 at State
Mairin Meltvedt - Senior - St. Francis HS (Div 3)
2003 Top 10 Finishes at Ed Sias & Cowchip. 11th at Yolo.
2002 Div 3 ST. FRANCIS HS STATE CHAMPION
2002 Mt. SAC Div. 3 Frosh/Soph Race Winner
Kaylin Pennington - Senior - Benecia HS (Div 2)
2004 Top 10 Finishes at Cowchip and Stanford.
Won SCAC Center Meet by almost 2.5 minutes



Home - Roster - Alumni - Past JO Teams - Guestbook - DyeStatCal
2005 Track Page - 2004 HS XC Results - 2004 Buffalo Babes
2005 PROVIDENCE - 2006 NEW YORK





ARCHIVES


Spring 2005
- KAYLIN receives a commendation by the CITY OF BENICIA for her All-American JO performance. Minutes.
- KIMMY vs BRECKEN! in the Auburn Journal
More BRECKEN coverage... and even more BRECKEN press in the Loomis News.
- Alex makes the move to national elite status. (More newspaper articles to be posted here.)

AMANDA IS MODESTO BEE T/F ATHLETE OF THE YEAR
But it sounds like brother Vic might be a little better at monopoly!... according to him. (might need to register)

June 18, 2005
WHAT A MILE! Nike Outdoor Nationals - 6/18/2005
In a year of great female miles, this one ranks with the best HS mile ever. A full mile at 4:39, and you lose by three seconds?!
1 Sarah Bowman 05 Warrenton, VA 4:36.95@
2 Brie Felnagle 05 Tacoma, WA 4:39.71%
3 Danielle Tauro 07 Manahawkin, NJ 4:43.07
4 Elizabeth Yetzer 06 Lakeville, MN 4:43.12
5 Ramsey Kavan 05 Yankton, SD 4:45.49
6 Jackie Areson 06 Delray Beach, FL 4:46.67
7 Bridget Franek 06 Hiram, OH 4:49.13
Yep, I'm impressed. Previously, only 3 girls had ever gone under 4:40. Now there are five!
(Note: The all-time high school record is 4:35.)

June 16, 2005
DOMINIQUE JACKSON AT JUNIOR NATIONALS 2:12.52 in the 800 Thursday.



2006 JUNIOR OLYMPICS


INTERMEDIATE GIRLS (1990-1991)
1 Maria Malone So
2 Danzel Bradshaw So
3 Alex Ciaraglia Jr
4 Natalie Sojka So
5
6
7
8

YOUNG WOMEN (1988-1989)
1 Merie Paddeck Jr
2 Lauren Lewis Sr
3 Caitlin Clark Sr
4 Alex Kosinski Sr
5 Katie Fritzke Sr
6 Cheslea Reilly Sr
7 Erica Cuellar Sr
8 Casey O'Day Sr
9 Maritza Garcia Sr






KAREN FRAZIER joins the Babes


Karen Frazier, who is a sophomore at St. Francis, will be accompanying the Buffalo Babes in New Mexico. Karen's brother Nathan, and little sister Susan run with the youth Chips. Karen is a top swimmer in the area finishing 3rd in the 200yd IM and the 100yd breast at Sections in the JV division. Her main avocation is swimming for the Sierra Marlins year-round team, one of Liz Wagner's teammates over there. Karen's sister Barbara swims for Calvin College in Michigan. Karen is a workout animal. This fall she has boosted her appetite by training and racing with the youth Chips - on top of her meets and 2-a-day workouts with the Sierra Marlins. (Mom and Dad are considering buying a Raleys just for her.) Welcome to the Buffalo Babes Karen.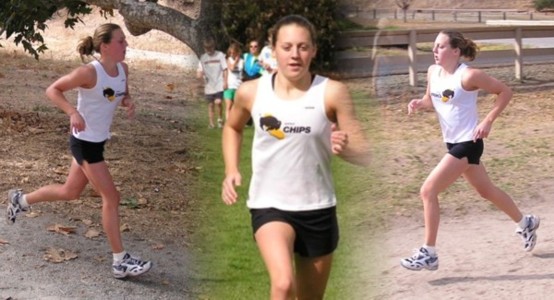 Karen raced to a 21:29.97 at Toro Park in Salinas - 5K


Wednesday, October 1


CROALL AND MELTVEDT join the BABES


NEW BUFFALO BABES
CAITLIN CROALL - SENIOR - LINCOLN H.S. - Y.W. ('85-'86)
We've got Grizzlies, Tigers, and Bulldogs. Now we also have a Fighting Zebra! Caitlin Croall of Lincoln HS will be a Buffalo Babe! She's had an outstanding fall in this, her senior year. After just missing the State meet by a couple spots in 2001, Caitlin qualified last year by finishing 5th in Div. 4 at Sections (20:44) and did quite well at State improving upon that time. This year so far, her racing has improved stunningly. She was 3rd overall at Bear River (first in the small school division) with a time of 20:48, only 30 seconds behind Kim Crouch. (As you know, some girls aren't even in the same zip code after 3 miles of racing against Kim.) At the Nevada Union Invitational, Caitlin was 7th overall (2nd for small schools) with a 19:59 performance. Welcome to the team Caitlin!

MAIRIN MELTVEDT - JUNIOR - ST. FRANCIS H.S. -Y.W. ('85-'86)
Coach Ducray tried to bring his fine first- year runner along slowly last year, but Mairin Meltvedt had other ideas. After winning the Div 3 sophomore race at the competitive Mt. SAC Invitational last year by 43 seconds, Mairin was inserted into the starting 7 and there's no way St. Francis would have been section champions, much less state champions, without Mairin's gritty, hard-nosed running the rest of the year. Mairin was 13th in Div 3 at Subsections last year, 19th at Sections, and broke through with a clutch 19:16 5k effort in the State Meet to finish even ahead of Katie Hartman. Her fine running has continued this season and we are awfully glad to call her a Buffalo Babe. Welcome Mairin!!



Friday, April 25


3 GREAT RUNNERS join the Babes


GREAT NEWS !!!!!!
Three outstanding runners have recently committed to the Intermediate Girls ('87'88) Buffalo Babes for the 2003 XC Junior Olympics.
* Cecily Lemmon, currently a freshman at Vacaville HS, was first team All-City and is one of, if not the top distance freshman in the entire Sac Joaquin section. She was the 4th fastest freshman in the state at Woodward Park. Cal Track and Running News named her the 2002 Northern California Cross Country Freshman of the Year.
* Kaitlin Gregg is a rapidly improving track and CC runner who is a sophomore at Davis HS. Her dad Bill is the head XC coach at DHS so she never has to go far for advice. Kaitlin is also a pretty darn good swimmer, soccer player, and water polo athlete.
* Cherise McNair of Sierra High School, the 9th fastest freshman in the state in 2002, is a Buffalo Babe. Running in Div. 3, Cherise had times of 19:00 at State (19th), 3rd at Sections (18:54), and 7th at Subsections (19:00). She made the CTRN NorCal All-Frosh team.
* All three runners are quality, enthusiastic people who will surely give the Buffalo Babes a huge infusion of talent and energy. Welcome to the team ladies, we're glad to have you.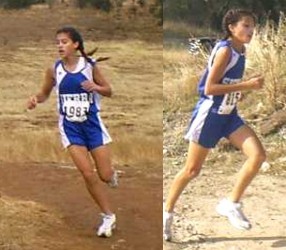 Cherise in action, Subsections left, Sections right


Thursday, May 22


LIZ WAGNER joins the Babes


The Chips proudly announce that Liz Wagner, a sophomore at Del Oro HS, has accepted an invitation to run at the Junior Olympics with the Buffalo Babes. Liz nearly got her Del Oro team to the state meet by finishing in 10th at sections (19:37) and then exploded at the State Meet to a 5th Place finish (18:27), just getting outkicked in dramatic fashion by Buffalo Babe Kim Crouch. What a way to finish the season! Liz was then named 2nd team All-City. Want to make Liz even faster? Just add water. Liz finished 2nd in the entire Sac Joaquin section in the 100 yard backstroke and 500 yard freestyle in All-American times. She even qualified for the US Open swim meet. On Dec. 13, we'll dry her off and let her loose on the cross country course in New Mexico. Glad to have you with us Liz, and by the way, our hotel in Albuquerque has a pool. (photo credit to dyestat.com)

Saturday, June 14


ANDREA GRUBER joins the Babes



Photo Credit - Jane Gruber
Now that the IG team is pretty well set, focus turns to our senior team. Joining Amanda, Erin, Katie, Mariya, and Natalie (and maybe some of our collegians) on the YW team will be one of the top runners on one of the top teams in the state. Andrea Gruber of Placer HS is going to be on the Buffalo Chips Young Women's team. Andrea had a time of 19:16 at Section Finals (7th in Div III) as Placer came in a close 2nd in the Div 3 team race. Her 16th place at State (18:58) helped Placer to a 3rd place bronze medal finish at the CIF Meet in Fresno. She got her 200 time down to 2:21.12 this spring and won the SubSection #2 800 trials, so look out for her kick this fall. Andrea is excited to be on the Babes – and believe me, we're just as happy to welcome her . With Andrea joining the team, seven of the top eight returning runners in Division III will be representing the Chips this December (Kim, Cherise, Amanda, Liz, Megan, Katie, and Andrea).

Andrea is shown to the right winning her Subsection Race in a time of 2:23 last May.

Wednesday, December 13


4-WEEK TRANSITION



TIM BAYLEY - NCAA D1 800m Runner-Up 1:46
A 4-WEEK TRANSITION FROM CROSS-COUNTRY TO TRACK WORKOUT SCHEME

Greetings Buffalo Babes,

The following program is a 5 week transition from cross country to track. Ideally, you will rest after nationals for at least two-three weeks and then start this program around Christmas (You don't have to be completely lazy – try some new sports or just have fun being moderately active). Winter training is important to prevent injury and lay down the framework for a successful track season.
I will be holding a clinic (date TBD-likely with Tim Bayley as my model) to discuss the warm-up A, special warm-up and warm-up B as well as the ab/core exercises.

GROUND RULES:
1. RUN ON GRASS AND DIRT AS MUCH AS POSSIBLE
2. CHRISTMAS OR NEW YEARS RACES CAN BE SUBSTITUTED FOR ANY WORKOUT IN THE ROTATION
3. EVERY 4TH DAY IS FOR REST. CROSS-TRAIN OR EASY 25 MIN RUN
4. MILEAGE – Group 1, low mileage runners: WEEK 1-20, WEEK 2-25, WEEK 3-30, WEEK 4-35, WEEK 5-30, Group 2, medium mileage runners: WEEK 1-25, WEEK 2-30, WEEK 4-35, WEEK 4-40, WEEK 5-45, Group 3, high mileage runners (contact me if you want to run more – higher mileage can be done without injury utilizing double days):WEEK 1-30 (if you are doing this group, keep active rest over your break to prevent injury), WEEK 2-35, WEEK 3-40, WEEK 4-50, WEEK 5-45 or less if you feel bad.
5. CONTINUE WEIGHT TRAINING IF FACILITY IS AVAILABLE
6. EVERYONE SHOULD DO 200-300 AB STRENGTHENING EXERCISES EVERY DAY.
7. EVERONE SHOULD STRETCH FOR 10-15 MIN AT THE END OF EACH WORKOUT
8. KEEP A DETAILED TRAINING LOG…I WANNA READ THEM AND TRACK YOUR PROGRESS
9. LONG SLOW DISTANCE = LONG SLOW RUNNERS…YOUR EASY PACE SHOUD CORRESPOND TO THE V-DOT JACK DANIELS PROGRAM. SEND ME YOUR PR'S IN THE 400 UP, AND I'LL SEND YOU YOUR TRAINING PACES.

PRECEED THIS ROTATION WITH ONE WEEK OF RUNNING AT PACE OF CHOICE.

WORKOUTS
1. ADVANCED WARM-UP A – 10 MIN EASY – 60 SEC @ 1500 EFFORT/60 SEC EASY – 1ST WEEK – 4 X 60 SEC – 2ND WEEK – 4 X 60 SEC/60/3 MIN – 3 X 60 SEC – 3RD WEEK – 4 X 60 SEC/3 MIN – 3 X 60 SEC/3 MIN – 2 X 6 – 4TH WEEK – 4/3/2-3 MIN THEN 60 SEC ALL OUT – COOL-DOWN A
2. WARM-UP B – 10 MIN EASY THEN 35 MIN AT BEST EFFORT OF THE DAY – EASY 5 MIN – 10 X 100 @ 3K (Like 2mi pace) – COOL-DOWN B
3. 50-60 MIN WITH 4 MIN @ 10K/2 MIN EASY – 1ST WEEK X 2 – 2ND WEEK X 3 – 3RD WEEK X 4 – 4TH WEEK X 5 – STRIDES AND STRETCH
4. FARTLEK – DURING 50-60 MIN RUN DO 4 MIN @ 10K, 3 MIN @ 5K, 2 MIN @ 3 K – 60 SEC @ 1500 – 60 SEC ALL OUT – DO IN HILLS IF AVAILABLE – COOL-DOWN B
5. SPECIAL WARM-UP – 35 MIN @ PACE OF CHOICE – 10 X 100 @ 3K EFFORT – COOL-DOWN A
6. 10 MIN BUILD-UP TO 15K EFFORT (similar to light tempo) THEN ALTERNATE 5 MIN @ 15K WITH 2 MIN EASY – 1ST WEEK X 4, 2ND WEEK X 5, 3RD WEEK X 6, 4TH WEEK X 7 – 10 X 100M @ 1500 PACE – COOL-DOWN B

WORK IN HILLY TERRAIN 2-3 TIMES PER WEEK IF POSSIBLE.

Tips for running your best:
*Listen to your body. Easy days should never drag. If you feel horrible, take a day off and wait until you feel good.
*Take advantage of the days you feel good by using them as 'hard days' and taking an easy day or a day off later. You will get the most out of your training this way.
*To maintain a higher mileage program, break up your days into doubles as often as possible. It usually works best to do the harder workout in the morning and then using the evening to shake out the legs. There is no such thing as 'junk mileage' because a second easy run on soft surfaces during the day can actually increase healing by increasing blood flow to the legs. When doing the second run of the day, focus on a light quick turnover and good form.
*Always eat within 45 minutes after running and eat half of an energy bar before your morning runs (not too late).
*Stick to a diet full of protein and whole grain – this extends to all carbohydrate products, rice and crackers. Brown rice is best and whole-wheat crackers as well. Drink lots of water all the time, not just before races.
*Remember that the best runners in the nation were not just born that way...they each train extremely hard in addition to their talents. Just think of how that kind of training could help you.
*Jamba Juice may have fruit, but it's bad for you…lots of sugar=insulin spike=sleepy runner. Drink the small size and make sure you get something hearty to go with it (complex carbohydrate or protein).

Why the Kenyans are good:
They train at altitude
They have a low glycemic diet (comparable to if you mainly ate oatmeal, salad, milk, and chicken).
They sleep A LOT!!! For example…an average Kenyan might sleep 9 hours/night and take a 3 hour nap each day…..12 hours total!!!
They rest after each season, allowing themselves to gain some weight that they gradually burn off over the course of the season…this works particularly well for those who have trouble keeping ON the pounds during the season.
They have had ample amounts of physical activity since a young age.
They are humble and to their talking with their feet.

Good Luck!

Coach Priscilla

priscillamoreno@gmail.com
cell phone at 530-574-2519





Modesto Relays


May 11, 2003
The Youth Chips Bantam Boys relay ran vs. the infamous Motor City Dukes (in orange) at the Modesto Relays in May. They came in 2nd in the 4x800 and had their picture in California Track and Running Magazine! Youth Chips pictured are Robby Hartman, Nathan Paddeck, James Dietler, and Robbie Smith. The boys even did a 'victory lap' with Michael Johnson and Maurice Greene. (photo by Dick Conners/CTRN)


NCAA Meet
June 14, 2003
Cecily met Zoe Nelson, the 2002 FootLocker National Champion, at the NCAA Championship Meet in Sacramento June 11-14.


Thursday, October 16


Preps Plus - Oct. 16


Oct. 16, 2003




Preps Plus - Oct. 9


Oct. 9, 2003




2005 Providence Team


THE STARS See ROSTER PAGE or CLICK ON RUNNER for detailed bios

2005 PROVIDENCE YOUTH GIRLS (1991-92)

MARIA MALONE

CYNTHIA LAIACONA

Fr.- FOLSOM H.S.

Fr.- MT. SHASTA H.S.
2005 PROVIDENCE INTERMEDIATE GIRLS TEAM (1989-90)

ALEX CIARAGLIA

YASMINE WHITE

CHELSEA REILLY

ALEX KOSINSKI

So.- WOODCREEK H.S.

Sr.- ARCATA H.S.

Jr.- DAVIS H.S.

Jr.- OAK RIDGE H.S.

2004: SFL LEAGUE CHAMPION - 3rd PLACE AT ROCKLIN & PLACER - 3rd PLACE D2 SECTIONS (4th OVERALL) 19:14 - 1st TEAM SAC BEE ALL-CITY, NAMED TO ALL-NORCAL FROSH TEAM TRACK- 2005: PR's: 1600m 5:13.98, 3200m 11:28

2004: 4th PLACE D4 NCS SECTIONS - 4th PLACE AT STATE (33rd OVERALL IN CAL. 18:31) - 2nd TEAM ALL-NORCAL - 2005: #1 BUFF. BABE AT 2005 USA XC CHAMPS - TRACK- 2004: 3200m STATE QUALIFIER 10:50 PR - TRIATHLON: 2004 USAT NATIONAL 'YOUTH' CHAMPION, 2005: 2ND AT NATIONALS, REPRESENTED USA AT ITU WORLD CHAMPS IN JAPAN

2004 AND 2005 MEL LG. CHAMPION - 2004: 5th PLACE AT D1 SECTIONS 19:56 - 5th PLACE AT 2004 NAT'L JO'S 18:28 - 1st TEAM SAC BEE ALL-CITY, 2005: LAGOON VALLEY AND ROUGHRIDER CHAMPION TRACK- 2005: 1600m STATE QUALIFER, 4:54.61 P.R. - #2 ALL-TIME 1600m AT SJS SECTION FINALS - BROKE DHS RECORD BY 5 SECONDS

THREE-TIME SVC LEAGUE CHAMPION - 2004: D2 SECTION CHAMPION 18:52 - 4th PLACE AT STATE 18:23 - 4th PLACE AT 2004 NAT'L JO'S 18:28 - SAC BEE 1ST TEAM ALL-CITY - 2005: ROCKLIN, DeLaSALLE, AND TROJAN INVITE CHAMPION, 2ND AT STANFORD TRACK- 1600m SECTION CHAMP WITH #1 ALL-TIME SJS MARK (4:53.89) - 2nd PLACE AT STATE - PR's: 2:11.80 / 4:49.26 / 10:35

CASEY O'DAY

ERICA CUELLAR

NATALIE SOJKA

LAUREN LEWIS

Jr.- FOLSOM H.S.

Jr.- MODESTO H.S.

So.- MT. SHASTA H.S.

Jr.- YUBA CITY H.S.

2005 DELTA LEAGUE CHAMPION - 2004: 6th PLACE AT D1 SECTIONS - 20:05 18:49 AT CIF STATE MEET (21st) - DELTA LEAGUE RUNNER-UP - 2nd AT YOLO COUNTY - 8th AT STANFORD TRACK- 2005: PR's: 5:13.14/2:20.14

7th PLACE AT D1 SECTIONS 20:06 JUST MISSED CIF STATE XC MEET BY 1 SPOT/1 SECOND/1 POINT - MODESTO METRO CONF RUNNER-UP 19:10 TRACK- 2005: 5:17 1600 PR

2004 D5 CAL. STATE XC RUNNER-UP 3rd PLACE D5 STANFORD INV - 3rd AT MT. SHASTA INV - 4th at WEST VALLEY INV - TRACK- 2005: STATE QUALIFIER 1600m, 5:09 PR

2005 METRO LG. RUNNER-UP - WINNER: YUBA-SUTTER INVITE - 7TH AT N.U. INVITE (2nd AMONG SJS GIRLS), 2ND AT METRO #1 MEET, 2004: 2ND IN AGE GROUP AT RUN FOR THE HUNGRY

MERIE PADDECK

KATIE FRITZKE

AMY LACKNER

HILLARY KIGAR

So.- DEL ORO H.S.

Jr.- MT. SHASTA H.S.

Jr.- ST. FRANCIS H.S.

So.- EL CAMINO H.S.

2005 SFL ALL-LEAGUE - 2004: F/S DIV 3/4/5 SECTION RUNNER-UP SFL LEAGUE F/S RUNNER-UP - OTHER F/S TOP TENS: 8th AT N.U., 2ND AT PLACER

2004 D5 CAL. STATE XC CHAMPION - TWO-TIME SHASTA LEAGUE CHAMPION - 2004: WINNER GRANITE BAY INV ... D5 STANFORD INV ... MT. SHASTA INV. - 2003 NORTH SECTION CHAMPION

2005 Div 3 Section Runner-Up - CAL League Champion - 19:04 at State Meet
2005 PROVIDENCE YOUNG WOMENS TEAM (1987-88)

ERIN LEWIS

CECILY LEMMON

AMANDA MORENO

URSY BERGMOOSER

Sr.- MODESTO H.S.

Sr.- VACAVILLE H.S.

Sr.- ESCALON H.S.

Sr.- ROCKLIN H.S.

2005 MODESTO METRO CONF. CHAMP - 5-TIME MODESTO BEE ALL-DISTRICT. 2004: RUNNER-UP AT ARTICHOKE & MARINER INVITE, 3rd PLACE D1 SECTIONS 19:47, 18:58 AT STATE, TRACK- TWO-TIME 1600m STATE QUALIFER, 4:57.24 PR, STATE FINALS IN '05, HOLDS MHS 1600m RECORD

2002 NORCAL FRESHMAN OF THE YEAR, TWO-TIME MEL LEAGUE CHAMPION, TWO-TIME RUNNER-UP - TWO-TIME SAC BEE FIRST TEAM ALL-CITY, 2004: 5th PLACE D2 SECTIONS (7th OVERALL, 19:30), #3 BUFFALO BABES RUNNER AT 2005 USA CC CHAMPS - TRACK- 11:07 3200m PR

2003 D4 CAL. STATE XC CHAMPION, SHOOTING FOR 4TH STRAIGHT D4 SECTION TITLE, 2004: 6th AT STATE D4 18:48, TRACK- 2005: MODESTO BEE RUNNER OF THE YEAR, 2ND PLACE AT STATE 3200m, 3200m SECTION CHAMPION (3rd in 2004), 10:35 PR

2005 SFL LG. RUNNER UP - TOP TENS- 9TH ROCKLIN, 6TH YOLO, 7TH CLOVIS LG SCHOOL - 2004 TOP TENS- SECTION 9TH, SUBS 10TH, SFL 10TH - PR: MILE 5:35, 5K 19:24

KAREN FRAZIER

CAPRICE BRADSHAW

MARITZA GARCIA

DELTA KIRKLAND

Sr.- ST. FRANCIS H.S.

Sr.- FAIRFIELD H.S.

Jr.- RIVERBANK H.S.

KENNEDY H.S.

SWIM: H.S. ALL-AMERICAN SWIMMER - TWO-TIME SECTION RUNNER-UP IN 100 BREAST - FINISHED 2nd IN 2005 2 DAYS AFTER ARM CAST REMOVED - ONLY 0.42 SECONDS FROM OLYMPIC TRIALS TIME IN 200 BRST - 9th FASTEST BUFFALO BABE AT 2004 XC JO's (19:24) - HAS 18:45 5k PR

2004: SCAC LEAGUE CHAMPION, CHAMPION LAGOON VALLEY INV. - 2ND PLACE D1 SECT. MEET - 6TH PLACE 2004 XC JO's TRACK- 2005: 3200m STATE QUALIFER 10:54 PR, AAU NATIONAL CHAMPION YW 3000m (10:37), 2nd PLACE 2004 USATF JO's 1500m & 3rd PLACE (AAU) IN 2005

2005 TVL LEAGUE CHAMPION - 2004: 2ND PLACE AT D4 SECTIONS, 8TH PLACE AT STATE. TEAM WAS 5TH AT STATE IN 2004, 3RD AT STATE IN 2003. 2005: BROKE COURSE RECORD AT LEGION PARK WINNING SIERRA INVITE, 2ND PLACE AT STANFORD (18:43), ARTICHOKE INVITE Sm. Sch. CHAMPION

5TH PLACE AT METRO LEAGUE FINALS




2003 Section Meet Coverage


November 2003
State Meet Coverage from Davis Enterprise
Shannon and the Lady Miners at State from The Union of Grass Valley
Davis Wins Division 1 at Sections from Davis Enterprise



2004 XC News Archive


STATE MEET STORIES
Placer Hillgals are state champs in Auburn Journal
Hillgals win!! and other XC state news in Sacramento Bee
Amanda is 6th at state in Manteca Bulletin
Amanda is Athlete of the Week in Modesto Bee
Amanda is 6th at State in Escalon Times
Alex K is 5th at State in El Dorado Hills Telegraph
Davis High concludes XC season from Davis Enterprise
Shannon and Nevada Union battle elements in the Union

STATE MEET PREVIEW STORIES
Natasha LaBeaud goes for State Title in Sac Bee
Alex Kosinski will be a threat at state in Sac Bee
Placer's Crouch and Parnow hope for high personal/team finishes in Sac Bee
Amanda and company plan for state in Manteca Bulletin
Caitlin and Granite Bay prep for state in Roseville Press Tribune
Placer is ready for state in Auburn Journal

SECTION MEET STORIES
Davis HS shines at Section Meet in Davis Enterprise
Win a race, win a Porsche? Kim Crouch story in Sac Bee
Lodi and Escalon coverage in the Stockton Record
Nice Gesture by Kennedy XC runner in Sac Bee
Nevada Union sneaks past D1 Foes in The Union
Feature story on Shannon Lingo in the Union

SECTION MEET PREVIEW STORIES
DyeStat's 'Road To Fresno'
Girl's Section Meet Preview by Joe
Boy's Section Meet Preview by Dan King
Ex-Babe Caitlin Chock goes pro in Sac Bee
DyeStat Sac-Joaquin League Meet results
Katie H helps lead ARC to JuCo State Soccer Finals
Katie H's soccer teammate/hero is victim of a brutal tackle.


Oct. 14 - Jake Matthews might be Folsom's Best Ever in Sac Bee
Oct. 7 - Chelsea PR's in Davis dual loss to Vacaville - in the Enterprise
Sept. 30 - Still recovering from loss of Sarah Lekven, Laguna Creek XC moves on. in Sac Bee
Sept. 30 - Dave Gregson's twin powers Jake Matthews and Natasha LaBeaud. Progress Report in Sac Bee.
Sept. 21 - Shannon leads NU to 3rd place at the NU/Asics Invite from 'The Union'
Sept. 18 - The New Folsom XC Course. - Dead on Arrival?? Sac Bee story.
Sept. 16 - Davis and NU headed for Division 1 Showdown? So says the Grass Valley Union.
Sept. 16 - Shannon Lingo leads NU at Metro Meet. Story in the Union.
Sept. 15? - Elam and McNair lead Sierra to blowout league victories in the Manteca Bulletin
Sept. 15? - Amanda excels in early season action from the Escalon Times
Sept. 4 - Placer doesn't miss a beat. Story in Auburn Journal

Rachel Bryan - National Nike Athlete of the Week
Nov. 6, 2002
Rachel Bryan is the DyeStat.com National Nike Athlete of the Week.

Natalie White named DyeStatCal Athlete of the Week
Oct. 7, 2002
A celebrity in our midst :) Way to go, Natalie.

Dallon - Modesto Bee Runner of the Year
Dec. 22, 2002
Article by Will DeBoard. Photo by Henry B. Kosko. Courtesy Modesto Bee.


2002 Sac Bee All-Metro Team
Jan, 2, 2003
Mark McDermott names the 2002 Girl's All-City teams. Thanks to the Sacramento Bee for all the coverage of cross country this year. Rachel Bryan, Caitlin Chock photo by Brian Baer.

CONGRATULATIONS TO THE 2002 SACRAMENTO BEE ALL-CITY XC TEAMS:
1ST TEAM: Kim Crouch, Cecily Lemmon, Natalie White, Sarah Krtil, Christina Sanchez, Megan Cearley
2ND TEAM: Mariya Townswick, Katie Hartman, Amanda Burkhardt, Erin Wachter, Liz Wagner
OOPS THEY FORGOT: Caitlin Morgan, Megan Alexander
13 of the 18 All-City Runners are Buffalo Babes. Wow!


Sac Bee State Track Meet Story
June 9, 2003



Preps Plus - Sacramento Bee


Sept. 19, 2002
Rachel Bryan gets ready to stretch her lead in Division I. (Andy Alfaro Photo)


Preps Plus - Granite Bay girls
Sept. 15, 2002

Sacramento Bee XC Section article
Nov. 17, 2002
It was a great day for favorites at the Section Meet.
Article by Mark McDermott. Photo by Brian Baer.


2002 Sac Bee All-Metro Team - Track and Field
June 13, 2002
Click above for the story. Highlights: Lauren Mulkey is first team All-City!
Making 2nd team are Natalie White, Ingrid Kantola, and Natasha LaBeaud.
Congratulations. Pictured: Matt Johnsrud, Rachel Bryan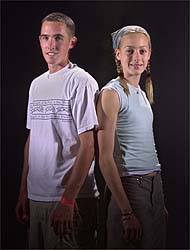 Jay Mather photo - Sac Bee


PreSeason Cross Country Story
Sept. 12, 2002
2002 Sacramento Bee Season Preview by Matt Mills



Preps Plus - Oct. 30


Oct. 30, 2003




Early Season XC Stories


October 2003
Sac Bee's Great Story on Placer Girls XC 9-25-03 (sacbee.com>
Davis Girls romp at Cowchip 9-26-03 (davisenterprise.com)
Bee XC Story in Preps Plus 10-2-03 (sacbee.com)


Sac Bee story on State Meet
Dec. 1, 2002
SJS Section has 4 Champions- St.Francis, Jesuit, Caitlin Chock, Rachel Bryan. All champs except Caitlin are from the Delta League. WOW. There are only 20 state champs - 10 individual, 10 league - and Sacramento's Delta League has 3 of the 20. Way to go to Oakmont Boys 3rd and Placer Girls 3rd. Story by Robert Johnson.
Photo: St. Francis and Placer conquer Division 3.

Tina leads Benicia into the Section Meet
Nov. 19, 2002
Article from the Benicia News. (staff report, courtesy photo)

St. Francis Fulfills its Coach's Dream
Dec. 5, 2002
Article by Mark McDermott on Division III State Champion St. Francis and coach John Ducray.


Area State Favorites
Nov. 28, 2002
Can Rachel and Caitlin Do It? We'll find out Saturday.
Article by Mark McDermott. Photo by Jay Mather.


Prime Time Preps - SF's Sarah Krtil
Nov. 28, 2002
Wow! Another Buffalo Babe gets the Bee Athlete of the Week. Way to go Sarah!
Article by Mark McDermott.


Jesuit Looks for yet another State Title
Nov. 28, 2002
Jesuit HS - Can they honor their #1 state ranking at the CIF Meet on Saturday? Article by Mark McDermott. Photo by Brian Baer.




2003 Sac Bee All-Metro Team


December 2003




2003 PostSeason Stories


Jan. 1, 2004 - Buffalo Babes Listed among Top 20 local sports highlights in 2003 in the Sacramento Bee
Dec. 25, 2003 - Buffalo Babes Win Two National Titles. Sac Bee coverage.
Dec. 11, 2003 - Off to Albuquerque...Buffalo Babes will attempt to defend title. Sacramento Bee preview.

Dec. 21, 2003 - Modesto Bee article on Amanda - The Runner of the Year
Dec. 4, 2003 - The Modesto Bee Modesto-area Athlete of the Week is Erin Lewis.

UCSB - Cal-Poly dual
Danielle Domenichelli (sub-19 5k!) and Lauren Mulkey in early season action.
UCSB - 18 - Cal Poly - 39
1. Lindsay Christman - UNAT 17:46.1
10. Danielle Domenichelli - UNAT 18:59.5
14 (11). Lauren Mulkey - CP 19:15.5
17. Erin Schuyler - UNAT 19:33.9

Brecken Drager is 4th for Wagner College in a triple-dual meet. 9/3/05




2005 College News/Results


NCAA REPORT - WEEKEND OF SEPT 10th
Caitlin Croall, Erin Wachter, #1 for their schools!
+ Occidental College: Sophomore Caitlin Croall finished 4th overall in 20:51 just ahead of frosh Rachel Keylon (fifth in 21:07). The women won the team tile by a narrow one point margin (27-28) over SCIAC rivals Pomona-Pitzer.
* UCSB Gauchos: The Gauchos placed fifth on the 5,000m course that circled Central Park in Huntington Beach, CA. Another freshman and racing in uniform for the first time, Danielle Domenichelli finished 34th as the Gaucho's third runner in 19:33.6.
* UC Davis/Sac State: Dominic Vogl finished 21st to lead the Sacramento State men's cross country team and Erin Wachter was 30th to pace the women at the Aggie Cross Country Open Saturday morning at Wildhorse Golf Course. Wachter led the Sacramento State attack by finishing in 19:36.50. 1. California 21 2. UC Davis 35 3. San Francisco 91 4. Sacramento State 108
22 150 Gregg, Kaitlin UC Davis 19:18.90
30 70 Wachter, Erin Sacramento State 19:36.50 ...92 runners total
* Wagner College: It was a beautiful day for the Wagner College Cross Country Invitational at Clove Lakes Park. In the women's competition, Wagner's Meaghan Robbins finished second (19:39.60) and Brecken Drager finished fourth (19:54.53). From Sept. 3: Freshman Brecken Drager (Loomis, CA/Del Oro) paced the Seahawks with a fourth place finish at a time of 14:58.2
* Long Beach State: (Sept. 3) Sophomore Bethany Gardner (Newcastle, CA) finished in 24th place at the CS Fullerton Invitation, with a time of 19:35.4. "I felt like we had three girls run really well, particularly Bethany. Bethany is well suited to a slow course that requires mental strength and endurance," said second-year Distance Coach Matt Roe. "She had a great summer of training and is showing early signs of someone who may run in our top seven."



NCAA SCHOOL XC LISTINGS & 2006 finishes



Region- Mtn = Mountain, SC = South Central, NC = North Central. If not listed, region is West.






2004 Wrap-Up of Alumni and Notables


DALLON WILLIAMS - TURLOCK HS '03 - WASHINGTON Huskies
What a year! Dallon was named First Team All-Pac 10. She was the #1 Husky and 7th overall at Pac 10 championships in Golden Gate Park with a time of 21:10. (Dallon was also 7th at D1 State Meet in 2002 and 7th at Junior Olympics in Atlanta). She was then 17th at Western Regions at Woodward Park (#2 UW girl) with a 6k time of 21:18. At NCAA's in Terre Haute IN, she was #2 Husky and 124th overall (22:12) in a very, very fast field. In October, Dallon had run 21:29 on that same Indiana State course for the fastest 6k time of her career...until Pac 10's. Thanks to some "ballot stuffing" by the Buffalo Babes and others, Dallon was also voted U-Dub female athlete of the week earlier in the season!

CAITLIN MORGAN - UNION MINE HS '03 - UC SANTA BARABARA Gauchos
It doesn't appear Caitlin ran in any meets in 2004, but she is listed on the roster. In 2003 for UCSB, she ran 19:04 5k at the UCSB Lagoon Open and clocked a 19:04.4 5k at the Riverside Invitational.

TINA FIROUZ - BENICIA HS '03 - UC SAN DIEGO Tritons
Tina was 7th for her team at the Triton Invite (4th for UCSD) with a time of 24:25. She was 23rd overall at the CCAA league finals (8th for UCSD) with a time of 21:38. A bit frustrated finishing behind her own teammates whom she had beaten all last year, Tina was held out of the West Regionals. But because she was the #1 UCSD girl (23:32) at the September pre-national meet in Indiana (the site of the D2 NCAA's), Tina was inserted back into the starting line-up and she came through at nationals with a time of 24:10 (#2 Triton, 73rd overall). As a freshman back in 2003, Tina reached the All-American D2 plateau and was named the CCAA freshman of the year. She hopes to rebound a little more in the coming track season.

MARIYA TOWNSWICK - WOODLAND HS/LAKE TRAVIS HS '04 - TEXAS Longhorns
Mariya's best 6k time of the year was 22:34. She is currently prepping for the indoor track season. The Texas Longhorns were 4th in 2004 at the Div 1 outdoor track champs. (UCLA women were 1st with 69 pts., LSU had 68, Nebraska had 58.) As you might remember in late fall 2003, Mariya transferred to Lake Travis HS in Austin and finished 18th in the state 4A race with a 2-mile time of 12:00. Her HS was 4th in the state. She was an All-American for the Buffalo Babes in 2002.

AMANDA BURKHARDT - PONDEROSA HS '04 - UC SAN DIEGO Tritons
Amanda's 2004 finishes: Amanda was 6th for UCSD/45th overall at the Willamette Invitatiional.

BETHANY GARDNER - DEL ORO HS '04 - LONG BEACH STATE 49ers
Bethany's 2004 finishes: "The Beach" won the UC Riverside Invitational as Bethany ran 18:41 for 5k and was 4th on the team, 24th overall. At Big West finals she came in 4th on the team, 48th overall. Her 22:36 was the 9th fastest 6k time ever for a 49er. She moved up to the #3 49er woman at the Div 1 Western Regionals (118th overall) with a time of 23:09.

CAITLIN CROALL - LINCOLN-L HS '04 - OCCIDENTAL COLLEGE
The best part of Caitlin's year may have been a trip to the Big Wave CC Invitational in Hawaii. She was 7th on Oxy and 60th overall with a time of 18:17. At the SCIAC Multi-Duals she was again #7 on Oxy but moved up to #5 girl at the Div 3 Western Regionals, 80th overall, with a time of 26:27.

KATIE HARTMAN - ST. FRANCIS HS '04 - AMERICAN RIVER COLLEGE Beavers
Katie ran 3 XC races for ARC helping the team qualify for the JuCo state meet. But her main sport was soccer. She started on defense and AR had one of their best seasons ever, going 20-2-2 and qualifying for the state Final 4 where they beat the four-time defending state champions - Long Beach City College - in the semifinal game. Long Beach had a 74 game unbeaten streak until AR put an end to that. AR lost in the title game to Cypress College but they were still ranked 3rd in the nation for Junior Colleges in the final poll. Katie was voted Team MVP by her teammates and was chosen first-team All-Conference by the coaches.

RACHEL BRYAN - LAGUNA CREEK HS '04 - TULANE Green Wave
Rachel Bryan Named Louisiana Female Runner and Freshman of the Year
Excerpt: "A native of Elk Grove, Calif., Bryan was the Green Wave's top finisher in every race this year, including four top 10 finishes. She won the 67-runner Tulane Invitational and the 78-runner Southern Miss Invitational while finishing in 10th place at the 154-runner Notre Dame Invitational 5K with a time of 18:30. Bryan finished 28th at the NCAA Regional 6K race with a collegiate best time of 21:50."
Rachel was also 22nd at the Conference USA Championships with a 6k time of 22:38.

CAITLIN CHOCK - GRANITE BAY HS '04 - PROJECT OREGON
By now, you know that Caitlin Chock has turned pro after signing a contract with Nike. She is now living in West Hills, Oregon near Portland with Molly and Alberto Salazar and taking some classes at Portland State. Salazar is a two-time Olympian and a former winner of the Boston ('82) and NY ('80,'81,'82) marathons. He also held the WR in the marathon for a while. Caitlin had an unbelievable summer training under Leonard Sperandeo winning Sacramento's Golden West Inv. 3200m with a mind-boggling 9:58 (#3 All-Time!) and breaking the American record for junior women in the 5K with another shocking time of 15:52 on the track in Grosseto, Italy. Caitlin started the fall at University of Richmond but it wasn't the right situation and returned home. The opportunity to train with the very elite Project Oregon squad surfaced and it was an opportunity too good to pass up. Mom Linda reports everything is going great and we are really looking forward to seeing Caitlin show her stuff at the Feb 12 US Cross Country Championships in Portland where Caitlin will have a chance to race against her former team, the Buffalo Babes!, and some of the nation's finest junior women at the World CC qualifier. With her energetic personality and million dollar smile (or is it million dollar contract?? hehe), it's impossible not to root for Caitlin.

NATALIE WHITE - H. JOHNSON HS '04 - UCLA Bruins
Natalie is redshirting at UCLA this cross country season, and maybe track season, too. Natalie considered Columbia, Notre Dame, and even passed on a nice offer from USF, but really wanted to go to UCLA. Natalie is best remembered for her brilliant 17:30 at the Stanford Invitational in 2002 which was the 2nd fastest time of the day, but also 2nd in the D2 race. The winner: who else? Caitlin Chock. The good news is that the stomach problem that plagued Natalie seems to have completely dissipated and it will be exciting to see if she can get back to that awesome junior-year form.




2003 College News/Results


Former Buffalo Babe Tina Firouz is 2003 CCAA Freshman of the Year!

2003 NCAA NATIONALS
DIVISION 2 - SAT NOV 22 - Cary, N.C. Adams College 1st, Chico St 4th
Tina is sensational! 34th at NATIONALS and she earns D2 All-American Status
34 (20) Tina Firouz FR UC-San Diego 22:33.6
DIVISION 1 - MON NOV 24 - Waterloo, Iowa Stanford 120 BYU 128
Dallon is 11th fastest frosh in Nation at NCAA's! U-Dub takes 21st!
118 (92) Dallon Williams FR Washington (5k split 17:52), 21:20.9 6k


BUFFALO BABE 'ALUMNI' NEWS
CLASS OF 2003
DALLON WILLIAMS - - Turlock HS
Dallon is Top Dawg at UW. Read her interview. - Dallon is First Team Pac-10!
TINA FIROUZ - UC San Diego - Benicia HS
CAITLIN MORGAN - UC Santa Barbara - Union Mine HS Not running
SARAH KRTIL - - St Francis HS Not running


CLASS OF 2004
ANDREA GRUBER - UC Santa Barbara - Placer HS
AMANDA BURKHARDT - UC San Diego Ponderosa HS
BETHANY GARDNER - Long Beach State - Del Oro HS
CAITLIN CROALL - Occidental College - Lincoln-L HS
KATIE HARTMAN - American River College - Soccer+Track - St Francis HS
MARIYA TOWNSWICK - Texas Longhorns - Woodland HS
LAUREN MULKEY - Cal Poly - Woodcreek HS

CLASS OF 2005
SHANNON LINGO - Nevada-Reno - Nevada Union HS '05 Red-Shirt
KAYLIN PENNINGTON - Stanford - Benicia HS
FRANCESCA STONUM - San Diego State - Lodi HS Not running
ALLISON STEINKAMP - Chico State - Roseville HS '05 Red-Shirt
ERIN WACHTER - Sacramento State - Cordova HS
BRECKEN DRAGER - Wagner College - Del Oro HS
JACQUELINE LEE - Sierra College - Del Oro HS
KAITLIN GREGG - UC Davis - Davis HS
KATIE VAUGHAN - Cal Poly - Placer HS
DANIELLE ROBBERSON - Westmont College - Yreka HS
DANIELLE DOMENICHELLI - UC Santa Barbara - Oak Ridge HS
KIM CROUCH - Humboldt State - Placer HS '05 Red-Shirt
MAIRIN MELTVEDT - UC Davis - St Francis HS Not running


OTHER SAC-JOAQUIN NOTABLES
NATASHA LaBEAUD - Georgetown - Folsom HS '05
NATALIE WHITE - Johnson HS '04 - UCLA Bruins '04 Red-Shirt
CAITLIN CHOCK - Granite Bay HS '04 - PROJECT OREGON
RACHEL BRYAN - Laguna Creek HS '04 - TULANE Green Wave
Rachel Bryan wins 1st College Meet
Rachel Bryan wins 2nd College Meet
Rachel Bryan 10th at Notre Dame
SARAH WEST - Davis HS '03 - UCLA Bruins
TIFFANY HALL - Vacaville HS '03 - SAN JOSE STATE Spartans

Saturday, April 19
Santa Clara Sarah
Buffalo Babe Sarah Krtil of St. Francis HS has signed to run cross country with the Div I Santa Clara Broncos. Santa Clara is in the West Coast Conference and is coached by Tom Service. Congratulations Sarah! (Click on photo for link to Santa Clara Univ. story)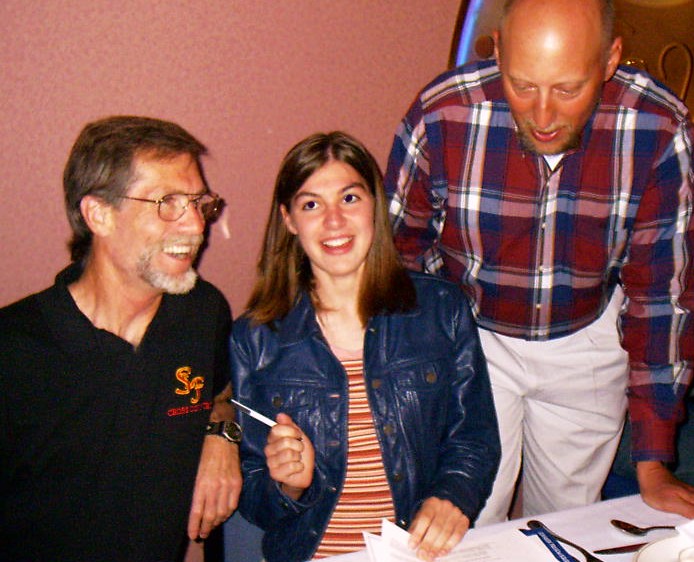 SFHS XC Head Coach John Ducray, Sarah, SFHS Asst Running Coach Tom Laythe


Tuesday, May 6


DDub signs with UDub


Buffalo Babe and Turlock HS senior standout Dallon Williams has signed with the University of Washington Huskies. Dallon was 2nd in Div 1 behind Rachel Bryan at Sections, 7th at State, and 7th at Jr Olympics (YW age group). Dallon was interested in Fresno State, Nevada-Reno, Idaho, and Hawaii and had full ride offers from most of those schools but decided on a 70-75% offer from UW because it was important to be in the PAC 10 Conference. We wish Dallon the best and she always is welcome on our roster. Go Dallon Go.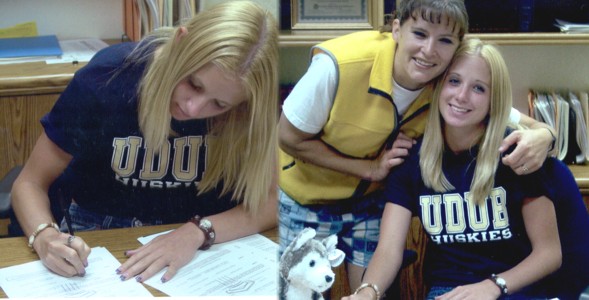 Dallon signs on the dotted line.


BUFFALO BABES AT COLLEGE
Click on school logo for school XC page, click on runner's name for personal bio page.
2006 GRADUATES

2005 GRADUATES
Also: Shannon Lingo/UN-Reno (ran one year), Mairin Meltvedt/UC Davis (not running), Fran Stonum/San Diego State (not running), Megan Alexander (not running)

2004 GRADUATES

---



Monday, November 20
2006 NCAA WOMEN'S ACTION
2006 NCAA CHAMPIONSHIPS
NCAA DIVISION 1 WOMEN
1. 195 Stanford ( 21:31 1:47:34)
2. 223 Colorado ( 21:32 1:47:40)
3. 233 Michigan ( 21:43 1:48:33)
4. 262 Wisconsin ( 21:45 1:48:44)
31 teams

1 1 622 Sally Kipyego SO Texas Tech 9:45 20:11.1
2 2 136 Jenny Barringer SO Colorado 10:09 20:37.9
3 782 Lindsay Donaldson JR Yale 10:08 20:42.7
4 3 568 Arianna Lambie JR Stanford 10:06 20:43.8
5 4 437 Julia Lucas SR NC State 10:06 20:47.1
253 runners
Two former Buffalo Babes were in this race
187 151 632 Danielle Domenichelli SO UCSB 10:54 22:52.5
Danielle was team 6th as UCSB placed 9th at the meet
190 154 243 Natasha Labeaud SO Georgetown 10:45 22:55.1
Natasha was team 5th as Georgetown placed 16th at the meet

NCAA DIVISION 1 MEN
1. 94 Colorado ( 31:39 2:38:11)
2. 142 Wisconsin ( 31:46 2:38:48)
3. 172 Iona ( 32:00 2:39:56)
4. 195 Stanford ( 32:01 2:40:03)

1 1 121 Josh Rohatinsky SR BYU 15:19 24:33 30:44.9
2 2 576 Neftalem Araia SR Stanford 15:19 24:33 30:52.6
3 562 Jess Baumgartner JR Southern Utah 15:19 24:34 30:53.2
4 454 Lopez Lomong SO Northern Arizona 15:19 24:34 30:59.8
5 3 548 Martin Fagan SR Providence 15:19 24:35 31:01.0
6 4 492 Galen Rupp SO Oregon 15:19 24:42 31:03.0

NCAA DIVISION 2 WOMEN
1. 94 Adams State (21:01.1 105:05.2)
2. 101 Western State (21:00.6 105:03.0)
3. 165 Grand Valley State (21:22.0 106:49.9)
4. 169 Cal St. L. A. (21:29.6 107:28.0)
9. 228 Chico State (21:43.3 108:36.1)
24 teams total

1 1 705 Esther Komen F Western State 20:09.4 5:25
2 2 471 Nicole Plante F Mass.-Lowell 20:15.6 5:27
3 3 343 Laura Aderman F Grand Valley State 20:19.6 5:28
4 4 288 Rachael Lanzel F Edinboro 20:28.5 5:30
5 5 706 Agnes Kroneraff F Western State 20:29.8 5:30
187 runners total
One former Buffalo Babe was in this race
77 62 667 Amanda Burkhardt F UC San Diego 22:01.4 5:55
Amanda was team 3rd as UCSD placed 16th at the meet

NCAA DIVISION 2 MEN
1. 57 Abilene Christian (29:48.9 149:04.3)
2. 70 Adams State (29:56.8 149:43.6)
3. 113 Western State (30:14.5 151:12.2)
4. 137 Chico State (30:20.6 151:43.0)

1 1 112 Nicodemus Naimadu M Abilene Christian 29:17.5 4:43
2 2 407 Julius Kosgei M Harding 29:19.9 4:44
3 3 239 Scott Bauhs M Chico State 29:24.5 4:45
4 4 445 Ryan Blood M Lock Haven 29:27.0 4:45
5 5 733 Kim Hogarth M Western State 29:32.2 4:46


2006 REGIONALS
Several Buffalo Babes and former SJS stars in action....
DIVISION 1 WEST REGION - Portland, OR - 11/11/06
1 Lambie, Arianna JR Stanford University 20:58.85 1
2 Trotter, Kathleen SR Stanford University 21:12.19 2
3 Olvera, Laura SO UC Irvine 21:16.20 3
15 Lewis, Megan SR UC Santa Barbara 21:46.91 15 Tracy
28 Domenichelli, Danielle SO UC Santa Barbara 22:13.44 28 Oak Ridge
29 Hall, Tiffany Marie SR San Jose State 22:17.16 29 Vacaville
63 Holtz, Kristina SO Sacramento State 22:58.74 61 Tracy
101 Born, Michelle SO San Francisco 23:35.63 98 Oakmont
120 Wachter, Erin SO Sacramento State 23:50.70 115 Cordova
156 Bergmooser, Ursula FR Cal Poly 24:46.06 151 Rocklin
169 Rizo, Annaliza FR San Jose State 25:15.62 162 Vacaville
NATIONALS - MONDAY NOV 20, TERRE HAUTE, IND

DIVISION 2 WEST REGION - Chico, CA - 11/3/06
1 Pixler, Jessica FR Seattle Pacific 20:46.101
2 Torres, Mary SR Chico State 20:56.932
3 Hummel, Katie JR Central Washingt 21:10.903
15 Frier, Erin JR Cal St. Stanisla 21:58.2815 Calaveras
20 Burkhardt, Amanda JR UC San Diego 22:10.1320 Ponderosa
41 Frier, Kelly SR Cal St. Stanisla 23:15.9040 Calaveras
46 Williams, Megan SO Chico State 23:22.4744 Granite Bay
66 Rendon, Jessica SR Humboldt State 23:58.0764 Roseville
99 Crouch, Kim FR Humboldt State 25:00.7796 Placer
NATIONALS - SATURDAY NOV 18, PENSACOLA, FL

2006 NCAA LEAGUE FINALS
PAC TEN CONFERENCE 6K
1 Arianna Lambie JR Stanford University 20:15.09 1
63 Mo Huber FR Washington 22:39.39
Washington was third - Mo was UW #9.

BIG WEST CONFERENCE 6K
1 1 115 Lauren Christman Sr UC SANTA BARBARA 1 21:07.5*
6 6 119 Danielle Domenichelli So UC SANTA BARBARA 3 22:15.7
26 116 Katie Voigtlander Fr UC SANTA BARBARA 8 23:50.0
40 37 101 Ursula Bergmooser Fr CAL POLY 4 24:42.7
57 49 104 Katie Vaughan So CAL POLY 7 26:07.7
UCSB was first - Danielle was UCSB #3, Katie was UCSB #8.
Cal Poly was fifth - Ursy was Cal Poly #4, Katie was Cal Poly #7.

WESTERN ATHLETIC CONFERENCE 5K
1 Richter, Rhea Fr University of Idaho 17:33.2 1
6 Moreno, Amanda Fr Nevada 18:04.7 6
33 Bradshaw, Caprice Fr New Mexico State 19:12.3 33
Nevada was second - Amanda was UNR #2.
New Mexico State was seventh - , Caprice was NMSt #5.

BIG SKY CONFERENCE 5K
1 Nicole Gueldemeister Northern Arizona 251 17:14.6
37 Erin Wachter Sacramento State 283 19:19.4
Sac State was seventh - Erin was Sac State #3




Wednesday, December 19
Believe it ... NCAA D1 All-American Alex Kosinski !!
NCAA D1 XC National Championships - Terre Haute, IN - Mon. Nov. 19
See the women's results - team results - men's results - team results
Alex takes 13th overall (20:33 6k, that's rippin' fast), Oregon Ducks are 2nd !!
Cecily is 65th (21:17), Danielle 101st (21:33), Mel 117th (21:42) --- huge race, 253 runners.
Washington was 8th (Mel #4), UCSB was 19th (Danielle #3), BYU 25th (Cecily #1)
Team Winners: Stanford Women 145-177 over Oregon, Oregon Men 85-113 over Iona
Individual Winners: Sally Kipyego, Texas Tech, 19:30; Josh McDougal, Liberty, 29:22 10k
Top CA Women schools: 1. Stanford 19. UCSB... that's it. 31 teams.
REGIONALS
Regional Results (Women) - West Region. Eugene, OR - Mountain Region, Riverdale, UT
West Regional Recap: Nine former Buffalo Babes participated in the West Regionals and three advanced to the top collegiate distance race of the year. Good luck to Alex, Mel, and Danielle. Alex Kosinski (Oak Ridge '07) was #2 for Oregon and #6 overall in the West Region as Oregon took 2nd and advanced to the NCAA D1 nationals. Mel Lawrence (Reno '07) was 32nd overall (#3 for Washington) as the Huskies took 4th and advanced. Danielle Domenichelli (Oak Ridge '06) was 41st overall (#4 for UCSB) as the Gauchos took 5th in the region and advanced. Chelsea Reilly of Cal (Davis Sr. '07) was 44th overall (out of 221 runners). Cal was 9th and did not advance. Kaitlin Gregg of UC Davis (Davis Sr. '05) was 97th overall. Erin Wachter of Sacramento St (Cordova '05) was 145th overall. Nicole Bowler of USF (Del Oro '07) was 155th overall. Ashley Silva of UNLV (Oak Ridge '07) was 164th overall. Bethany Gardner of Long Beach St. (Del Oro '04) was 169th overall. There were 212 runners total.
Mountain Regional Recap: Cecily Lemmon (Vacaville '06) was #2 for BYU and 12th overall as the Cougars advanced to nationals. Mom said it might have been the best race of her life. Lauren Lewis (Yuba City '07) was 97th overall, #5 for Utah. BYU was 3rd, Utah was 11th.
HS Mentors: Alex and Danielle were coached by Rob Fairley and John Mansoor at Oak Ridge, Mel was coached by Bruce Susong at Reno, and Cecily was coached by Ray Hausler and Kay Nekota at Vacaville. This is really exciting so good luck to these 4 women.
OTHER NCAA DIVISIONS....
D2 NATIONAL CHAMPIONSHIPS - Results Men - Women - 6k, Sat Nov 17 - Joplin, Missouri
Women's Team: Adams St - 1st, CA SCHOOLS: Chico St - 4th, CSLA - 5th, UCSD - 11th
Individual: Winner - Jessica Pixler, Seattle Pacific, 20:29
(Pixler was 10th in Boulder, 22 secs ahead of Laurynne)
Former Buffalo Babes: Amanda Burkhardt, Sr. UCSD (Ponderosa '04), 85th overall
D3 NATIONAL CHAMPIONSHIPS - Results Men - Women - 6k, Sat Nov 17 - Northfield, Minnesota
Women's Team: Amherst - 1st, CA SCHOOLS: none
Individual: Winner: Sarah Zerzan, Willamette, 20:54
Former Buffalo Babes: none
NAIA NATIONAL CHAMPIONSHIPS - Results Men - Women - 5k, Sat Nov 17 - Kenosha, Wisconsin
Women's Team: Simon Frasier -1st, CA SCHOOLS: Azusa Pacific - 6th, CS-San Marcos - 13th, Westmont - 17th, Concordia - 18th, Pt Loma Nazarene - 27th (29 schools)
Individual: Winner: Jaime Canterbury, Azusa Pacific, 17:10
Former Buffalo Babes: Katie Fritzke, Fr. Westmont Coll. (Mt Shasta '07), 194th (268 runners)



2007 COLLEGE CONFERENCE CHAMPIONSHIPS (Western U.S.)
FORMER BUFFALO BABES CONTINUE THEIR GREAT RUNNING! (see email)
PAC 10: Alex is 3rd in PAC-10 and #1 for Oregon! 19:54 for 6k! Mel is #3 for UW, Chelsea is #1 for Cal.
Danielle Domenichelli 5th in the Big West. Cecily 11th in Mtn West, #3 for BYU. Both are under 22:00 for 6k.
Cherise McNair and Amanda Burkhardt both Top 15 in CCAA. Caprice has her best NCAA race.... she's #4 for NM St.
Pac 10 - WAC - Mountain West - Big West - Big Sky - West Coast - CCAA (Div 2)



Monday, September 1
+ Class of 2008 College Choices!!
-Laurynne Chetelat - Stanford
-Deb Maier, Crystal Esparza - Cal-Berkeley
-Jordan Burke - UN-Reno
-Lauren Jimison - Azusa Pacific
-Kate Lambdin - San Jose St
-Alex Ciaraglia, Nina Carson - Cal Poly
-Samantha Racine, Samantha Reardon - Chico State
-Hillary Kigar - USF
-Katie Drueen - Notre Dame
-Kelly McEnerney - Loyola-Marymount
-Natalie Sojka - St. Mary's
-Brianna Atkins - Bethel College (IN)
-Merie Paddeck - Bethany University (CA)
-tba Lindsay Dubs


Thursday, August 19
uCollege Choices Class of 2010
Jacque - North Carolina
Teresa - Princeton
Hayley - UC Davis
ChristineB -
Hilary -
Alissa - Sierra Coll
Breanna - Sac State
Kristine - UC Davis
Kelsey - UCLA
Katie -
Michelle - Notre Dame
Maureen - St. Marys
2009/10 Buffalo Babes Shannon Harcus and Courtney Crosta - UC Davis

uCollege Choices Class of 2009
Diana George - Livermore - Colorado
Maddie Hall - Davis - UCSD
Maria Malone - Folsom - Stanford
Nicole Mendoza - St Francis - UC-Irvine
Natasha Brown - Del Campo - California Baptist
Nora Norvell - Davis - Cornell
Olivia Mickle - Loretto - Brown
Sarah Tusting - Benica - UC Davis
Kelly Roberts - Ponderosa - UC Davis
Sammi Diaz - Ponderosa - Nevada-Reno
Sara Mikesell - Bret Harte - Chico State
Danzel Bradshaw - Fairfield - CSU - Sacramento
Becky Preto - Ponderosa - Cal Poly
Jordan Hasay - Mission Prep - Oregon