Beech Buccaneers Baseball: Facilities

New Stadium Seating
Facility Improvements Continue for 2008
Family, friends, sponsors and supporters continue to work on facility improvements to Buccaneer field.
One ofthe new upgrades that has been added is stadium seating. This is a much needed improvement that should prove to be a more comfortable replacement for the old wooden bleachers.
We are also replacing our old scoreboard with a larger and much more detailed scoreboard. The scoreboard will be up and running when the first pitch is thrown at the first home game.
This new scoreboard is a great opportunity for businesses to be recognized throughout each home game. So, please pass the word along that there is still room for additonal sponsors on the board.
Inquiries regarding scoreboard sponsors may be directed to Scot Robinson at 406-9249 or via e-mail at scot@olympianconstruction.com.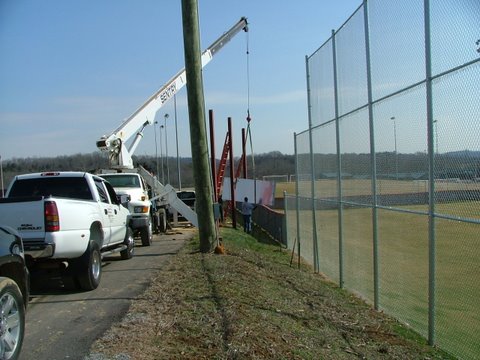 New Scoreboard being installed