Home of Buckeye Little League, Buckeye, AZ: Welcome
Saturday, February 15
Welcome to Buckeye Little League!
The Season has begun and coaches will begin contacting players the week of February 17th. Please contact Alfredo if you have not heard from your child's coach as of February 24th. Alfredo 480-621-2903
Opening Day targeted for end of March: Will confirm date by next week
Open Board Positions for the 2014 Season: League Mom, Secretary, Information Officer, and Safety Officer. Please remember that we cannot operate our league without the help of volunteers! Please submit all nominations to bll@buckeyelittleagueaz.com.
Interest in Sponsoring you local Little League Organization? Please check the "handouts" section of the webpage for further information regarding sponsorship. Buckeye Little League is a 501c3 Non-Profit Organization whose mission is to assure that every player gets an equal and fair opportunity to participate. Any donation size, item, or amount is greatly appreicated. Buckeye Little League would not be possible without the generous help from our volunteers and contributions. Thank You!
Please visit our sponsors!! Our sponsors are the ones that keep Little League running! Without their help, we could not provide a season for the kids. Please make sure you visit and support our sponsors whenever possible. Sponsor Link
Special Thanks to the Town of Buckeye!
Buckeye Little League wishes to express our most sincere appreciation to the Town of Buckeye for their continued support of our organization. The support of Buckeye is unparalleled! Besides little to no cost charged Little League, the Town goes over and above on field preparations, ensuring lights are always on and allowing Little League exclusive use of the concession stand to help raise funds.
Stay tuned for further event details!
We encourage your ideas, opinions, suggestions and support. Please come out to Little League and join our team of dedicated and selfless volunteers. Together we will make Buckeye Little League an enjoyable and fun time for all. The more the merrier is definitely our motto. If you are interested in volunteering in any capacity, please send an email to us at alfredo.nunez1@yahoo.com
eMail: alfredo.nunez1@yahoo.com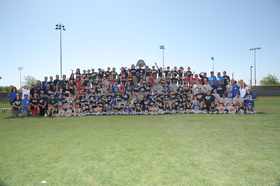 2012 BLL Funny Picture