Buckeye Bucks Football: Welcome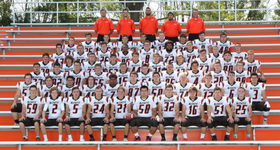 2017 Buckeye Bucks Varsity
Welcome To Buck Country!
Welcome to the internet home of the Buckeye High School Varsity Football team of Medina, Ohio, who completed their 64th Season during 2016. They had another great campaign going 9-1-0 in the regular season. They made their 4th straight appearance in the OHSAA Playoffs, but again bowed out in the first round losing to the 17-14 to the visiting New Philadelphia Quakers. As of the end of the 2016 season they have scored 2,679 points against the PAC12 opponents, while giving up 1,196 in 84 Games owning a 67-17-0 conference record.
The 2016 season was the 4th straight winning season for 4th year Head Coach Mark Pinzone who came to the Bucks prior to the 2013 season. The Bucks also claimed their 4th straight PAC12 Stars Division Crown, which is their 8th overall. It was also the 4th straight year of qualifying for the playoffs. Buckeye previously qualified for the OHSAA State Playoffs in 2002, 2003, 2005, 2009, 2013, 2014 and 2015.
In the off season Coach Mark Pinzone accepted the Head Coach positions with the Brunswick Blue Devils. Coach Pinzone had a 33-11-0 record and led the Bucks to 4 straight OHSAA Post Season appearances.
The Bucks will open 2017 under the tutelage of new Head Coach Greg Dennison who becomes the 16th Head Coach in Bucks History as they open their 65th Season on August 25th. Coach Dennison led the Wadsworth Grizzles for 21 Seasons from 1995-2015. His accomplishents there have him in the company of some of the greatest coaches in Medina County history. He compiled a 148-77-0 recored and led the Grizzles to Suburban League Titles in 1996, 2007 and 2009 along with three regional final appearances in 1999, 2003 and 2011. Last season he was an assistant coach with Brunswick under Head Coach Luke Beal who will serve as the Defensive Coordinator for the Bucks in 2017.
Go Bucks! Buckeye Pride!!
Medina County Champions
1953

Inland Conference Champions

1960, 1961, 1963, 1965,

1979, 1983, 1984, 1987

Mohican Area Conference Champions
2002

Patriot Athletic Conference Champions

(Stars Division)

2005, 2007, 2008, 2009

2013, 2014, 2015, 2016

Division III State Playoff Qualifier

2002, 2003, 2005, 2009

2013, 2014, 2015, 2016
Columbia 20 - Buckeye 49
Bucks Pick Up A Win In Columbia
2017 Opponents & the complete Patriot Athletic Conference 12 Schedule for Week 5 of the 2017 Season: (Click on the "PAC 12 Standings" menu tab for the up to date weekly standings)
Black River Pirates 53 @ Oberlin Phoenix 7
Firelands Falcons 20 @ Fairview Warriors 7
Brookside Cardinals 6 @ Clearview Clippers 50
Keystone Wildcats 49 @ Brooklyn Hurricanes 8
Wellington Dukes 0 @ Lutheran West Longhorns 21
Highland Hornets 42 @ Revere Minutemen 14
Rocky River Pirates 21 @ Lakeside Dragons 34
Norton Panthers 6 @ Cloverleaf Colts 20
HS Football Stats, Standings, & Rankings
Here is the link to
Joe Eitel's
High School site. He ranks all the teams in their respective divisions. The Bucks are in Division III Region 9 for the 2016 Season. Click on the highlighted text to go to that page. He does a weekly update every Friday night or early Saturday morning. Not enough football on Fridays? Try
MaxPreps
or
J.J. Huddle
for high school football and all other sports.