Bay State Magic Elite: Welcome

2010 Juniors at the Nationals
Friday, March 4
Welcome to the home of the Bay State Magic Boys Program

2005 Threepeat Champs

2009 Juniors at the Nationals
Wednesday, March 4
2015 Bay State Magic Tryouts
Saturday 3/7 @ Randolph HS
Please bring $20 and a reversible jersey
9th Grade - 3-5pm
10th/11th Grade - 5-7pm.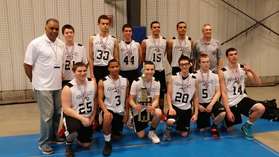 2014 10th Grade Reardon
Sunday, August 17
Congratulations to 10th Grade Reardon on a great season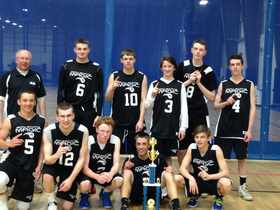 2014 10th Grade Tyburski
Coach Reardon's sophomore team had a terrific year that saw them qualify for the AAU Division 2 Nationals by winning their bracket at the Super Regionals. Great job boys!
Sunday, March 23
Carl Joseph named to the D3hoops.com All-Region Team
Sunday, March 23
Carl Joseph earns two postseason honors in the Little East
Saturday, March 22
Andrew White named to MASCAC First Team
Saturday, March 22
John Henault named to CCC Second Team
Saturday, March 22
Ryan Chambers earns NECC Honorable Mention accolade
Congratulations to Ryan who is also the leading scorer in the history of the Regis College mens basketball program!

Pat Magnarelli With Authority!
Thursday, November 28
Bay State Magic Alumni in College

Kinard Dozier, Franklin Pierce '11
We will continue to update this list as information comes to us. We have separated them by the year they are scheduled to graduate from college.
*Denotes playing basketball in college
**Denotes playing football in college
Class of 2017
**Maurice Hurst, Jr, University of Michigan
**Jack McDonald, University of Virginia
**Brendan O'Neill, Wake Forest
**Sean Myers, Bentley University
*Sean Doncaster, WPI
Marc Duverge, UMass-Boston
*Sam Johnson, Endicott College
*Pat Kelly, Bard College
Jake Kipnes, University of Coastal Carolina
*Marcus Middleton, WPI
WPI Class of 2016
*Danny Curtis, Amherst College
*Johnathon Fortes, Mount Ida College
Conor Gallivan, Providence College *
Larry Keating, Framingham State University
*Saleek Marshall, Framingham State University
Oderah Obukwelu, St. John's University
*Dan Powers, Endicott College
*Cameron Walker, Mount Ida College
*Henry Vilfort, College of St. Rose
Class of 2015
Myles Brilhante, Roger Williams University
*Siondueh Burnette, Bard College
*Dennis Clifford, Boston College
*Jose Cruz, Southern Connecticut State University
*Jared Fay, Fordham University
*Tim Gallivan, Wesleyan University
*John Henault, Endicott College
*Carl Joseph, UMass-Boston
*Ryan Kilcullen, Williams College
*James Levine, Haverford College
*Barrett Murphy, Bridgewater State University
Class of 2014
*Matt Barboza, Johnson & Wales University
*Ryan Chambers, Regis College
*Ryan Hayes, Stonehill College
*Kenny Jean, Mount Ida College
DK Johnson, UMass Dartmouth
*Andrew McCarthy, UMass-Amherst
*Matt Powers, Suffolk University
*Andrew White, Salem State University
*Tim Farrell, Curry College
Class of 2013
*Matt Clifford, Roger Williams University
*Sean McCarthy, New Jersey Institute of Technology
*Brett Miller, Springfield College
Evan Richardson, Fairfield University
*Sean Sullivan, Westfield State University
*Chris Torres, Emerson College
*Tim Young, Newbury College
Class of 2012
**Stephen Aborn, Harvard University
*Ademola Abu, Franklin Pierce University
*Tony Gallo, Coppin State University
*Kendall Gillians, Framingham State University
Zach Kahane, Lehigh University
*James Marcellus, Delaware State University
*Robbie Walton, UMass-Lowell
Class of 2011
*Jeff Altimar, Skidmore College
**Michael Bernazzani, College of the Holy Cross
Jimmy Chaudry, Northeastern University
*Dane Dilegro, University of New Hampshire
*Kinard Dozier, Franklin Pierce University
**Alex Dulski, Northeastern University
*Brian Ellis, Bates College
*Ben Ford, Endicott College
**Corey Gatewood, Stanford University
*Sam Herrick, Wentworth Institute of Technology
*Matt Lindberg, Nichols College
*Kyle Yeadon, UMass-Dartmouth
Class of 2010
Kyle Boyd, University of Hawaii
Kyle Costa, WPI
*Neil Creahan, Bates College
*Chad Dixon, Framingham State University
Michael Gately, Columbia University
Jonathon Hatfield, Bridgewater State University
*Patrick Magnarelli, Harvard University
*Bobby Montrond, Endicott College
*Jimmy O'Keefe, Bates College
*Ross Pentland, Central Connecticut State University
Sam Schofield, University of Wisconsin
*Scott Smith, Babson College
Barry Sheehan, Northeastern University
**Winston Tuggle, Trinity College
*Darius Yarell, Framingham State University