Brunswick High School Football: Welcome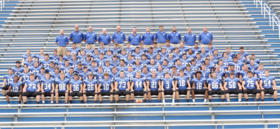 2018 Brunswick Blue Devils Varisty
Home of Blue Devils Varsity Football
Welcome to internet realm of Brunswick Blue Devils Football, known as Big Blue to Blue Devil Nation. The 2017 Season was their 71st stretching back to 1947 when they fielded their first team with Head Coach Ralph Stumpf. Last season they finished at 5-5 overall and 3-4 in Greater Cleveland Conference play under Head Coach Mark Pinzone who was in his first season at the helm of the Blue Devils Varsity Program.
Coach Pinzone, a Brunswick teacher and former assistant football coach, took over as the 13th Head Coach for the Blue Devils. He had been an assistant coach at Brunswick for 15 years earlier in his career. In the 7 seasons prior to last year he was the head coach at both Holy Name & Buckeye High Schools respectively. He owned a career 49-25 record with those two schools as a Head Coach going 16-14 with the Green Wave and then 33-11 with the Bucks. He assembled a great group of Assistant Coaches including former Head Coaches Rich Nowak and Tom Fasko. The 2017 was a step forward for the program and the 2018 season should bring the Blue Devils a chance to push the envelope forward as they work to return to being a playoff contender each season!
Go Big Blue!
Brunswick PRIDE!!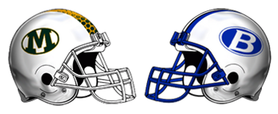 Week 9 - Medina Bees @ Blue Devils
The 2018 Season - Week 9 Games
Each week listed here will be the game schedule for each week for all the Greater Cleveland Confernce Teams and the 3 Non-Conference opponents that the Blue Devils play this season.
You can click on the GCC Stadings Tab in the menu for updated GCC Standings as the 2018 Season progresses. The Greater Cleveland Conference teams are in the schedule below are in BOLD type.
Week 9 Games - 10/19/2018 - Game Schedule Below - All Games 7:00PM
(3-5)(1-4) Medina Bees @ (1-7)(1-4) Brunswick Blue Devils
(5-3)(2-3) Strongsville Mustangs @ (0-8)(0-5) Elyria Pioneers
(7-1)(4-1) Mentor Cardinals @ (7-1)(5-0) Euclid Panthers
(5-3)(3-2) Shaker Hts. Red Raiders @ (7-1)(4-1) Solon Comets
(7
-1) Highland Hornets @ (4-4) Tallmadge Blue Devils
(6-2) Cleveland Hts. Tigers @ (3-5) Shaw Cardinals
(6-2) Valley Forge Patriots @ (3-5) Holy Name Green Wave
2018 Blue Devils Coaching Staff
Pictured above is the 2018 Blue Devils Coaching Staff. They are Front Row (L to R) Dave Lewandowski, Jesse Dooling, Head Coach Mark Pinzone and Ed Dick. Back Row (L to R) Mike Jameison, Dan Valore, Greg Clement, Dave Draiss, Rick Nowak, Jeff Zvara and Rick Manco. Not Pictured are Tom Fasko and Kevin Cobb.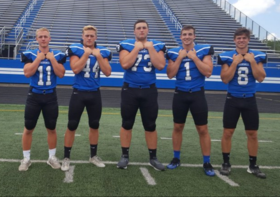 2018 Blue Devils Captains
2018 Varsity Football Captains
The 2018 Captains have been named for Varsity Football this season. Pictured above are Senior Captains (L-R) Dakota Lavinder, Curtis Helman, Konnor States, Josh Stacho and Bobby Lindsey. Congratulations Men we are all looking forward to a GREAT 2018 Season!! Pictured below are the Blue Devils Senior Football Players, they also are expected to show leadership on and off the field to the underclassmen who will follow them through the Blue Devils Varsity Football ranks!
Work Hard, Play Hard & Always Stick Together!!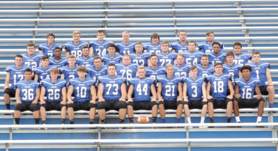 2018 Blue Devils Senior Football Players
Ohio High School Football Information Rankings
The Ohio High School Athletic Association oversees all sports for high school athletes. They also do the rankings for the football teams which determine which 8 teams make the playoffs at the conclusion of the season. They have alot of good information there for parents and student athletes. Here is the link to the OHSAA site. Another good site for high school football scores and rankings is Joe Eitel's site for Ohio HS scores and unofficial computer points. Joe ranks all the teams in their respective divisions and though "unofficial" last year he became an "official" source of the OSHAA for their rankings. Last but not least if you are still not getting enough high school football information to feed your habit try Dan Pasteur's Ohio Fantastic 50, MaxPreps or JJ Huddle.