Brunswick High School Football: Welcome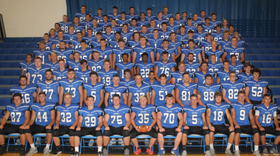 2017 Brunswick Blue Devils Varisty
Home of Brunswick Blue Devils Varsity Football
Welcome to internet realm of Brunswick Blue Devils Football, known as Big Blue to Blue Devil Nation. The 2016 Season was their 70th stretching back to 1947 when they fielded their first team with Head Coach Ralph Stumpf. Last season they finished at 2-8-0 overall and 1-6-0 in Greater Cleveland Conference play under former Head Coach Luke Beal who was 36-36-0 in his 7 year tenure with the Blue Devils.
The 2017 brought a change in the coaching staff as Brunswick teacher and former assistant football coach Mark Pinzone took over as the 13th Head Coach for the Blue Devils. He was an assistant coach at Brunswick for 15 years earlier in his career. The last 7 years he was the head coach at Holy Name and Buckeye High Schools respectively. He owns a career 49-25 record with those two schools as a Head Coach going 16-14 with the Green Wave and then 33-11 with the Bucks. He has assembled a great group of Assistant Coaches including former Head Coaches Rich Nowak and Tom Fasko.
2017 All Northeast Inland District Selections
Congratulations To These Blue Devils!
| | | | |
| --- | --- | --- | --- |
| 2017 | Vinnie Monachino | Offensive Line | First Team |
| 2017 | Kaden Harter | Defensive Line | First Team |
| 2017 | Ethan Flanigan | Defensive Back | First Team |
| 2017 | Lukas Lemons | | Honorable Mention |
| 2017 | Cole Zamiska | | Honorable Mention |
| 2017 | Tommy Kall | | Honorable Mention |
| 2017 | Steve Spickler | | Honorable Mention |
OSHAA Playoff Games
Three of the Blue Devils 2017 opponents made the OHSAA Playoffs this season. Euclid and Mentor, who play in the GCC and Highland who is in the Suburban Conference. Going into Week 13 there was only one left, the Mentor Cardinals.
The Cardinals are Division I Region 1 Champions and made the State Final 4 with their win over the St. Ignatius Willdcats. The Regional Champions will player their games next Friday, November 24, 2017.
Click on the GCC Standings Tab in the menu for the 2017 Final GCC Standings.
Week 13 Playoff Game - Friday, 11/17/2017 @ 7:30PM:
(12-1) Mentor Cardinals - 23 vs. (11-2) St. Ignatius Wildcats - 21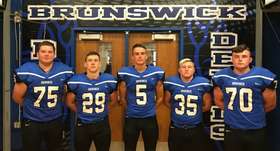 2017 Senior FB Captains
2017 Brunswick Varsity Football Captains
The 2017 Captains have been named for Varsity Football this season. Pictured above are the Senior Captains (l-r) Tommy Kall, Kaden Harter, Cole Zamiska, Jacob Vadini and Steve Spickler. The Junior Captains this year include Bobby LIndsey, Connor States & Josh Stacho, while the Sophomore Captains are Eddie Sevastos, Jake Hamrick & Jack Miller. Congratulations Men!! Work Hard, Play Hard & Always Stick Together!!!
Ohio High School Football Information Rankings
The Ohio High School Athletic Association oversees all sports for high school athletes. They also do the rankings for the football teams which determine which 8 teams make the playoffs at the conclusion of the season. They have alot of good information there for parents and student athletes. Here is the link to the OHSAA site. Another good site for high school football scores and rankings is Joe Eitel's site for Ohio HS scores and unofficial computer points. Joe ranks all the teams in their respective divisions and though "unofficial" last year he became an "official" source of the OSHAA for their rankings. Last but not least if you are still not getting enough high school football information to feed your habit try MaxPreps or JJ Huddle.