Brunswick High School Football: Welcome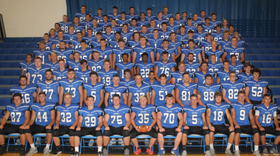 2017 Brunswick Blue Devils Varisty
Home of Brunswick Blue Devils Varsity Football
Welcome to internet realm of Brunswick Blue Devils Football, known as Big Blue to Blue Devil Nation. The 2017 Season was their 71st stretching back to 1947 when they fielded their first team with Head Coach Ralph Stumpf. Last season they finished at 5-5-0 overall and 3-4-0 in Greater Cleveland Conference play under Head Coach Mark Pinzone who was in his first season at the helm of the Blue Devils Varsity Program.
Coach Pinzone, a Brunswick teacher and former assistant football coach, took over as the 13th Head Coach for the Blue Devils. He had been an assistant coach at Brunswick for 15 years earlier in his career. In the 7 seasons prior to last year he was the head coach at both Holy Name & Buckeye High Schools respectively. He owned a career 49-25 record with those two schools as a Head Coach going 16-14 with the Green Wave and then 33-11 with the Bucks. He assembled a great group of Assistant Coaches including former Head Coaches Rich Nowak and Tom Fasko. The 2017 was a step forward for the program and the upcoming season should bring the Blue Devils a chance to push the envelope forward as they work to become playoff contenders each season!
GO BIG BLUE!
BLUE DEVILS PRIDE!!
Monday, March 19
Blue Devil Youth Spring FLAG Football
The DEADLINE for Spring Flag Football REGISTRATION has been extended 1 WEEK until this Friday, March 23rd!
Head Coach Mark Pinzone and Blue Devils Varsity Football present Youth Spring Flag Football. It will cover 4 Sundays in April and the first Sunday of May from 10AM until 1 PM. The league is open to all players from 1st through 6th grade. The cost is $65.00 per player. There will be skill sessions each Sunday before the game conducted by the Blue Devils Coaching Staff and Varsity players. All the information and registration form is contained in the Handout that can be downloaded below.
Handout:
2018 Blue Devils Youth Spring FB
The 2018 Season - Week 1 Games
The Blue Devils will open the season at home in 2018 taking on the Highland Hornets at Brunswick Auto Mart Stadium.
Click on the GCC Standings Tab in the menu for the GCC Standings.
Week 1 Games - Friday, 8/24/2018 @ 7:00PM:
(0-0) Highland Hornets @ (0-0) Brunswick Blue Devils
Ohio High School Football Information Rankings
The Ohio High School Athletic Association oversees all sports for high school athletes. They also do the rankings for the football teams which determine which 8 teams make the playoffs at the conclusion of the season. They have alot of good information there for parents and student athletes. Here is the link to the OHSAA site. Another good site for high school football scores and rankings is Joe Eitel's site for Ohio HS scores and unofficial computer points. Joe ranks all the teams in their respective divisions and though "unofficial" last year he became an "official" source of the OSHAA for their rankings. Last but not least if you are still not getting enough high school football information to feed your habit try MaxPreps or JJ Huddle.