: Welcome
General Information
Baseball Raffle Information: Every player in the program will be given 10 raffle tickets to sell.. Cost of tickets are: $10.00 each or 3 for $25.00. 1st Prize: 4 luxury box tickets to a Red Sox game. 2nd Prize: Autographed Rob Gronkowski game jersey. 3rd Prize: Autographed David Ortiz game jersey. Coach Normant will pass tickets out at school. Drawing will be held on May 28 in the Atrium during X Block. You do not have to be present to win.
Bay State League Standings 2015
Carey W L GB W L Herget W L GB W L Braintree 14-1 - 17-2 Walpole 10-5 - 11-8 Newton N 12-3 2 15-6 Norwood 9-6 1 10-9 Brookline 9-6 5 14-7 Milton 8-7 2 11-8 Framingham 6-9 8 7-12 Wellesley 7-7 2.5 9-9 Needham 3-11 10.5 4-14 Dedham 4-10 5.5 6-12 Weymouth 3-11 10.5 4-14 Natick 3-12 7 6-13
---
Varsity Wednesday, practice at Warren, Thursday at Walpole, Blue, Grey, Red, Friday, Practice at Warren, Saturday Scrimmage at Masonomet 10am,Blue, White, Red, leave from Brookline 8:15am, Bring change of clothes, towels, swim suits, etc if going to cookout, Off Sunday
---
Junior Varsity
Wednesday: Practice at Amory, 3:30
Thursday: Game at Walpole, bus at 3:00
---
Freshmen Wednesday practice at Warren, Thursday Framingham at Warren, Friday Needham at Amory, Saturday Warren 9am,
---
Warriors Baseball Camp
The annual Warriors Baseball Camp, open to boys and girls ages 6–15, takes place in late June at Warren Field in Brookline. For more information, visit the Warriors Camp page or contact Joe Campagna.


---
More Brookline Baseball
Find almost everything there is to know about baseball in Brookline. All programs, all ages, all seasons. All in one place at brooklinebaseball.net.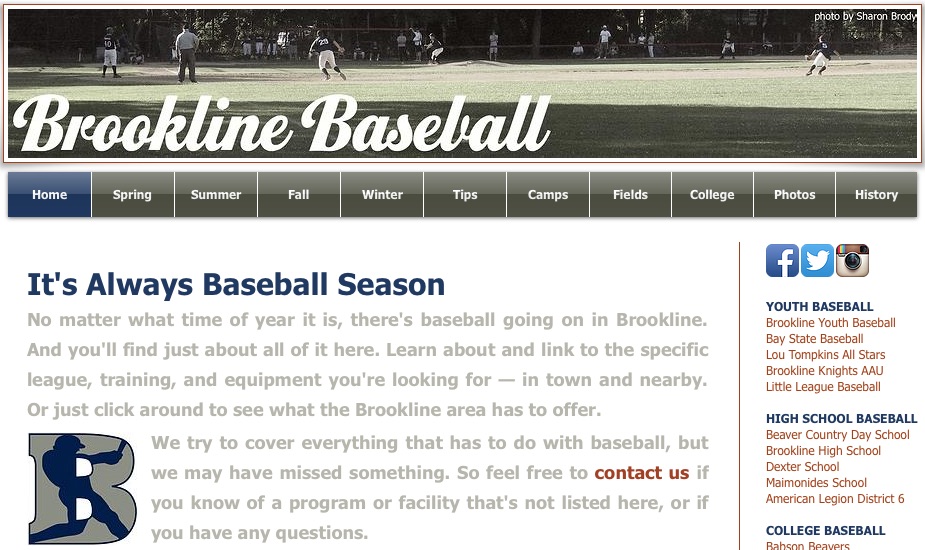 ---