: Welcome
General Information
Anyone who ordered baseball sweatshirts and t's, bring an envelope with 35 (SS), 40 (SS, T) and 50 (SS, 2 T's) (cash) with your name on it and give it to your coach or Mr. Williams in Athletics Office.
---
Varsity
Sat at Wellesley 2pm White, White, Red BSU, Sunday, TBA, Monday BP 8:15am, Parsons 10am, Boston Latin 10am, Blue, White, Blue, BSU, Tuesday, Warren 1pm, Wed, BP Warren, 1pm, Parsons 3pm, Walpole, Thur, Fri, Sat, TBA
---
Junior Varsity
Saturday: Game at CM, arrive at 1:00 (no bus)
---
Freshmen
Thursday, scrimmage at NNorth- Cabot Field, bus at 3:15pm, Friday Pavillion, Sat, Amory 9am
---
Warriors Baseball Camp
The annual Warriors Baseball Camp, open to boys and girls ages 6–15, takes place in late June at Warren Field in Brookline. For more information, visit the Warriors Camp page or contact Joe Campagna.


---
More Brookline Baseball
Find almost everything there is to know about baseball in Brookline. All programs, all ages, all seasons. All in one place at brooklinebaseball.net.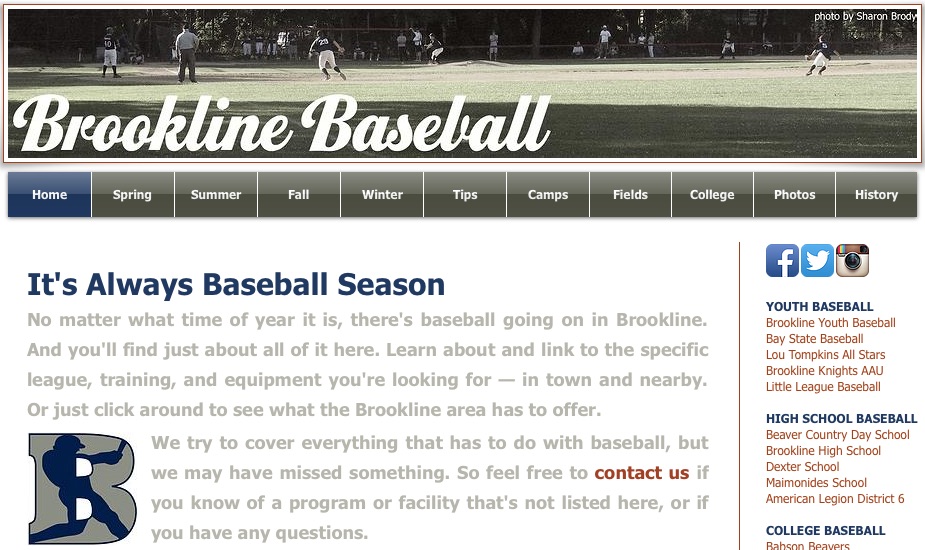 ---