: Welcome
General Information
Any senior who is interested in being eligible for a partial college scholarship, including the two donated specifically for the baseball team, needs to apply ASAP. See Dean Butchart for paperwork.------------
---
Varsity
Warren Sunday, practice 9am11am, Monday Weymouth at Parsons- White, White, w/Red Warren-Tuesday and Thursday, practice 3:15, Wed at Fram (Bowditch) 4pm, Bus 3pm Blue, Grey w/Red Friday at Natick HS, 4pm Bus 2:30, Blue, Grey, w/Blue Sat at Braintree HS 2:30, Bus 1pm, Blue, White w/Red
---
Junior Varsity
Sunday: Optional practice, Warren, 11:00-1:00
Monday: Game at Amory, arrive at 3:15
Tuesday: Practice at Amory, 3:30-5:30
Wednesday: Game at Framingham, bus at 3:15
Thursday: Practice at Warren, 3:30-5:30
Friday: Game at Natick, bus at 2:30
Saturday: Game at Braintree, bus at 1:00
---
Freshmen
Monday vs Norwood at Warren, 3:45pm, Tuesday at Newton North (Cabot) 3:15 bus. Wednesday at Warren (practice) 3:30, Thursday, Weymouth at Amory 3:45pm, Friday, practice at Warren 3:30, Saturday, Practice at Warren 8am-10am.
---
Warriors Baseball Camp
The annual Warriors Baseball Camp, open to boys and girls ages 6–15, takes place in late June at Warren Field in Brookline. For more information, visit the Warriors Camp page or contact Joe Campagna.


---
More Brookline Baseball
Find almost everything there is to know about baseball in Brookline. All programs, all ages, all seasons. All in one place at brooklinebaseball.net.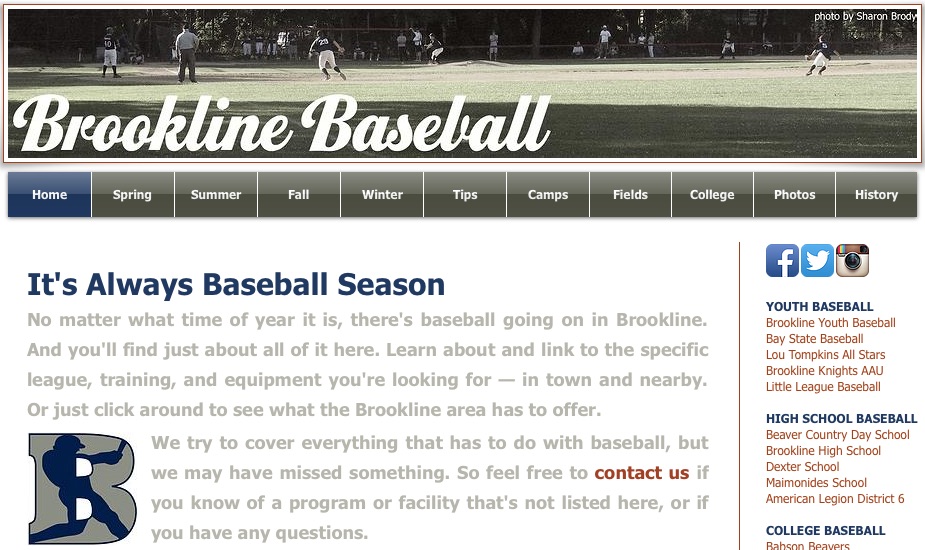 ---