Town of Brookhaven Recreation Soccer Programs: Field Liners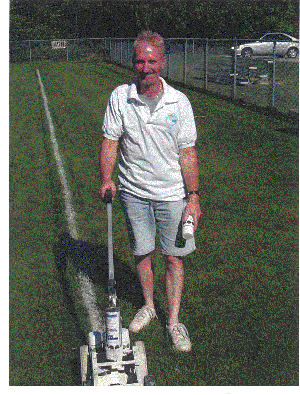 Ray "Spray" Barth
Ray "Spray" Barth
Ray "Spray" Barth has been a very important part of the Town of Brookhaven
Summer Soccer Program. Ray has lined fields for the Town of Brookhaven's
Soccer Program since 1985 ! Ray has gone about his business for 21 summer
soccer seasons. The three Soccer Supervisors commend Ray for all his years
of service, hard work and superior skill. Ray has been one of the main reasons
why our soccer program has been such a success. Ray will be sorely missed.
Thanks for twenty-one wonderful summers !

Brian Romano, Brian Mannion & Manny Hundal
Brian Romano, Brian Mannion and Manny Hundal have replaced
Ray "Spray" Barth who kept our fields lined for 21 summer seasons.
The Brookhaven Town Soccer Program welcomes Manny to the 2011
lining staff. Brian Mannion and Brian Romano are starting their second
season lining our grass fields.
KEEP EM' STRAIGHT & KEEP EM' WHITE !