Warrior Football League, Inc: Welcome
WARRIOR FOOTBALL LEAGUE
SERVING THE YOUTH OF THE BRONX SINCE 1952
PLEASE CHECK THE 2016 WINTER PROGRAM TAB AND THE AWARDS PARTY (FLAG & TACKLE) TAB FOR ALL INFORMATION ON THESE GREAT WARRIOR EVENTS
CONGRATULATIONS TO ALL OF OUR WARRIORS TEAMS AND PLAYERS FOR A GREAT SEASON. THANKS TO THE CHEERLEADERS FOR THEIR SUPPORT. SPECIAL THANKS TO ALL OF OUR VOLUNTEER COACHES. AND THANKS TO THE PARENTS AND FRIENDS WHO WERE OUT THERE CHEERING ALL SEASON!!
CONGRATULATIONS TO THE 2015 CHAMPIONS!!!
JR. PEEWEE CHAMPS- THE GIANTS
PEEWEE CHAMPS- THE JAVELINS
(Photos of the season and Championship Games at Spellman HS are in the Photo gallery.)
Congrats to the Warriors 12u (26-12) and 10u (31-0) Friendship Bowl teams on their victories vs the Bronx Giants on 11/28/15. Checkout the photos.
Check out the Warriors on Good Morning America, see the photos in the albums.
MISSION STATEMENT
The Warrior Football League's goal is to provide
a safe, enjoyable and character building sports
program for boys and girls ages 5 to 13 years old
Teamwork and Good Sportsmanship are emphasized,
All Warrior Coaches are required to attend and complete
the National Youth Sports Coaches Association
Certification Clinic
---
WATCH FOR MORE INFORMATION ON THESE UP-COMING EVENTS
FREE SPRING TRAINING CLINIC - TUES & THURS 5:30 - 7:30 STARTING AROUND APRIL 5
REGISTRATION- EARLY REG. WILL TAKE PLACE AT SPRING CLINIC AT REDUCED RATE- REGULAR REG. ON 5/7, 5/14 & 5/21. LATE REGISTRATION WILL INCLUDE A LATE FEE. WATCH MAIL & EMAIL FOR TIMES AND FEES.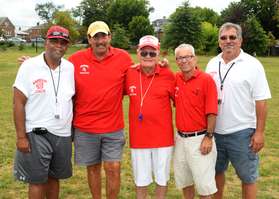 2015 BOARD OF DIRECTORS
Bohemian Rhapsody by Queen