Brick City Volleyball Club: About Us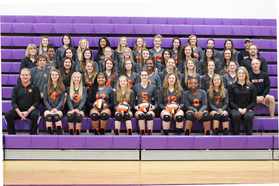 2014 Brick City Volleyball Club
About Us
We are a member of USA Volleyball in the Carolina Region. BCVC was formed in an effort to raise the level of play in our area and prepare student athletes for High School and Collegiate volleyball. Brick City Volleyball is a 501(c)(3) non-profit organization.
Brick City Volleyball coaches teach our players about teamwork, pride, class, competitive spirit and performance on and off of the court. Our goal is to teach the fundamentals of the sport of volleyball and to develop the skills necessary for volleyball players to succeed and compete at the highest level.
We believe training as complete volleyball players, as opposed to position players, gives young athletes the best understanding of the game and the most knowledge of the sport.
We would like to welcome you to be a sponsor for Brick City Volleyball Club to help ensure these players are successful on the court and in the classroom.