Brick City Volleyball Club: Welcome
---
---
---
---
2015 Brick City Alumni
---
---
---
Practice Schedule
Brick City 13's Sparkz
Brick City 14's Flamez
Mon/Wed 6:00-7:30PM
Conditioning 7:30-7:50PM
Brick City 15's Ignite
Brick City 18's Firestormz
Mon/Wed 7:30-9:00PM
Conditioning 7:00-7:20PM
All Practices will be held in
The Stevens Center
1576 Kelly Dr
Sanford, NC 27330
---
Brick City 18's Blaze Win
the Disney Volleyball Showcase National Qualifier/18 American in Orlando, April 17-19th! They have just Qualified for the 2015 USA Volleyball Jr. Nationals in New Orleans, June 29-July 2nd.
---
Brick City 18's Blaze Win the EAST/WEST Carolina Region Championships!
---
Brick City 14's Flamez win Gold in Charlotte!
Johnston YMCA tournament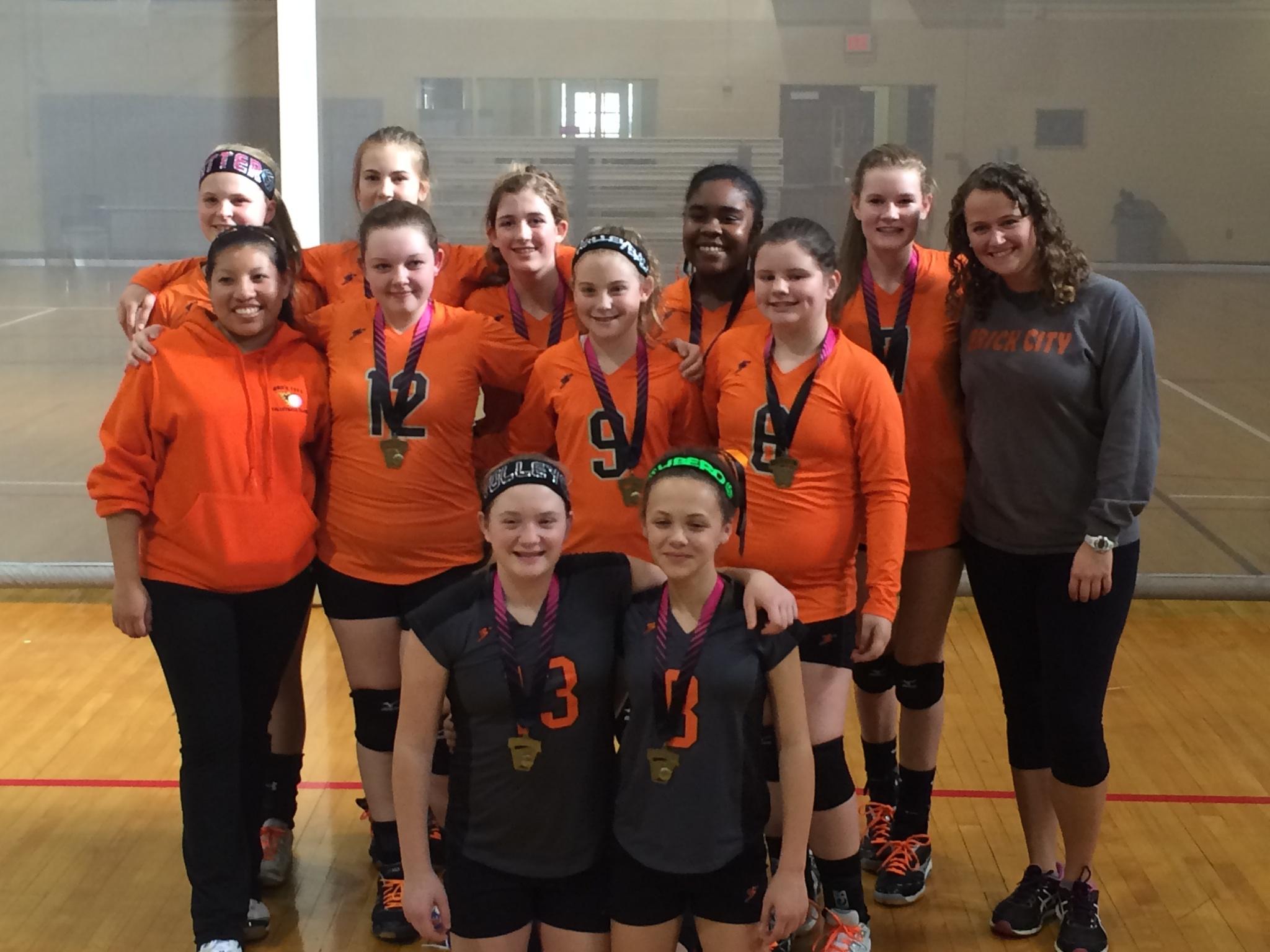 ---
Brick City 18's Blaze win gold!
The Blaze win gold in 18 East Regional Tounament. This is the second tournament and second gold!!! The Blaze are the number 1 ranked team in the 18's East Division. Coach Langston and the Blaze are setting their sites on a Region Title and competetive run at either AAU or the USA Nationals in New Orleans. The great thing about the Blaze is that they are not satisfied with being the best in the Region and want to compete with the strongest teams and clubs in NC and in the Nation. Go Brick City!
---
Practice Schedule for the week of 4/20/2015-4/24/2015
Tuesday
Emberz:
6:30-8:00pm Wicker Gym
Brick City 18's: 7:30-9:00pm Boys & Girls Club
Thursday
Brick City 18's: 7:30-9:00pm
Boys & Girls Club
---
Brick City Emberz Beginners Skills Clinic
There will be a another free clinic on Sunday, March 8 from 3:30pm-5pm at the Sanford Boys and Girls club.
Also, our Spring 10-week training session will run on Tuesdays 6:30pm-8:00pm from April 7 through June 9. The cost for the 10-week training is $150.00 and is due at the first session. Both events are available for the first 20 participants to register. You must be a member of USA volleyball and have chosen Brick City in your club selection during registration to participate.
Annual memberships are good through Oct 31, 2015 and can be purchased for $15 (11 and under) or $55 (12+). One day memberships can be purchased for $5.00 and are good only for a day. (This might be a good option if your child will be attending their first Emberz event on March 8, but there is a limit to the number of 1-day memberships that may be purchased by one person per year, so it is not the best option for attendance at both the clinic and 10-week session).
You must pre-register for both the clinic and the 10-week training by email at bcbrickcity@gmail.com .
Please include Player Name, Age, DOB & Parent Contact Info, and please indicate which event you are registering for (clinic 3/8/15 and/or 10-week training).
*Complete Carolina Region USAV Membership at https://webpoint.usavolleyball.org/wp/memberships/join.wp?mbr_ChapterID=9321
*Print USAV Medical Form at http://www.carolinaregionvb.org/juniors-general
*Bring the Following to the event if you have not already turned it in USAV membership card and completed USAV medical form *Your athlete will also need: knee pads, athletic shoes, water bottle
If you have any questions, please feel free to contact me or Bill Carter at bcbrickcity@gmail.com
---
Brick City 17's Blaze win the American Bid to the USA Volleyball National Championships June 29-July2,2014!!!
Way to go Ladies!
Like us on Facebook at Brick City Volleyball and Follow us on Twitter @brick_vb
---